Winter vacations sound exciting but, it may throw up unpleasant surprises if you are not prepared enough. Travelling in the winter with safe measures and reaching the destinations without any trouble is very important. As it is a winter season, we can be affected with snow, ice sleet or freezing rain. Following the proper tips and facing the winter is the nice idea.
Whether you plan to take a flight or drive by car, specific safety tips for winter travel can be very handy. Those who are driving should know the safety rules for dealing the problems in winter. Here are the some of the tactics and ideas to help how to avoid the problems in winter.
Major challenges in winter travelling: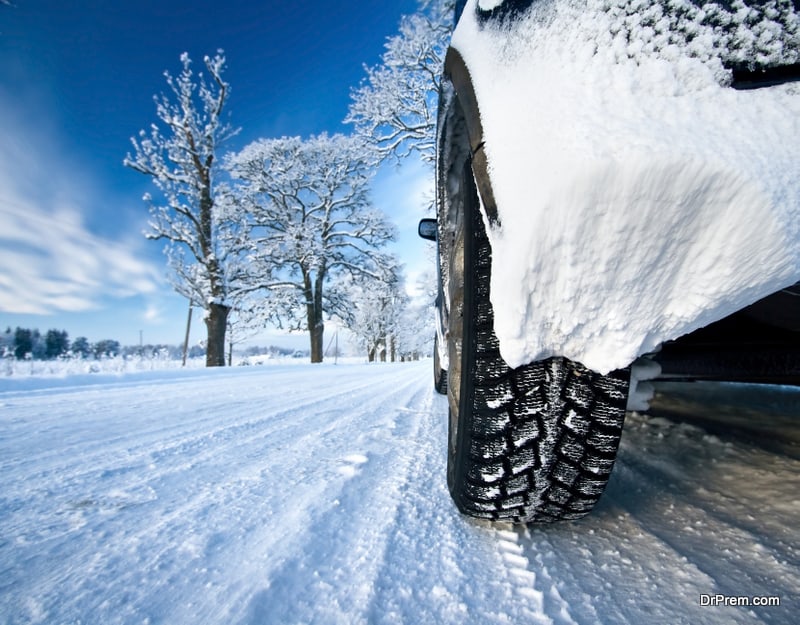 Due to the heavy snow fall your machine can't start easily.
The roads become treacherous and fully covered with snow.
Slush is often as slippery as ice, but both are potential dangers.
Visibility is affected by the winter conditions
Windshields are often ice or fog covered.
The skin rapidly becomes dry due to the climatic condition.
The storm with heavy snow blocks may damage your vehicle while travelling.
Flight delays and cancellations
Winter travel tips: 
Check the weather report and plan according to that
Even if you book your flight months before, make sure to check the weather report and keep yourself updated of the climatic conditions of the destination. If you plan to go by road, select proper dates with least chances of snowfall, storms and other winter deluges.
If you are flying to the destination:
Book flights with no stopovers
Very few consider this as among winter travel tips. But given the harassment caused by flight cancellations due to inclement weather, your holiday mood takes a bad. You miss the connecting flight. Look for direct flights even if it costs more as it will save you from future unwanted expenses. 
Choose the flight timing and airport
Select early morning flights. The sooner you leave home the earlier you reach the destination. Catching the early flight means lesser chances of cancellation and even if your flight gets cancelled, you get ample time to find the alternative.
Check an alternative airport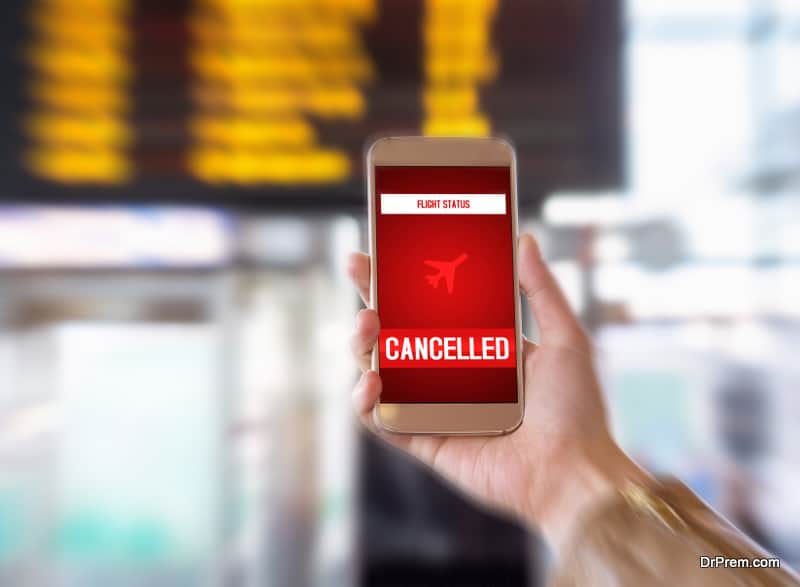 Choose alternative airports with less traffic. Many a times flight cancellations happen not only because of weather but also for high traffic. Many second-tier airports are also connected to the main transportation grid and you can fly conveniently. 
Get the right travel insurance
An extensive travel insurance can lessen your winter travel blues especially regarding flight cancellation or missing connecting flights. You will be waived off cancellation charges and get proper rescheduling of flights.
If you are traveling by the road
Keep at least half tank of oil in spare all the time.
This will depend on the distance you need to drive and weather conditions. You may need to carry extra oil to avoid any travel disruption from inclement weather.
Carry the extra clothes and emergency items with you like gloves, coat, boots, blanket, jumper cables, flashlight and a scraper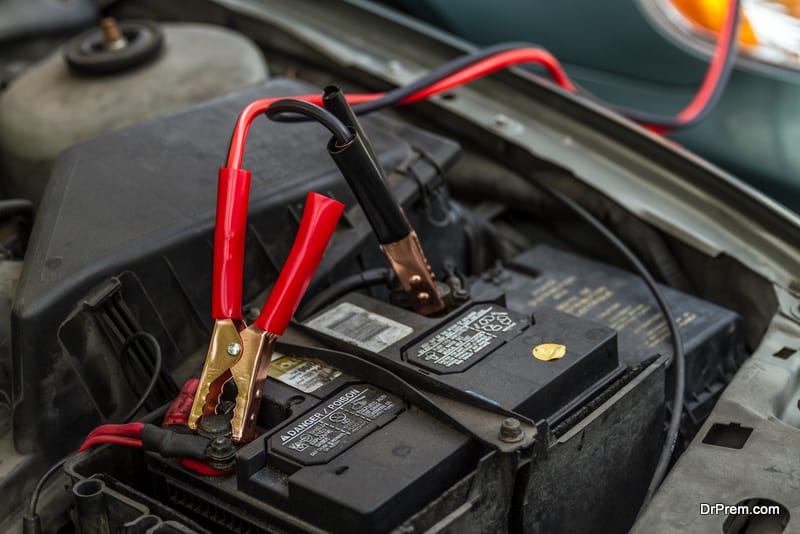 The best thing is to create a check list of all essential items for winter travel and tick the box as you pack. Take care of family requirements especially that of kids and pets accompanying you. Carry handwarmers which can be very handy at times.
Check the vehicle before planning the travel.
The vehicle should be ready to travel in the winter climate.If it is your own vehicle, go for a thorough servicing. Take a test drive covering a long distance. The same applies for rented vehicles and cars as well. For a convenient ride, you can think of hiring a hatchback with more space which many SUV models may lack.
If driving in a snow you should be more careful.
If you are travelling in the snow drive slowly while turning the corners. Slow down your vehicle and then turn the corners.
Taking care of the skin during the winter time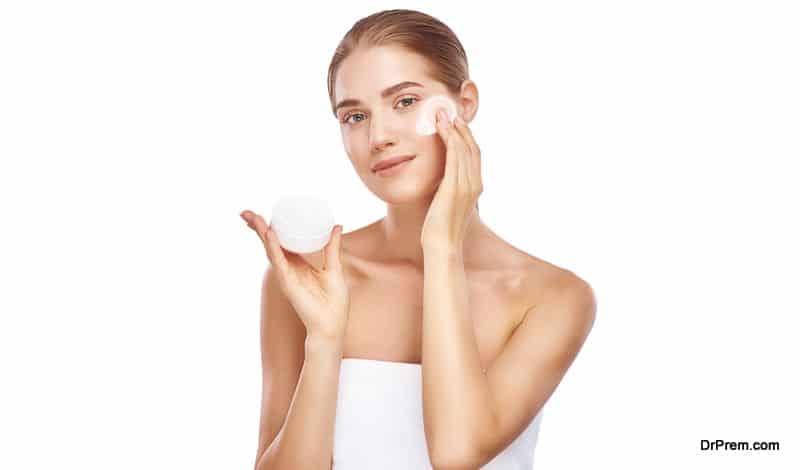 This is the most important thing. Keep moisturizing your face and skin using the proper creams to prevent from dryness.
Drink more water
The chilly weather may initiate dehydration and make you lethargic. Drink enough water and other fluids to keep yourself hydrated.
Eat proper food
Avoid the sugar related items though winter holidays call for more consumption of cakes and confectionaries. While on the road, be watchful of your food choices.
Take breaks every hour.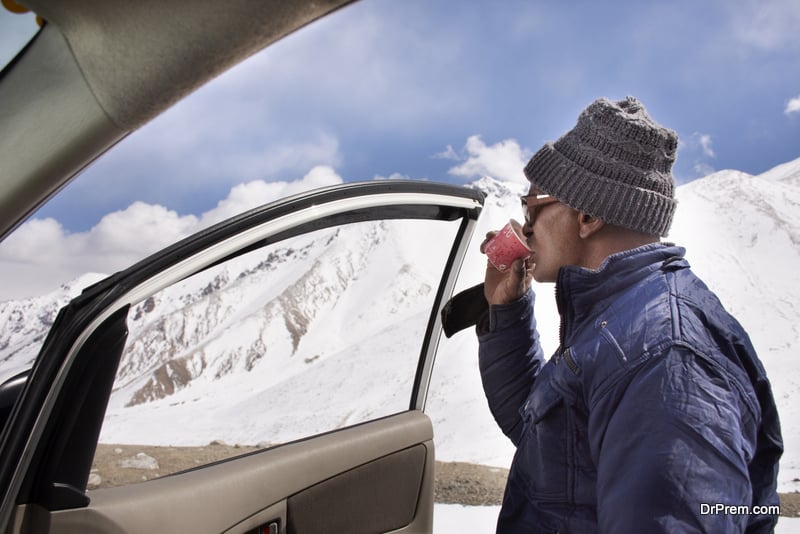 Winter travel is much more fatiguing compared with summer. Frequent 1-hour tea or coffee breaks will charge you up.
Know your route and keep tracking the weather report every 10min.
Trust your travel app or guide more than your gut. Get a thorough understanding of the route before you start. Talk to travel agencies if necessary. Check the weather report every 10 min for better preparedness so that you do not get stuck in a godforsaken land.
How safe is your destination?
Check the latest info regarding any health crisis or infectious disease is prevailing or not.  In case of any adverse event, you can opt for a different destination.
Do's and don'ts of traveling in winters
Traveling in winter can bring you closer to nature like you just cannot during a summer break. However, traveling through the cold can bring its own set of challenges. Here are a few do's and don'ts that can help you ensure that your winter travel is safe.
Do's:
Remember that winter days are shorter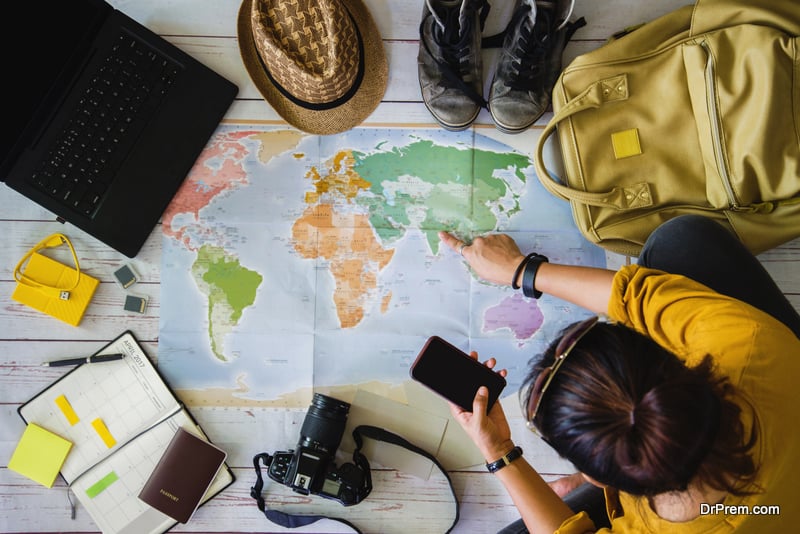 Days in winter are shorter and you should account for it when planning trips and excursions during your winter travel. In some places, the temperature drops drastically once the sun goes down while others have a culture that doesn't favor night life during the winters. You'd need to remember this when planning your winter trips.
Layer your clothing
Winter travel clothing is fairly simple to get right. You need to wear a layer of thermal innerwear, a layer of capilene or fleece and a wind/waterproof outer layer.
Snack often
The body needs more fat and calories to burn to stay warm during winters. If during your winter trip, you cannot find a place to have a proper meal, carrying protein bars, energy bars, chocolates and toasted nuts and seeds could prove to be a real lifesaver.
Focus more on your wellness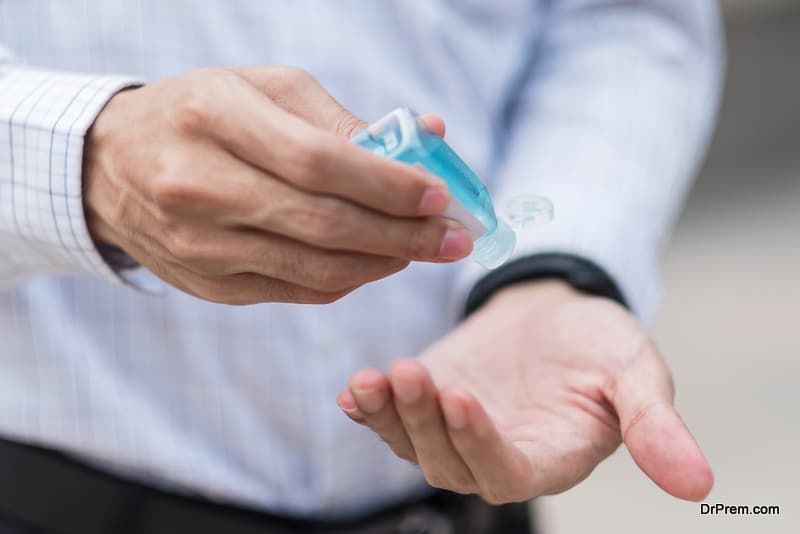 Maintain hygienic practices all along the travel route. Hand washing and sanitizing should be prioritized specially when you stop for a lunch or snack breaks. The same applies if you are using any authorized washrooms.
Don'ts:
Wear cotton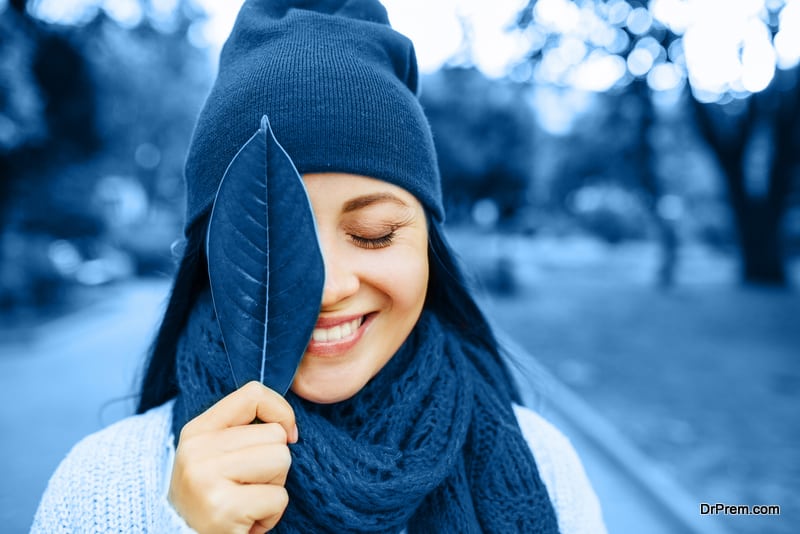 Cotton loses its insulating properties when it is exposed to any kind of moisture or your sweat. Wool and synthetic fibers help retain warmth. Wearing cotton in winter travel could be fatal.
Bring flimsy shoes or sneakers
Flimsy shoes or sneakers would heighten the risk of slipping and falling during winter travel. Also, these shoes are not meant to keep feet warm which could boost the loss of body heat. Boots and insulated snow footwear would help keep your feet warm while giving you the kind of traction you need to walk on snow and frozen streets.
Venture out in the woods without camping gear
If you have a hiking trip planned during your winter travel, remember to always travel with at least a tarp and sleeping bags. This would help you stay warm and safe should you be forced to spend the night in the woods.
Forget to stay hydrated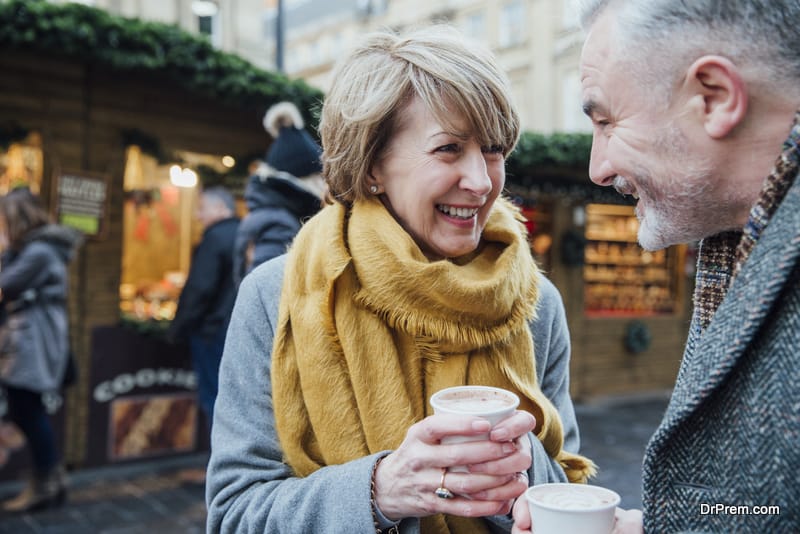 Staying hydrated during winter travel could prove to be challenging as most people simply don't feel thirsty or are unable to drink room temperature water. To stay hydrated through your winter trip, you can try drinking clear soups, teas and coffee and even consume broth heavy dishes at mealtimes to ensure that you get water in one form or the other.
Useful tips for taking winter trip by car
Traveling by car during the winter season can be a little tricky sometimes, so here are some wonderful tips for keeping you safe and sound while taking your winter trip by car.
Car check-up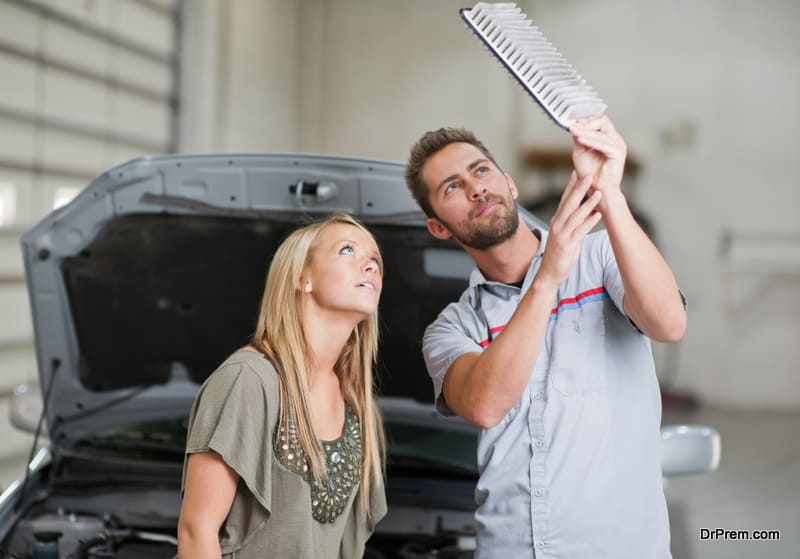 Double check everything in your vehicle before leaving and don't forget to put aside car chains and winter tires which might be useful in snowy situations. Also, make sure that your air conditioning system, the overall engine and other items of the vehicle are working properly before you leave. Moreover, don't forget to carry a tiny plastic shovel in order to get rid of a pile of snow when necessary and also the car winter gel.
Safety Measurements
Seat belts, along with working air bags, are some of the elementary safety items for any vehicle, especially if you are driving in winter. Most of the time, driving in a cold weather can be nerve wracking because of the impossible roads and a low visibility and so, in case of any accidents in such conditions, a seat belt and an air bag can prove to be a lifesaver.
Windshield cleaners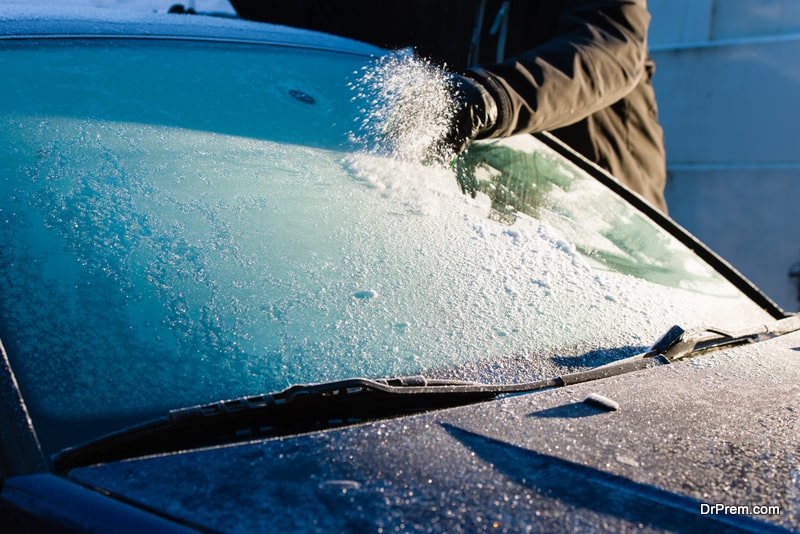 Among various types of windshield cleaners, you need to use a defrost type of cleaner to clean your icy windows rapidly in winters, which further help you provide a clearer view. So, make sure you pick the right cleaner depending upon the climate and the season.
Car brakes check-up
In a car, the brakes are one of the most important items and their function becomes more essential during the winter. So, it is very important for you to double check the brakes of your vehicle before embarking on your winter journey. Make sure that all the brakes are working and taking a few test drives before leaving will be even better.
Extra Items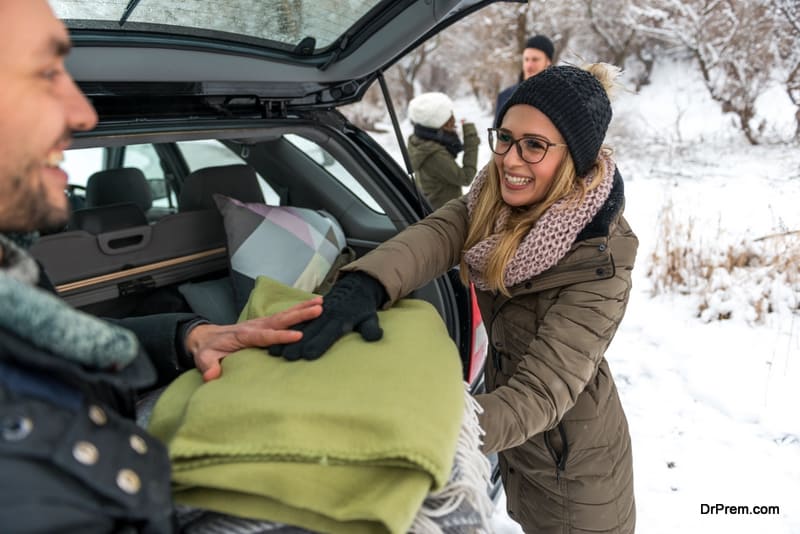 For a winter long drive, keeping yourself warm and taking some extra blankets in your car is an absolute necessity. Make sure you are wearing proper winter clothing and have adequate winter shoes with yourself while driving. Also, don't forget to keep a gallon of extra gas in your vehicle for emergency purposes.
Travel through an easy road
Before leaving for your winter vacation, make sure that you have enough information regarding the weather conditions and try to choose a more secure and accessible road instead of some risky and bumpy pathways. Moreover, if possible, don't travel through avoided street as they are more prone to road accidents although being less crowded.
Keep the lights on even in daytime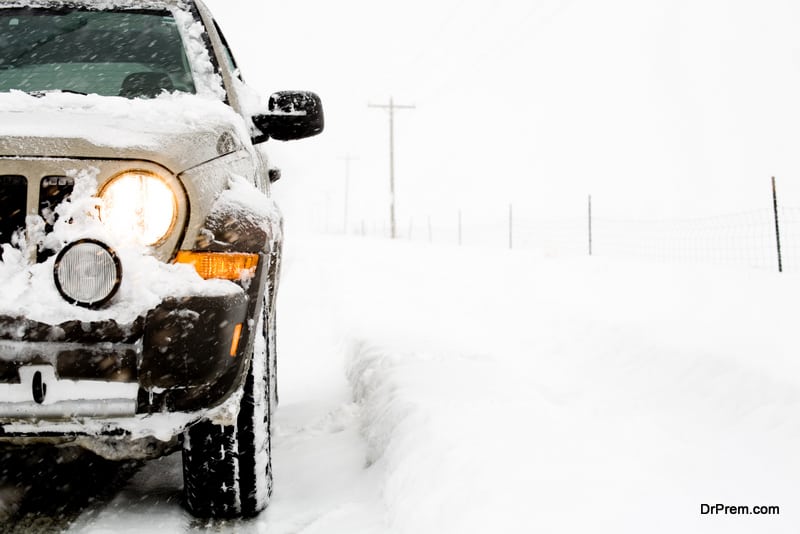 Snowfall and the accompanying mist affect visibility. Keep your vehicle lights on during the day to make yourself visible to other vehicles to avoid head on collisions.
Stay in the vehicle if you get stuck
You might be stranded due to a sudden storm or snowfall. Staying in the vehicle is the safest option unless there are chances to get hit by other vehicles. Keep your gas running to keep the interior warm but not more than 15 minutes. Huddle up with your fellow passengers to get the desired warmth. Proper hydration will save you from hypothermia.
Keep roadside flares beside your car so that other passing vehicles can help you. Alternately, you can tie a bright coloured cloth on the antenna or the top of the window. If it is dark, keep the dome light on as it doesn't use much charge.