Top ten extreme tourism destinations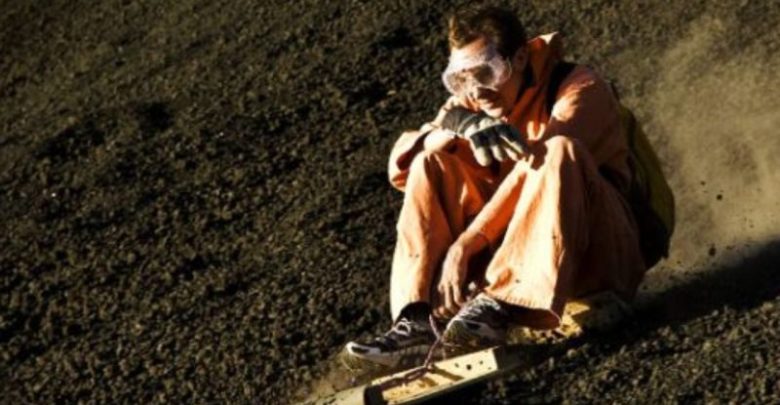 Extreme travel destinations are an obsession with some of the diehard adventure lovers. They ensure they land on their dream destination at some point of time in their lives. Here we go with the top ten destinations for extreme tourism. However, this is not an exhaustive list:
(A)Mount Thor, Nunavit, Canada: The peak on earth with the sharpest gradient.
Although it is not the loftiest point on the earth but in an attempt to kiss the moon it offers an undisputed back breaking climb up an impossible gradient almost perpendicular to the ground.It makes an angle of 105 degrees to its base. Just imagine the scale of concentration, effort and alertness the climber should have to achieve this daring feat! It is one of themost popular of the toughest destinations despite its location in a little secluded corner far away from easy accessibility. However, if climbing such a treacherous slope is not your cup of tea, you can always relax in the base camp!
(B)Drag race- North Carolina, US:

Foleys Drag racing training school in North Carolina would coach you into a fearless dragster and perform awesome drag races. The organizers set up drag races along tracks scattered across the US at different venues and time schedules. The price range starts upward from US $ 349. For grub and exquisite landscape photography you need to pay extra. This is a very thrilling and dangerous sport, and you can book an entire drag race holiday offering you an electrifying experience.
(C)Shark baiting in Roatan, Honduras:
This is an entire thrill packed shark watching deep down in the marine waters at a rough depth of 1500feet with the messenger of death slowly gliding towards you. Just off the coast of Roatan, Honduras you are carried down to the depths of ocean in a submarine arranged for you by the Stanley's submarines and you feel like live bait luring dangerous sharks. The body knocks by the ocean beast rock your marine vessel back and forth as you watch the lethal fish with raw wide eyed horror through the submarines with 9 viewing slots each measuring 30 inch across.
(D) Space dive in Moscow:
Yes, the dare is possible and had been custom designed for the enthusiasts by the Russian space agency hydro lab in Moscow. You get a real life exposure of how it feels to operate like a professional astronaut immersed in an alien and frightful weightlessness. Here, you are released in a 12 meter deep neutral buoyancy tank where you bob up and down with a strange kind of heart racing feel. You will be allowed to having same kind of training with a coolant swimsuit with biometric sensors installed in it provided you are of the right height weight mix. It is a terrific fun, fear and a thrill punch where you have a near feel of experiencing a sojourn to a space station!
(E) Death defying fire fighting-Orlando, US:
If you have enough guts and a drive for the challenging profession of a fire fighter trapped amid lethal flames and blinding smoke, you can experience it all in the fire fighting training institute at Central Florida fire academy in Orlando. It all comes in a very exciting package as you fight your way through dense smoke with flames lashing at you. Your mission is to rescue the trapped victims and finally drive away in a blood red fire engine. At the end of the hectic and daring activity schedule, you are just delighted to find a sumptuous fire house dinner waiting.
(F) Drive a Tank, Minnesota, US:
Here, in Kasota in Minnesota, you experience the thrill of extreme venture where you navigate under the efficient coaching of a qualified instructor, a 60 mt of British army tank named Larry, and bull doze right through an obstacle laden path trampling anything and everything that comes your way. You feel a rush of adrenaline motivated by a wild instinct of pleasure and destruction that normally invades the psyche once the enemy gets crushed! You feel like a battle hardened veteran and get to know a lot about tank engineering and architecture and the subtle technicalities of warfare.
(G)The coldest place on earth- Oymyakon, Russia:
How about a dare to visit the coldest place on earth in North Russia? Possibly you cannot simply imagine the sheer degree of heart stopping freezer as on a typical January night where the temperature averages around an astounding drop of minus 60 degrees centigrade! Almost round the year here we have temperature far below zero with frosts inflicting their chilling bites everywhere around. However, the residents of the villages around Oymyakon are quite spirited and enthusiastic. They realize their out of the ordinary local territory could well be a potent lure for the enthusiasts turned on by the toughest of challenges thrown by Mother Nature. To promote extreme tourism, they organize a Cold Festival every year. The extreme destination offers you opportunities of riding a reindeer sledge and the exciting ice fishing. For tourists on a hunt for extreme adventure amid treacherous nature, this is sure the right place to be in.
(H)The Hottest place on earth- Dallol, Ethiopia:
This is the real patch of skin blistering scorcher on earth located in Dallol an arid landmass in Northern Ethiopia. The average temperature year round shoots at a blazing 35 degrees centigrade. The locals are the Afar tribesmen a nomadic desert dweller who's economic mainstay is rearing sheep and collecting salt. This place was once a gulf in the prehistoric era. During many a tectonic plate shifts the floor of this gulf shot vertically up and this landmass was thus formed. Geologically this place is unstable and vulnerable to seismic threats. Volcanic eruptions have occurred in the past and springs throwing hot water gush up in forceful even today.
(I)The place with the most snowfall-Mt Baker, Washington:
This all white place is certainly a dream destination for the extreme tourist on an insane quest for the snowiest place on earth. In fact, Mt Baker in North West of Washington boasts to be the place experiencing heaviest snowfall. During 1998 -99 the place had a record snowfall of 1140 inches covering the ground!
(J)Most dangerous shark infested waters- Gansbaal:
Undisputedly the water off the coast of Gansbaal in South Africa is literally thick with dangerous great white sharks as they appear ubiquitous. There is an abundance of fur seals, the favorite food of the great white. It is estimated that schools of around 50000 of these jolly furry mammals abound. The food chain is secure. Some tour agents even offer cage diving experience with surefire encounters from proximity! You practically feel the ripples as the messenger of death swim past you. Back in March 2013, a shark rammed into the cage and broke it open. Luckily, the tourist escaped and survived the trauma unscathed. The experience was one hell of a shock!
Key drivers of extreme tourism
Do's and don'ts of extreme tourism
Best practices in extreme tourism
Essential components of extreme tourism
Travel arrangements in extreme tourism
Things to do post extreme tourism
Preparations for extreme tourism
Importance of planning in extreme tourism
How to get more information on extreme tourism
Countries promoting extreme tourism