I have always been fascinated by ancient India.  We are truly a home to mysterious culture and a very rich literature. Our history encompasses epic tales of various gods, kings and kingdoms, a land where we can't really distinguish too much between what's fiction and what's real. Our history makes me wonder how advanced we were for our times.  When the world was just learning basic survival, we had established civilizations. Be it science, weaponry, archeology, or architecture we had mastered it all.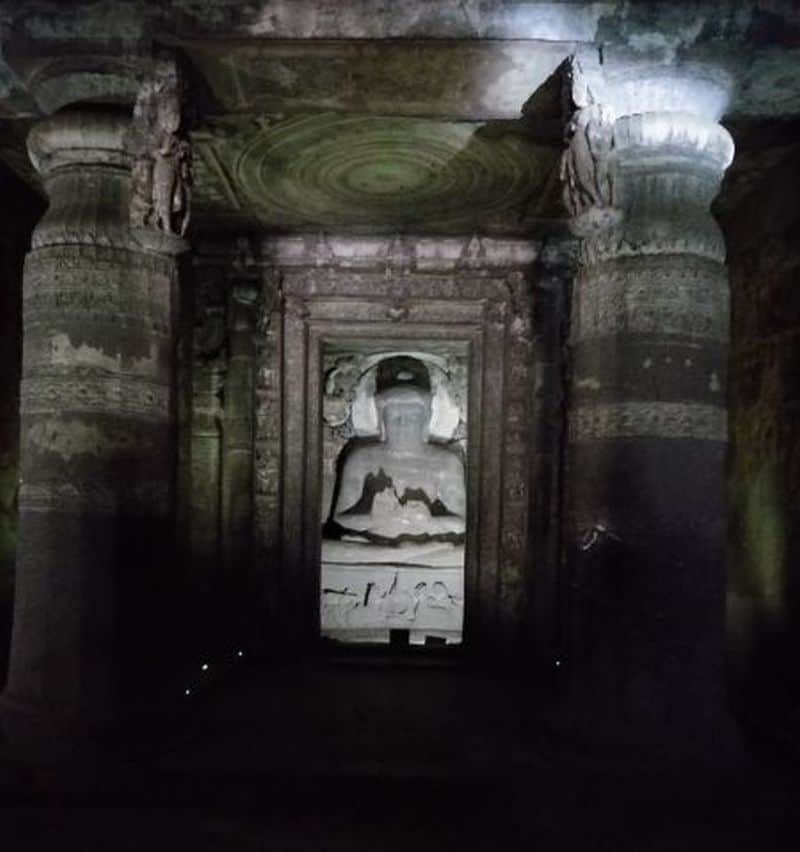 There is something about ancient Indian architecture that astonishes me to a great extent. The detailed artistry and technology that were used to create some spellbinding monuments with all modern technologies and equipment seem next to impossible to replicate even today. I had a chance to visit two such magnificent marvels, Ajanta and Ellora caves that give us a sneak peek into the ancient world.
It was a two day short getaway with my family. On Friday, we boarded Nandigram express from Dadar terminus at 5pm which arrived at Aurangabad a little later than midnight. To my utter surprise, it was very easy to find a cab so late in the night, given it's such a small city.
DAY 1- Ajanta Caves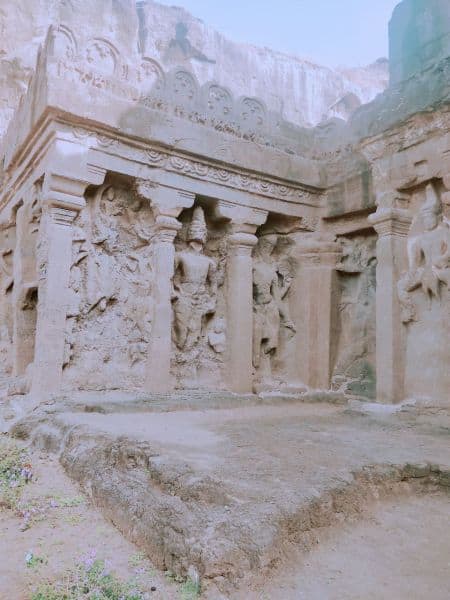 On our first day, we decided to visit Ajanta caves. So after a quick breakfast at our hotel, we very excitedly embarked on our journey to Ajanta caves. It's a long three-hour drive with very horrible road conditions from Aurangabad to Ajanta caves (the driver's comments, the road from Jalgaon to the caves is in a far better condition). However, the journey seemed worth it once we witnessed the magnificence of the monument. It is a collection of rock-cut caves all placed in a way resembling a horseshoe. The caves were built as a Buddhist monastery. These rock-cut caves display the Buddhist culture, art, lifestyle, philosophy, and history in all its glory.
Altogether it's a collection of 30 caves all numbered, however, few of them are not in chronological order. Not all the caves from the collection are complete. Caves numbered 1, 2, 4, 16, 17, 19, 24 and 26 hold the most significance.The caves were built in two different time periods, the first ones were built between the 1st and 2nd century (the creation of the Hinayana system), and the others were excavated after a long time in between the 5th and 6th century making them of the Mahayana series.
The various paintings and sculptures in the caves are illustrations of Buddha's life and Jataka fables. A painting in cave no. 2 depicts the epiphany of Buddha and shows him moving the dharma wheel. Each and every painting has some significance or story attached to it.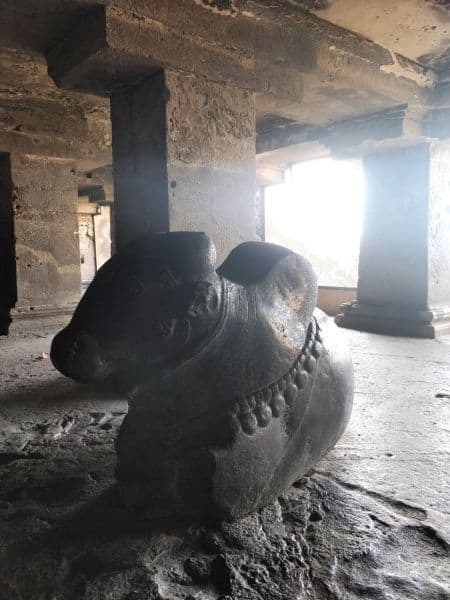 While we were moving from one cave to another, our minds were puzzled as to how they managed to paint with such fine detailing inside the caves that were so dark that we could see only a little even though we had the assistance of artificial lighting. Turns out they used to fill the caves with water and the reflection from the sunlight lit the entire caves.(Tip: wear comfortable footwear as it is a long walk that involves a lot of climbing, but make sure you don't wear shoes but instead good comfortable slip-ons as you will be required to remove your footwear before entering multiple caves).
One such rock-cut cave that left me and my family beguiled was Cave number 16 also called the musical cave or a musical room. The stone pillars in that particular cave (even though carved out of the same rocks) when banged against emits a sound of a musical instrument. (I broke my wrist while trying to play chinta ta tachitachita from rowdy rathore).
Cave no 26 has a colossal reclining Buddha Mahaparinirvana, 7mt long. This is the only cave that shows a sleeping Buddha. (If you are too exhausted from all the walking and decide to grab a bite or two, make sure to look around and ensure that there are no monkeys around, because they will jump on you if they see food in your hands)
5 Paintings in Ajanta Caves that stoodout for me: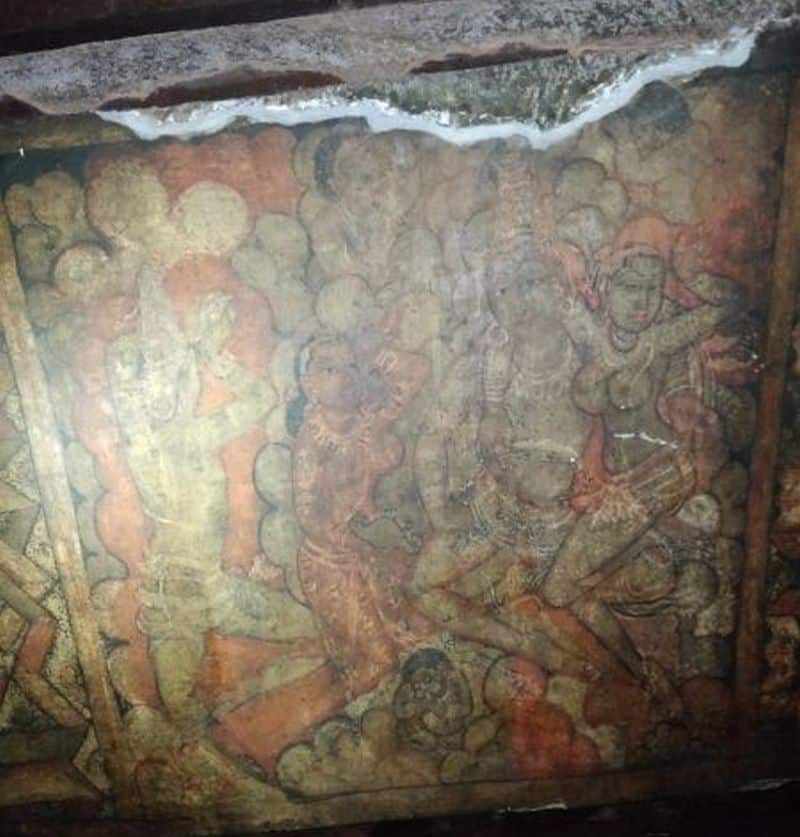 1. Bodhisattva Padmapani: a painting in cave number 1 depicts Buddha's former life.
2. Panchika and Hariti: a painting in cave number 2 that portrays Panchika (Buddhist god of wealth) and Hariti (Panchika's wife)
3. MatriposhakaJataka: The painting tells the story of a white elephant taking care of his blind mother; it is illustrated in cave number 17.
4. The Flying Apsara: depicted in cave number 17 is a beautiful female spirit who accompanies Buddha.
5. The Dying Princess: it conveys the story of heartbroken Sundari (wife of Nanda) when he decided to leave the kingdom and adopted monastic life like his brother Buddha.
The profusion of secular themes and motifs on the walls will leave you absolutely dazzled. I was bewildered by the bold vivacity of female figures what they call the famous AJANTA TYPE, one with curved forms, elongated eyes, attractive mien and ample adornment.
The official logo of India's department of tourism (the running elephant surrounded by flowers which shows the elephant in a playful manner) was taken from one of the panels of the beautiful paintings of Ajanta caves.
It took us nearly 4 to 5 hours to explore the excellence of the Ajanta caves. Given the wrath of time the caves have witnessed, it is surprising that it still has so much left to offer. One can only wonder about the beauty these caves might have once been.
It was a long ride back to our hotel and a very tiring one, we had our dinner (If in case you are staying near Jalna road in Aurangabad, try out hotel Indiana, they serve delicious vegetarian food. Just a tip don't call for a red velvet pastry) and went straight to bed.
DAY 2- Ellora Caves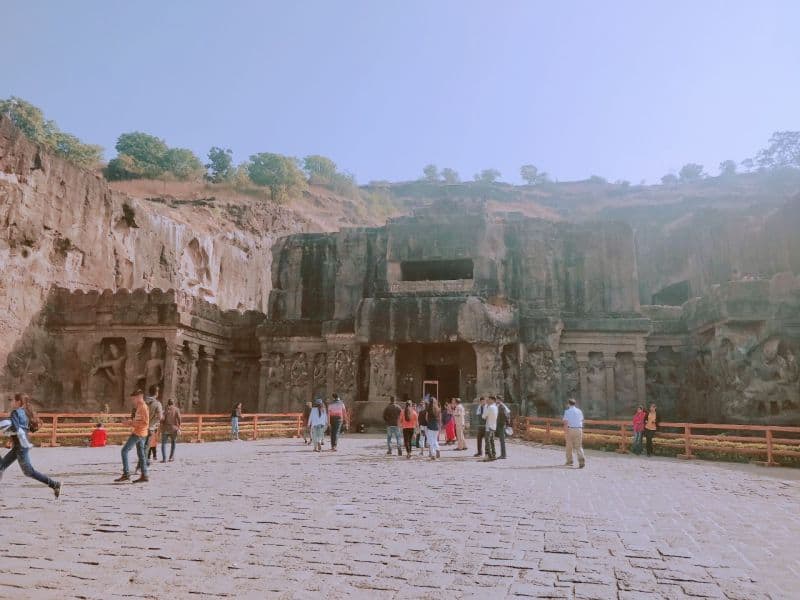 On our second day, we had planned to visit the Ellora caves. It is merely 28-30 kilometers from Aurangabad and is a beautiful drive. You will witness cotton and sugarcane plantation on both sides of the road.
Initially, our main attraction to visit Ellora caves was the famous monolithic giant the Kailasha Temple/ Cave. As soon as we entered the caves, we quickly realized it had so much more to offer. You will encounter excavations from three different religions, Buddhism, Hinduism, and Jainism.
Okay so let me first talk about the spellbinding, giant, rock-cut, monolithic wonder of the world, the Kailasha Temple. Nothing can describe the brilliance of Indian architecture that created this wonder which is an epitome of technical skills of the 8th and early 9th century.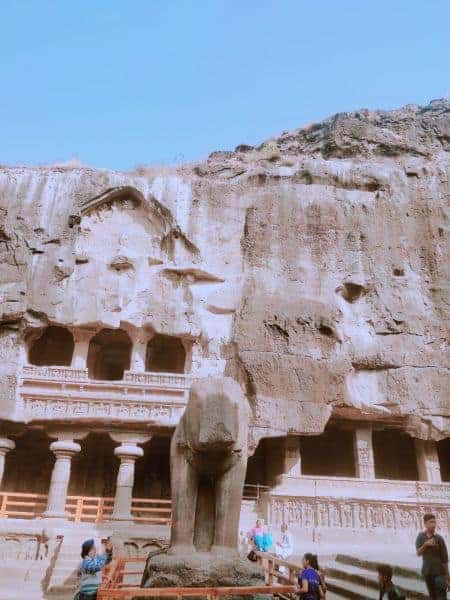 Kailasha temple or cave gets its name after the mountain Kailasha, Shiva's mountain abode. Its conception and planning remain unmatched even today. When you enter this cave, you will feel every bit enchanted. It is the world's biggest single rock-cut structure. It belongs to Ellora's Hindu excavations. The sculptures and artistry inside the cave depict different stories of Shiva, Vishnu and Parvati. The main room is a Hindu temple with a shrine of Lord Shiva.
There was an interesting fact about the temple that the guide shared with us. The Mughal emperor Aurangzeb made several attempts to destroy the temple but all he could manage was to make a few damages here and there.The Buddhist and Hindu caves are constructed alongside; they depict various stories and tales from ancient times.
9 Sculptures at Ellora caves that stood out for me: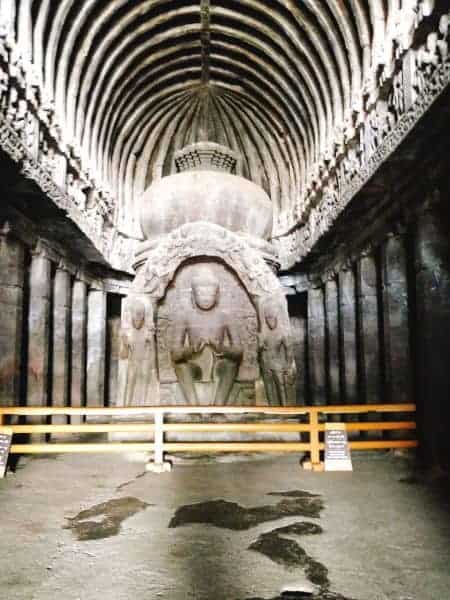 1. A giant Buddha structure in cave number 10 with its attendants in Stupa. Buddha is seen in a preaching "Mudra."
2. Shiva and Parvati playing "Chausar" (a board game that is mentioned in Mahabharata) in cave number 21.
3. The Shiva Tandav (dance) as Natraj in cave number 14.
4. The sculpture of Goddess Durga killing demon buffalo in cave number 14.
5. Cave number 16, the depiction of Lord Vishnu in Varaha Avatar.
6. Cave number 29, locally known as Dhumarlena depicts the marriage between Shiva and Parvati.
7. A carving of Gajalaxmi bathing with elephants in cave number 16.
8. The depiction of Sita Haran (abduction of Sita as stated In Ramayana) by Raavan.
9.  The carving of the sun god in a chariot which consists of seven horses.  The chariot is driven by Arjun, Usha and Pratusha can be seen in cave number 25.
After exploring the magnificence and magic of Hindu and Buddhist caves, we took a bus to reach the Jain caves. They are built around 2 kilometers away from the other caves. It is situated a little in isolation and not many visitors opt to visit it. This is what makes it even more magical and enchanting.
You will experience a different kind of calmness in that area. Jain caves show all the 24 tirthankaras (24 Jain gods).  The cave numbered 30th is called ChotaKailash. It has carvings of beautiful lotus flowers on its pillars and ceilings. It has a giant structure of Lord Mahavira. The Cave numbered 32 is known as IndraSabha (the assembly hall of lord Indra the king of all the gods). It has sculptures of Lord Mahavira (seated on a lion throne) and lord Parshvanath.
After exploring the Jain caves, the guide asked us if we would enjoy a small detour to see the waterfall. It was a small jungle trek at the end of which there was a small but mesmerizing waterfall. It looked every bit enchanting. Being surrounded by all this great architecture that encompasses a rich history and mythical creatures and nature at its very best, I was bound to feel a rush that gave my mind a thrill-induced high.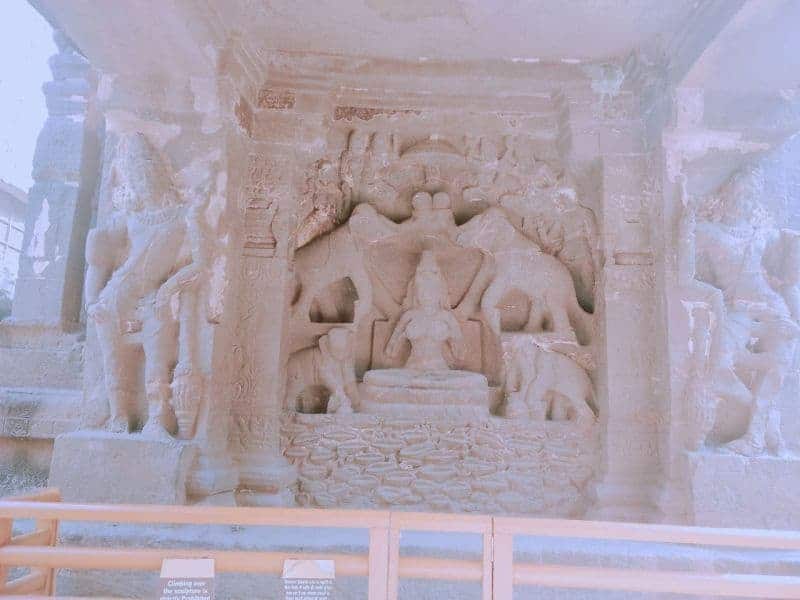 After soaking in history and architecture in its all-time high glory, we decided to grab a quick lunch and visit Bibika Maqbara. Famous as mini TajMahal, it is a mausoleum of emperor Aurangazeb's wife.
It was built by Prince Azam Shah for his mother, Rabiaul Durrani Alias DilrasBanu Begum (yes I know what you are thinking; it reminds me of the car scene from Dhamaal as well.) Although it's a beautiful monument, it lacks in symmetry or the grace of TajMahal. You can easily give this place a miss if you have visited the TajMahal.
I understand that it is a little off-beat way to spend your weekends, but it is so worth it. Witnessing the wonders of ancient India, which even after hundreds of years and facing countless attacks from various emperors are still standing tall. Visiting these places truly makes us understand how advanced we were during ancient times. It was a golden period that gave India, the rich and beautiful culture, architecture, art and literature that we can boast off even today. So do yourselves a favor, grab a bag and hop on the next train that takes you to this historical expedition.
About the Author
I am passionate about exploring hidden and off beat gems of India. I love Indian literature and art. I am also an enthusiast of self-care and wellness practices. I am a contributing writer at Dr. Prem Web Magazine Network.