The rage of Christmas celebrations and the accompanying boisterous frenzy may force you to look for quieter holiday destinations to uncoil. Particularly, if you are a peace-loving kind and opt to relish a private sojourn. The serenity and tourist appeal of these spots are far more overpowering than Christmas pageantry.
It does make sense to opt for a few 'silent nights' vacation after gorging on ginger cakes and turkey roasts and emptying bottles of wine. Christmas is most often loud event, hitting you deep, disrupting personal tranquil.  If you are looking for a post-Christmas vacation, glance through the list of quiet getaways to extend your celebration flavor in a different way.
20 best travel destinations to explore post Christmas in 2020
20 best holiday destinations to explore post Christmas in 2020:
1.     Dubai: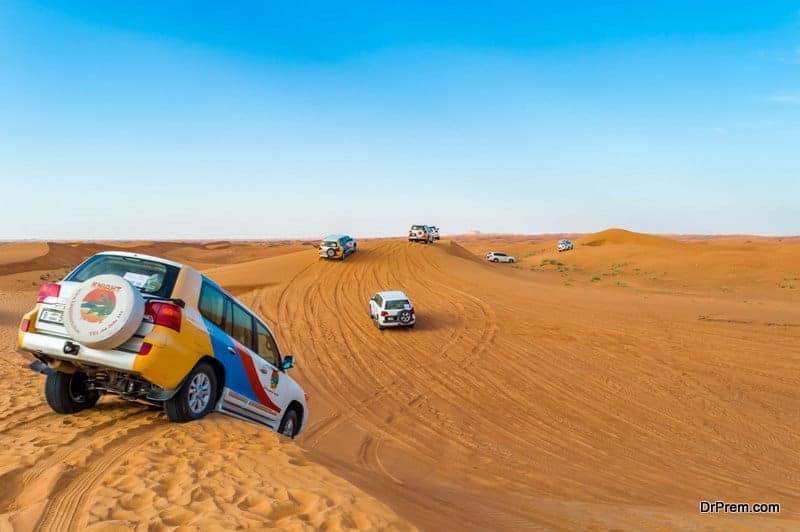 No season can beat a vacation in Dubai done in December/January. The climate cools off if you think of the summer 42°C scorchers. Dubai is rich and pulsating, every day feels like a celebration. You won't have a separate or special feel for amusement on Christmas. A desert safari or exploring the sand would be a brilliant idea.
Dune bashing at the Al Qudra is high on tourist popularity meter and equally exciting would be bird watching at the Al Qudra Lake. Do not miss Dubai's shopping festival that kicks off on 26th December. It is a unique experience and practically a pleasant shock to catch a glimpse of the exotic and exquisite wares on display. Make the most of the discount spree to avail almost 90 % price reduction in some of your picks.
2.     Nepal: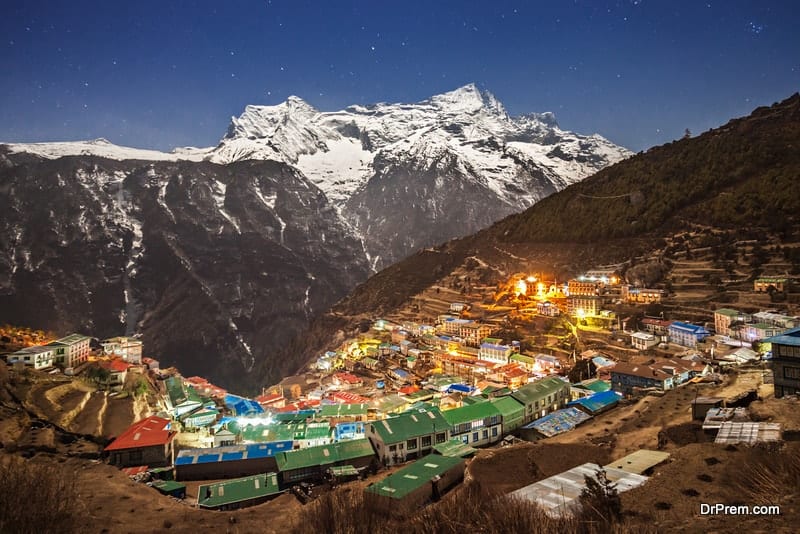 A winter getaway to Nepal could be an optional choice if the festival of Christmas doesn't turn the key of fun inside you. As such, to mark the auspicious occasion, offices in Nepal stay closed. But shops and other places of tourist interest remain open. You have a great opportunity for Nepal Himalayan trekking.
Since winter is too cold over here, it is officially off-season for tourists. A chance to get services at a much-reduced price so far trekking guide fee is concerned exists.
Trekking in Nepal is the most challenging and treacherous. But the thrill is overwhelming. Clear visibility of the snow-capped paradise around you comes as a highly-valued Christmas gift! A trek to Mt. Annapurna in the last stretch of December is highly endorsed.
3.     Grand Canary Islands: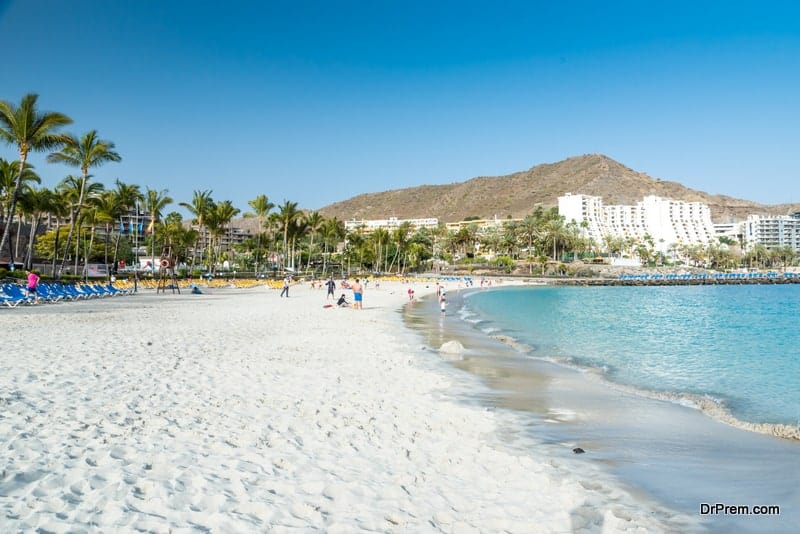 The Canary Islands off the North-Western coast of Africa could be one great choice to explore post Christmas in 2020. If you are looking for everything except the Christmas bug, this beautiful island is a dream destination. Temperature is moderate- the biting December chill is absent. A pleasant 20°C would trigger your energy level, but try to put as much distance between you and the bustling capital Las Palmas.
If you prefer serenity, avoid the city grind in the capital. On the south-western part of the island, you will find a port called Puerto de Morgan. It is quaint and peaceful. The island offers featured activities as well like a jeep safari. This is simply amazing!
4.     Turkey: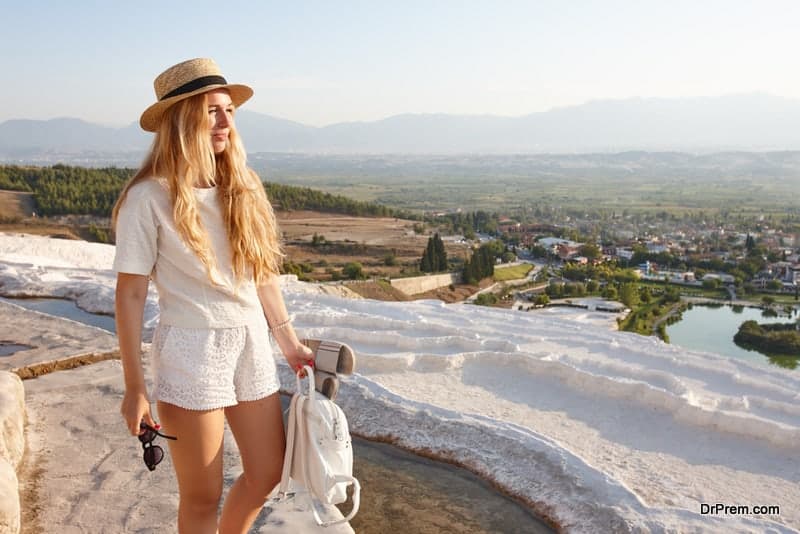 Turkey is a great option for a post Christmas vacation. Fundamentally, being a Muslim country, you won't find Christmas vibes ruling the capital Istanbul and other cities. Majestic mosques, souks and the legendary Turkish baths (Hammams) have been a part of rich tradition.
Christmas or no Christmas, these form the very fabric of Turkish culture and religion. They are always here to fascinate you. Few remarkable places of tourist attraction are the Blue Mosque, Topkapi Palace and the Grand Bazar. They will keep you engrossed, dwarfing the Christmas excitement if at all it has any impact on you. You will find a trip to Turkey lot easier and cozy during the winter months.
5.     Silent nights in Devon, United Kingdom :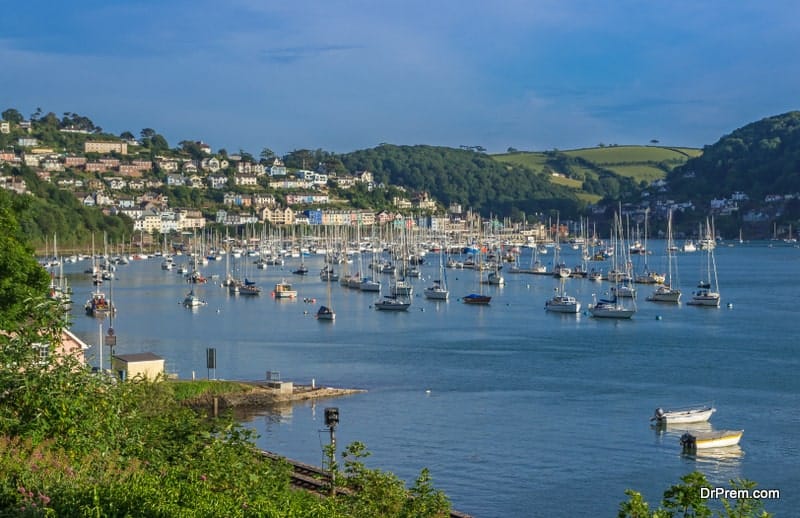 In the UK, the festival of Christmas is the most important event. Still, here you would love to spend a short tranquil post Christmas vacation. Sharpham House, a Grade 1 enlisted Gregorian house, would meet your dreams if you love solitude. This property stands on the banks of river Dart in Devon. This sprawling 550 acres estate has facilities to support your wellness activities as well. Yoga classes, meditation sessions and stress-free walks along the terraced gardens would take you far away from the daily hubbub.  The property can accommodate up to 32 guests who should not miss the scenic beauty of Capability Brown landscapes.
6.     Exotic escapes in Thailand: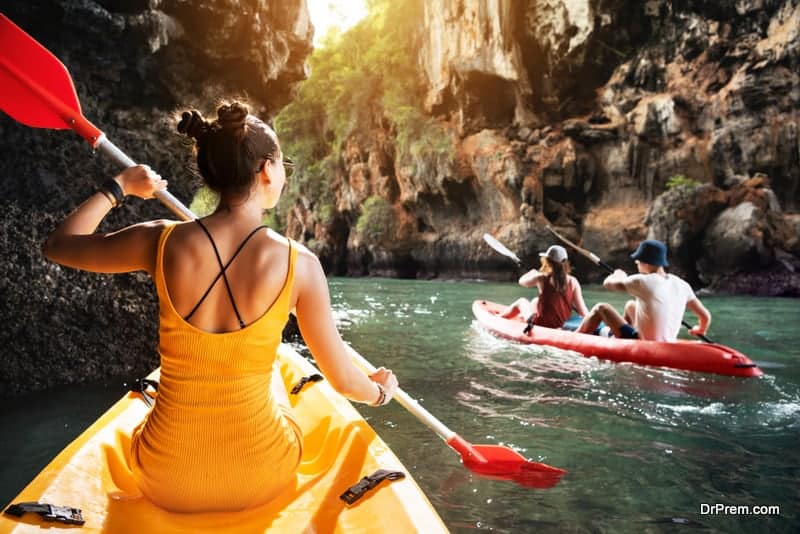 How about exploring the wilds of Northern Thailand after the Christmas? Visit the Elephant Nature Park in the rainforests of Chiang Mai. Ride on an elephant and feel at the top of the world. You can watch from close quarters the giant Pachyderms being fed and bathed, it is a visual treat.
Cycle tours, hiking through forests and jungles, crossing rivers on rafts and exploring Bangkok nightlife are fantastic experiences. They would pump your adrenaline more efficiently than a Christmas marketing binge would do. Exotic Thai cuisine is a bonus treat.
7.      Country Retreat in Gwynedd, Wales: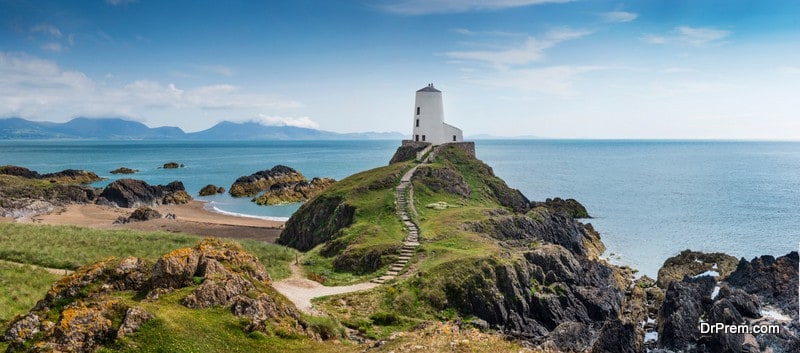 Looking for a tranquil escapade after the Christmas din? Gwynedd, a county in Wales would be a dream spot cut out for your fancy. National Trust Self Catering Cottages would do the magic. You would remember this accommodation; it is serene and free from any distractions that are highly sought after.
The rustic character of these cottages is one thing that would strike you. Open fireplaces, farms and sprawling acres in front of your cottage are just breathtaking. If you have pets they can well accompany you here.  You will be delighted to have a round of morning walk in the soft sun with your dog trotting beside you.
8.     Active adventures, Vietnam: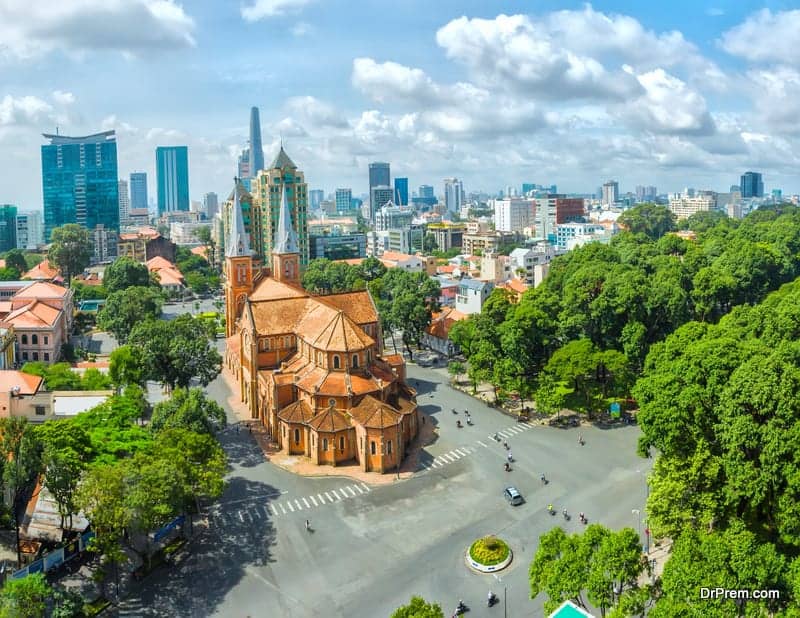 Let Vietnam be the destination for your post Christmas exploration in 2020. This is a country of incredible landscapes, delicious cuisine and a hard-earned independence fighting barriers stained in blood and bombings. Vietnam is recommended for family vacations suiting members of all age groups. Attractions are many and capable of overshadowing the chime of jingle bells.
Cyclo tours, cruise in Halong Bay and a daylong Airbnb stay with local families would spice up your vacation. There are more attractions both in Hanoi and Ho Chi Minh City. Visiting Ho Chi Minh mausoleum, his stilt house, a single pillar pagoda, boating in Mekong Delta backwaters, the awesome beaches and the infamous Chu Chi tunnels, you can't ask for more this Christmas.
9.     Explore the No Man's Island, Lundy, Great Britain: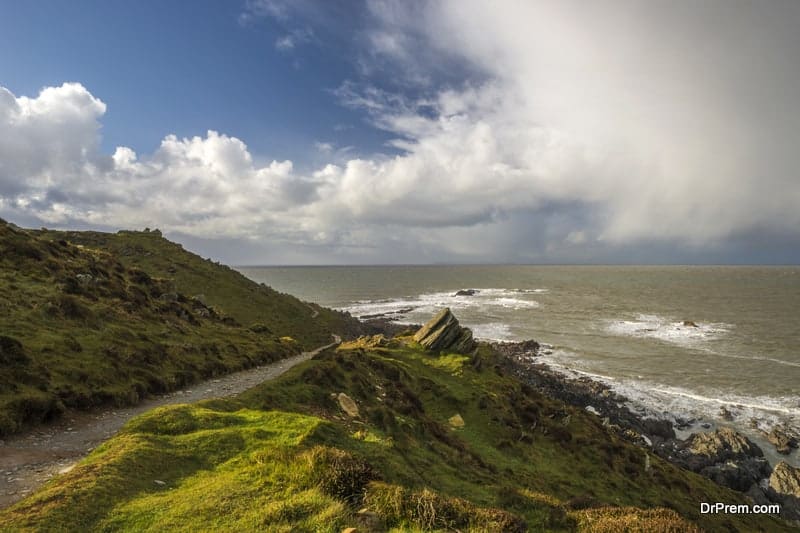 This island set in the Bristol Channel of Great Britain is far from the mores and hub of human activities. It is pretty windy over here as expected, but the winds of change for a modern digital world have not touched the island. Forget about television and the internet, you won't even get a mobile alert.
You connect with this secluded island paradise on a helicopter alone. The sea is pretty rough for a cruise. The only pub existing on the island is Marisco Tavern where you will find some crowd. If you do not like the gathering wishing each other greetings, opt-out for a solitary break in front of a comforting fire of your own lighthouse. Bliss guaranteed for sure!
10.     Head to the wild, the Himalayas, India:
If you desire an exceptional post Christmas exploration in 2020, come to Garhwal.  Trekking experience in Garhwal Himalayas in India would be an ideal spot selection. Professional Hiking companies like India Hikes & Harkidun Protection & Mountaineering Association exist to give you a handheld exposure to hiking.
Throughout the winter, they arrange incredible treks along amazing Himalayan charm. Among treks organized the Kedarnath trek is an unforgettable experience in bone chilling cold winter.
11.       Head for a party town: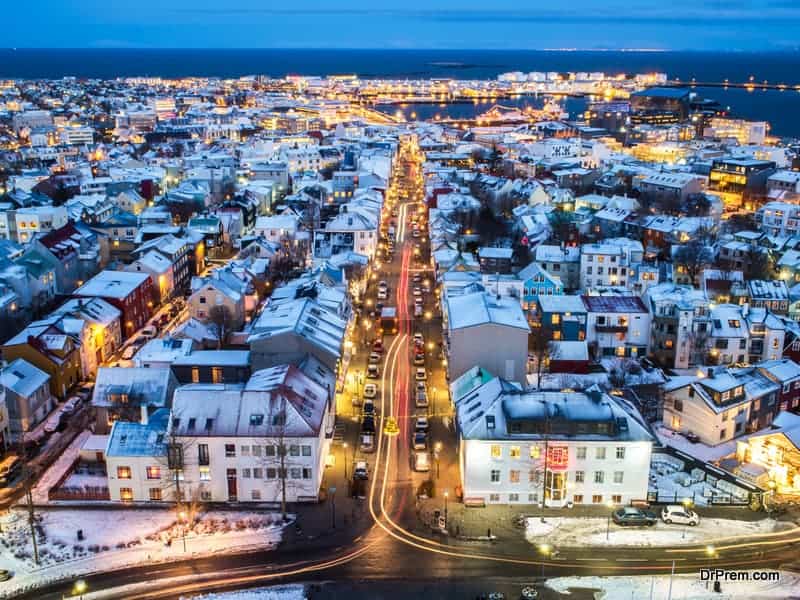 Choice can be many, though New Orleans and the Icelandic capital of Reykjavik are the most promising candidates for this. These are regular party towns and do not hold anything special for a post Christmas exploration. Boozing at pubs is the usual scene for 365 days and in a way, a great leveler in the sense the spirit of Christmas doesn't stand out with great prominence.
Paradoxically, Christmas is celebrated in New Orleans with fervor, but somehow compared to the rest of the year, it is not as zesty. Nevertheless, these party towns will keep you absorbed with their local enchantments.
12.      Morocco: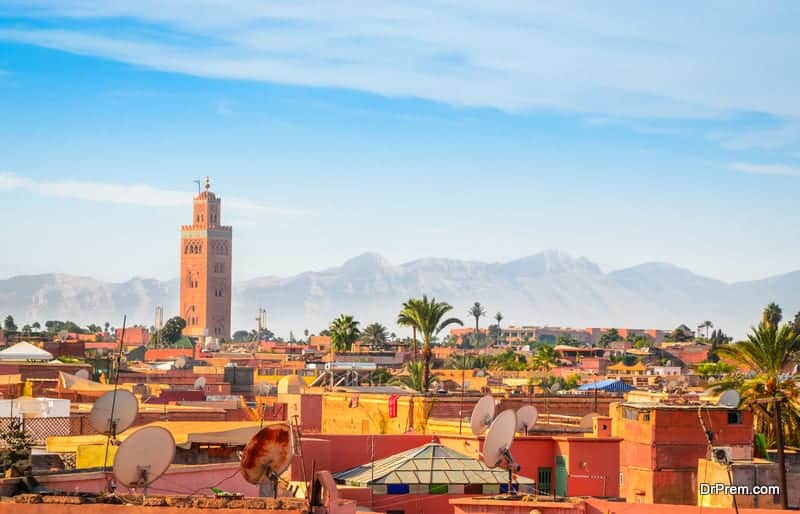 Marrakech, the capital city of Morocco could be an excellent choice for post Christmas exploration in 2020. Markets or souks, staggering mosques, the aroma of an assortment of spices would mesmerize you. Equally fabulous are the handcrafted boutiques. The ambience certainly would throw a challenge before an English Christmas night.
The northern part of the city is overcrowded with souks selling all kinds of merchandise under the sun. Mosques and specialty boutique shops stand in less crowded locations. A desert safari after the Christmas celebrations would be a welcome break from the usual puddings and pies, the Santa and carols.  Such a trip includes camel rides and making it to the largest sand dunes. A January night spent in the desert under a starlit sky would be a splendid experience.
13.       Go for sand in Maldives: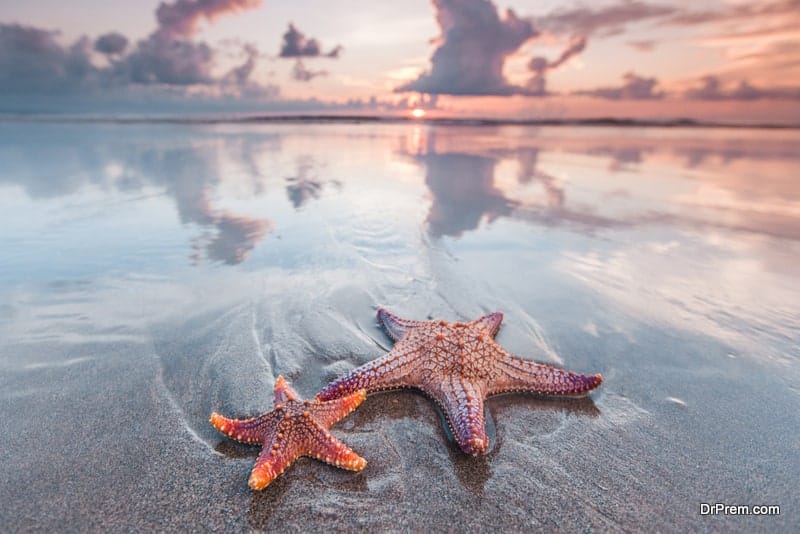 If Christmas is intimately connected with snow, why not get some feel for sand on your post Christmas exploration in 2020. Since Muslim religion is predominant in the Maldives, you won't find any distinctive features of Christmas celebrations; it would be more of a muted celebration among few Christian locals. The temperature is pleasant on your skin, not too hot, though reaching 30 degrees Celsius.
The primary attractions in the Maldives are the white sand beaches and turquoise waters. If you have made up your mind to head for the Maldives after the Christmas, do not miss Ari Atol. This marine spot is a regular haunt for large shoals of fishes and whale sharks. In fact, Maldives boasts being one of the prime spots for diving and snorkeling.
14.   Namibia: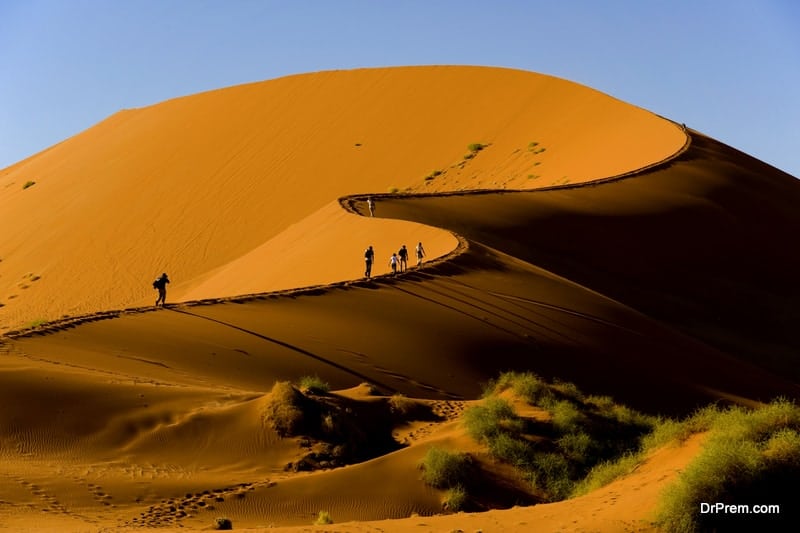 Namibia would not be a bad choice if you are looking for a serene post-Christmas celebration.  This African country is supposed to be the safest for tourists. A post- Christmas exploration in the wild grassy plains of Namibia would be a welcome change. Wildlife roams free and among Namibian National Parks, Etosha is quite famous. Lions, leopards, elephants, giraffes and many more from different species abound here.
You can feel the fun of a road trip since the roads are good and do not have much traffic. Long trips include occasional halts for roadside snacking giving you an opportunity to communicate with the local tribes. A visit to the Namibian desert is a must it is supposed to be the oldest and the most arid.
Fossilized old trees in marshes standing up against rugged dunes set up a picturesque image. Sunset on the Atlantic from the Namibian coast is a lifetime glimpse into surreal beauty. A night spent at the cozy Dolomite camp in the middle of the park serves a great experience. Occasional prowl by leopards is fuel enough to set your adrenaline rush at top gear.
15.     Costa Rica: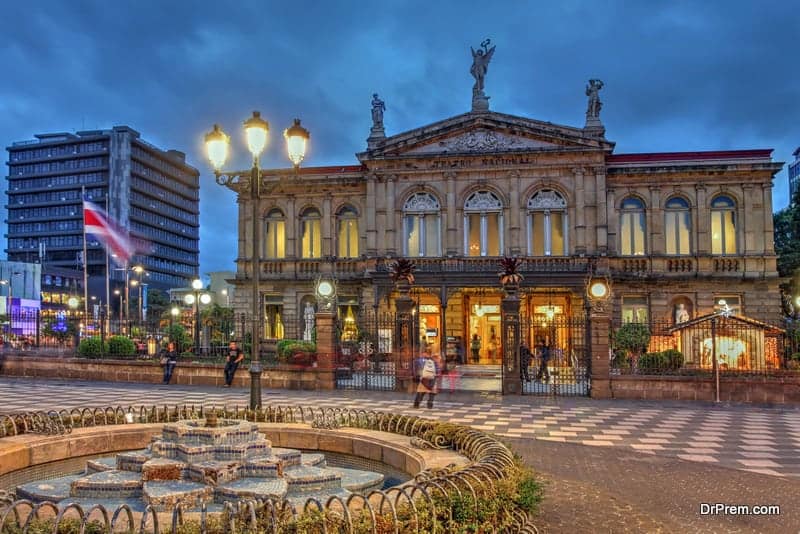 The thick Costa Rican verdure would be the right destination for a post Christmas exploration this year. A plethora of wildlife, lush forests, volcanoes and sea beaches open to both the Pacific and Atlantic oceans, Costa Rica is blessed with all.
Stay at an eco-lodge and enjoy nature at its best. Sloths and hummingbirds draw your attention as would the butterflies and other exotic bird species. Relax in a hammock on a pleasant afternoon, Costa Rican charm will work wonders for you. Make it a point to visit the Monteverde Cloud forest, its suspension bridges and treetop hikes conjure up unforgettable moments.
16.       Japan:
Japan is traditionally a country having little to do with Christmas. Buddhism and Shintoism are the main religion. A prudent choice for post Christmas exploration would be to avoid the rush in Tokyo. The winter chill remains. Winter Festivals are a big draw in January. Make a move towards Kyoto instead to savor some authentic and traditional Japanese culture. Geisha houses, bamboo orchards and picture-perfect gardens are some of the pleasant surprises.
17.        Zanzibar: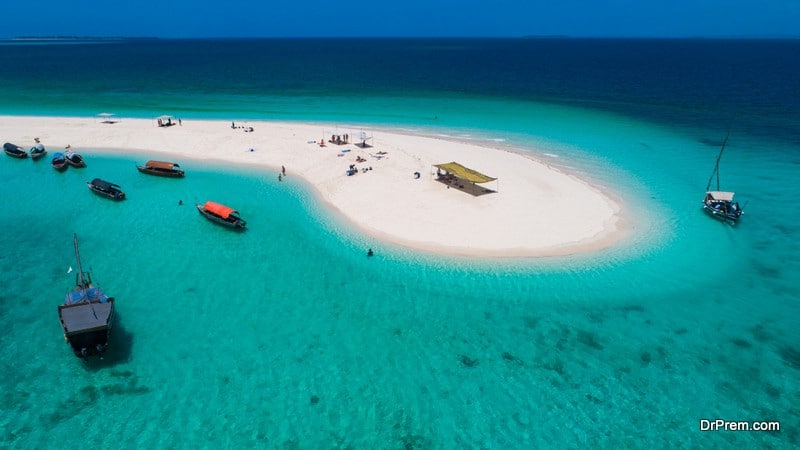 The island of Zanzibar is an amazing fusion of culture where Arabic, Indian and African elements pop in a mix. This small and picturesque island is rich in history. Foreign invasions, slavery and rebellion have left indelible marks on its soil and dust.
Zanzibar is also the birthplace of eminent English singer and songwriter Frederick Mercury. Despite invasion, oppression and bloodshed, Zanzibar is serene, making it a perfect holiday destination for a post Christmas exploration. Its sandy beaches get lapped by waves and its snorkeling spots and delicious seafood leave an impact on tourists.
18.         Jordan: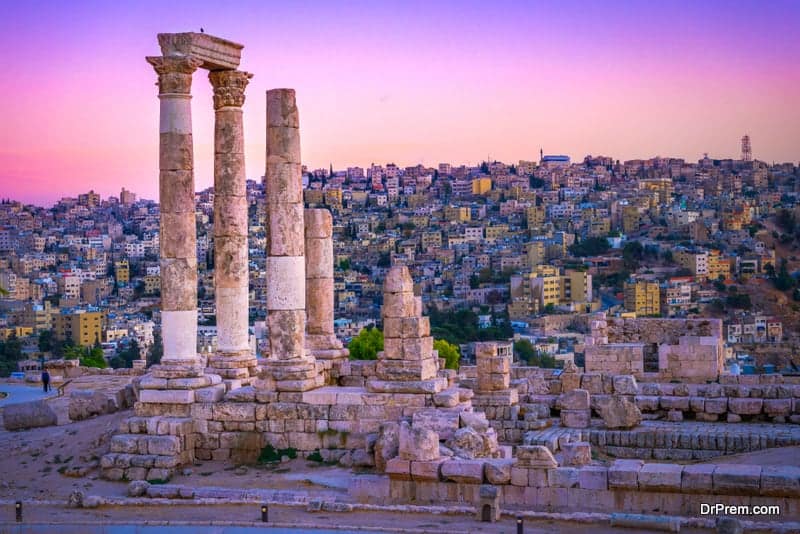 If you are fed up with the noisy Christmas celebrations, you may head towards Jordan this winter. The Dead Sea is famous for great sunsets. Enjoy the relaxing hours as you float in high saline water. Bedouine geniality and scrumptious desert-cuisine with basic meat delicacies are simply adorable.
It will make you relax and uncoil from the frenzy celebrations that you just had back home. One of the best tourist attractions is the ' Petra ', an amazing edifice cut from sandstone rock and founded in 1000 BC by the Edomites. One of the best-conserved parts is the Street of Facades containing the treasury of Khazneh. It is probably a temple. A night tour to the candlelit treasury for hot mint tea would be a bonus. Night temperature is quite chilling, so you won't miss the wintry flavor.
19.         Mauritius: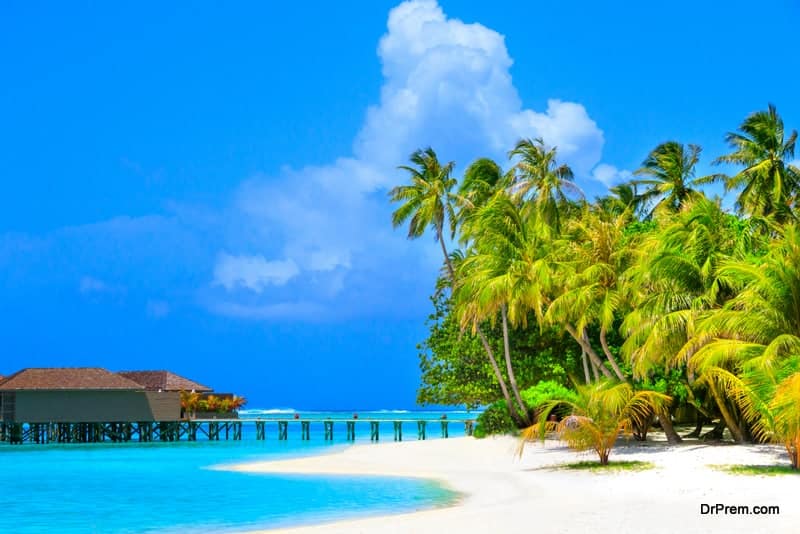 If you are looking for quiet getaways for post Christmas exploration, you can count Mauritius in. This tiny island paradise is dominated by Hindus; hence the heat of Christmas is not that much. It is good for vacationers extending their Christmas celebrations beyond New Year. A slight amendment in the budget may be needed. Prices shoot around New Year. Since the size of the island is small, you can hire a cab and cover most of this beautiful island. Pamplemousses Botanical garden is a must in your bucket list. Up north at Grand Baie, sandy beaches and the azure sea await your arrival. To the east of the island is the coral reef of Belle Mare. Don't miss it!
20.        Beijing, China :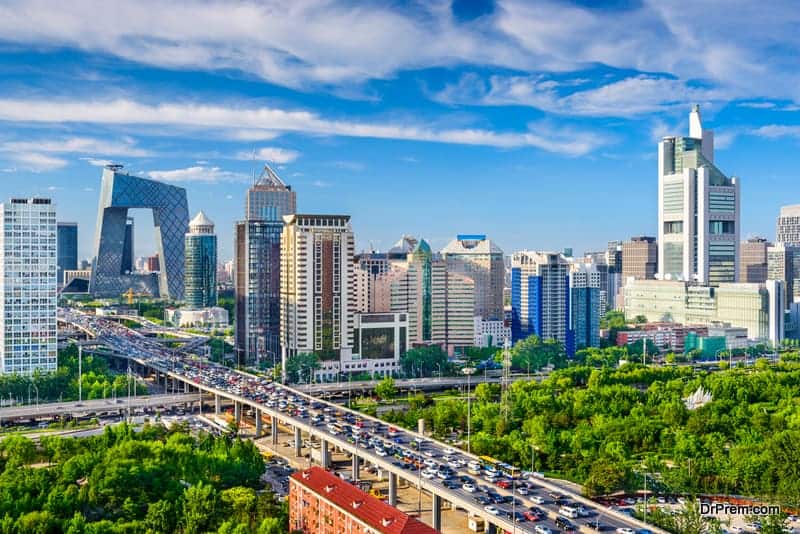 In China, Christianity is not a major religion nor it is celebrated with much ardor neither is Christmas a national holiday. Whatever traces of Christmas function, you are likely to encounter it for business reasons. There are attractions far more compelling.
For your post Christmas exploration in 2020, choose the Forbidden City, the Summer Palace, Jingshan Park and Pangayuan antique market. Beijing acrobatic show is worth watching. Domestic flight prices are likely to drop this time and you can visit nearby cities keeping Beijing as a base camp.