Guide to history of wildlife tourism, countries promoting it and how to find budget wildlife holidays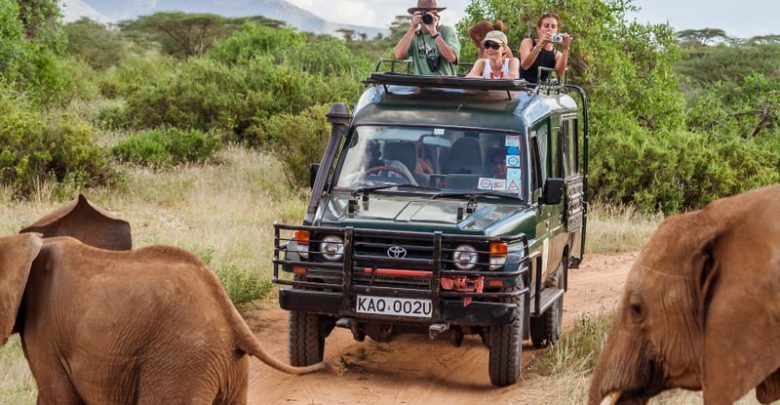 Wild life tourism is not a recent activity that had won popularity among adventure loving tourists. Those with a strong penchant for wild life and its natural habitat had answered the irresistible call of the wild down the ages. Let us know about countries promoting wildlife tourism and budget wildlife holidays offered in popular destinations.
In the past, the gun took precedence over camera and men went on foot, elephant and horse backs in search of big games. The perils were astronomical. Sometimes these daring adventure trips resulted in death of the hunter. If luck stays on his side, he returned with his trophy, the carcass of a lion or a tiger shot by him and carried by his faithful followers. The world watched with startled silence the courage and hunting prowess displayed by him with pride and an air of triumph.
Hunting – the adventurous aspect of wildlife tourism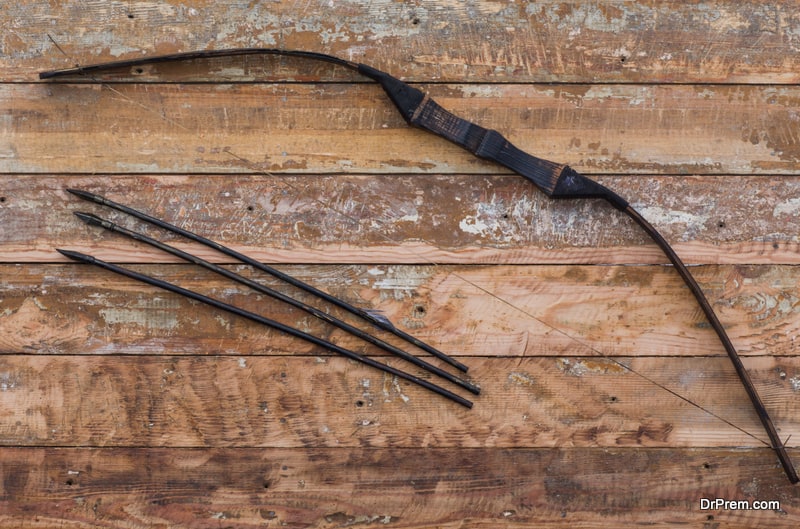 India had been famous for its dense forests and a huge wild life population constituting fierce carnivores, wild herbivores and a variety of land, arboreal and aquatic reptiles, acrobatic primates and a host of colorful birds. The forests came alive with their growls, grunts, hisses and chirps. It was a favorite past time for Maharajahs and Zamindars to go on a hunting spree. This was wild adventure and a mark of courage. The maharajas of Princely states scattered across the Indian subcontinent like Rajasthan, Mysore, Nepal, Gwalior and Assam went out into the wilds with an army of followers with much fan fare. There were beaters who herded the wild animal round the corner so that the maharaja can accomplish his hunt at his leisure from the 'howdah' , the regal seat mounted on elephant back or the ' machan, which is a makeshift sitting arrangement perched high up on the tree . The hunter had a vantage point for getting a perfect view to a kill.
These legendary wild life safaris are primarily driven by a fierce chauvinism; an intense esteem of one's own physical ability and male courage. The expedition sometimes lasted for months. The queen and the women folk waited for the king to return from his hunting trip with pomp and grandiose.
The result of the trip generally culminated in an awe-inspiring display in the royal palace with the muzzles of elephants, wild gaurs, sambars, tigers and leopards, the victims of the Rajah's gunshot. The focus was more on hunting rather than observing wild life behavior in their habitat. Arrangement for the stock of food, water, tents and management of a huge group had to be planned as it is done today. Since restriction on hunting did not exist, the touring team gathered food by hunting down sambar, deer and fowl. The expeditions were basically filled with thrill and kill.
Wildlife expeditions and safaris in Africa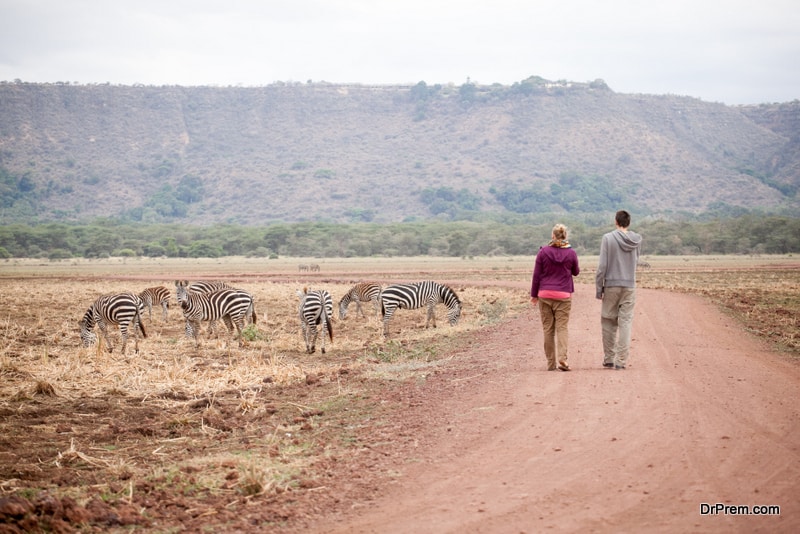 If we look into the history of African wild life expeditions, we will be startled at the sheer scale of these adventure trips and the enormous perils lying in wait on the way. Livingstone and Stanley are awe inspiring names in African safaris. Armed with provisions, guns and ammunitions, local African porters, doctor, grit, courage, a fiery passion for adventure and finally an intense desire to make a name, they have traversed across the entire east- west of the Dark Continent. The initial size of the group drastically reduced upon the completion of expeditions. Deadly diseases like yellow fever, malaria and bilharzias claimed lives. Some became victims to wild animal attacks while others simply perished under stress and strain of the expeditions!
Nevertheless, despite the loss of lives and inhuman pain and hazards, the dangerous wild life safaris continued to lure man. The call of the wild was too tempting to resist. The wild life and the jungle had always enchanted man. They felt a strong desire to undertake wild life expeditions. The pull cuts across the races and civilizations. Tracking down lions in the wild and hunting them with spears was traditionally very popular, and considered a chivalrous and daring act among the Moran warriors of the African Masai tribes and among Egyptians. The lure of the wild and a passionate yearning to meet the beast was more powerful to offset the danger that goes with it.
Wild life expeditions were certainly made by the Romans in the African and Eurasians wild building up a formidable inventory of wild beasts for gladiatorial combats.
Countries promoting wild life tourism
Many countries have realized their rich diversity of plant and animal life can be a source of tourist entertainment. This natural wealth is a big support promoting the country's economy. Many countries like Nepal, Thailand, Malaysia, India and African countries have been showcasing their wild life wealth to draw a huge number of tourists.
Nepal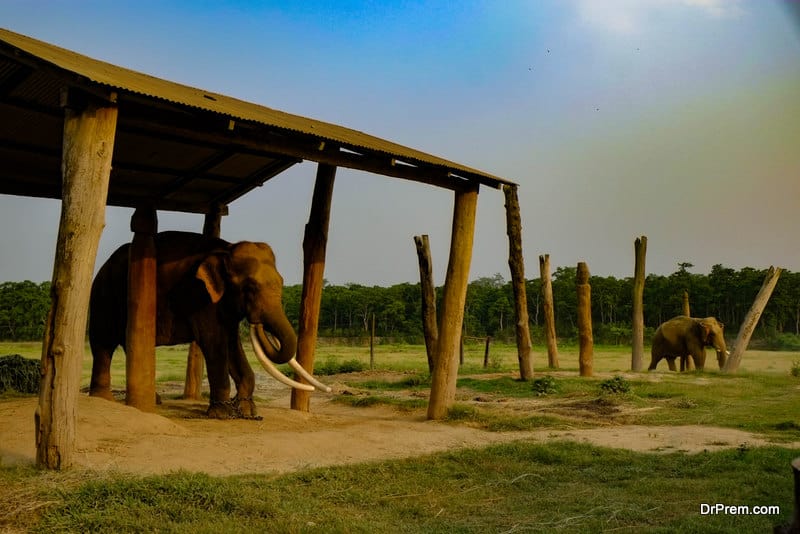 Nepal, a country sandwiched between India and Tibet is located in the foothills of Himalayas. The dense Terai forest covers a substantial land area. Chitwan National park is a home to elephants, tigers, Indian rhinos, leopards, monkeys and a host of birds. To promote tourism and for health care of elephants, polo is organized ensuring inflow of money. This money is used for launching remedies to combat diseases that affect elephants and for general upkeep of flora and fauna. Elephant rides are organized deep into the forest for rhino sightings.
Malaysia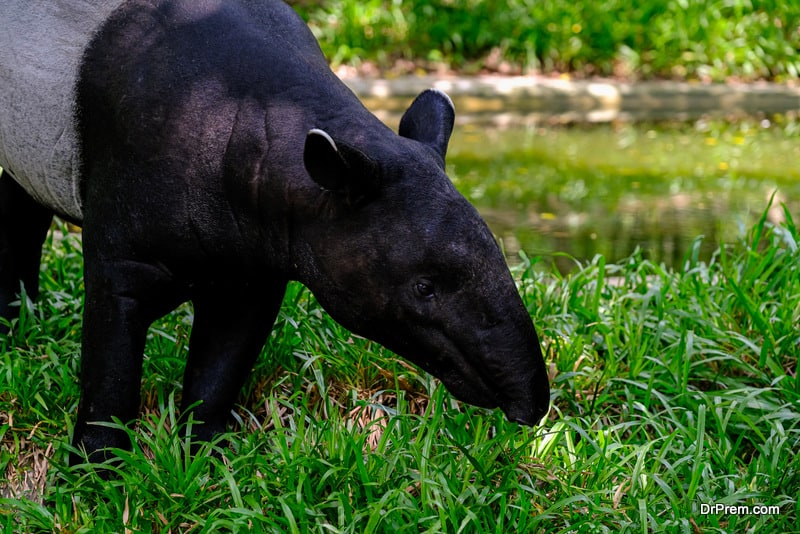 Malaysia has recognized the huge potential that rests in zoos. The country has targeted zoos as an inspiring media to promote wild life tourism. It is the kids who are seen flocking around animal enclosures in the week ends with their parents. It is a source of a big time pleasure, and the next thing they want to experience is to see the animals exactly the way they behave in their natural habitats. This unique idea of the government has received encouraging support from all corners and it is an innovative step towards making wild life tourism popular.
The orangutan the second largest primate has always fascinated man for their resemblance with him. Malaysian rainforest is where this huge acrobatic ape can be seen moving among towering woods. Quizzes on Orangutan and other animals are organized to arouse a keen interest in wild life and the flora among tourists that will lead to repeated expeditions to the Malaysian plant and animal kingdom.
Thailand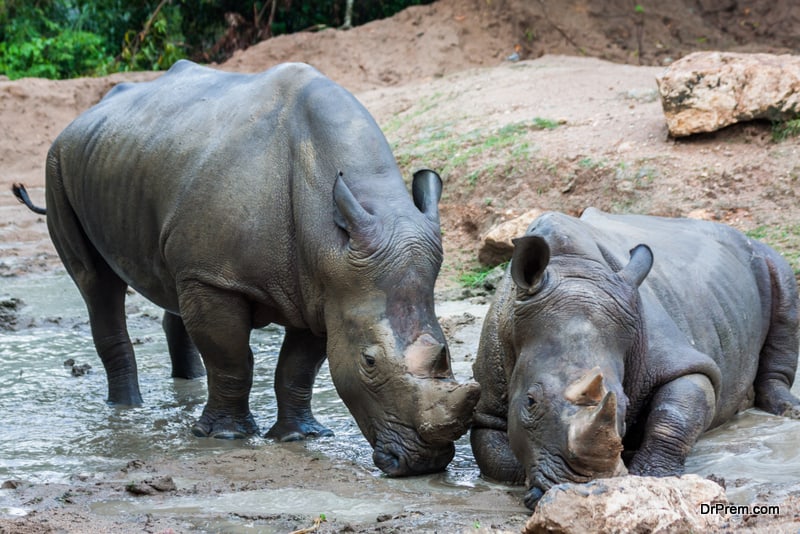 Thailand is rich in biodiversity and inspires wildlife tourism as a means to promote economic welfare. The country holds elephant polo competitions to promote wild life tourism. It is quite popular and draws a big crowd. Thailand has a wealth of exquisite wild life parks and sanctuaries and a huge attraction for animal and bird watching.
The forests abound in tigers, leopards, elephants, gibbons, wild pigs, barking deer, tapir, Sumatran rhinos, king cobras, deadly pythons and a large species of birds. Rafting, kayaking, waterfall trekking are featured adventure sports to spice up the spirit of wild life tourism.
India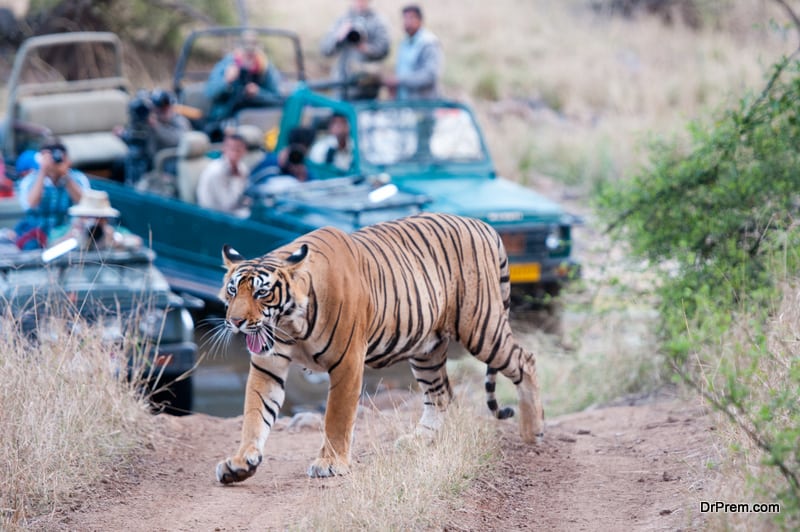 India with its enormous wealth and variety of flora and fauna has developed an effective and tourist friendly infrastructure to enable wildlife enthusiasts across the world to explore India's forests. There are sanctuaries and reserve forests to follow the tiger trail like Manas , Bandhabhgarh, Kanha ,Namdapha and Sunderbans. Namdapha is famous for all the four species of the feline family -tiger, leopard, clouded and snow leopard roaming in altitudes ranging from 500 to 5000 meters.
The forest bungalows are cozy answering the needs of a tourist.  Sunder bans which is a delta thick with mangrove swamps is home to one of the most ferocious breeds of tiger. The forest can be traversed only on steamers that sail across tributaries that cut through the region. The arrangements in steamers and forest lodges are reasonably good. In India, elephant rides are arranged in some reserve forests like Kaziranga and Manas to inspire tiger and rhino sightings at close quarters. 
Kenya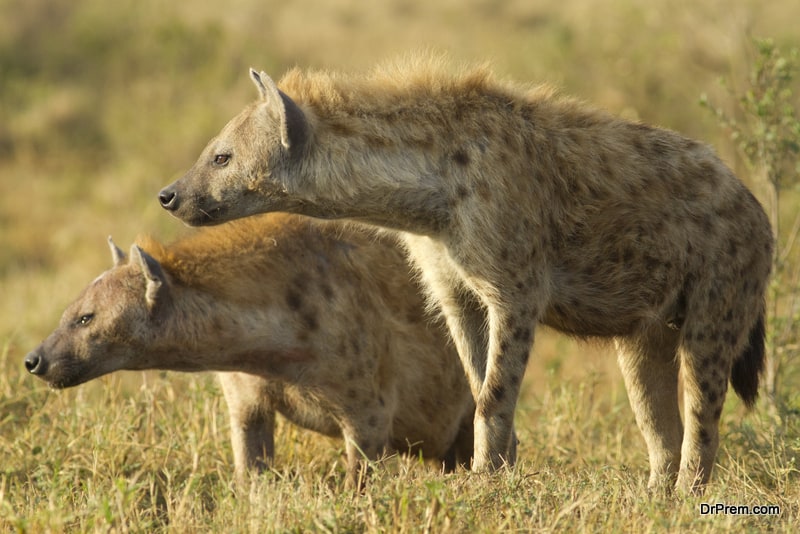 Reputation of Kenya as a big game country is fairly historical .More than 40 national parks and reserve forests are thick with wildlife consisting of lions, leopards, cheetahs ,elephants, hyenas, wild dogs, zebras and gnus to name a few. Its terrain is mottled forming a major tourist attraction. Wild life tourism and Kenya are inseparable and is a touch of delightful experience. Kenyan wild life is popular worldwide and the government is making every effort to expand its recognition further.
Eminent big game hunter like Roosevelt has a major say in upholding Kenya as an important wild life destination. Safari vans carrying tourists run over long distances and exclusive safari lodges exist offering tourists a hassle free stay. These are signals strong enough to put Kenya as a blazing destination in the global map of wild life tourism. The country is doing best to accommodate the influx of tourists pouring in from all corners of the world.
Boutique lodges are coming up fast to provide guests a luxurious stay amid tranquility and wilderness. To enhance the appeal of the atmosphere, Kenyan coastline is not far off with blue waves breaking against a long stretch of soft and white sands. The legendary region of Tsavo has a very strong tourist appeal for its association with a pair of ill famed man-eating lions who terrorized the country with their assaults bathed in human blood. Simba hills and Tatia hills are other destinations offering a first grade genuine flavor of wild life tourism.
South Africa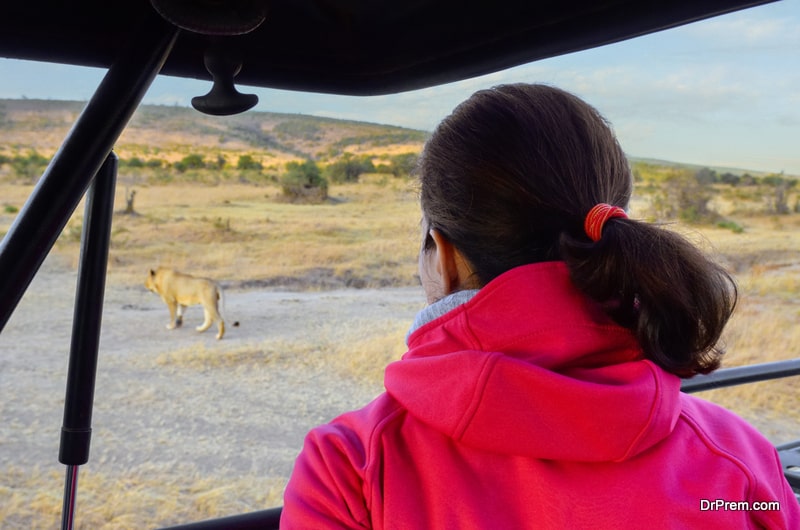 South Africa ranks third in the world in terms of bio diversity. It has become one of the world's most prized wild life tourism destinations in the world and to support its tourist inflow, world class infrastructure has been set up and operated with utmost efficiency and class.
Besides its celebrated national parks, South Africa boasts of a range of private reserves all presenting brilliant wildlife and ornithological expeditions.
To achieve distinct game exposure, the lower region of the Veldt of Limpopo, Mpumalanga and Kwazulu Natal province are the ultimate destination. Lazy lions stretch out in the sun after a hectic chase hunt experience the night before. Herds of elephants clump elegantly through the bush with occasional trumpets sending deep chords around. There is a tour grading council whose function is to appraise the quality of safari lodges and grading is done compelling the lodge authority to improve on the quality of accommodation and service, a constant endeavor to promote wild life tourism.
Brazil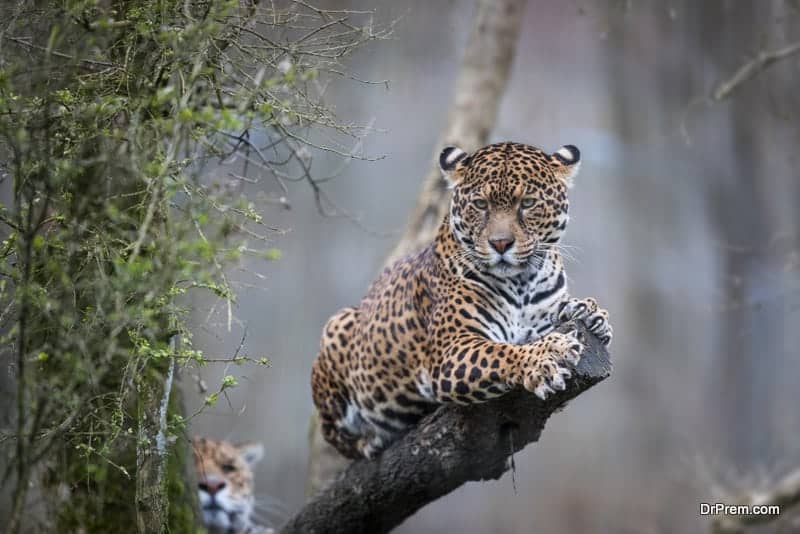 Brazil is blessed with a rich distribution of flora and fauna. The thick forest along the Amazon basin brings forth romantic undertones. It is a home to a host of birds, mammals and reptiles. To promote wild life tourism, fun cruises are organized offering good food and accommodation in steamers. The tourist watches the forest covered river banks for sighting jaguars, the iconic big cat of Amazon on prowl.
The rivers house caimans, and if you are lucky a caiman-anaconda fight would give you waves of kick. The forest comes alive with shrieks and shrills of monkeys, birds, capybaras and a swarm of insects. Guided tours are organized mostly on cruise drawing wild life buffs from around the world. Some of the world's most primitive tribes inhabit the jungles and sure is a wonderful experience meeting them.
A guide to finding budget wildlife holidays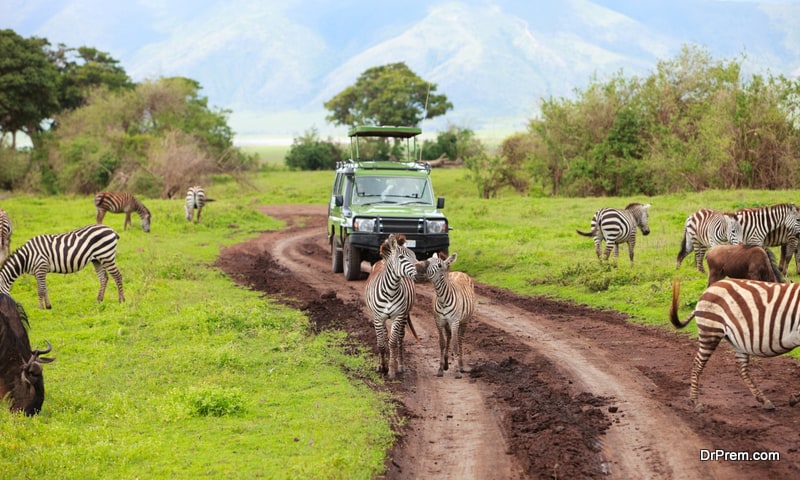 Passionate about wildlife holidays but want to avoid crazy spending? Why not go for budget wildlife holidays?  It may be attractive package deals offered by tourism companies or a great self-planned itinerary. Any option you choose, it is always recommended to check your resources and be well informed. Preparedness is one thing you need to ensure in order to enjoy a great wildlife trip. Follow the stepwise guidance to know more about cheap safari holidays, the requirements and other vital information.
Steps to planning budget wildlife holidays:
Destination selection:
Which part of the world you would like to visit? Which species attract you most? Are you a conventional vacationer or look for something exceptional? Your destination choice and vacation planning will be based on these.
Put your best online-searching efforts. Google is a great assistant. Also, check mammalwatching.com that provides an extensive overview of trips with loads of info about animal species and their spotting sites.
Google Earth and observado.org are other helpful tools to help you plan different categories of budget wildlife holidays.  Facebook groups and forums are great for information gathering where you will get ample suggestions of the most affordable wildlife packages.
Package deals or DIY holidays?
The choice is entirely yours. Package holidays often carry few benefits. They give you full cover, save your time and enable best savings in budget wildlife holidays especially for 7, 10 and 14-day vacations.
While for shorter durations, DIY holidays will be more suitable. You will have the flexibility to make your choice. While looking for package holidays:
Check the comparison sites, tour operators and flash deals for best price.
Offbeat wildlife spots can give you better deals.
Make a list of popular tour operators offering budget wildlife holidays.
Talk to the tour operator directly to check out the best time and best price fitting your budget.
Accommodation, when to go and other traveling issues:
Transport:
You can avail discounted airfares if you are a bit flexible on travel dates. You can find some attractive deals on Skyscanner.com. Consider traveling by bus or train if airfares are hard to beat.
Accommodation:
Accommodation costs eat up a large fraction of your travel budget. You can consider the following cost-saving accommodation options:
Hospitality exchange: You can avail free accommodation if you can stay with a local. He may provide you a free place to rest and valuable info about wildlife behavior.
Hostels: Usual budget accommodation is meant for all ages and do not necessarily imply sleeping in dorms. Single and double rooms for solo travelers and couples are available. Amenities are even more than average hotels. Check with the Hostelworld site to choose from a great inventory.
Home Exchange: Mostly suitable for travelers owing a home. For a scheduled period, you can swap homes with the family while traveling to another country/destination. No extra accommodation expenses. It is feasible only with like-minded persons as both sides should be willing for this exchange. Check the sites Home Exchange, Seniors Home Exchange, Home for Exchange or IHEN for a better idea.
House Sitting: Here you take care of the house when the owners are away for a vacation. At the same time, you enjoy your wildlife vacation too. House sitting schedule normally runs for weeks or a month. Few sites to help you are Mind My House, House Carers and Luxury House Sitting.
Airbnb: Needless to mention this has been the most popular option in budget wildlife holidays. You get to stay in well-furnished apartments but pay much less than hotels. All amenities are available and you enjoy home comfort.
Farm Stay: One of the most affordable staying options in budget wildlife holidays. Exposure to running a farm is an added bonus to your wildlife experience. Facilities range from basic standards to luxurious accommodations. Within $40/night, you can expect a decent stay. Resourceful sites are: Farm Stay UK, Farm Stay US, Farm Stay Australia.
10 budget wildlife holidays for a lifetime experience:
Talking of wildlife holidays, the first name that strikes our mind is Africa.  Few budget packages listed below will help you get an idea of the budget wildlife holiday packages normally available. The duration, price and terms and conditions will vary depending on the tour operator.
Cheap safari holidays in South Africa:
Duration: 2 days
Cost: Below $1500
One of the greatest opportunities for wildlife exploration on a budget you get in South Africa. This 2-day action-packed safari not only helps in savings, but also ideal for those looking for short trips. While you go through bush walks, wildlife tracking, game drives, enjoy the fascinating experience of spotting wildlife icons like lions, elephants, giraffes, buffaloes and more.
Masai Mara Safari, Kenya:
Duration: 3 days
Cost: $330/per person including transport cost from Nairobi, 2-night full-board accommodation and parking fees for 4 game drives.
Another cheap safari holiday that most wildlife lovers would be looking forward to. You may have to give up some comfort owing to 5-6 hour road travel from Nairobi; but spending nearly 2 full days observing the wildlife giants and the great wildebeest migration of Serengeti is an experience of a lifetime.
Gorilla Safari, Uganda:
Duration: 3 days
Cost: $895 per person including road transport from Kampala, 2-night full board accommodation, a day for gorilla tracking and its permit.
Gorilla safaris normally are painfully expensive. This budget package is possible for the discounts offered by the Ugandan Wildlife Authority during lean season from April-May and November. You get to stay in a lodge overlooking the picturesque Lake Mutanda and Virunga Mountains. You track gorillas through the dense Bwindi Forest and spend an hour with them.
Rhino tracking and Nile cruise, Uganda:
Duration: 3 days
Cost:  $380 per person. Include 2-night accommodation in shared tents, to and fro transport from Kampala.
Another cheap wildlife safari that heads to the Murchison Falls Park – the largest in the country. Enjoy a picnic overlooking the spectacular falls and spend a night at the base camp in the upper Nile. A thrilling game drive at the Nile delta at Lake Albert awaits you where you may view lions, giraffes, elephants and leopards. Next day, move on to the Ziwa Rhino sanctuary to track rhinos with the help of forest rangers.
Serengeti and Ngorongoro crater, Tanzania:
Duration: 4 days
Cost: $1217 per person. Include transportation from Arusha, 3-night full accommodation in campsites, camping gears, game drives and fees of parks.
Serengeti safari is in the wish-list of many travelers. It may cost a bit high than other packages offered in budget wildlife holidays. But the experience is worth it. The expansive woodlands are the home to some of the incredible wildlife species.
You get the marvelous experience of wildebeast migration when nearly 2 million animals start crossing the Mara River. Expect some spectacular wildlife activities when you stop the can and watch dumbfounded. The floor of the long-extinct Ngorongoro crater shelters herds of animals worth viewing.
Johannesburg and Kruger National Park:
Duration: 7 days (you can make it less)
Cost: $929 per person. Include walking tour, Kruger safari, drive to sunset, morning safaris, trained guides, food and accommodation.
Wildlife lovers will not like to miss out the world-famous Kruger National Park Safari. Tour operators offer all-inclusive packages, including pick up and drop facilities. A walking tour in Johannesburg will be an added attraction. Kruger park safari exposes you to a new world of wildlife and landscapes. It is great to watch lazing lions, tall and elegant giraffes, enormous elephants and jumping wildebeest.
Budget wildlife holidays from around the world:
Let us have a look at a few different types of wildlife holidays:
Kayak expedition in San Juan:
Duration: 5 day
Cost: $850 per person. Include kayaks, tents, breakfast, dinner, guides, cooking gear etc.
While paddling kayaks relaxingly around San Juan Islands, you spot an orca at a distance. Imagine the thrill! Not only this. A group of sea lions will pass your kayak playfully. This 5-day trip assures varied types of adventure packed wildlife encounters. Stunning views of hidden beaches and other marine wildlife sighting is a bonus attraction.
Explore turquoise waters of Maldives:
Duration: 8 days
Cost: Below $1500
You can opt for this budget-friendly destination to explore the jaw-dropping wildlife and landscape. Male, the capital city, is worth exploring. Move towards the tropical islands of Guraidhoo and Maafushi for mind-blowing snorkeling expeditions. The colorful underwater marine fauna will leave you stunned.
Participate in turtle conservation, Guatemala:
Duration: 1 week
Cost: Below $1500
Being a passionate wildlife lover, you can devote few days in turtle conservation to prevent them from extinction. Volunteering in sea turtle conservation is a fulfilling experience as you get an opportunity to contribute something to nature. Participate in beach patrols, beach cleanup programs, hatching process and releasing them in water. You explore the local areas and towns, mix with people and enjoy their culture and cuisine.
Volunteering wildlife rescue, Costa Rica:
Duration: Minimum 1 week
Cost: Registration fee $608 per person (1 week) or $878 per person for 2 weeks.  An all-inclusive package including food, transport and accommodation.
It is an off-the-track budget wildlife holiday where you volunteer for care and rehabilitation of Costa Rican fauna.  The country is the home to a myriad wildlife species. The objective of the rescue center is to protect and shelter animals that are victims of poaching, deforestation and illegal trafficking. Your contribution can make a huge difference in their lives.
Essential components of wild life tourism
Key drivers of wild life tourism
Best practices to be implemented in wild life tourism
Importance of planning in wildlife tourism
Travel and tourism arrangement in wildlife tourism
Preparations for wildlife tourism
Precaution and prevention tips during wildlife tourism
Things to do post wild life tourism