Malaysia is home to more than 30 national parks designated for conservation of natural species. Undoubtedly, the parks are growing popularity as ecotourism destinations much liked by eco-tourists from different corners of the globe. The country's natural grandeur unfolds as you explore these locations as you tread along the serpentine pathways. The article lists a few of them that you may add to the bucket list of activities while vacationing in Malaysia.
Taman Negara National Park, Malaysia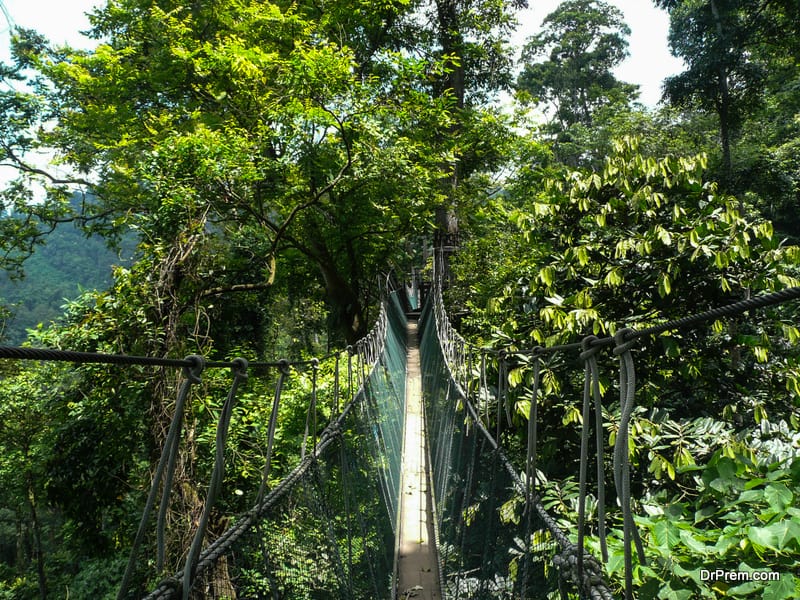 Taman Negara National Park is located in Malaysia and is the largest national park in Peninsular Malaysia. It was established in 1938/1939 and has been developed into a well-known eco tourism destination.The park covers a total area of 4,343 kilometers square. The park features several geological and biological attractions that are ripe for the visitors to enjoy. The highest point of Malaysia, Gunung Tahan, is located in the park. Climbers can use Merapoh as a departure point.
It is home to several species of mammals like Asian elephant, Malayan tiger, Crab eating macaque, Sumatran Rhinoceros, and Malayan Gaur. Bird species in the park include Red Junglefowl, Great Argus, and Malayan Peacock Pheasant.
The park has preserved the Tahan River to protect the Malaysian mahseer, which is a type of game fish. Near Kuala Tahan lie many attractions like a canopy walkway, Lata Berkoh, and a cave system called Gua Telinga.  Activities like bird watching, trekking, fishing and beautiful river view are also available in the park. The park is renowned as the world's oldest and tallest tropical rainforest.
Belum Temengor, Malaysia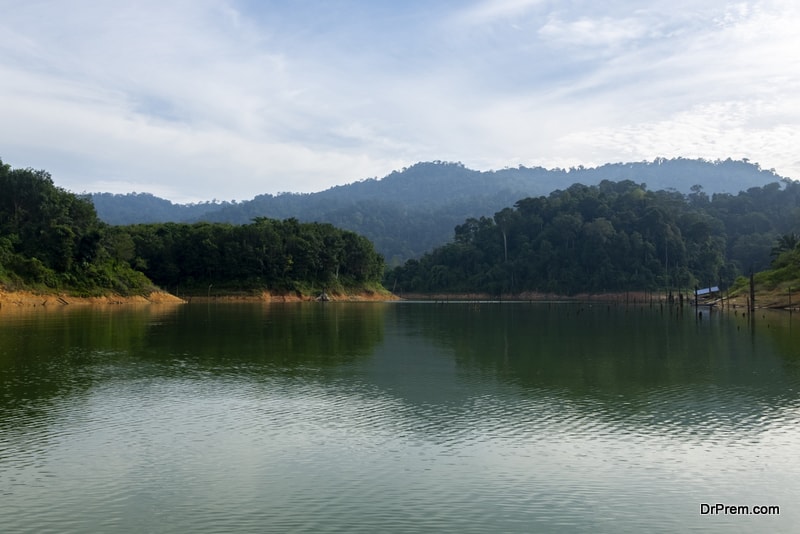 Belum Temngor Forest Complex is located in Malaysia. It is situated in the state of Perak and includes parts of Southern Thailand. Under the Malaysian National Physical Plan, the Belum Temengor is considered an Environmentally Sensitive Area and is recognized as an important bird area by Birdlife International. A part of the forest has been gazetted as a state park while the rest of the section has been left open for various developments.
An important region of the park what some people call its heart, is the manmade lake Tasik Temenggor. The gigantic lake is dotted with islands that make it a beautiful site, and a paradise for local species.
The Belum Temengor forest is undisturbed, because of which many species of plants and animals have survived until now. This includes several endangered species like Malaysian tiger, Asiatic elephant, white handed gibbon, Malaysian sunbear, and tapir.
While those listed above might be the most coveted species of the park, it is also host to several other remarkable animals like the deer, pythons, cobras, wild boars, elephant, and seladang. It is home to over 300 avian species of bird and is the only forest to have 10 species of hornbill making it an ideal place for bird watching. Three thousand species of flowering plants can be seen in the forest. These include three species of Rafflesia, the world's largest flower.
Bako National Park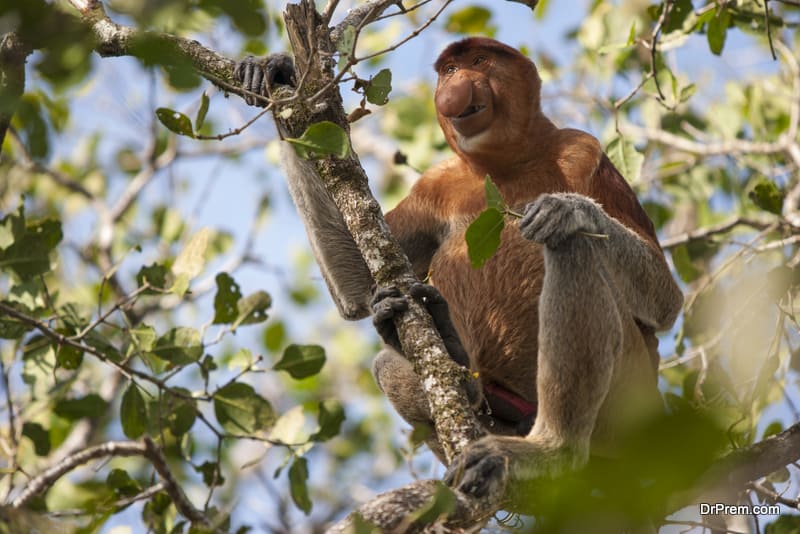 One of Malaysia's oldest reserves, the Bako National Park is a region rich in biological and ecological wealth. It covers an area of 27.27 square kilometers, which makes it one of the smallest parks in existence. Yet, it is home to abundant wildlife, jungle streams and waterfalls, secluded beaches and trekking trails.
Millions of years of erosion have given Bako National Park a coastline steep cliffs, rocky headlands and stretches of white sandy bays. Combined, all of these make for a very picturesque view where the visitor can appreciate the beauty of nature, and the power of natural elements in shaping the world around us.
The park is approachable through a boat ride starting from the nearby village Kampung Bako, which takes roughly 20 minutes. On prior booking, you can have a comfortable stay in the 16 color-coded trail lodges. Not to forget, on visit to Bako national park beware of the monkeys they are clever and compulsive thieves and create menace all over the place. Also, look out for the pitcher plants on high ground.
Bako national Park protects and serves as home to 150 endangered Proboscis Monkeys. The other animals under protection of Bako national park are long tailed macaque, silvered langur, plantain squirrel, Bornean bearded pig, monitor lizards and otters. Bako national park records almost 150 species of birds thereby attracting many birdwatchers from around the globe.
There are 25 distinct types of vegetations from seven complete ecosystems in the park, namely: beach vegetation, cliff vegetation, kerangas or health forest, mangrove forest, mixed dipterocrap forest, Padang or grasslands vegetation and peat swamp forest. Bako national park also instills life into some carnivorous plants like pitcher plant, sundews and bladderworts.
Bako National park is the package of beautiful nature, fantastic wildlife and exciting to do things.  It is a destination will help you discover various aspects of wild streak. Visit Bako national park and explore an array of experiences.
Kinabalu Park, Malaysia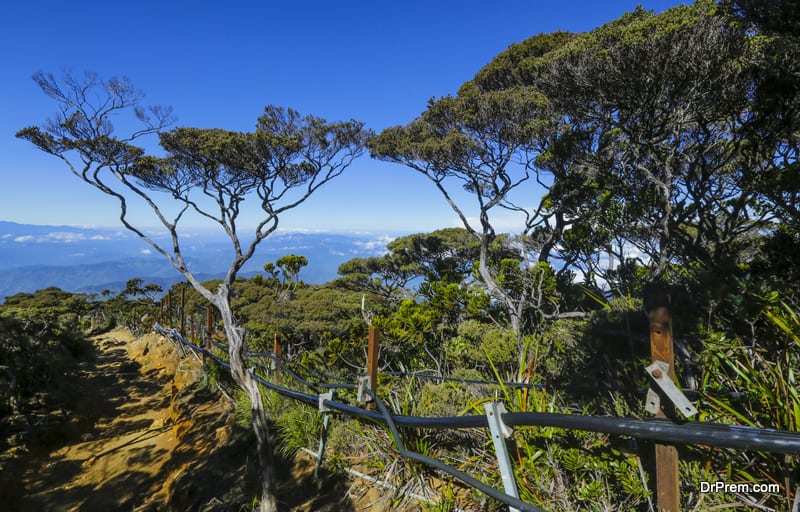 Kinabalu Park, also known as Taman Kinabalu is located in Malaysia. It was established in 1964 and is the Malaysia's first World Heritage Site, designated by the UNESCO in the year 2000. It lies on the Crocker Range on the western coast of Sabah. The park is controlled by Sabah Parks and it consists of accommodations in the form of Chalets.
The park is considered as an important biological site known to contain a large variety of flora and fauna that ranges from over four climate zones. A vast variety can be seen in the park, ranging from rich lowland dipterocarp forest through the rhododendron, coniferous forest and alpine forest to stunted bushes of the summit zone. The park is covered with 93% vegetation with rainforest and tropical lowland. The wildlife includes 90 species of lowland mammals, and 22 others that are found in the mountain zone.
The national park is famous for its carnivorous plants and orchid species. The fauna includes endemic animal species like Kinabalu Giant Earthworm and Kinabalu Giant Red Leech. The park has Mount Kinabalu, which is considered as one of the youngest non-volcanic mountains in the world. Almost 326 species of birds have been recorded in the park.