Charming scenic views, historic buildings and a fresh whiff of air describe countryside getaways near London best. So if you are sick of London (quite unlikely in this happening city), plan for a remote weekend trip in any of these countryside getaways at the outskirts of the city.
Guide to countryside getaways near London and best coastal sceneries
In spite of the remoteness of these idyllic villages, you can comfortably get back to your Monday schedule. As you drive past the busy city lanes, the countryside charm overpowers you.  Fix your gaze to the distant horizon anticipating beautiful roadside views and you won't be disappointed.
Choicest accommodations are available ranging from hostel rooms, private accommodations to starred luxury accommodations with B&B arrangements. On your way, you are likely to come across few decent roadside accommodations displaying homemade merchandise like tarts, cakes, muffins and cookies.
17 countryside getaways near London to enjoy a relaxing weekend:
Occasional country weekend breaks are great for your health. You don't have to break the bank but can enjoy quality relaxing hours to rejuvenate your body and soul. Go through the following choicest countryside destinations and make the best of your stay in London.
1. Surrey Hills, Surrey: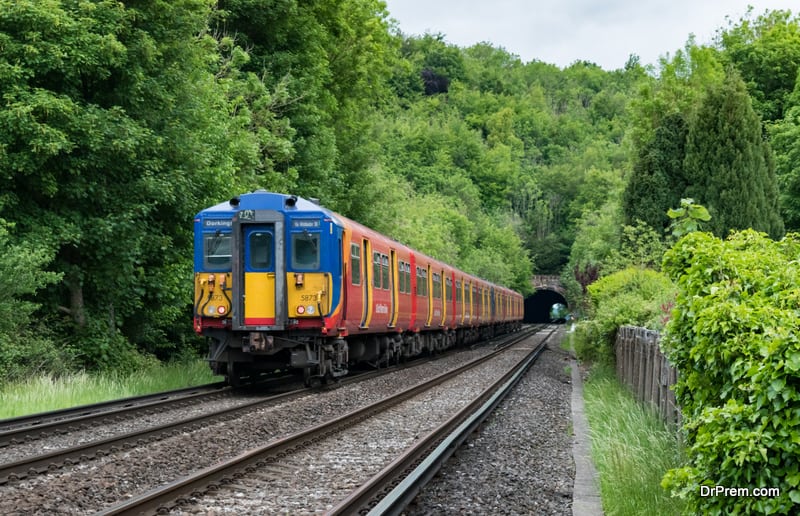 If you badly need to escape city life, Surrey Hills with its outstanding beauty would be the ideal countryside getaway near London. It is a dream destination for walkers, cyclists and horse riders. You have direct train routes from Waterloo and Victoria. The journey will not take more than half an hour.
The green rolling landscape practically allows you all sorts of exploration. For dedicated trails, you can head on for Box Hill and Leith Hill. The place is also noted for some artistic exploration as it has inspired creativity in some of the UK's most renowned artists, performers, novelists and musicians.
2. Lalock in Wiltshire
You may have probably seen quite a few views of this village in a very popular movie. Considered as a very popular filming location thanks to its stunning natural green visuals, and has been featured in more than one of the Harry Potter Movies. The entire village has been preserved by the National Trust in order to maintain its natural beauty and character.
3. Winchester:
A one-hour train journey or a nearly 2-hour car drive will take you to one of the coolest countryside getaways near London well-known for its appearance since long. Fantastic food has been one of the biggest attractions of this popular cathedral city.
Step into the Hoxton Bakehouse for a satisfying breakfast with cruffins or sit with a craft beer and tacos at Overdraft. Do not miss the chili beef burrito pie at Piecaramba. You can choose to explore Hampshire from this place.
Experience a unique wine tour at Hambledon, the oldest vineyard of the UK. In Chawton, you can visit the house of Jane Austen, the birthplace of memorable literary characters. Best luxury accommodation and VIP treatments are available in specific boutique hotels and luxury inns.
4. A trip to Stonehenge, Bath and Windsor Castle: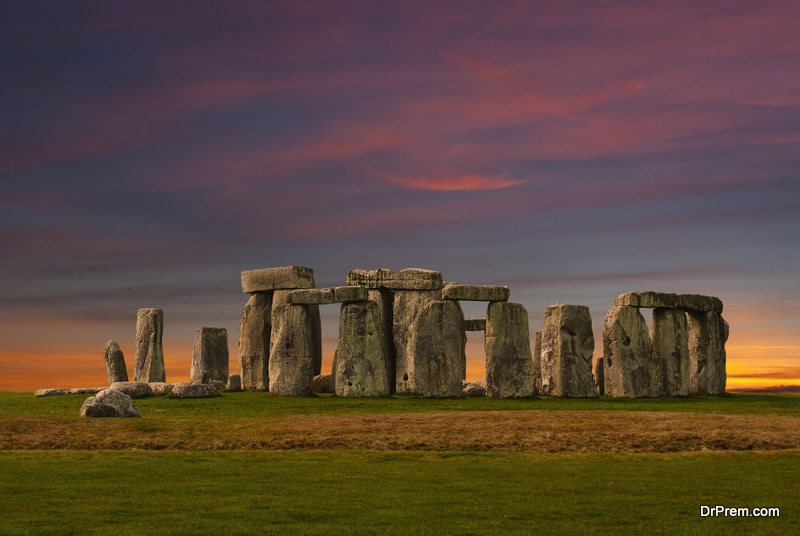 One of the popular day trips from London, this is worth taking. The main attraction of this tour is that you can get to see three iconic destinations of London along with enjoying a country weekend break. The whole day trip may seem to be tiring but if the weather is great, you will not feel an iota of tiredness.
Windsor Castle, housing the Royal British Family since the last 900 years is the longest occupied castle in Europe. The State Apartments and the St. George's Chapel will leave you overwhelmed. Set out for Salisbury to visit Stonehenge, the legendary rock formation.
Is it borne from a supernatural phenomenon or an outcome of intensive human work aimed to preserve agriculture? The subject still remains open to debate. The panoramic Georgian and Roman baths take you back to history narrating the evolution of mineral-infused spa treatments.
5. Lake District:
A weekend amidst wilderness is what you can call a visit to the Lake District. This wonderful countryside getaway near London covering 900 miles dotted with chocolate-box-like villages can be visited any time of the year. To reach here, it takes two hour and thirty-eight minute journey by train and 5 hours by car.
On a bright sunny day, you can dare to climb Scafell Pike, the highest peak of England. For a less strenuous adventure, visit the World of Beatrix Potter taking a steamer through Ullswater. Stock few delicious treats from Grasmere Gingerbread Shop that prepares world-class gingerbread using a 160-year old recipe. You can choose a luxurious accommodation or sleep in picturesque campsites of Buttermere under a starlit sky.
6. Scottish Highlands:
If you are in love with greenery and spookiness, a countryside weekend in the Scottish Highlands is a must. Immerse yourself in wildlife tours, gorge walking, white water rafting, quad-bike tours and bush craft.
A twelve and half hour journey by train from London to Fort William will take you here. Test your fitness by making it to the top of Ben Nevis, the iconic peak of Scotland. It would barely take 6-8 hours to reach the top and come back. Your trip to Scottish Highlands is not complete without a tour to Ardnamurchan Distillery for wee dram tasting.
7. Canterbury, Kent: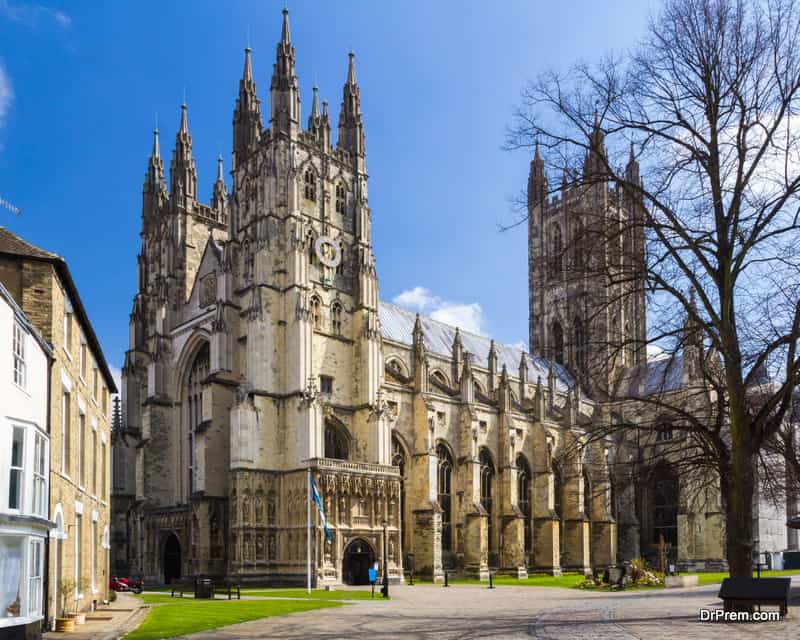 The name brings in a flash the famous "Canterbury Tales" penned by Chaucer. If you are a history buff, you cannot avoid this culturally rich countryside getaway near London. Even if you are not attached to history, this place is ideal for country weekend breaks.
You can reach here within two hours of journey by rail or road. The cobbled streets, the cathedral and the castle will leave you charmed. It has another attraction to offer – the seaside on your doorstep. While taking in fresh sea-breeze, pause for a moment to taste the delicious ice-cream at Herne Bay.
8. Clare in Suffolk
Clare in Suffolk is the perfect excuse for you to let go of all the pleasures of the modern world and travel back in time to live life the way the British used to in those day. You will be overwhelmed by the number of sights that impress you here, from the motte of a medieval castle and the stunning Augustinian abbey to the historic 'Ancient House' museum in Church Street. Although a bit crowded during the tourist season, the village never fails to surprise you with the way it remains disconnected with these monetary benefits of the tourist trade.
9. Castle Combe in Wiltshire
While visiting Wiltshire, make it a point to visit another one of Britain's most beautiful villages, Castle Combe. Surrounded by dense woodlands in the Cotswolds valley, Castle Combe is as authentic as they can get. It dates back several hundred years and offers you the chance to enjoy some peace and quiet with your loved ones, devoid of any interruptions from the modern world. Don't miss the 15th century clock tower that used to ring for hours on end.
10. The Cotswolds: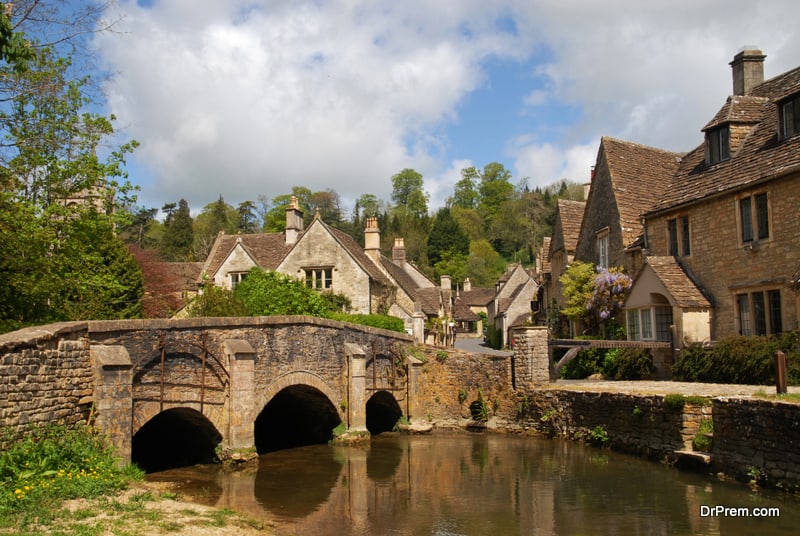 One of the scenic countrysides very near to London ideal for a romantic weekend. The 750 square mile area covered with pleasant greenery includes Oxfordshire, Warwickshire, Wiltshire, Worcestershire and Somerset. Each country has a charm unique of its own.
This countryside is reachable by one and half hour train journey or a two and half hour car drive. Naturally, driving by the car is more enjoyable as you cross the clean highway roads swiftly passing by the honey-colored stone cottages that seem to belong to yesteryears.
Many cottages offer B&B arrangements. The lovely green farmlands are ideal for growing a special kind of wheat that goes to make best quality cookies and biscuits. The right place to remain immersed in nature with your paramour.
11. Clovelly in Devon
You will be astonished as to how laidback this beautiful village is in terms of civilization. Situated on a steep hill, the village is filled with charming whitewashed cottages complete with vibrant geraniums and fuchsias, lining the narrow cobblestoned streets that lead down to an ancient harbor. The streets are pretty steep. So cars are banned. The best mode of transportation would be on foot or carriages.
12. Cliveden House, Berkshire:
Countryside getaways near London can be fantastic for a romantic weekend especially in the Cliveden House, the centuries-old estate turned into a hotel. After a major revamp, it is all set for a romantic splurge being very close to the city.
The graveled driveway and the gorgeous dark wood interiors with portraits of distinguished guests make you feel grand. The rooms are decorated tastefully with period furnishings and the swift services make you feel at home. Enjoy sipping the choicest beverage on the terrace overlooking manicured gardens and thick woodlands.
13. The New Forest, Hampshire: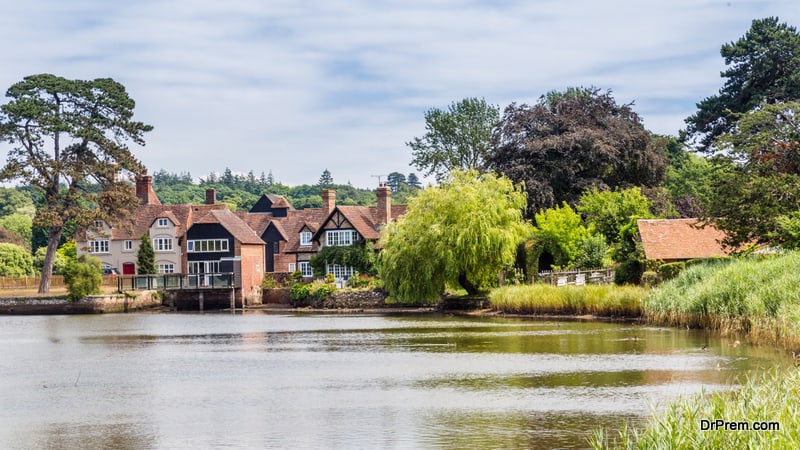 Those looking for a different kind of countryside weekend break should visit this place. Not only you get to escape city life, but here you are exposed to a beautiful world of animals. 5000 New Forest ponies have been roaming in this land for nearly 2000 years.
Wanna meet Peppa Pig? Visit the Paultons Park, the home to this cute animal and one of the most entertaining theme parks worth exploring with family and kids. Select a weekend in September for a short stay in the famous Pig Hotel in Brockenhurst where you can see pigs roaming freely. A one and half hour journey from Waterloo will take you to this place.
14. Chewton Glen, Hampshire:
This hotel in Hampshire countryside is noted for its spa. The price tag may be a bit pinching but it doesn't last long as you enter the colonnaded spa pool. Who would not love to indulge in a weekend spa in this beautiful location?
Chewton Glen takes pride in housing the largest hydrotherapy pool in the UK.  Linda Meredith Facials and Ila Treatments are other top spa treatments offered. The recent addition of Tree houses with complementary suites amidst stunning views completely defines the luxurious English countryside retreat. You get great food with considerable light meal options to make you feel light in all respects!
15. Hobham in Surrey
Hobham National Nature Reserve and consists of miles of beautiful green lowlands which provide the perfect setting for a picture perfect historic village. The village is located close to the Woking Station and is close to London Waterloo. Step into Hobham and you will be transported a few centuries back instantly.
16. Abbotsbury in Dorset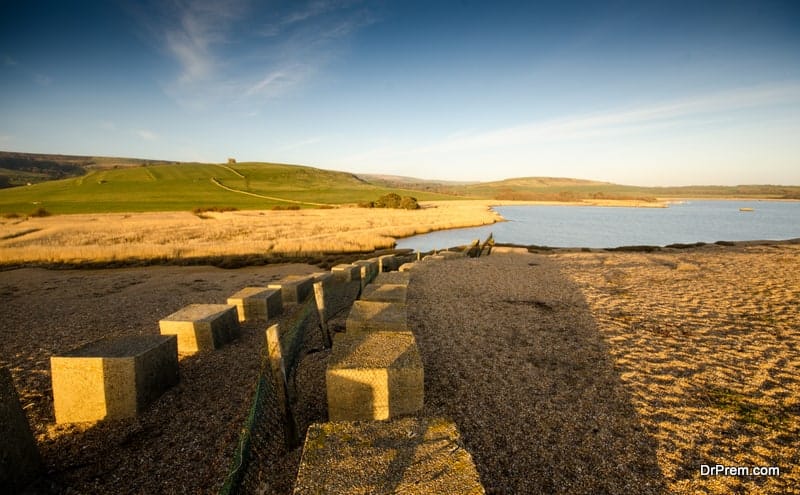 Considered as one of the most naturally beautiful villages in all of Britain, Abbotsbury in Dorset contains an amazing flora and fauna mix that would spellbind you for sure. Quaint stone cottages and thatched roofs complete the age old look of this historic town that is also home to plenty of natural wonders like the Fleet, a lagoon that stretches for over 8 miles and is home to several rare seabirds, and the Subtropical Gardens, a 20 acre garden which is home to exotic plants . However, the highlight of visiting Abbotsbury is the chance to walk among thousands of nesting, breeding and hatching swans. So don't miss this one for sure.
17. Bourton –on-the-Water in Gloucestershire
The entire village of Bourton-on-the-Water as the name implies, seems to be standing on water, courtesy the shallow Windrush River that runs through the entire village. The entire setting resembles a picture you would find in a postcard, complete with small arched footbridges for crossing and quaint little yellow sandstone houses that stand above the water, adding more vibrancy to the surroundings. 
8 Best Coastal Sceneries in England
Feel the sand beneath your feet with the holidays and best spent time at the beaches. The coastal sceneries of England is surely a delight far from the nuisance and crowded city. There are whole list of options wherein you can pick up yours. A great time with your family to pamper and get chilled with beer, spectacular view and in the lap of sun. Slip on your dancing shoes with the coastline charm. From coast to coast to southern skies,classic seaside escapes will mesmerize you for a lifetime destination. So uncover England's some of the best kept secrets.
1. Cornwall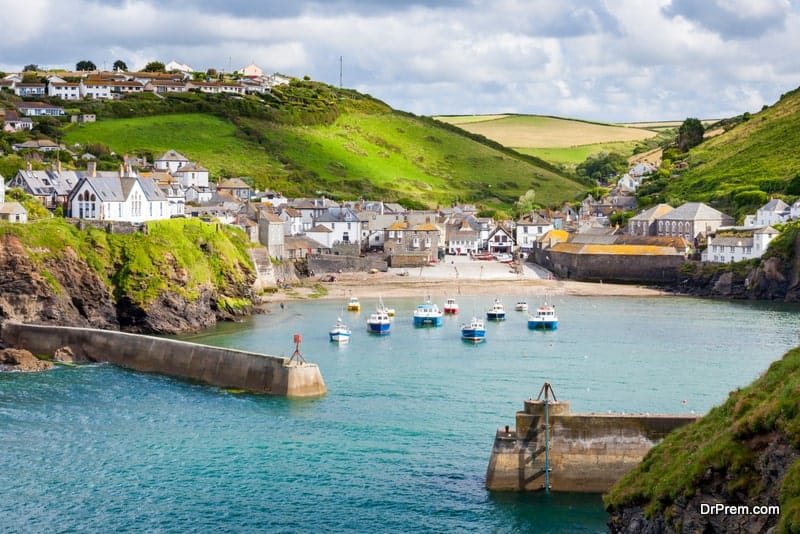 The city of lights, festivals and surfing, Cornwall is the place you were craving for from months. It has Britain's best surf beaches, jaw dropping coastal sceneries and picturesque fishing villages. You have more than 300 beaches to choose from with not more than 16 miles from the sea, it is one of the perfect place for a beach holiday.
2. Brighton
Brighton is England's one of the most exciting cities, it is occupied by some 8 million annual visitors. Brighton offers liberal, funky and welcoming vibe, sea air and sweet sticks of rock. This seaside town is also associated with some weekend relaxation and inculcate into the quirky aura. With such a vibrant young crowd and university youngsters there is no doubt that the life of people in Brighton is filled with fun, frolic and music.
3. Whitby
If you are obsessed with harbor sides, then Whitby is the place for you. It's a cute harbor town with a spooky past. It is about age-old cobbled streets, Dracula inspired sights, sea mists drenched in folklore, and picturesque houses. With cliffs, bays, sandy beaches and attractive holidays you have got a cracking holiday destination for you.
4. Devon
Devon is filled with historic sites, non-serious family attractions, iconic caves, and coastlines that provide you an eye catchy holiday for yourself. Devon's delights are endless with rich food and generous hospitality.
5. Blackpool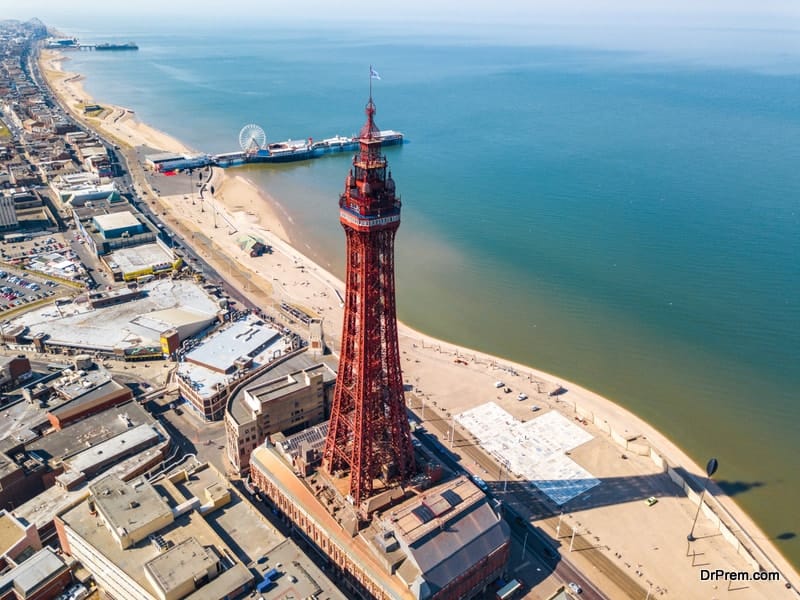 Blackpool is a seaside town wth endless opportunities for fun. The best mode to travel is hire a Bicycle and get grooving towards the sculptures, historical buildings and archeological sites. Wait for the night to fall, and prepare yourself to get rolling in the illumination of lights and music.
6. Dorset
It is certainly a coast with the most. You can relax on several award winning beaches, and discover your own place being secluded and mesmerise the times of your life. It is a City filled with spices of life and not just the place where sea meets the sand.
7. Isle of Wight
It is an award winning place where you can discover dinosaur footprints, stunning coastlines and traditional seaside resorts. You can explore the island with 500 miles footpaths and plenty of award winning beaches. The Isle of Wight walking festival in May is the best for the fossil hunting.
8. Bournemouth and Poole
If you are looking for golden sand beaches, shopping , stunning lifestyle, surfing and sunbathing you have got a place to holiday. With a plethora of restaurants and pubs, food is amazing and serves your demand open- handed. You can also dive with the sharks with the world's first of its kind in Bournemouth oceanarium.