Guide to most scenic small towns in Austria appealing for tourists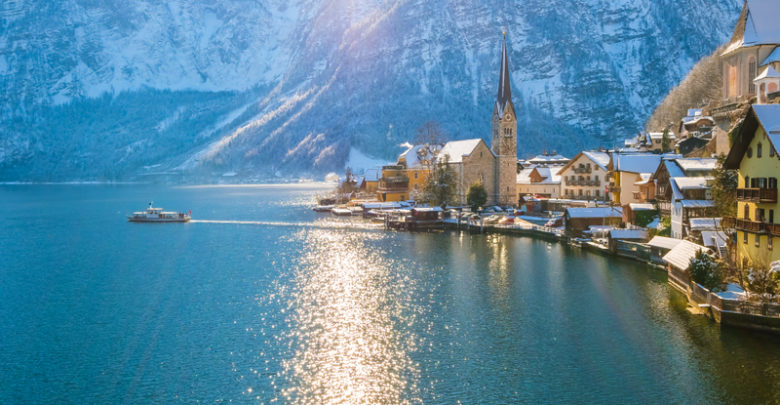 Austria is a panoramic country with some of the most bewitching landscapes described by mighty mountains and spectacular meadows. Whether you talk of cities, towns or rustic countryside, nature has bestowed this country with scenic treasures, it is all-pervasive. Small scenic towns in Austria are simply enchanting.
Their quaint settings make them a traveler's paradise. The alpine slopes and baroque designs have combined with brilliance as have art relics of yesteryears have fused with thrilling mountain sports.  The presence of all these tourist appealing factors has made Austrian cities unique in their own.
20 Most scenic small towns in Austria:
Let us take a virtual journey along some of the small and beautiful towns in Austria for an honest appraisal.
Salzburg: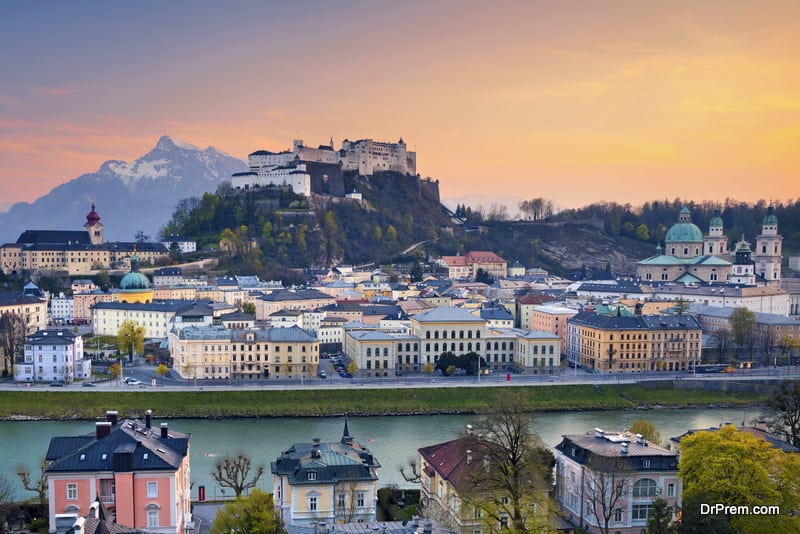 Unanimously agreed in the travelers' circuit, Salzburg is the most picturesque city in Central Europe. Salzburg dominates the scene when nature's beauty comes to mind. It had come a long way down the route of evolution to be what it looks now. It has left behind 1200 years old and rich history. The entire town is spick and span, preserved with meticulous precision and currently a UNESCO World Heritage Site.
For lovers of art, especially for those baroque design aficionados, Salzburg is the right place to be in. It is also the birthplace of Wolfgang Amadeus Mozart, the prodigious composer of classical music. It is here in the lush woods the sensational 1965 movie 'The Sound of Music' was shot.
Feldkirch:
This small scenic town in Austria located on the western fringes of the country shares border with Switzerland and Liechtenstein. The strongly medieval atmosphere is so pleasantly infectious that you would love to roam the streets all day. Surrounded by the magnificent mountains, Feldkirch is the travelers' ultimate destination in the truest sense.
This is a well-preserved city coming into the limelight in 1218 after Count Hugo Von Montfort had erected the castle Schattenburg. This manor house is an architectural milestone that had made Feldkirch famous. You can visibly see how lucky are its residents having the opportunity of living in such an amazing European city.
Gilgen:
This spectacular Austrian city is surrounded by the Salzkammergut mountain range contributing to its powerful spell. It touches the banks of Lake Wolfgangsee featuring graphic beauty and has seen mounting popularity as a tourist hub.  Since the late 19th Century, tourists having a love for a medieval magic started visiting St Gilgen.
The city's colorful and medieval edifices had been a haunt of affluent Europeans who started investing in properties and summer retreats. For a historical significance, Wolfgang Mozart though not born here belongs to this place owing to his mother's bloodline who was born here.
Innsbruck:
Innsbruck in all probabilities qualifies to be one of the most amazing small and beautiful towns in Austria. Nestled high up in the Alpine mountains, Innsbruck offers some of the most stunning vistas in all of Europe. Winter sports like skiing is a very popular outdoor activity pulling a lot of skiing buffs round the year. It is not surprising that this mountain top Austrian city has rightly and successfully been a contender for hosting the 1964 and 1976 Winter Olympics.
The capital of the Austrian state of Tyrol, Innsbruck is known for imposing architectural masterpieces scattered across the city. Some of these splendid buildings are along river Sill.  They throw a scenic portrait of the manmade structure against the flowing waters. However, the history of Innsbruck is stained in the blood it has been a site for random bombings in World War II.
Hallstatt:
The amazing city of Hallstatt also shares the wonders of the Salzkammergut mountain range. Being set on the banks of Hallstatter Lake, its positional advantage is big enough to pull tourists from across the world. The beauty of Hallstatter Lake has extended beyond the borders of Austria. In fact, landscape artists in China have recreated another lake exactly modeled on this. The idea is reaping benefits as tourist dollars are flowing in. However, the original lake in Austria is way better than its Chinese replica and has played an important role in turning Hallstatt one of the most picturesque cities in Austria.
Durnstein:
This is a small and beautiful town right in the central part of Austria with a terrific scenic backdrop. Wedged between the banks of river Danube and rugged hills draped in forest cover, Durnstein stands tall so far its tourism capabilities go. Here exists the remains of town castle where Richard the lionhearted was sent to banishment in a dungeon.
This heightens the historical worth of the city. If you are the outdoor type, Durnstein is just your cuppa offering thrilling hiking opportunities. Durnstein Abbey a 15th Century Monastery presents a super tourist spot. Its baroque architectural excellence is sure to mesmerize you.
Alpbach: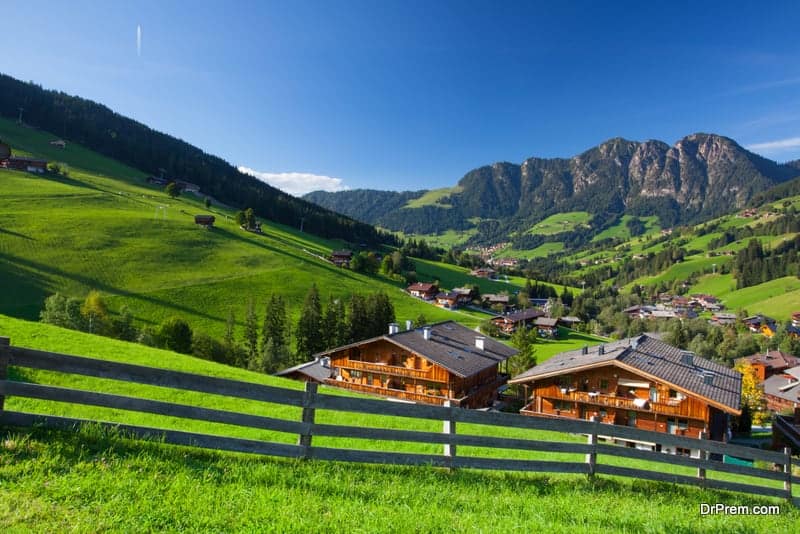 Alpbach is a small Austrian town with the quintessential Alpine charm making it a postcard-perfect sweep. The signature Alpine design aesthetics is felt all along the region for thorough compliance with the standard of landscaping. A serene atmosphere set in solitary is a much-coveted tourist preference and Alpbach town features loads of it.
In the Ski Juwel region, a network exists between resorts accessed by gondola. Great skiing slopes pull tourists from all over and in comparison, there aren't much snowboarding enthusiasts. The topography of the region could be an explanation. Back in the 80s, Alpbach had been voted the most beautiful town in Austria. Even if you visit today, it's guaranteed that the reputation hasn't tarnished a bit.
Zell am See:
Located south of Salzburg, this amazing Austrian town is an ideal hidey-hole for spa freaks and ski lovers. It receives a generous spread of snowfall round the year giving it a white look.  Its location on the banks of the beguiling Lake Zell has enhanced its touristic value. Don't get sucked if you don't find ski resorts called Chalets here.
The medieval touch in the town centre would more than make up for the lost glamour of Chalets. The town hub is dotted with top-class bars and restaurants. Other cynosures include the Romanesque St. Hippolyte's church and Salzburg residence style Schloss Rosenberg Town Hall. For summer camping, shores of the freshwater Lake Zell will give you the blandishments. Activities on this lake include fishing, stand up paddling, swimming and sailing.
Heiligenblut:
The name of this small and offbeat town in Austria resonates with a sacred belief. The legend goes that the name has been derived from a 13th-century church containing a vial filled with the blood of Jesus Christ. Holy blood or Heiligenblut have since been a big crowd puller for Christians specially.
A glimpse of the sacred cadaver is thought to be as good as a pilgrimage. Apart from the religious significance, the scenery is stunning. Many people come here for base camping for onward road trip along with the picture-perfect Grossglockner High Alpine road. This is the highest altitude metallic road in the country. For skiing buffs, the mountainous slopes of Heiligenblut are ideal.
Krems an der Donau: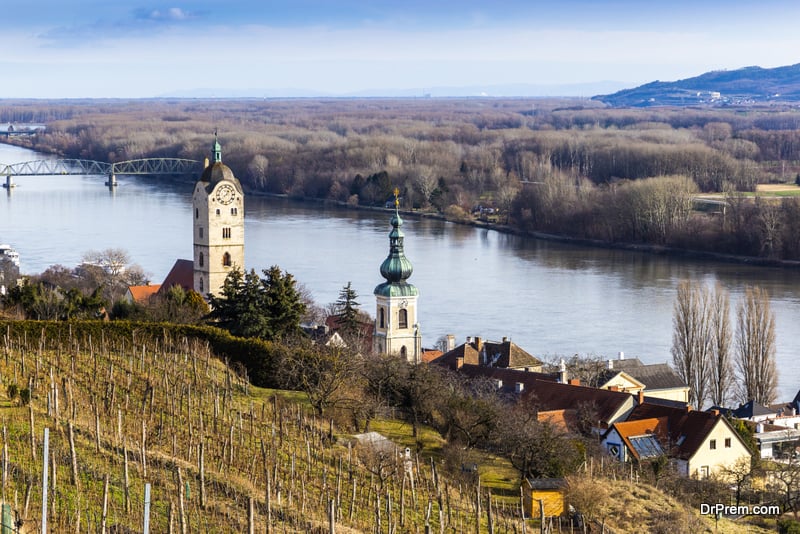 This awesome town nestled in the Wachau Valley in South Austria sits at the confluence of rivers Krems and Danube. According to recorded history, the town was born in the 10th century. However, paleontological excavations put this town further back in time at least thousands of years further back when human settlement started taking a hold.
Endowed with historical monuments, this Austrian town is known for wine cultivation too. Its signature apricot brandy known as Marillenschaps has achieved worldwide fame. The town also features one of the most wonderful river valleys in Europe.
Finkenburg:
It is the magnificent setting of the Zillertal Alps that has shared its charm with Finkenburg town. This spectacular town stands at the entry point of Tuxertal. Here on the Hintertux Glacier skiing goes on round the year on well-attended pistes. This small hamlet is inhabited by only 1500 residents.
Among them, eminent members are Leonard Stock an Olympic downhill skiing gold medalist and Peter Habler, a mountaineer achieving the outstanding feat of scaling Mt. Everest without an oxygen mask. The town is rich in history with an 18th Century Church with a baroque design constructed as a tribute to Saint Leonard. If you want to relish the fascinating old Tyrolean wood-work, visit the Devil's Bridge erected in 1876.
Sankt Anton:
This Austrian marvel is a tourist haunt and a rustic pad located on the Tyrolean Alps. In terms of altitude, Sankt Anton ranks literally at the top of the world with few other ski resorts sharing the honor. This Austrian tourist destination has earned huge popularity being a great summer destination.
The green pasturelands are hypnotic so far as landscaping goes. Mountains and valleys, magic woods and tranquil stretches are simply alluring. For tourists who like wild adventures, ample scope exists for hiking through mountainous terrain and alpine forestry. On an overall assessment, St Anton is one of the most unbeatable scenic destinations in Austria. It is unique in its own right.
Kufstein: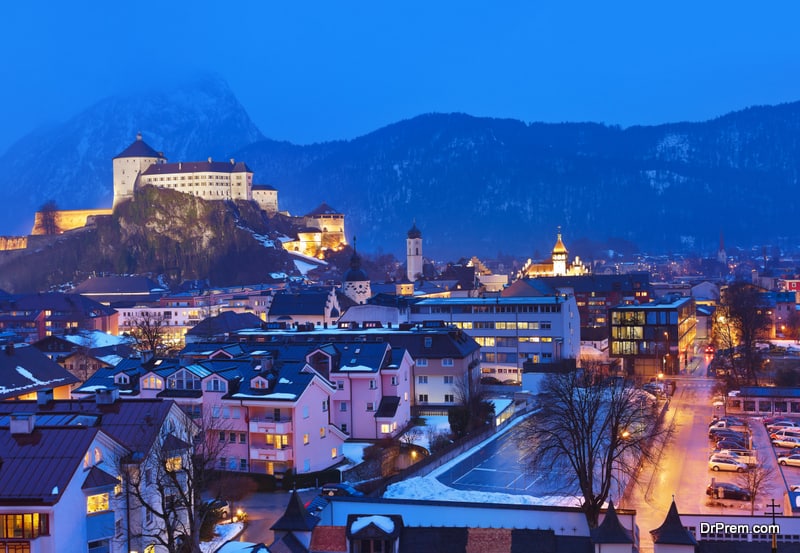 This breath-taking place ranks among one of the most inspiring small and offbeat towns in Austria. The landscape beauty is unparalleled and Kufstein literally sits amid lush meadows. Ample scope exists for exploring nature at its majestic best. Here you get everything you need to spend a serene vacation in the lap of Mother Nature.
Mountains, pristine lakes and verdant greenery all come in a sublime combination. Kufstein is also famous for its imposing fortress. A visit to this bastion of security against enemy advancements is not to be missed! Its architectural design is splendid.
Bad Ischl:
Beauty and history blend wonderfully to deliver magic to this Austrian town making it a favored tourist destination. Bad Ischl, a dreamland for tourists is also a town known for spas since more than a century ago. Austrian emperors fascinated by its surreal enchantment have chosen Bad Ischl as their summer resort.
It served as a wellness destination for them. Lush forests and mountains together with its bucolic backdrop have made this small Austrian town one of the most admired tourist destinations.
Bad Gastein:
This Austrian town features thermal springs with immense health-enhancing potential. Hence it is no wonder why spa culture had been so ubiquitous over here. The local waters carry radon having therapeutic properties. Even eminent scientists like Madam Marie Curie has investigated the waters and confirmed the presence of radon.
It is believed that radon carries curative properties especially for diseases like arthritis. Bad Gastein which sits in a valley is more shaped like a ravine with excellent skiing opportunities. It boasts of an amazing ski resort famous for its Belle Époque architecture. A mindboggling waterfall is located in the heart of the town drawing tourists from near and far. The charisma of the town is not just confined to being a winter destination. It is a place for pursuing summer sports like mountain biking and hiking.
Lienz: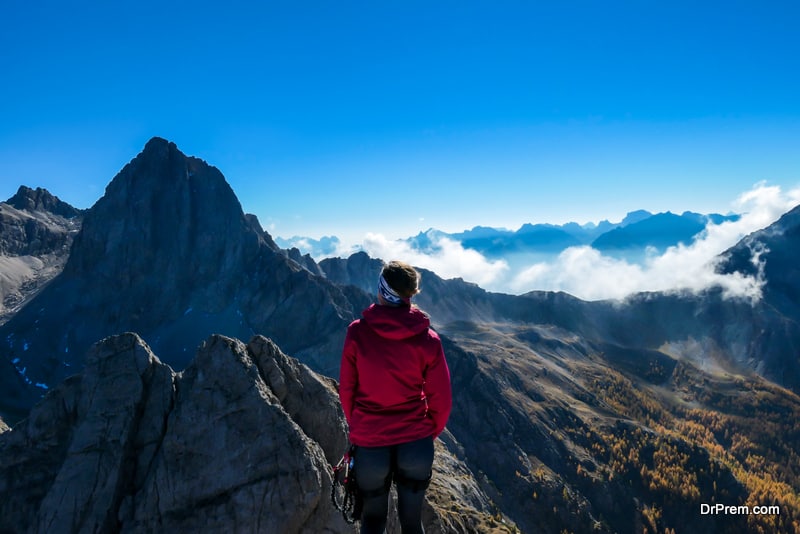 This southeast Austrian town close to the Italian border is also famed for its title Pearl of the Dolomites. Being located in Tyrol region of the country, it is a shade close to the Mediterranean climate. Sunny round the year with an annual average record of 2000 hours of sunshine, it is a favorite tourist hub.
Lienz also encloses the Hohe Tauren National Park. This is one of the largest national parks in Europe. Modernity and medieval flavor are retained side by side. One of the primary attractions is the roller coaster ride down the slopes of mountainous regions. It is the Osttirodler Alpine Coaster ride and is one of the most exciting things that can happen to you.
Millstadt:
Situated on the northern banks of Lake Millstadt See, the town of Millstadt is too good to be true. Millstadt belongs to the Austrian state of Carinthia.  This Austrian town benefits immensely from the serene beauty of this placid lake. During summer, it is a popular tourist destination as the water of Millstadt See stays warm inspiring swimming and boating.
A pulsating summer musical week is hosted known as Annual Millstadt Music Week offering a range of symphony. Musicians of global fame keep the visitors high and charged. A 1070 impressive and sacred edifice, Benedictine Millstadt Abbey is an important Romanesque architectural accomplishment Carinthia state.
Grosses Walsertal:
Very few of the world's Biosphere Parks promise sustainable tourism except 529 select ones. Among these Austria's Grosses Walsertal has found a respectable slot. Pristine forests, rolling green acres, picturesque mountains, dales and streams are present to send the tourists to a rapture of delight.
Opportunity for trekking through the Alpine wild exists. Here you feel oneness with nature that is highly rejuvenating.  There is every chance of an encounter with diverse Austrian wildlife. Rustic hamlets and friendly locals are plus points.
Bregenzerwald: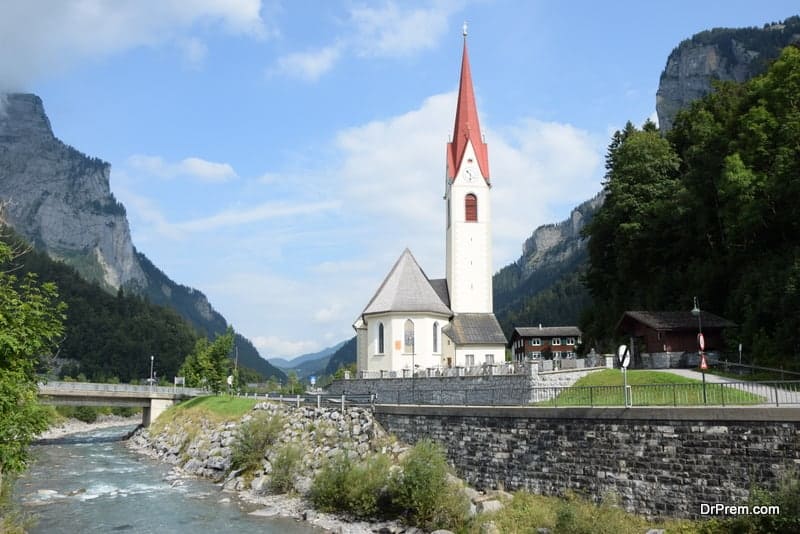 This town located in the western part of Austria though beautiful is not that popular among tourists. This is a sparsely populated region manned by only 30000 inhabitants.  Coincidentally, and surprisingly the number of cattle is also the same. Bregenzerwald comprises of 22 quaint villages each of them unique in their appeal. A stay at any of these would leave a pleasant impact on the mind.
Bregenzerwald's wood processing industry has attained worldwide repute and is a tourist attraction as well. Among post card resembling villages Mellau, Krumbach and Schoppernau are well worth a stay.
Pertisau:
This enchanting village nestled high on mountains is located in eastern Austria. This region is the hub for the Achensee shipping industry. This is the logistical centre of the region servicing a network of water transport.
Cruises trusted with reaching merchandise to villages dotted on the banks of Achensee lake start from Pertisau. It is also a skiing vacation drawing skiing enthusiasts. The town boasts of two winter skiing sections, the Planberg Weisenlifte and Karwendel Bergbahn with world-class skiing infrastructure.