Top 10 Adventure Activities must to do and must to see in Bali, Indonesia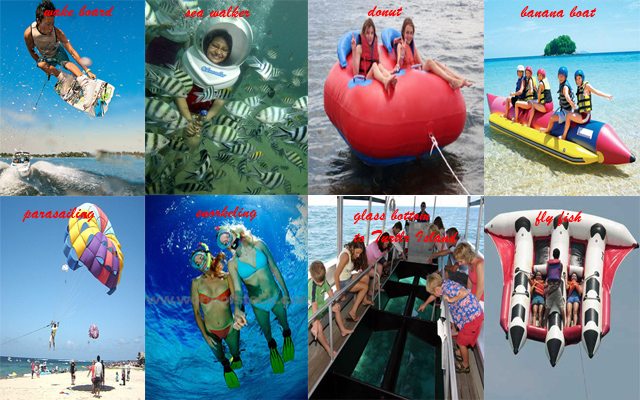 If you're planning a trip to Bali, you should expect good food, great nightlife, amazing people, inspirational views, and thrilling activities while you're there. We chalk out ten adventurous activities that you can try out in your visit to Bali.
A.T.V. tours: Off-road tours through the fields, mountains, and streams of Bali, this is the one of the best things to do if you're the type of person who loves adrenaline and the outdoors. Organized by a number of clubs and hotels, 4-wheeler bikes let you roam the land of Bali in its true glory.
Horse riding: One of the more common outdoor adventure sports, there are quite a few stables in Bali that often organize group horse riding outings, where there are tours throughout the Balinese countryside. A very good choice if you want to temper the outdoor experience with some calm horse riding and socializing.
Kayaking: A thrilling pastime for those who love water sports, this is best tried out in summer when the water is not too cold, and the surroundings are reasonably warm. Mostly carried out in calm rivers, this is a good combination of casual thrill, and the fun of kayaking in swift streams.
Elephant safaris: One of Bali's most common and most prestigious forms of adventure, elephant safaris are commonly available through a large number of organizers, and provide a lot of fun for the wildlife-lover.
Cycling: Another cross-country activity, this caters to both the outdoor lovers as well as the fitness lovers, as one rides throughout the varied terrain of Bali in a bicycle with a group of people, making great friends, and getting some lovely exercise.
Rafting: Similar to kayaking, this variant of water sports has more of an indigenous and back-to-nature feeling. This is mainly for those who are hardcore thrill-seekers, but a casual tourist may try it out for the experience.
Whitewater rafting: This is the real deal. Risky, thrilling, and exhilarating, this is not meant for the weak at heart. Try this only if you're an expert at whitewater sports. Without proper training, this sport could very well result in moderate to serious injuries.
Skydiving: Another activity for the ones out for the more serious stuff, this is hard to find but a few associations engage in this sport, and are more than happy to take more people in. Requiring a bit of training, this is slightly safer than whitewater rafting, but provides the thrill of hurtling towards the earth.
Bungee jumping: Another high-risk, high-thrill adventure sport, try this out if you like being suspended in the air, and like seeing beautiful vistas whizzing past you. Bali's hilly terrain provides some very good places to try out this sport, and even though the price is on the higher end, the experience makes it totally worth it.
Trekking: An underrated activity in Bali, this is still worth one's time simply because of the views, the exercise, the friends, and the satisfaction it provides. There are numerous trekking groups in Bali, and finding the right one for yourself will ensure long hours of meeting good friends, and travelling through the most rugged natural terrain.
---