If you're planning a trip to Bali, you should expect good food, great nightlife, amazing people, inspirational views, and thrilling activities. We chalk out top adventurous activities, tourist destinations and amazing beaches to include in your trip to Bali. You will also get interesting insights on sustainable tourism in Bali.
10 adventurous activities in Bali
T.V. tours: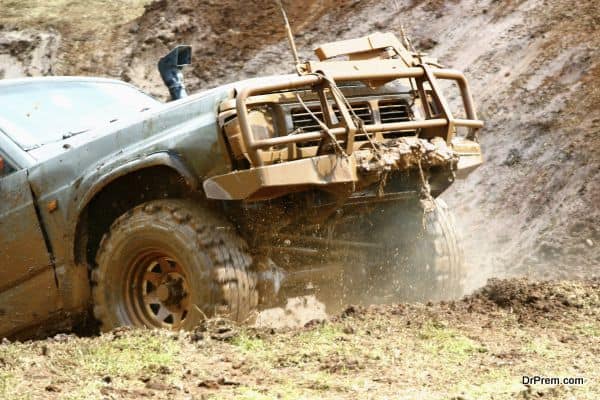 Off-road tours through the fields, mountains, and streams of Bali, this is the one of the best things to do if you're the type of person who loves adrenaline and the outdoors. Organized by a number of clubs and hotels, 4-wheeler bikes let you roam the land of Bali in its true glory.
Horse riding:
One of the more common outdoor adventure sports, there are quite a few stables in Bali that often organize group horse riding outings, where there are tours throughout the Balinese countryside. A very good choice if you want to temper the outdoor experience with some calm horse riding and socializing.
Kayaking:
A thrilling pastime for those who love water sports, this is best tried out in summer when the water is not too cold, and the surroundings are reasonably warm. Mostly carried out in calm rivers, this is a good combination of casual thrill, and the fun of kayaking in swift streams.
Elephant safaris: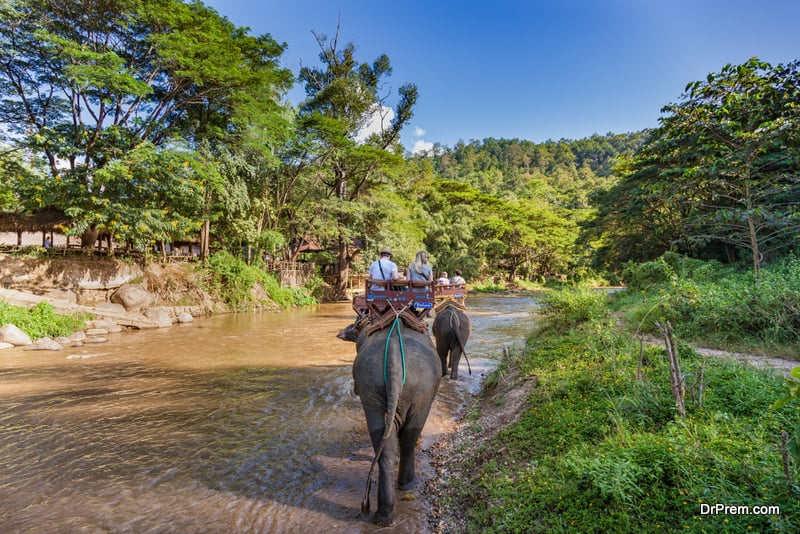 One of Bali's most common and most prestigious forms of adventure, elephant safaris are commonly available through a large number of organizers, and provide a lot of fun for the wildlife-lover.
Cycling:
Another cross-country activity, this caters to both the outdoor lovers as well as the fitness lovers, as one rides throughout the varied terrain of Bali in a bicycle with a group of people, making great friends, and getting some lovely exercise.
Rafting:
Similar to kayaking, this variant of water sports has more of an indigenous and back-to-nature feeling. This is mainly for those who are hardcore thrill-seekers, but a casual tourist may try it out for the experience.
Whitewater rafting: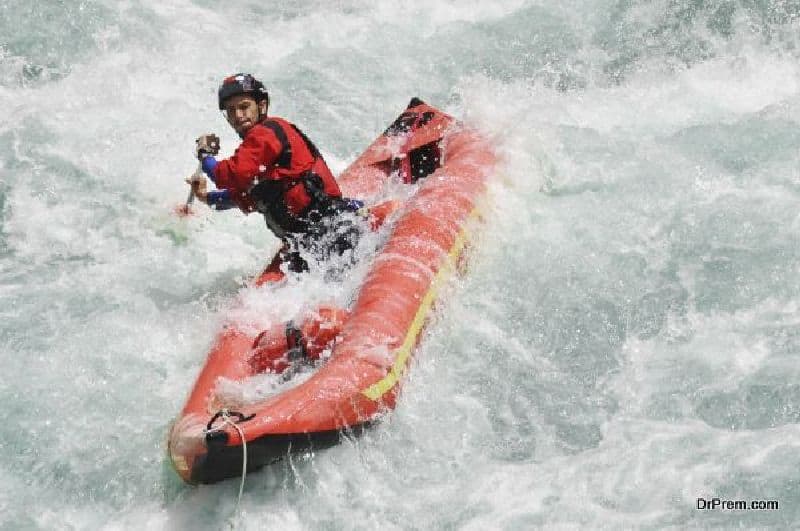 This is the real deal. Risky, thrilling, and exhilarating, this is not meant for the weak at heart. Try this only if you're an expert at whitewater sports. Without proper training, this sport could very well result in moderate to serious injuries.
Skydiving:
Another activity for the ones out for the more serious stuff, this is hard to find but a few associations engage in this sport, and are more than happy to take more people in. Requiring a bit of training, this is slightly safer than whitewater rafting, but provides the thrill of hurtling towards the earth.
Bungee jumping:
Another high-risk, high-thrill adventure sport, try this out if you like being suspended in the air, and like seeing beautiful vistas whizzing past you. Bali's hilly terrain provides some very good places to try out this sport, and even though the price is on the higher end, the experience makes it totally worth it.
Trekking: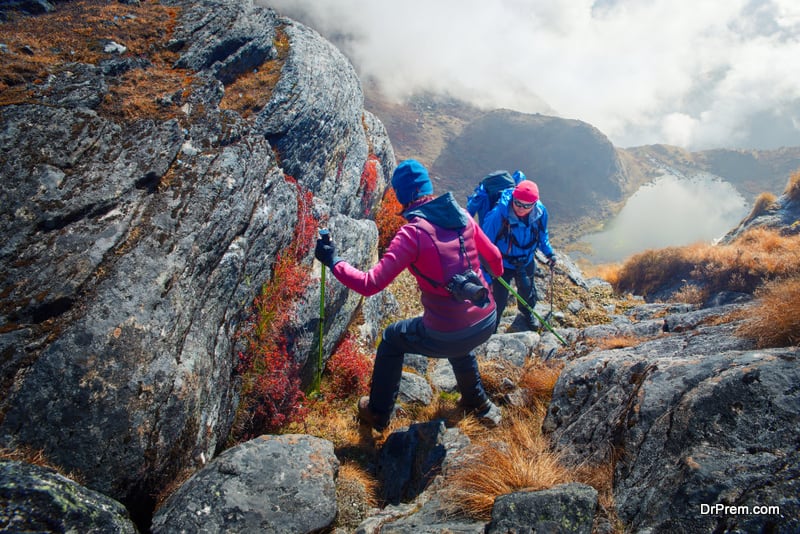 An underrated activity in Bali, this is still worth one's time simply because of the views, the exercise, the friends, and the satisfaction it provides. There are numerous trekking groups in Bali, and finding the right one for yourself will ensure long hours of meeting good friends, and travelling through the most rugged natural terrain.
Top tourist destinations in Bali, Indonesia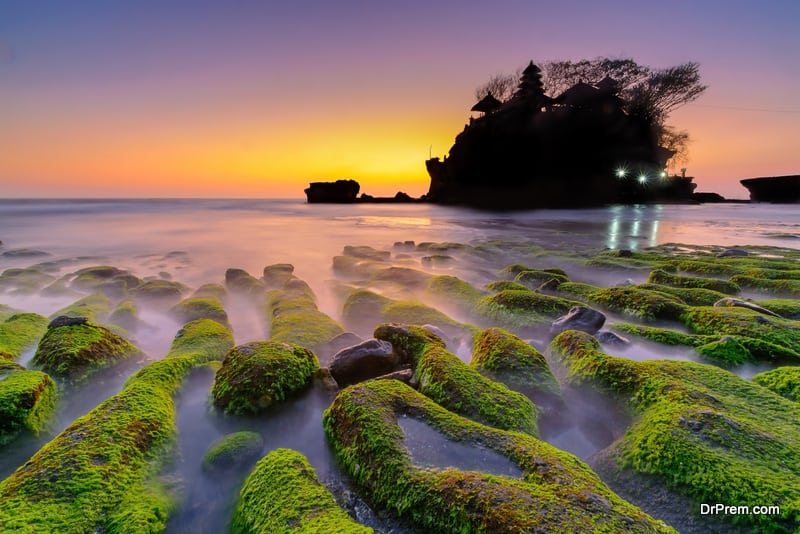 Bali is an island and the smallest administrative division of Indonesia with population of 3,890,757. Island is the home for the most Indonesia's Hindu Minority. Bali is the largest tourist destination in the country with highly developed arts, traditional dance, leather, metalworking and Music. The resorts of Bali's are voted as number one in the world. It has a great hills and mountains with rugged coastlines and sandy beaches. Bali is called as the Island of the gods.
Places to visit in bali:
Tanah Lot
This is the Hindu temple which is built on a small rock in the sea. It is one of the seven sea temples around the Balinese coast. The base of island is covered with the poisonous sea snakes guarding the temple from evil spirits and intruders.
Ubud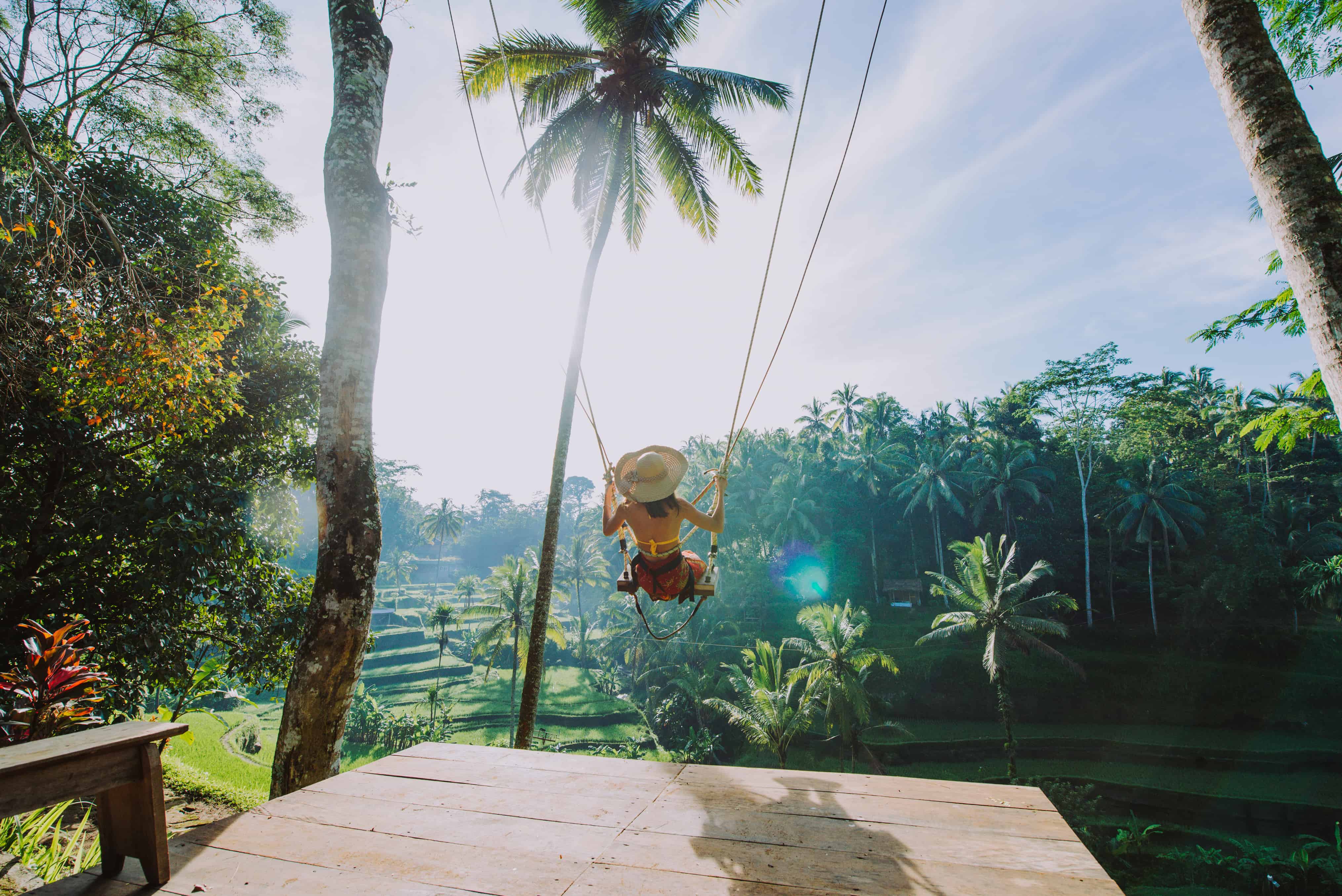 It is located in the southern hills of Bali. It is most talked for the Spots. It is famous for the arts scene as well as being recognized as a centre for relaxation. It has a lot of guest houses, hotels and spa resorts. Kecak a dance show and the traditional dance can see here. World-class restaurants are there to enjoy the variety of food items.
Monkey Forest Sanctuary
It is located in Ubud, Bali. There are four groups of monkeys each occupying different parts in the park. It is the famous tourist park in Ubud and is often visited by 10,000 tourists a month. 115 different varieties of species trees are there in the forest. Monkey Forest contains the temples named as Pura Dalem Agung Padangtegal, Holy spring and one more temple for cremation ceremonies.
Tirtagangga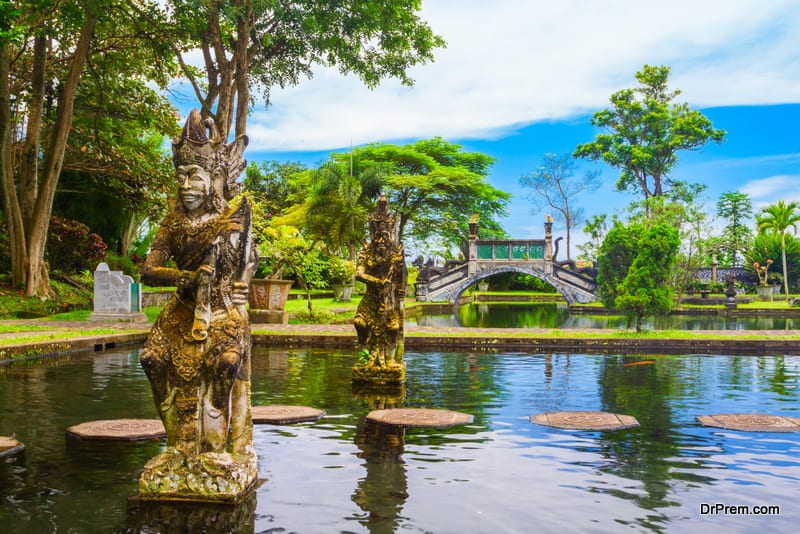 This is the one of the beautiful water place located in the Tirta Gaga village in Eastern Bali. It covers all over 1.2 hectares. These are in the style of unique mix of Balinese and Chinese architecture. The 500 year old banyan tree is present in the location. Lot of pools, rich sculptures, fountains stood more attention. The water of Tirta gangga is treated as the holy and regularly used for religious temple ceremonies.
Mount Agung
It is a mountain in Bali which has the highest point on the island. The Balinese believe that this mountain is the replica of mount meru. At 3142 meters above the sea level this volcano is the Bali's highest and sacred mountain.
Uluwatu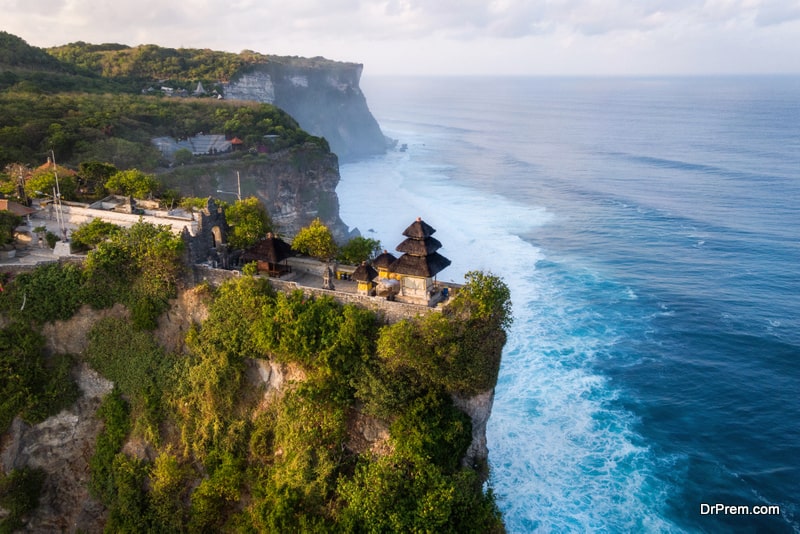 It is officially known as Pura Luhur Uluwatu. It is the most spectacular temple on the island of Bali. It is a cliff-top temple and beach side caves. Protect your belongings when there are monkeys around as they sometimes lead to theft.
Jatiluwih Rice Terrace
It is the famous tourist destination in Bali. It is surrounded by a rice terrace unfolding from the foot of mountain until the coastal side. The name describes as JATI means really and LUWIH means especial, beautiful. The paddy plants in this place look typical of high relative in size compared with normal paddy plants. Very cool atmosphere because it is located in the height of 700 meters above sea level. Lot of tourist from local and foreign countries visits this place mostly those who want to enjoy the climate and with beautiful panorama rice terrace.
Amazing Bali beaches, Indonesia
Bali has many beaches and each one is famous for its own importance. Bali beaches look great in the dry season, from about April to October. During this period at western coastal areas the beaches like Kuta, Seminyak, Legian, Cangu and Jimbaran the soil erosion is minimal by which they look clean and calm. Here is the list of bali beaches and their greatness.
Kuta beach
Kuta beach is a renowned beach in bali, it is famous as a surfing destination. It is surrounded by many hotels, bars, restaurants and night clubs. Kuta beach is a busy  and crowded beach with surfers and visitors and if you are seeking for a quiet and relaxing day most probably it would not the one of that cadre.
Legian beach
Legian beach is situated next to kuta beach and it is quite a good place to get the beach massages. Legian is not as busy as kuta beach so you would get relaxed while being with the massage.
Seminyak beach
Seminyak beach is towards the north of kuta and legian beaches. The beach front of Seminyak is lot quiter than the southern side and is known as one of the Bali's most trendy seaside resort that has situated on the island. One can enjoy the afternoon on sipping cocktail or by staying at beachfront lifestyle  club. The sunsets at Seminyak's are great, so don't miss them while you are being there.
Nusa Dua / Geger beach
At the Nusa dua beach you will find a fantastic white sandy shoreline under a protected lagoon. Enjoy eating your food  at one of the beachfront cafes and warungs.
Sanur beach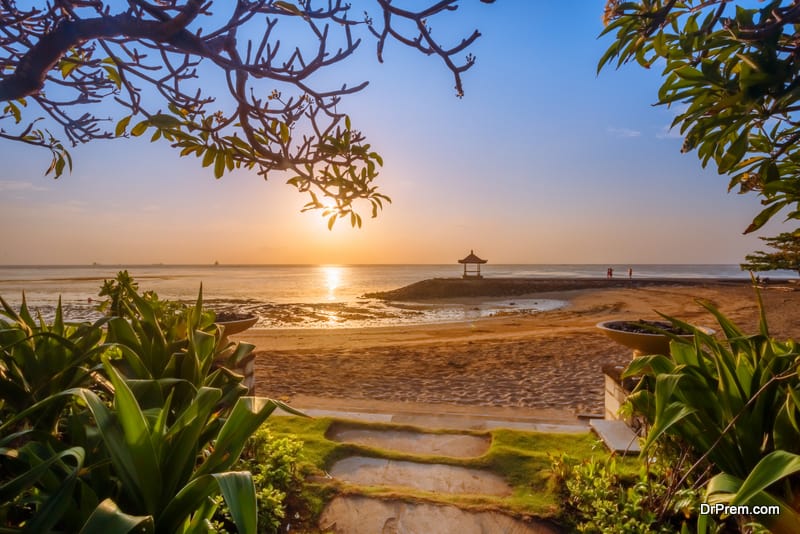 Sanur beach is towards the south-east of Bali and is one of the most popular islands. It offers white sandy beaches and is considered as relaxing beaches.
Jimbaran beach
Seeking to get mesmerized under the bali sunshine! then you need to visit the jimbaran beach. It is known as a scenic and tropical beach in bali.
Lovina beach
Lovina Beach is located on the northern tip of the Bali and is popular for its black sand beaches. It is a best beach for the people who are craving to do water activities like snorkeling and diving. one can enjoy this spot on watching dolphins and for the boat tours.
Padang Padang beach
Padang Padang beach is situated towards the south of Kuta Beach and Jimbaran Beach. Padang beach mimics all the requirements of a great beach including swimming, surfing, sunbathing and snorkelling.
Dreamland beach
Dreamland beach is really a dreamland for the those who want to watch the romantic sunsets. It is surrounded by majestic limestone cliffs and gleaming white sand. It takes 25 minutes to reach kuta beach through a drive. You can watch the sharp and strong waves in this beach as well it is a place to enjoy the surfers surfing moments.
Padang Bai Beach
Padang Bai Beach consists of several individual beaches and blue lagoons. People who are fond of being private are worth visiting the padang bai.
Guide to sustainable tourism in Bali
Sustainable and eco-friendly tourism nowadays are predominant among discerning travelers for reasons good enough. Recently, I travelled to Bali and I believe sustainable tourism in Bali is gaining importance owing to the rising tourism activities that are posing threats to the natural environment. Thankfully, the growing awareness of sustainability has led to the proliferation of ecotourism in Indonesia encouraging tourists to leave minimal carbon footprints.
I stayed in some great wellness and sustainable properties such as Puri Dajuma, I believe Bali is a favorite tourist haunt. The feeling of homeliness being in this jim dandy island blessed with pristine beaches and enthralling landscapes is a lifetime chance to be in gods own land. The intense warmth of hospitality of locals, the vibrant colorful culture and the year-round pleasant climate all create a magnetic attraction for wanderlusts.
The moment you step into Bali you are overwhelmed by a feel of freshness with refreshing vibes from the greenery all around. If Bali is in your travel bucket list, opt for eco-tourism activities to uphold the sustainability of this region.
A guide to sustainable tourism in Bali:
There are endless things to see and do on this island. As a responsible tourist, you do not have to do much but follow certain things to promote sustainable tourism in Bali. You can start with visiting few attractive eco-tourism destinations included in the previous lists. To get deeper into the essence of sustainable tourism in Bali, you can try the following:
Outlandish glamping experience: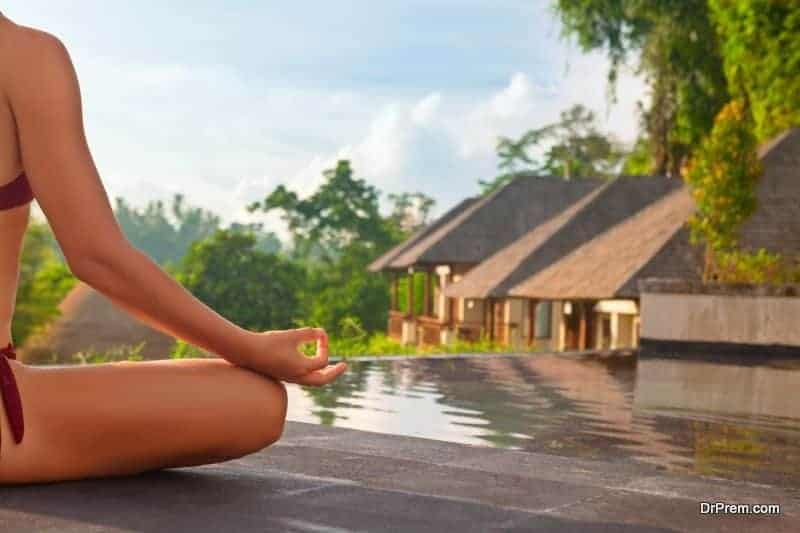 Sustainable tourism in Bali is not only a story of superlative locations; the mode of stay contributes a lot to your feel great exposures. Talking about ethical accommodation, which is an intensely coveted staying option and an important component of sustainable tourism, glamping in Bali is a revelation in itself.
If you are a camping buff, Baliwoso Educamp would do the best to feed your impulse. Secluded from the hubbub, this camp stands in the Pengotan village offering you the most thrilling concepts of glamorous camping.
Apart from drawing the essence of Balinese culture, you have the opportunity for trekking, river tubing and nature stroll. All of this will push you to the edge of high adventure while experiencing close interaction with the locals.
Indigenous dances and a chance to play the local musical instrument gamelon are added bonus. Annual Lobong picnic is not to be missed where you can savor the charm of entertainments and competitions organized by village folks.
A peek into the lives of indigenous Balinese people:
Sustainable tourism in Bali has exploration of indigenous culture as its inseparable unit. Tenganan Pegringsingan, located 55 km away from the central hub of Bali is an ancient rural settlement inhabited by indigenous peoples of this magic island.
They are locally known as Bali Aga. Here you have firsthand experience of simon-pure Balinese culture in its original form, which has turned extinct in other parts of the island. Villagers are keen on preserving their original culture and traditional methods of farming and feel proud showcasing them to the visiting tourists.
Eco-friendly accommodations: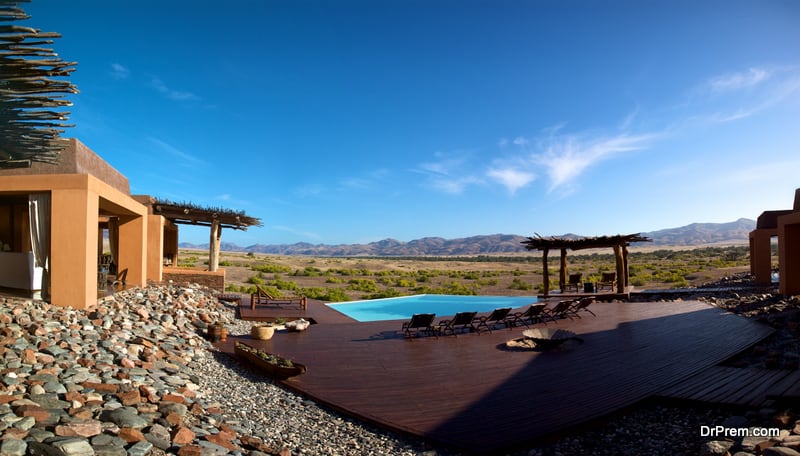 Eco-lodges and ethical accommodation form the core concepts of sustainable tourism in Bali. Modern luxury hotels and resorts are plenty. If you feel it is judicious to give back something substantial to the island that has gifted you a pleasant and relaxing vacation, locally run accommodations should be your choice.
It contributes to the local economy. You may opt for staying in an eco-lodge designed to promote green tourism. Adverse impact on the environment resulting from the rush of tourism is kept minimal.
Bali eco-village close to Pelaga, 45 kms away from Ubud is one. For housing, construction material used is primarily timber and bamboo with the application of traditional Balinese construction basics. Water for all purpose is locally procured. Water used for organic farming for tourists' consumption is recycled. An efficient waste management system exists.
Interaction with the locals – Another opportunity to promote sustainable tourism:
Mixing with the locals is highly educational and a very wonderful way of cultural exchange. Paon Bali cooking tutorial is where you learn the art of traditional Balinese cooking. Tourists get deeply involved in learning cooking skills and display their newly learned art preparing a range of mouth-watering Balinese delicacies.
You learn something that goes a long way enriching your vault of culinary techniques. Your money goes a long way supporting the growth of the local economy.
Eco-friendly Hotels and Resorts:
Sustainable tourism in Bali is geared towards tourist accommodations benchmarked and accredited by approved international authorities. Reduction of tourist impact on ecology, preservation of water and energy, consumption of local produce and pollution control are the premises on which these eco-friendly accommodations are built.
Some of the best eco-friendly accommodations in Bali:
1. Puri Dajuma Resort: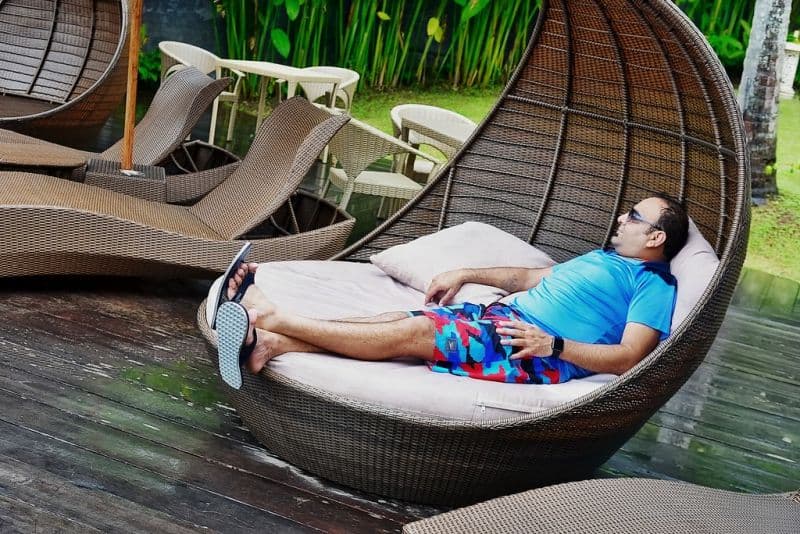 Image Source : photo.drprem.com
Established by a French Couple twenty years back, Puri Dajuma Resort is certainly a haven for those seeking world-class wellness therapies. You can read my complete review my relaxed stay in Puri Dajuma Resort– Review by Dr Prem
Located in West-Bali, this resort is 2-3 hours away from the nearest airport. The guests would have an extremely personalized and private time here, as the property has only 33 unique villas stand. The resort offers quite a lot of wellness therapies. We would suggest you go for the aromatherapy, which would definitely give you a rejuvenating experience. The spa ambiance is extremely beautiful and faces the sea. The resort is best suited for people looking for a quiet and nature-friendly place to practice Yoga and meditation.
2)     Samaya Ubud:
Located on the hilly terrain of Sayan close to Ubud, one gets a great customer review. Spas and lawns are well maintained. The restaurant by the riverside is a diner's dream. Water management is excellent the benefits of which flow to guests and local communities as well.
3)     St. Regis Bali Resort: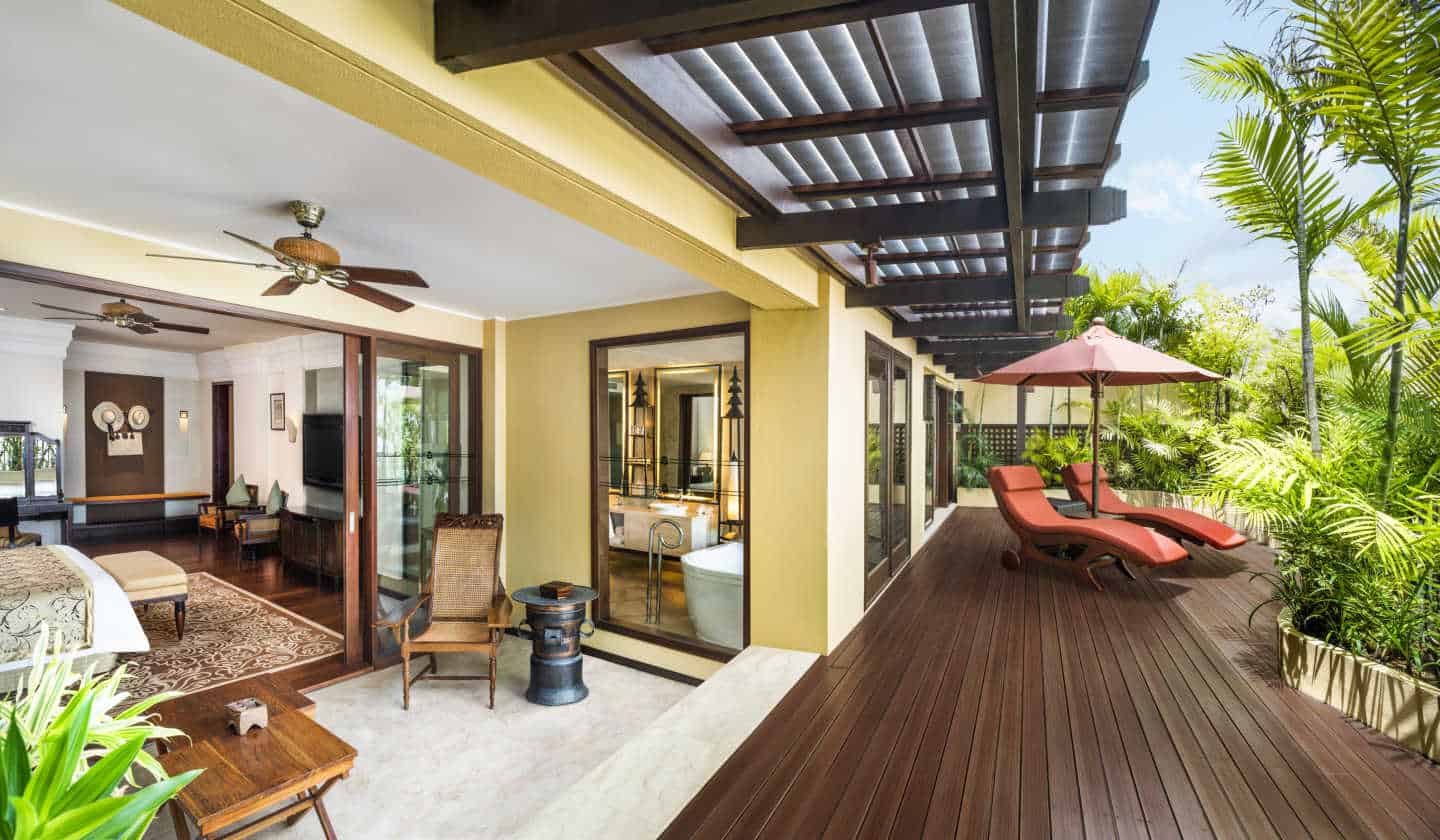 Image Source : res.cloudinary.com
This luxury resort has won the Earth Check Silver recertification for successive years. Gets steady customer feedback loaded with applauses. This 5-star luxury resort is highly active in the fronts of energy conservation and reduction of carbon footprints.
4)     Alila Vila Uluwatu:
Nestled upon a picturesque precipice this amazing resort is located in Southern Bukit peninsula. The beautiful beaches of Uluwatu are spread in front of the resort and have won the Earth Check Gold Certification for consecutive years.
The resort is active on water consumption management, efficient lighting, and recycling solid waste. Villas are wonderfully designed and are pieces of marvels. The ambiance is arresting.