Sharm-El-Sheikh, the small paradise located in Sinai Peninsula Egypt bordering the Red Sea coast truly left me enchanted beyond my expectations. I learned that this place has been a long time favorite of the Russians and Europeans. After stepping in this paradise, I realized the worth.
Well, amidst all star attractions, I do find it very relevant to give my special words of appreciation of the Al Sahaba Mosque, the newly constructed shrine of this desert resort. My recent visit to Egypt was a slightly hurried affair where I enjoyed indulging in a number of wellness activities within a very short timeframe, but this exquisitely designed mosque was a bonus attraction.
Overview of Al Sahaba Mosque and Sharm El Sheikh, Egypt
Fascinating Al Sahaba Mosque: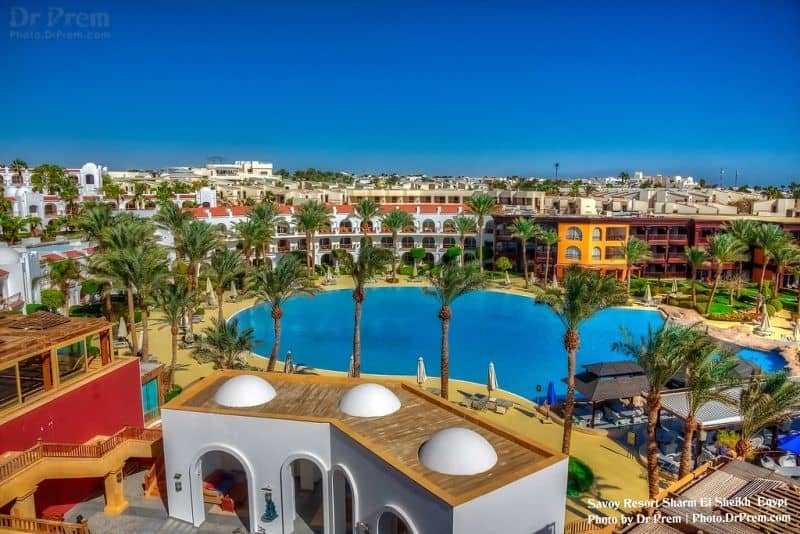 Image Source : photo.drprem.com
Now, you may ask what is so special about this mosque. Does it bear any historical connotation? My simple answer would be no. Neither does it bear any memory of a monarch or patriarch nor is this creation an act of benevolence. Still, I found this splendidly built mosque enwrapped with a divine beauty that fits the tranquil and serene ambience of Sharm El Sheikh.
The construction
The credit of designing this mosque goes to the Egyptian architect Fouad Tawfik Hafez who did this marvelous work free of charge. The mosque stands on the old ruins of the Israeli occupation era. After the foundation stone was laid in 2011, it took long six years for completion as its construction was briefly held up for a few months in 2011 due to events of revolution.
The cost of building this mosque is staggering nearly 30 million Egyptian pounds. Donations constituted LE 10 million. Another LE 10 million were collected by the government while the remaining cost was handled by the engineering body of Egypt's armed forces. The cost of the finishing phase amounting to about LE 15 million was again directed to the government as per the President's order who was attending an economic conference at Sharm El Sheikh in 2015.
The pyramids and the sphinx are certainly the legendary structures that brought Egypt under the global limelight. Even the ancient mosques dotting this country have roused enough attraction for global tourists and historians since centuries. But that is totally a different perspective.
This religious edifice of Moslem worship, , I would say, is no less attractive both from the angle of its unique artistic design and a highly revered religious place for a spiritual sojourn. The architectural excellence ignited a fiery passion within me, which is a mix of religious devotion and flamboyance of aesthetic beauty.
Eye catching features of Al- Sahaba Mosque, Sharm El Sheikh: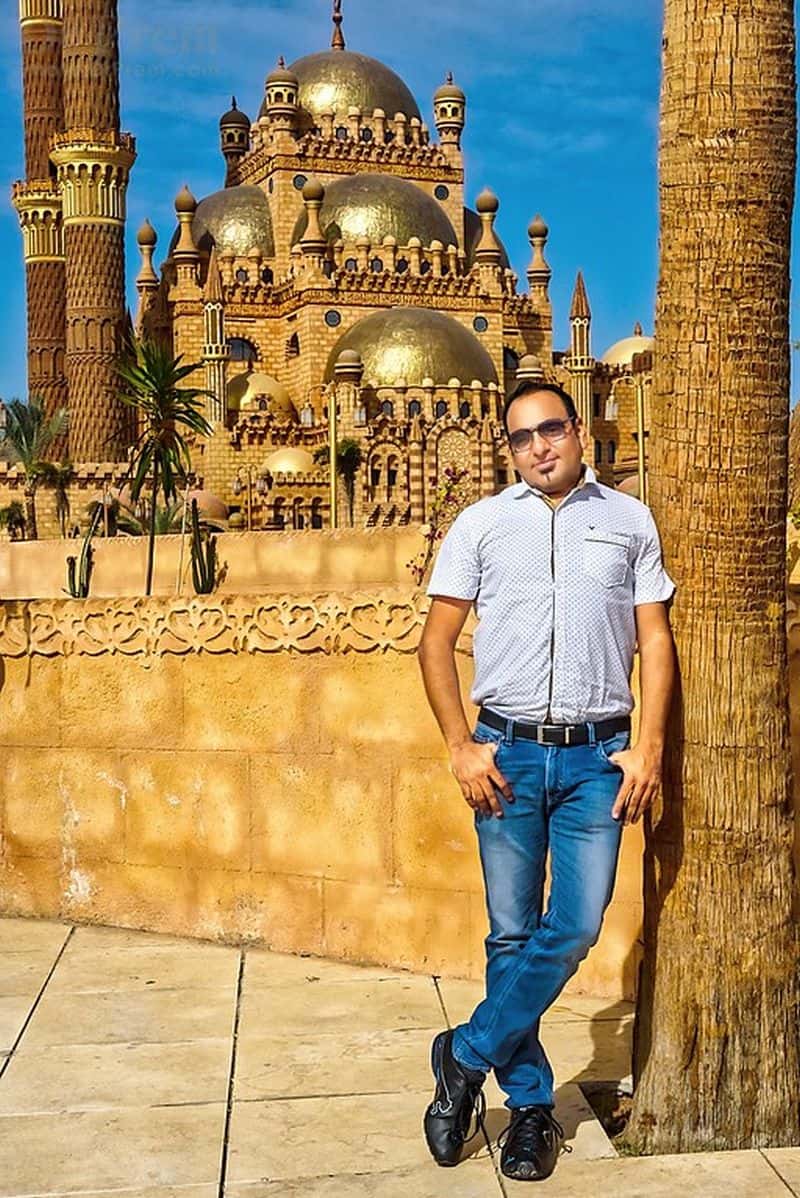 Image Source : photo.drprem.com
Standing on an area of 3000 Sq. meters, its two 76-meter long minarets is eye catching. The mosque's roof touches 36 meters. Around 3000 visitors can gather in this mosque. The gorgeously decorated minarets are perhaps a unique feature of this mosque that has simply no match anywhere else in the world.
Al Sahaba Mosque is a wonderful combination of highly ornate architecture and imposing beauty that left me gobsmacked the moment I stood before this highly commendable creation of art. It is the second biggest mosque in Sharm El Sheikh next to Al-Mostafa mosque.
The staggering structure brings together the connoisseurs of art and the religious minded people as well. In fact, the mosque is a novel trend setter in building design which has a loaded religious undertone and yet it is blazingly grandiose so far as its innovative elements of design and intricacies of sculpture are involved.
The mosque fascinated me by its mammoth presence and it was truly an architectural milestone making it a benchmark for a religious tourism destination, a place of spiritual gathering for the devout and also admirers of art and architecture.
If the exterior was magnificent, the interior of the mosque I would say was a feast to my senses. The interior is a masterpiece in decorative executions. I was totally absorbed by the finer details that were delivered with such an elegant precision that couldn't help a clear span of three hours to explore the work of unmatched excellence.
The ceilings are very high and elaborately composed. Arabic scripts having some ecclesiastical connotation ran from wall to wall enhancing the aesthetic beauty of the interiors.  The imperial structure has an immense iconic value with several sharp and gracefully designed spires rising high jutting into the clear blue sky overhead. Among these multiple clusters of spires, two rose very high scaling several meters. I had to strain my neck muscles looking up to get a complete view of them.
A flight of well decorated steps took me inside the mosque which is well illuminated giving enough room for the natural light from outside to flood the inner space. Once inside, it was a genuine feeling of tranquility that was overwhelming. It cleanses the inner spirit and is also a grand treat for the artist inside you.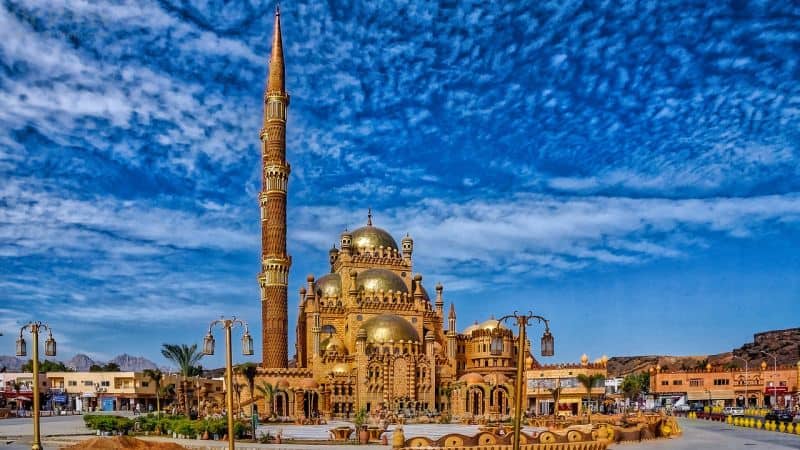 Image Source : photo.drprem.com
Al Sahaba Mosque is one of the largest of its kind in the South Sinai region. The place being one of the most outstanding vacationing sites where tourists come here mostly for relaxing and wellness breaks, this mosque also offers a shelter to carry out daily prayer rituals. Two imams fluent in English and French are in charge of this mosque.
As I said, the mosque may not have much of an evolutionary history as such, but it adds to the attraction of Sharm El Sheikh. It is just like adding a gorgeously flowered vase in a well decorated room. Massive efforts are being made by the Egyptian ministry of tourism to make this fabulous religious structure attractive for international and domestic tourists as well. In just a few years of opening, Al Sahaba has already started winning hearts. Words of exclamation pouring from other visitors left me amused.
Though the huge spend that went with its grand construction amidst a fragile national economy may raise some questions, but its long term benefits impacting the Egyptian tourism cannot be disregarded. Al Sahaba would facilitate the spiritual sojourn of the tourists being an additional adornment among the existing mosques and cathedrals of this place.
Sharm El Sheikh – Getting Ready To Welcome Wellness Tourists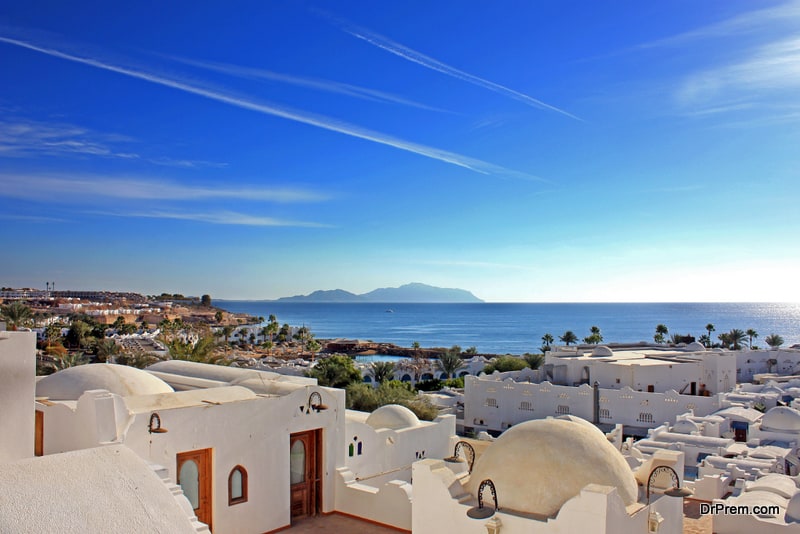 Dawn seems to have set in bringing back smiles on the faces of hotel and resort owners of Sharm El Sheikh, one of the most recognized wellness tourism destinations in Egypt.  Disastrous air crashes, political unrest, potential threats of terrorism affecting the safety of tourists had spell doom in the tourism sector of this region since 2015.
Sharm El Sheikh has been the cynosure for European and Russian tourists for a number of reasons. The sun-drenched arid climate and azure beaches offering lots of fun-filled activities constitute the prime attraction of tourists.
The wonder world in the under waters of Red Sea especially that of the Ras Mohammed  Marine Park south of the town occupies the center stage of attraction. Diving and snorkeling activities attract hordes of diving enthusiasts from all over the world. The coral reefs of the Thistlegorm Dive Site, Naama Bay, Dive site of Jolanda Reef, Ras Um Sid Beach and Reef and finally an exciting day trip to Mt Sinai rewards a pleasurable vacation for both the leisure and wellness seekers.
Egypt is well known for its age old traditional therapies and beauty treatments involving hot springs and spas. Therefore, unique spas and traditional wellness therapies that abound the resorts and hotels of Sharm El Sheikh offer an additional layer of wellbeing to the visitors.
Visitors usually do not leave the place without experiencing the relaxing sauna and Turkish baths and Jacuzzi in naturally located spas. Handled by well trained therapists and masseurs enriched with experience, they get the perfect feel of rejuvenation.
The proximity of the Red Sea, another popular wellness destination due to its enriched mineral composition having miraculous healing properties, has further heightened the attraction of Sharm El Sheikh.
The woes and worries:
Past few years, the tourism sector in Egypt has been battling serious political unrest along with the rising risk of terrorist attacks. It received a severe blow when UK and Russia halted all their flights to Sharm El Sheikh after the disastrous high profile airline crashes that occurred in May and October 2015.
Tourist visit saw a sharp decline of 41.9% in the early months of 2016 compared to that observed in the same phase of 2015. The country that saw the footfalls of 640,200 visitors in February 2015 could attract only 346,500 tourists in February 2016.
Sharm El Sheikh, the favorite of European and Russian tourists wore a deserted look leading to shut down of many popular hotels and resorts.  The region somehow managed to bag meager earnings through domestic tourism and slashing the rates of premium accommodation costs by more than 80%.
Hopes of revival: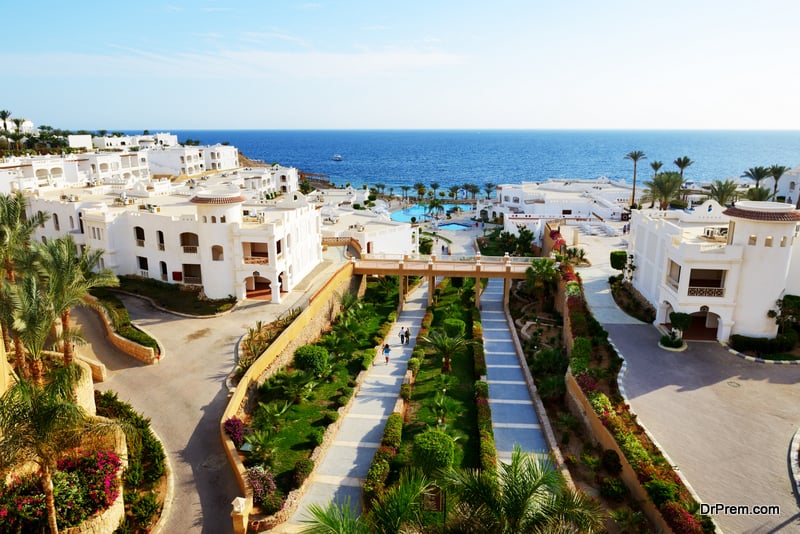 Tourism is the main revenue earner of Egypt. The government officials have been passing sleepless nights to reverse the situation winning back the confidence of foreign visitors.
Judging the situation, the tourism minister of Egypt conducted several discussions with the British Government to set up a joint action plan to restore flight operations to Sharm-El Sheikh and the adjoining Hurghada.
In a bid to showcase Egypt as a premier global destination, several tourism companies jointly launched the program "Egypt is in Our Hearts" to support the badly hit tourist sites.
The need for improved infrastructure, amenities and well trained hospitality staff in Sharm El Sheikh was being felt for quite some time. The early months of 2016 forecasted more hopes of revival with the Minister of Investment laying the foundation of an upscale hotel project worth 2.4 bn EGP covering a vast area of 250,000 square meters. The project set up by a leading global hotel chain is expected to boost the confidence of tourists.
The devaluation of Egyptian pound provided little support to the tourism sector as the vacation packages became more attractive to the foreigners.
Things started improving when Sharm El Sheikh welcomed the first budget flight Air Cairo from Frankfurt further raising the hopes of a huge tourist inflow from the prime cities of Germany. With a major sky link being restored, the region is already seeing a better tourism scenario as per the reports published by Colliers International, a commercial real estate company.
The situation appears much better with Russia planning to resume flight operations to Egypt by the end of Feb'17. Though the scheduled take off date is 23rd February but this would get the green signal only after a thorough recheck of safety aspects of the airports of the country.
Two Russian delegations have already set into the mission of security check of the Hurghada and Sharm El Sheikh airports. Satisfied by the reports submitted by the team, it seems that Russia will not make further delay in initiating flights to three cities of Cairo, Hurghada and Sharm-El-Sheikh.
Even the Cairo airport security got a recent revamp under the supervision of a specially hired German delegation. Foreseeing the future rise in tourist visits, the airport in Sharm El Sheikh would see further extensions soon with due financial support from Islamic Development Bank (IDB) and African Development Bank (ADB).
Sports meets spread the message of fraternity fast. The International Squash Masters Championship held in Sharm El Sheikh from 19-23rd January 2017 was another great booster. The competition inviting participants from Iraq, Saudi Arabia, Palestine, Syria, Egypt, Jordan, Turkey, Bahrain, UAE, Oman, Lebanon, Algeria, Italy, France, Spain, Germany, Spain and Great Britain gives a clear indication about Sharm El Sheikh as a safe haven for the abroad tourists.
Sharm El Sheikh is quite a safe place now as Brits started flocking the beaches after 4 years of travel ban. Tourism here is set to witness brighter days in the coming months and years. Russia has already resumed flights from January and there is no reason that the place will not see the vibrant crowd soon. However, new marketing efforts will make a big difference in tourism boosting especially the niche sectors like diving and wellness that would find more takers.