Guide to top destinations for religious tourism and precautions and preventions that you need to follow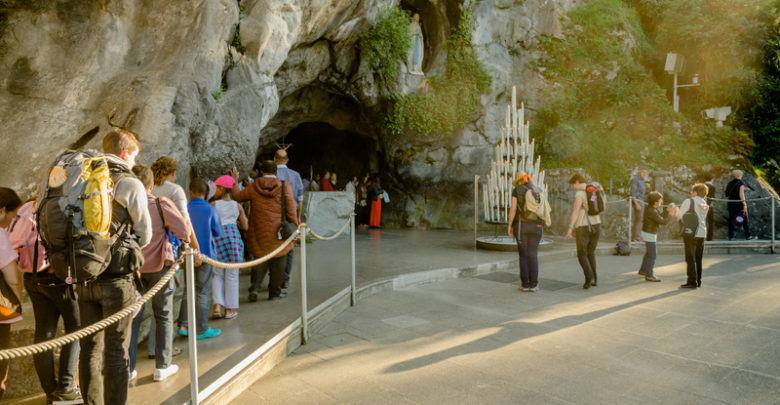 Almost all nations under the sky belong to one religion or the other. Even where no official religion rules some form of religion in the shape paganism and animism exist. There are countries, which become legends bearing the flag of a religion or a combination of religions. The listed top ten destinations below witness a huge influx of tourists seeking bliss and satisfaction of religious tourism.
(1)The Vatican, St Peters Basilica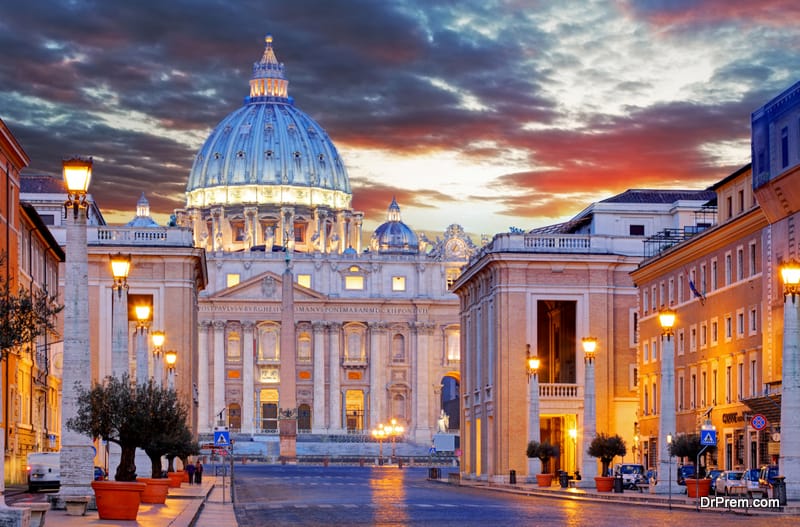 This is the most important and halo endowed site in the entire Christendom. This holy city is also the official residence of the Pope occupying the helm of the priestly hierarchy in Christianity. It is here where the revered Sistine chapel stands. A number of museums exhibiting relics and artifacts of Biblical significance exist. The Basilica of St Peters encases the burial crypt of the first Pope just beneath the key altar. UNESCO has honored it as the World Heritage site and declared it the largest sacred structure with an enormous global fame. Every year a huge number of tourists visit the Vatican, and the figure hits an astounding range of 5000 to 20000 per day!
(2)Our Lady of Guadalupe Shrine, Mexico City:
This Shrine located northwest of Mexico City is a celebrated Catholic site. Folk lore goes that way back in 1531 Virgin Mary appeared before a poor farmer named Juan Diego on a hillock called Tepeyac. The lore runs that the face of Virgin Mary was impressed on the poor man's cloak by the intervention of some divine magical power. As a sacred relic, the cloak still hangs over an altar built exactly on the site where Diego had the holy vision of our Lady. Diego was reportedly canonized by Pope John Paul II back in 2002 though there is some dispute over the fact. This religious site is visited by over 20 million tourists every year and is a prominent religious tourism destination.
(3)Sabarimala, Kerala, India: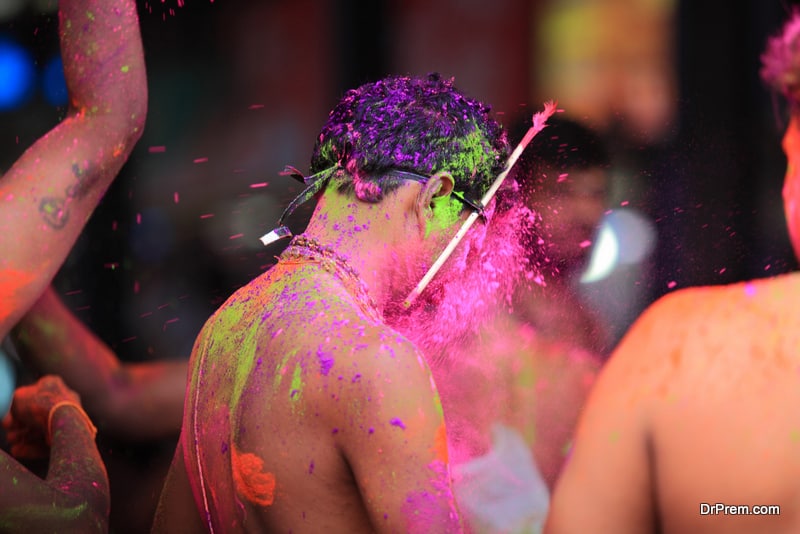 This is a famous religious destination for the Hindus nestled in the Western Ghats mountain range in the state of Kerala in India. The Sastha temple, the residing place of Lord Ayyappa, is the main attraction of this destination that Hindus especially the South Indians long for a visit. It is covered with dense forest grown along a mountainous country where the Lord after vanquishing a powerful and malicious demon Mahishi went into deep meditation. Pilgrims visit this holy site from November to January facing unfriendly terrain and jungle thick with wildlife. The pilgrims observe strict abstinence from tobacco and alcohol and other worldly pleasures during the pilgrimage season. Annual tourist visits hit over 10 million!
(4)Grotto of Lourdes, France:
Bernadette Soubirous, a 14 year old country lass, had a glimpse of the specter of Virgin Mary back in 1858 in a grotto just at the outskirts of the rural settlement of Lourdes in south western part of France. Post this miraculous visit, she had 17 more repeated visions as goes the legend. The water fizzing out of the grotto is considered sacred and is believed to be blessed with a healing touch. This magical phenomenon has made this place religiously very appealing drawing in over 5 million religious enthusiasts every year.
 (5) Tomb of Imam Reza, Mashad, Iran: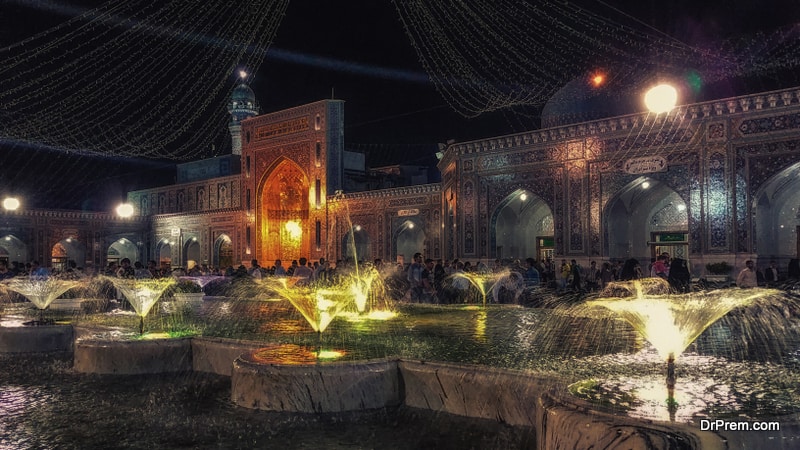 This is a sacred site in Iran and a place of great reverence among Shia Muslims. This site is the holiest city in Iran and termed as a 'palace of martyrdom dedicated to the eighth Shiite Imam, Reza who is supposed to have a direct blood lineage with Prophet Mohammad. The Imam's tomb is awe inspiring and is a big draw among tourists. Annual pilgrimage touches a figure ranging from 12 to 18 million visitors.
(6)Mecca and Madina, Saudi Arabia:
Every Muslim nurtures his or her long cherished desire to visit this holiest of all holy Muslim sites. This holy pilgrimage is known as Hajj and is quite an expensive affair to afford. This holy hajj pilgrimage is restricted to Muslim community only. A series of sacred acts like walking anticlockwise seven times around the cubicle of Kaaba is one of its chief features. The Saudi government restricts the number of pilgrims. It is a mammoth gathering calling the faithful to the religious site of worldwide fame.
(7)Jerusalem, Israel: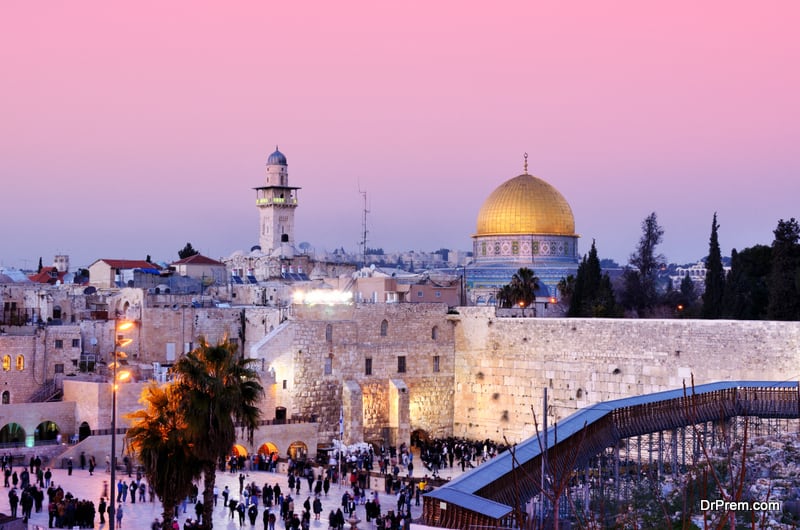 This is the very heartland that sees Judaism, Christianity and Islam exist as seats of their spiritual hub. The Church of holy Sepulchre, the Mosque of Al Aqsa and the Western Wall are the famous religious structures representing three prime religions to the enchantment of tourists pouring in from all over the world. Annual visit of tourists to this holy city is estimated around two million.
(8)Meiji Jingu, Tokyo:
This is an amazing Shinto Shrine located in a forested region in the Shibuya province of Tokyo. It is dedicated to the emperors Meiji and Shoken and is the most frequented religious site in the island nation with annual visits of over three million tourists each year.
(9)Mount Tai, Taishan, China: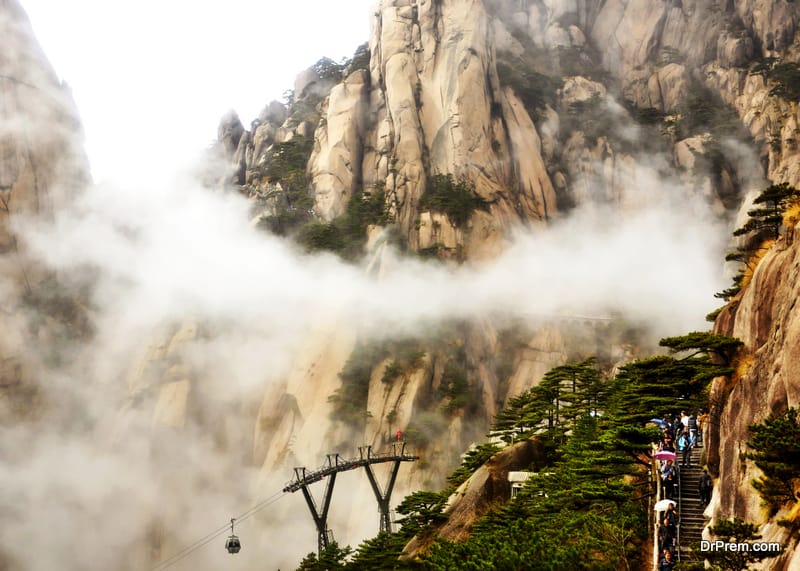 This holy mount is located north of Taiwan city in Shandong province of China having its shores washed by the sea. It is a seat of Taoism and is one among the five most ancient and sacred mountains. This site is historical having its roots running back to the reign of Zhou monarchs. At the base of the mountain stands this revered Taishan temple, which is declared a World Heritage site by UNESCO in 1987. A long flight of 7000 stone steps climb takes you to the Azure Clouds Temple at the summit. This sacred site sees around seven million visitors every year.
(10)Jasna Gora, Czestochowa, Poland:
This holy monastery is located in the central part of Poland. This a sacred Pauline religious structure where stands the black Madonna with supposedly divine powers. Pilgrims set the holy voyage on foot to reach this destination.  On the Assumption Day and during Jasna Gora harvest home celebration, the visit reaches its peak with heavy rush. Annual tourist count ranges between 4 – 5 million visitors.
Destinations that offer safe religious tourism for senior citizens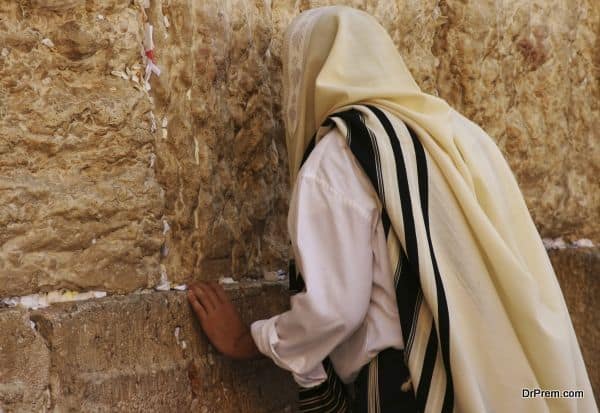 Senior citizens prefer religious tourism, as they believe that spirituality is important during the advanced phase of age and life. Many countries offer religious tourism to people from each corner of the globe. Mecca, Lourdes, Vatican, and Jerusalem are some of the major religious tourism destinations in the world. These destinations are visited by millions every year. Visitors also include kids and senior citizens who require special care during travel. It often includes safe food, lodging facilities, travel facilities, pilgrim safety, and more.
Safety and security is the major thing to consider in the case of senior citizens. It is vital to plan everything properly and systematically. It is also important to make sure that your chosen religious destination offer complete safety and security to old age people. Following we have some of the major religious tourism destination that offer complete safety and security to people, especially old age people.
Mecca
More than 13 million Muslims visit Mecca every year. It is one of the most visited pilgrimage sites in the world, and Muslims generally visit the place especially during the final month of the Islamic calendar. Senior citizens are amongst the major group that visit the place and they require special care and safety during the journey. Many tourism facility providers of Saudi Arabia offer special religious services for senior citizens. This includes quality lodging facilities, safety, and medical facilities. The Government offer special terminal facilities to accommodate people, especially senior citizens.
Lourdes, France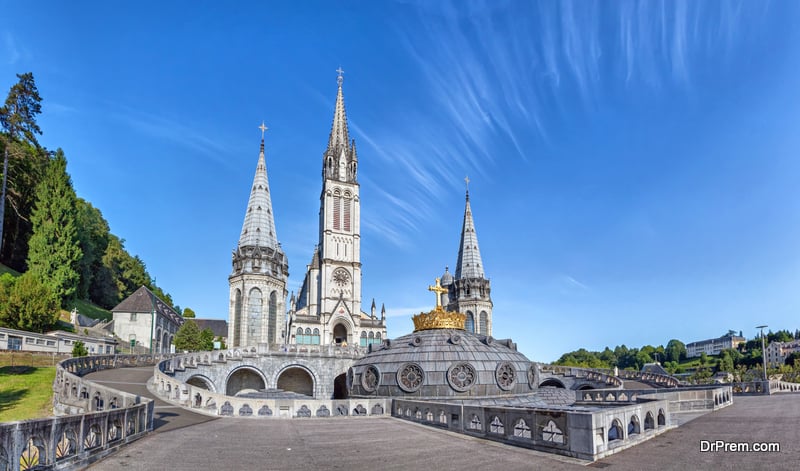 Lourdes is a major place of Roman Catholic pilgrimage and it welcomes millions of pilgrims every year. The destination offer top class facilities to their guests, especially old people. Almost all hotels of the destination provide medical facilities and wheel chairs to senior citizens and people who cannot walk. Apart from this, they also offer special guided tours for senior citizens. They provide special medical care and emergency medical facility to patients or people who need it.
Vatican
Vatican is the center of the Roman Catholic faith and a religious tourism destination. Many hotels and tourism facility providers offer tours packages on heavy discounts to senior citizens. They also ensure the safety and security of old people. They offer medical facilities to pilgrims according to their health conditions. The only thing they need to do to carry their ID cards to prove their age. They can ask for available discounts in hotels and flight bookings.
Jerusalem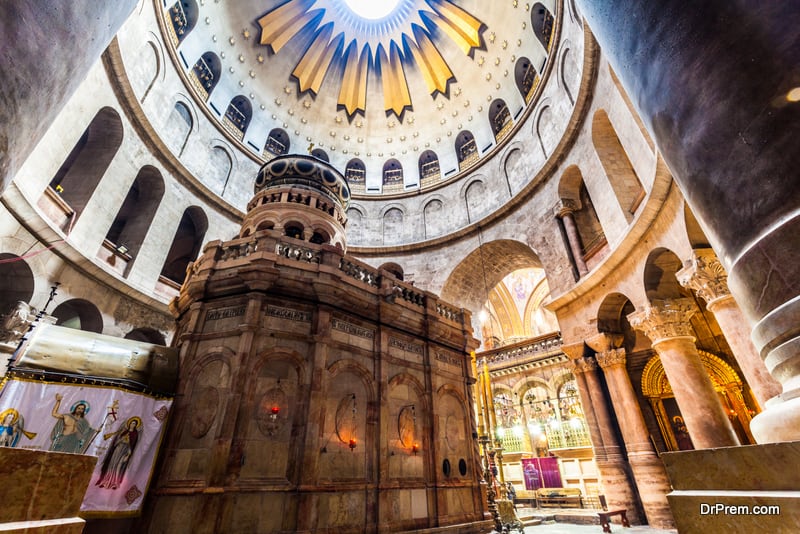 The city is visited by more than two million pilgrims every year. It is the holy and important location for Christianity, Islam, and Judaism. Thousands of senior citizens visit the destination to connect themselves to the God. The government of the country tries to provide safety services to these people. Visitors can visit the place without any fear and worry. There are special lodging facilities and traveling facilities that ensure the safety and security of tourists, especially senior citizens.
Machu Picchu
Machu Picchu is known as a great historical site but it is an Incan pilgrimage site. It was privately owned by the emperor Pachacuti and it is visited by many people. They visit the place to connect themselves to God. The tourism authority offer special travel package for old age people to ensure their safety and security. It includes travel facility, food, accommodation, and medical facilities.
Precautions and preventions in religious tourism
Religion is a super sensitive issue. Precautionary measures to be taken in religious tourism are many. Faith has a powerful impact on one's mind where rationality and logical thought process might be causalities.
Be aware of self-proclaimed god men and guides
Tourists often blindly rely on self proclaimed god men and unscrupulous guides who lead you to disaster. They are cunning and plan their attack on your psychology, which is often a vulnerable area. These unscrupulous mediators who promise you to show you the gates of heaven are often knowledgeable. They can read the human mind very well. Their art of speech are quite convincing and firm. They will speak in a very aggressive style with a mix of lies to confuse you. They are least bothered about your wellbeing or religious accomplishments. It is your money, which these thugs are after. Once you entrust them with all your secret information considering them to be your savior hailing directly from paradise as god's messenger, they have their kill. They simply rob you clean, and you might have exposed yourself to further damage coming in a more nightmarish shape if you happen to be a lady.
Stay safe from thugs and pickpockets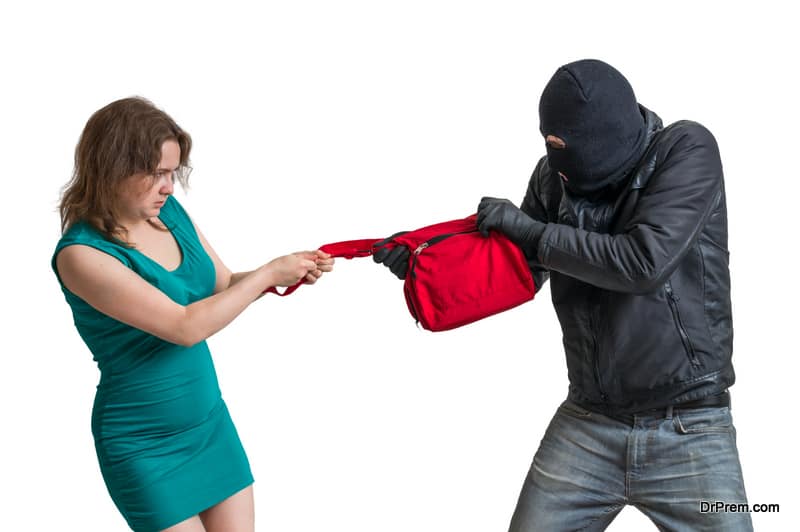 Religious sites draw in millions giving ample opportunity to thugs, crooks and pickpockets to take a safe cover before striking for a kill. It is advisable not to exhibit your valuables, money and camera amid thick crowd to invite a theft.
Check the hygiene standard of 'Prasad' before you consume
You should take enough precautionary measures with respect to consuming the holy 'Prasad' served in many Indian temples along with a spoonful of sacred water from the river Ganges. 'Prasad' is usually a mix of fruits and sweets, and in temples located in southern parts of India it is usually rice with milk. Whatever be the constituent of the sacred food dished out by temples, its hygiene is not infallible. The cleanliness of the sacred river water is also open to question. Hence, it is advisable you think twice before taking a sip at the holy water or a nip at the holy 'Prasad'. It will be wise to be choosy on this temple food issue and spare yourself from falling sick upon consumption of the sacred Prasad.
Be courteous with offerings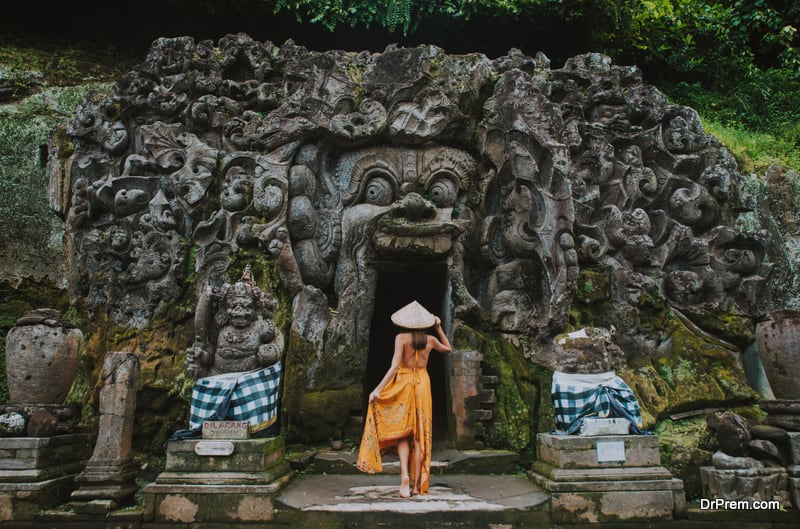 Etiquettes and show of respect is an important part of religious tourism. While entering temples care should be taken to see your footwear is removed and kept out of temple premises. Usually there are custodians at the temple entrance who earn a living by guarding your footwear in exchange for a nominal fee.
Keep yourself aware of the poses and gestures that indicate your show of reverence for the sacred site and for the deity inside the temple. Inadvertently you may show a gesture which is polite and respectful by your cultural norms, but it might be quite rude as per local standards.
Be sure of photography rules
Taking photographs of sacred idols, monks and priests may not be approved by local customs. Be aware of this issue not to invite misunderstanding and local resentment.
Do not pull out any part of an ancient ruin
Some sacred monuments may be in ruins with ancient brickwork with engravings hanging loose from the main structure. This may instill a little temptation in you to sneak and pull off a block for your private collection of ancient artifacts of artistic value. This would amount to a criminal offence gross enough to put you behind the bars. Act of vandalism against an alien religious work of art would be unlawful enough to justify even a drop of compassion. You will land up in real trouble.
Do not litter
Equally important will be to ensure not to litter the place of worship with food leftovers, containers, empty bottles and other trash. If access to a sacred location needs you fall in a queue, be patient and follow the crowd and wait your turn. Haste and disappointment over slow progress of the proceedings would land you nowhere.
Guide to history of religious tourism, its essential components, why it matters and best practices
Key Drivers of Religious Tourism
Activities while on religious tourism
Travel and tourism arrangements in religious tourism
Dos and don'ts while on religious tourism
Preparations for religious tourism
Importance of planning in religious tourism
How to get more information on religious tourism
Things to do post religious tourism
Budgeting in religious tourism
Countries promoting religious tourism
Best sites of religious tourism in the world