Finland is one of the lesser-known choices for the perfect destination holiday. But once you step in the country, you will be surprised at how much there is for you to endlessly explore. Right from immersing yourself in the authentic sauna to visiting and exploring Santa's hometown, from spending a memorable night with your loved ones in an ice igloo to experiencing enthralling winter sports – Finland is the ideal destination for those who love cold and calm at the same time. To create some of the most unique memories with your loved ones, read on to discover the best things to do in Finland. After all, there is much more to explore in Finland than the exquisite but mainstream Northern Lights.
Experience the authentic sauna
No matter where you go in Finland, you will find a sauna in the shower. This goes on to say that the Finnish take their relaxation a little too seriously. And that's good news for you. Because the Finnish heat their water on a stone-filled stove to create just the right temperature. But the Finnish do their sauna a little differently.
Rather than warming themselves up in sauna and then gradually cooling themselves off, the Finnish prefer to step out of their sauna and jump headfirst into the terribly cold icy waters to retain their charged energy. In fact, in Finland, they say that more crucial conversations and decisions happen in a sauna than in a professional setting.
So, one of the best things to do in Finland is to experience the amazing sauna – the authentic way, the Finnish way!
Visit a timeless paradise as you step in Finnish National Parks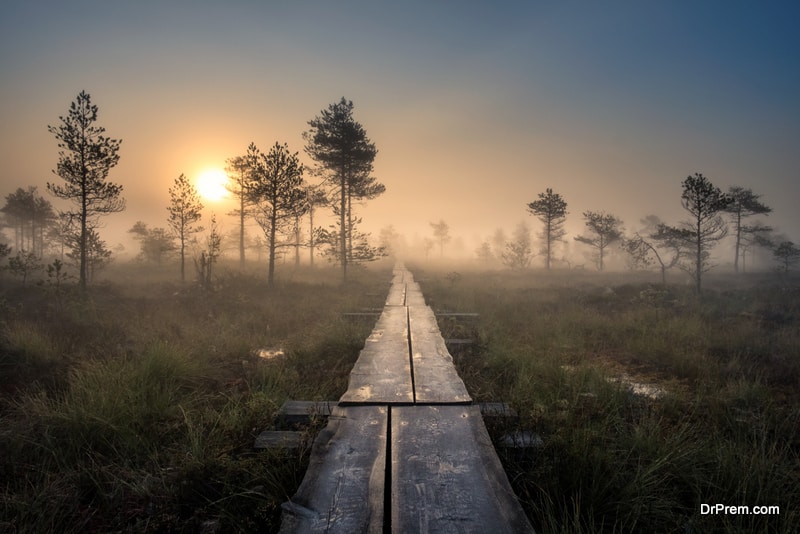 Finland is a natural country, and it is not that hard to figure it out. As it is abundantly blessed with nature, the Finnish love everything that is bestowed upon them – be it the icy cold waters or the densely populated forests. So much so, that you will find more than 40 beautiful national parks in the country – all equipped with nature trails and camping grounds.
Imagine stepping into one of the National Parks, and being greeted by the stunning views of Christmas tress covered in snow, standing tall under the clear blue skies. It is akin to paradise on Earth. And fortunately, this paradise is open 24/7 for everyone, and for free! To breathe one of the most cleanest air in entire Europe, head to the Pallas – Yllastunturi National Park located in Lapland.
You can also treat your eyes to the jaw dropping sight of frozen waterfalls at Korouoma National Park in Posio. Not only that, you can also indulge yourself in adventure with hiking and camping activities. And if you aren't feeling up for the adrenaline rush, opt for the guided tours. But don't miss out on the natural beauty!
Give yourself a visual treat by observing reindeers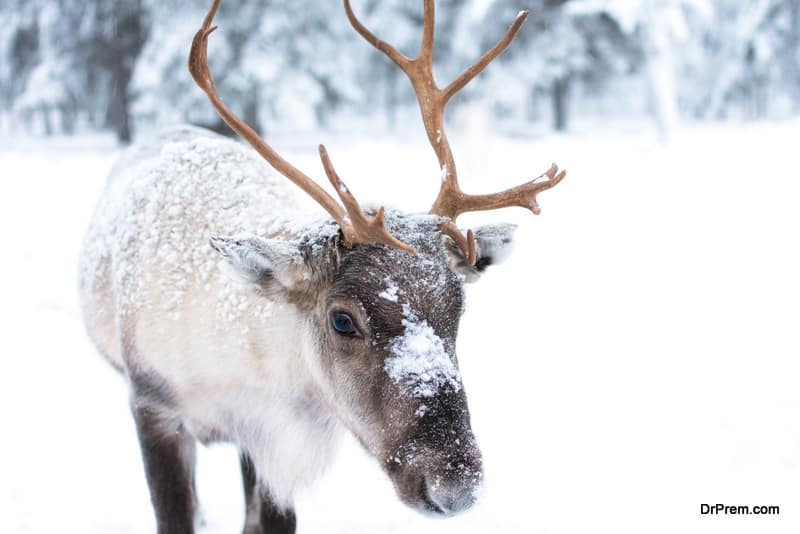 Reindeers and Finnish wildlife go hand-in-hand. So, when you visit Santa's homeland, you can expect to catch a view of beautiful reindeers roaming around casually in numerous forests. To increase your chances of getting up close and personal with one, visit forests with a high number of pine trees, spruces and larches.
And if you feel a little cautious about roaming around the forests just like that, opt for safari tours. Just remember that reindeers don't like people invading their private spaces. So, be a little respectful and keep your distance. But this one's Santa's home. So, expect magical things to happen to you – including catching a breathtaking view of a reindeer. One of the best things to do in Finland is to explore the wildlife out there – so don't miss out on it.
Slash through the snow on a sledge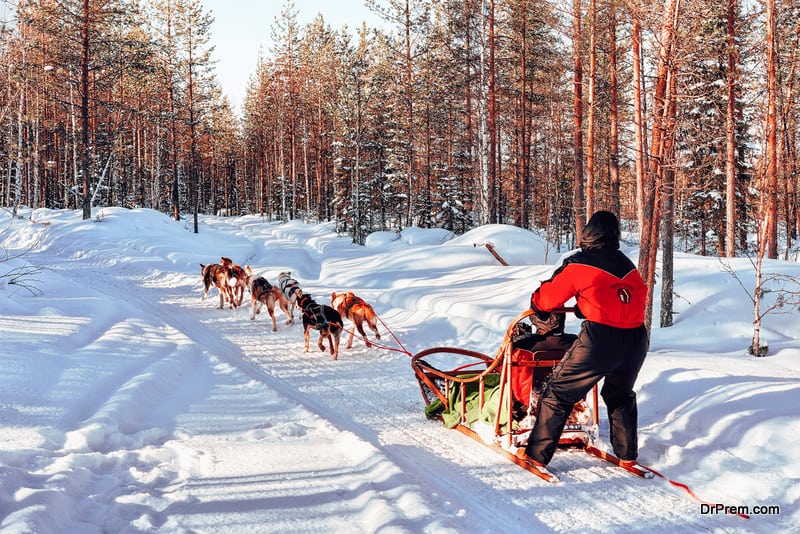 When in Finland, do as the Finnish do. One of the best things in Finland is to explore the snowy Alps and see how majestic the force of nature is in front of us. So, when you visit Finland, grab the chance to sledge through the snow filled mountains with your loved ones.
And this ride becomes all the more special when you know that you will be pulled around the stunning Finnish landscapes by a total of twelve strong huskies. And don't be worried about inflicting animal cruelty – these huskies love to rummage through the snow more than you do!
Don't miss out on ice-fishing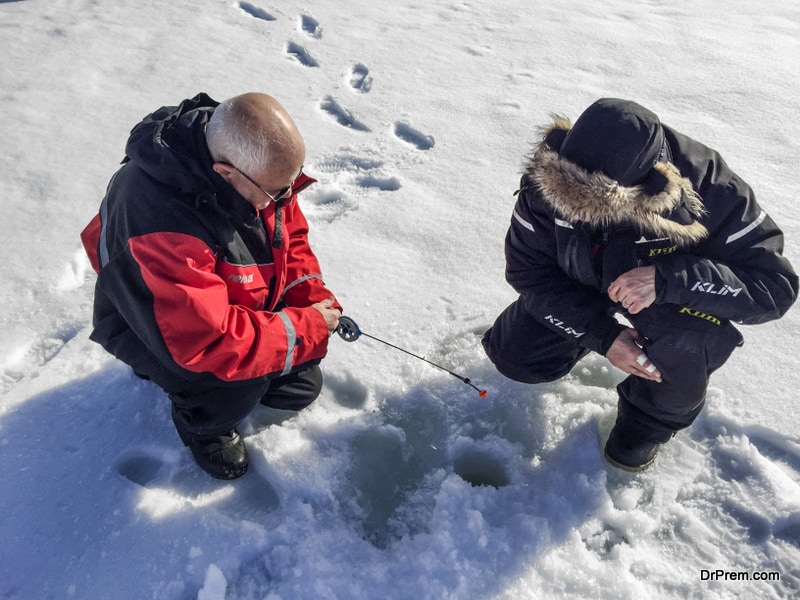 Most of us love to fish. Not only can we spend quality time with our loved ones, but also master the art of concentration and focus. However, one of the best things to do in Finland is to try out ice-fishing, which is the polar opposite of regular fishing. The end goal of ice-fishing is not to trap the most number of fishes in your net, but to relax, meditate and remain calm while sitting around with the net cast in the frozen lakes and rivers.
Not only will you have to dig a hole before you cast your net or throw your bait, but also stand on the frozen waters to accomplish the task! Also, if you are a novice when it comes to fishing, try to opt for guided tours, where you will provided with all the equipment. And capture the beautiful scenario in front of you on your camera. It is all worth it!
Enthrall yourself in winter sports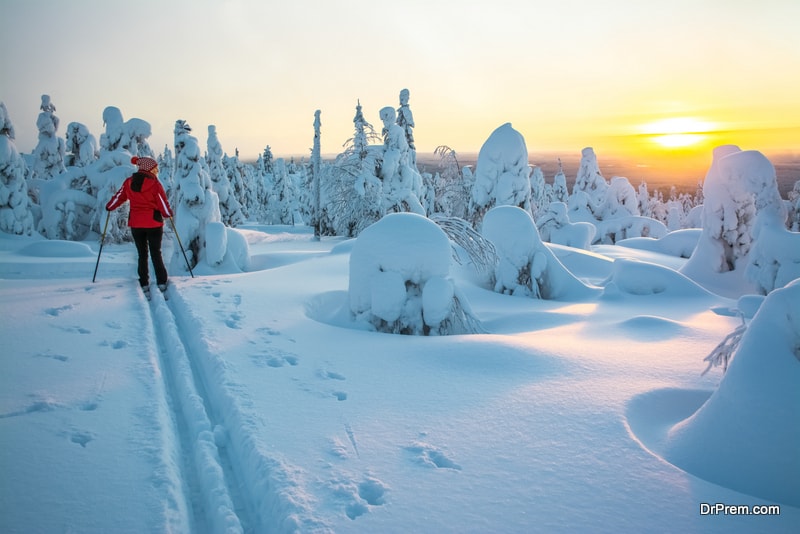 The Finnish are some of the sportiest people out there. After all, when you are surrounded with snow-clad mountains, it becomes necessary to know how to conquer and tame them, while co-existing with nature at the same time. And this is where the winter sports enter the picture.
One of the best sports for you to try in Finland is skiing. So, do some research about the ski slopes and lifts to enjoy the sport to the fullest. It doesn't matter that you are a novice or an expert, the winter sports in Finland have something in plate for everyone. If skiing doesn't enthrall you, try sledging or ice karting.
One of the best things to do in Finland is to cuddle up with your loved ones in an ice igloo and indulge in the breathtaking views of the Northern Lights. You can also immerse your taste buds in the delicious Finnish culinary delights while you visit Santa's hometown Rovaniemi.