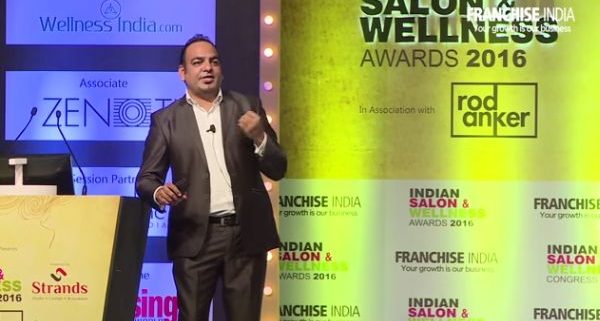 [youtube https://www.youtube.com/watch?v=MBP963bCuAE&w=640&h=360]
Gaining ground nowadays for a plethora of reasons, Wellness Tourism is now a $3.4 trillion industry that looks all set to grow further in the years to come. At the Indian Salon & Wellness Congress 2016, Dr Prem Jagyasi, the award winning leader, speaker, influencer, and MD & CEO – Dr. Prem & Associates, reflected upon some of these motivating factors. Aside from talking about the growth factor, Dr Prem provided the attendees with valuable insight into how individual entrepreneurs and start-ups across the country can jump on the bandwagon and establish their wellness brands with a difference.
Dr Prem said that more than 350 million people, i.e. five percent of world's population, are suffering with depression. As modern medicine cannot treat depression or other such disorders, wellness industry should take cue from this opportunity and accordingly, look forward to provide the element of wellbeing through different wellness therapies to such individuals.
Furthermore, as people are getting richer by the day, their propensity to spend on things that promises them overall wellbeing of their mind, body and soul has increased manifold in recent decades. Instead of investing their surplus earnings on medical treatments, they prefer opting for wellness therapies, such as Ayurveda center, spa, or a wellness therapy.
At the seminar organized by Franchise India, Dr Prem further told that our sedentary lifestyle, environmental changes, wars, and destruction come up together to affect our health. The wellness industry understands this fact fully and accordingly, seeks to help people attain perfect wellness – a perfect balance of mental, physical and spiritual systems. Wellness, thus, is comprehensive in nature as it talks about overall wellbeing instead of focusing just on health or medical aspects.
While further sharing his thoughts with Ashish Kumar, Co-Founder, Gajty Wellness and Ankit Arora, Chief Executive Officer, Streamline Services India, P&G retail, Olaplex India and Bomb Cosmetics India, Dr Prem said that even the medical institutions, such as clinics and hospitals, around the world are serving as incubators for spa centers. Similarly, various spas are providing medical services to their customers through clinics within their premises. Thus, both wellness services providers and clinics are joining forces to bring about an innovative way of providing wellness and medical services to their end customers.
According to Dr Prem, for any newbie player, contribution is the only mantra to stay competitive in wellness industry. Profitability, brand value, and reputation will follow their efforts eventually once they are committed to reach out to wellness services seekers with clarity of vision, zeal to contribute, and the resolve to serve.
Kavea R Chavali the event host applauded Dr Prem's presentation and knowledge.
https://drprem.com/wp-content/uploads/2016/06/Dr-Prem-delivers-keynote-1.jpg
336
600
Dr Prem Jagyasi and Team (C)
https://drprem.com/wp-content/uploads/2021/06/Dr-Prem-White-Logo-Live-A-Great-Life-With-DrPrem.com_.png
Dr Prem Jagyasi and Team (C)
2016-06-01 04:57:59
2016-06-06 07:40:29
Dr Prem delivers keynote on how to develop wellness business