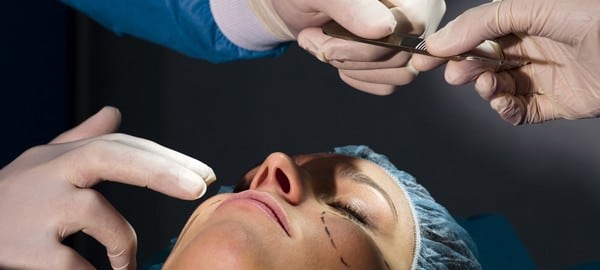 UAE:
UAE women rush into cosmetic surgery to please husbands
http://gulfnews.com/news/gulf/uae/health/uae-women-rush-into-cosmetic-surgery-to-please-husbands-1.113987
A surgeon has disclosed that many women are seeking plastic surgery to restore their youthful looks and retain the interest of their husbands who they fear will take another younger wife
Men are the main cause of pushing these women to plastic surgery," said surgeon Sahar Al Kadhi, who added that marital discord is the main reason why women are willing to go under the knife.
"Surgeons sometimes have to play psychologists for depressed patients who seek surgery to distract themselves from their emotional and physical pain," said Loaay Haidar, a specialist in Italian cosmetic surgery. "We have to choose our patients with extreme care."
Women between the ages 20 and 65 are the most common age group seeking plastic surgery here, she said. Men commonly seek liposuction or other forms of weight reduction. The surgeon said people here are well informed about plastic surgery.
Many patients simply want a surgical makeover. Some see models and celebrities and are dissatisfied with what they see in the mirror. Some seek a nose job to fit the image of an Arab. "They like long noses because a traditional Arab should have a long nose," said the surgeon.
"I think the quality of care in the UAE is extremely variable and I would look long and hard at the credentials of the plastic surgeon … and scrutinise the qualifications of the anaesthesiologist," she said. Sahar trusts a surgeon in a hospital more than one in a free-standing villa, and said that even a surgeon with many years of experience may not know enough about a certain procedure.
Cosmetic surgery in vogue
Dubai becoming a medical tourism destination as more women go under the knife.
http://gulfnews.com/news/gulf/uae/health/cosmetic-surgery-in-vogue-1.719001
Dubai: Besides wanting a nose job or a face lift, women in the UAE are now more conscious of their bodies, says a leading plastic surgeon.
Dr Luiz Toledo said body contour was not popular a few years ago. "Women now want a better shaped body [through liposculpture]," he said.
Many clients come to Dubai for cosmetic procedures, says Dr Adam Bader, CEO of the American Academy of Cosmetic Surgery Hospital. He cites the instance of an obese woman from Holland who came here for three days and was given a total body sculpture.
"We had two doctors giving her two procedures at the same time," he said, adding that Dubai is becoming a medical tourism destination. He said her husband did not recognise her 10 days later.
Rana, a young Lebanese woman working in a PR firm, said with the media exposure of celebrities and divas, women now want to look as beautiful or opt for cosmetic surgery to maintain their figures.
Cosmetic surgery does not come cheap and is not covered by health insurance. A nose job for instance will set you back by about Dh30,000.
Toledo says that some women are not prepared for the psychological changes after undergoing cosmetic surgery)
"Some women who were uncomfortable with their body, could not wear a bikini, now need a new attitude. They need new clothes, a new attitude, a newer posture. We have to be a bit of a psychologist to prepare them for the change."
An Arab woman who plans a "chin tuck" in the near future, said she fears becoming addicted to plastic surgery.
"A lady friend of mine did not like the way she looked [after the procedure] and she went in for another operation by another doctor, and then a third one again," she said. "I don't want to end up like that."
Some Hollywood stars who become addicted to plastic surgery, now barely look human, with their faces stretched out or over-sculpted cheeks and tightly pinched noses.
Doctor's advice
Don't look for cheaper treatment as the cost of the post-operation is higher and you could have complications.
Some people who operate laser machines ( to remove birth marks) from home can cause burns and other side effects.
Some fillers (gel-like substances to smoothen out wrinkles or give a fuller look to a face) which were unregistered and used earlier, are now causing problems for patients.
Beware of cheaper version and bad quality Botox (Botulinum Toxin A) used for paralaysing the muscles to prevent wrinkles.
Some plastic surgeons in Dubai are reporting an increase in business despite the global economic slowdown. The rise in customers is in part due to the surgery becoming more affordable and because men are increasingly investing in their looks
An industry that once catered mostly to women is becoming increasingly popular among Dubai men.
"The number of men seeking cosmetic surgery has increased tremendously. Five years ago I was seeing one male patient a week, around 15 per cent of my clientele. Now there are days when I have all male patients coming in for cosmetic surgery," says Dr Sanjay Parashar, a plastic surgeon specialist at the Cocoona Centre for Aesthetic Transformation.
A good 30 per cent of men are seeking liposuction. A common procedure for men is called male breast reduction which is on the rise because people are getting more conscious. Other popular procedures include botox, liposuction, rhinoplasty, body lifts and hair transplants,"
We are receiving more requests from younger women at the moment. Before it was people who wanted to look younger getting procedures done. At the moment the trend is towards the younger people trying to look like celebrities. Men are also more and more concerned with their looks
The city's spurt of individuals opting for the operating table in the last three year means that Dubai now boasts one of the biggest cosmetic surgery industries in the region, followed closely by Saudi Arabia, Iran and Bahrain
Because we have a population of high net worth individuals, you do have a lot of people who have the spending money. It is also a very image-conscious city," Dr Khan explains. The evidence can be seen in the growing number of private clinics opening up in Dubai. Dr Khan, who's been practising in the country for 11 years, says he's seen the emergence of private medicine and plastic surgery clinics increase.
"Aesthetic surgery has boomed, but it's difficult to get an exact statistic unless you have an established society like they do in America and the UK. I would say there must be close to 25 to 30 practices now in Dubai, compared to the handful there were 10 years ago. However it's still very small compared to countries like the US where according to the American Society of Plastic Surgeons there are around 5000 practices," says Dr Khan.
While the ratio between men and women is evening, the nationalities seeking procedures still remains a broad mix.
Surgeons report the mix to be made up of around 50 to 60 per cent western expatriates and 40 to 50 per cent local and regional residents with the latter percentage slowly increasing.
"When I moved here I was amazed to see very conservative covered people still interested in cosmetic surgery. Even if they wear an abaya they want to feel good about themselves. It's the general perception that cosmetic surgery is for others, but it's for the person as well," says Dr Parashar.
Dr Parashar attributes this shift in demographics to raised awareness on the TV, radio, magazines, newspapers and internet.
"It's a very young industry and to be able to train a plastic surgeon first you have to train as a doctor then you have to specialise in different subjects before you go onto a higher level of specialisation," says Dr Ashok Govila, a plastic surgeon at the Lifeline Medical Centre.
"We still have a fairly handicapped educational system, Medical Schools here don't have plastic surgery specialisation so they have to be educated outside and [there are] a lack of research centres."
As Dubai's competitive environment breeds a population of sculptured individuals, Dubai's growth rate of clinics is only set to grow
Quick breakdown of plastic surgery in the UAE:
http://gulfnews.com/news/gulf/uae/general/dubai-has-the-best-facilities-1.369520
Why has plastic surgery become popular here in recent times?
The UAE is in the advanced stage in the field of plastic surgery, immediately applying revolutionary techniques being discovered worldwide.
UAE plastic surgeons are far ahead of many others in this field. The UAE plays a good role in spreading a treatment for burn reconstruction worldwide. It has progressed systematically, in a scientific manner. Today plastic surgery is a part of life.
Why has Dubai become so popular as a centre for plastic surgery?
Dubai has most of the best facilities, the latest machines and safest techniques in plastic surgery.
The number of people undergoing cosmetic surgery has increased over the last five years. A far greater number of UAE nationals and expatriates are opting for surgery locally because of convenience and the cost. Patients can also go home in two days.
Which hospitals do these surgeries?
In the government sector, Rashid Hospital has a full-fledged Plastic Surgery Department. In the private sector, most plastic surgeons practise in clinics and they go to a neighbouring hospital that has the facilities for the surgeries.
Gulf Plastic Surgery Hospital is a specialised hospital for plastic surgery with an operating theatre and in-patient facilities.
What are the surgeries in demand?
Aesthetic laser treatments and surgery; body sculpting (liposuction); breast augmentation, reduction and lift; chin and cheek implants; soft tissue filler; face lift; fat transfer; micro-hair transplantation; rhinoplasty and tummy tuck.
Dubai police raid illegal plastic surgery clinic
http://www.ameinfo.com/223524.html
Police officers and municipal inspectors have shut down an unlicensed clinic in Dubai where untrained 'surgeons' carried out cosmetic surgery procedures as patients laid on makeshift beds and surgical equipment mingled with kitchen utensils, reported the National. Several people were arrested in the raid, which was conducted after an undercover investigation found that the clinic was offering services such as lip and cheek enlargement, facelifts, laser hair removal, Botox injections and laser plastic surgery at prices far below what legitimate doctors charge.
Hollywood doctor denies charges of impersonation
http://gulfnews.com/news/gulf/uae/crime/hollywood-doctor-denies-charges-of-impersonation-1.672248
Dubai: An American plastic surgeon has denied impersonating a top American doctor to Hollywood stars and practising medicine illegally in the UAE, the Dubai Appeals Court heard yesterday.
The 40-year-old suspect, S.G.M., told Presiding Judge Adnan Al Farra when he defended himself in court: "I am an American surgeon and these charges are based on incorrect accusations … I am not guilty."
S.G.M. handed a written defence to the judge who will issue a verdict on August 30.
The surgeon was appealing his primary conviction, for which he was sentenced to two months in jail followed by deportation.
The Dubai Misdemeanours Court had convicted him of unlawfully practising medicine and impersonating Dr Steven B. Hopping.
He had also been found guilty of forging a labour card from the American Academy of Cosmetic Surgery Hospital that bore Hopping's name.
The court jailed him for practising medicine without obtaining proper permission from the Ministry of Health and without adhering to the required conditions.
Earlier this month, the accused was also jailed for one month for performing an illegal plastic surgery on a Palestinian woman.
Senior Prosecutor Shoaib Ahli questioned the defendant on the allegations against him. The defendant denied endangering the life of the 27-year-old Palestinian, H.S.
H.S. claimed in her prosecution statement that she paid the accused Dh1,000 for a facelift and two injections.
She sustained swelling in the area where the injections were administered.
In July, the Dubai Misdemeanours Court sentenced the defendant to three months in jail for accidentally injuring a 31-year-old Romanian woman, whom he met last year.
Three accused in death of woman after plastic surgery
http://gulfnews.com/news/gulf/uae/crime/three-accused-in-death-of-woman-after-plastic-surgery-1.701256
Dubai: A plastic surgeon, an anaesthesiologist and a hospital director have been charged with medical malpractice and negligence leading to a woman's death following a surgery to lift her neck and eyelids.
Prosecutors accused the 51-year-old American plastic surgeon, 43-year-old Iraqi female general anaesthesiologist and 44-year-old Syrian hospital director, of negligently causing the 50-year-old Emirati woman's death after she went into a seven-month coma.
"I am not guilty," argued the American surgeon when he defended himself before the Dubai Midemeanor Court yesterday.
Meanwhile the anaesthesiologist told Presiding Judge Abdullah Abu Zaid in courtroom five: "I am not guilty… regarding the documentation of the blood pressure readings, I didn't commit any mistake."
The Syrian director failed to attend yesterday's hearing. The trial reconvenes on November 24.
Negligence
According to the arraignment sheet, the surgeon committed a medical malpractice.
He was supposed to conduct basic medical examinations on the woman for vital signs, in addition to a chest and cardiac examination, during her repeated visits to his clinic prior to the plastic surgery.
The operation was not urgent, according to prosecution records, and it would not cause any damage if it had been postponed.
Senior Prosecutor Shoaib Ali Ahli, who conducted the investigations, said that the woman's blood pressure was high prior to the surgery and despite knowing her condition, the American suspect allegedly failed to check on her following the surgery.
Ahli charged the anaesthesiologist with medical negligence for not paying heed to the victim's hypertension.
According to the bill of charges, when the Iraqi checked the woman's blood pressure, she failed to document it before giving anaesthesia to the victim.
Intensive care
Preliminary investigations revealed that the director failed to provide specialised doctors around the clock to closely observe and follow up on the woman's case after the surgery.
The suspects also failed to provide the required post-surgery emergency medical care and intensive care, particularly after the patient fell into coma which lasted seven months before leading to her death.
Kuwait
Penalise Violators Of Cosmetic Surgery Law'Form Experts Panel To Monitor Violations
http://www.arabtimesonline.com/NewsDetails/tabid/96/smid/414/ArticleID/161849/reftab/69/Default.aspx
KUWAIT CITY, Nov 10: MP Mohammad Hayef on Wednesday submitted a draft bill on regulating procedures in the cosmetic surgery sector in Kuwait.
Hayef disclosed the proposal also calls for the establishment of a society of Kuwaiti and expatriate cosmetic surgeons, while anyone proven to have violated the law will be imprisoned for not more than five years and fined not less than KD 1,000 or any of these penalties.
In his explanatory note, Hayef said many unscrupulous individuals have been taking advantage of people's desire to look good, especially among the youths, due to the absence of a law in this regard.
He believes the bill is one of the most important proposals forwarded to the Parliament because it is the first of its kind in the GCC.
Article One of the bill stipulates regulations governing the cosmetic surgery field.
Article Two states that cosmetic surgeons are not allowed to operate unless they obtain a license from the concerned authority.
Article Three obliges the Ministry of Health to form a committee, consisting of experts in the field, to evaluate the license applications.
According to the lawmaker, other provisions of the bill prohibit any surgery that violates the Islamic Sharia, such as sex change operations, tattoos and surgeries in small clinics or salons.
He added the submission of this bill is one of the positive results of the retention of the Studying Negative Phenomena Committee at the Parliament.
Qatar:
Plastic, Reconstructive, Aesthetic & Burn surgery highlights presented by international experts at Qatar Health
http://www.ameinfo.com/250827.html
For the first time, Qatar Health, the primary healthcare congress and exhibition, will have a plastic surgery track with experts from Qatar and around the world discussing the latest trends and techniques of wide ranging sub-specializations in the field of plastic surgery.
The growing acceptance of surgical intervention for cosmetic reasons among Arab women and even men has fueled the rise of plastic surgery clinics in many countries, including Qatar.
Qatar Health and the organizers of the Pan Arab Association Congress of Plastic, Reconstructive, Aesthetic & Burn Surgery recognized that there is a great demand for more information about this medical discipline and have organized a general public workshop with leading experts who will explain various elements of plastic surgery.
Half-a-trillion dollar spent on plastic surgery in the Gulf in 2009
http://gulfnews.com/news/gulf/qatar/half-a-trillion-dollar-spent-on-plastic-surgery-in-the-gulf-in-2009-1.728149
Manama: About half a trillion dollar was spent on plastic surgery in the Gulf in 2009, an official from a Gulf association of plastic surgeons has said.
"The amount spent on plastic surgical procedures in the Gulf in 2009 is estimated to be around half-a-trillion dollar," Dr Ali Al Numairy, secretary general of the GCC Association of Plastic Surgeons (GCCAPS), said.
"With the demand for plastic surgery greatly increasing in the region, more and more international cosmetic surgeons are coming to the Middle East to reside and practice.
"When we set up the GCCAPS in 1984, the total number of plastic surgeons in the Gulf countries was not more than 30. Today we have more than 300 plastic surgeons in the region," he said, quoted by the Qatar Tribune daily.
According to Al Numairy, who was speaking on the sidelines of the plastic surgery conference held as part of the ongoing Qatar Health Congress, "the Gulf is fast becoming a destination for medical tourism in plastic surgery as well since the procedures cost less here when compared with the West."
Liposuction and abdominalplasty are the two most common procedures performed among patients in the region, followed by nose and breast surgeries, he said.
"The reasons for the high number are many. We have one of the highest numbers of obesity cases in the world, besides problems like multiple pregnancies. Moreover, everybody wants to look beautiful as beauty has become one of the primary requirements for job application these days," he said.
Referring to the pressure faced by plastic surgeons, Al Numairy said that "everybody has become crazy about the new filler and Botox use."
"The high demand puts pressure on the surgeon whether to use that therapy or not.
"Moreover, with patients getting more knowledgeable it has become important for us to update our information. The plastic surgeons must be good enough to satisfy the customers who normally come from the high-income bracket," he said.
Saudi Arabia
Cosmetic surgery booms in Saudi Arabia; clerics consider the intersection of beauty and religion
http://www.nydailynews.com/news/national/2009/08/04/2009-08-04_cosmetic_surgery_booms_in_saudi_arabia_clerics_consider_the_intersection_of_beau.html#ixzz1EV6oiH8e
Saudi Arabia is witnessing a boom in demand for cosmetic surgeries and procedures by the country's women, according to the Associated Press.
In a country where lifestyle is largely dictated by religion, Saudi Arabia has seen a growing interest in the past few years in cosmetic procedures – once thought of as indulgences of the Western world.
In fact, the country's cosmetic practices are causing clerics to contend with new questions about the intersection of beauty and faith: Does the Islamic faith allow for various cosmetic surgeries, such as nose jobs, breast implants or liposuction?
The meeting between the clerics and surgeons three years ago attempted to reconcile whether certain cosmetic procedures are in conflict with the Islamic belief that God's creation should not be tampered with.
The outcome was that procedures intended to reverse damage or disfigurement from an accident, or procedures that enhance or fix features that cause a person grief, are considered acceptable. Procedures or surgeries that would change a "perfect nose" to more resemble the shape of a celebrity's nose, are generally frowned upon.
Previously rare in Saudi Arabia, there are now about 35 plastic surgery centers in the capital city of Riyadh.
A recent study of the trend indicated that liposuction, breast augmentations and nose jobs were the most popular procedures among women, and that hair implants and nose jobs were most popular among men, as reported by the Associated Press.
For Saudi women, who are required to cover most of their bodies under robes and veils, many see nothing unusual about undergoing plastic surgery even though the results are largely covered up.
the demand for cosmetic surgery in Saudi Arabia is in line with a general increase in demand throughout the world. Al-Sheikh says the difference is that patients in the Arab world seem more inclined to undergo procedures that make their faces look increasingly unnatural.
"People are overdone by design or by mistake," al-Sheikh told the Associated Press. "If something is done on a famous figure, it becomes iconic in our world even if it doesn't look esthetically appealing."
Al-Sheikh said that the trend is likely being spurred on by images and media coverage of entertainers who have undergone similar procedures that are splashed across television networks throughout the Arab world.
Oman
World's top plastic surgeons to meet in Oman
http://gulfnews.com/news/gulf/oman/world-s-top-plastic-surgeons-to-meet-in-oman-1.341261
The world's top plastic surgeons will meet in Oman next month to address the problem of cleft lip and palate, which a leading Omani expert pointed out is much higher in the GCC region compared to the West.
he world's top plastic surgeons will meet in Oman next month to address the problem of cleft lip and palate, which a leading Omani expert pointed out is much higher in the GCC region compared to the West.
"The congenital abnormality of cleft lip and palate is high in Oman as well as in the other GCC countries," Dr C. Thomas, senior consultant and head of Plastic Surgery Service in Oman, said at a press conference yesterday.
In the GCC one in 600 children has these deformities compared to one in 1,000 in the West, he said. "With the advancement in the field, such cases may come down," he said and added that in Oman annually 75 new cases are registered.
Dr Thomas said consanguinity is one of the causes of this deformity since the practice of marrying cousins is common in the Middle East. Abuse of drugs during pregnancy is another cause, he said.
"This is the second time we are hosting an international conference of plastic and reconstructive surgery in Oman after 12 years," he said.
The fifth Conference of the GCC Association of Plastic Surgeons will also be held simultaneously at the Oman Sheraton Hotel from January 29. The conference to be held under the theme "In Pursuit of Perfection" will cover the entire spectrum of plastic and reconstructive surgery. For the first time in the Middle East a tele-medicine workshop on 'Management of cleft lip and palate' will be held. During the three-day workshop cleft surgeons of international repute from the United States, Germany and other places will conduct surgeries at the government-owned Khowla Hospital and 400 delegates will watch these surgeries live at the Institute of Health Sciences auditorium across the road through a satellite connection.
The operating surgeons will also reply to questions by delegates during the surgeries.
"This workshop will be the first of its kind in the region and a minimum 12 surgeries would be performed in three days," said Dr Thomas, who is the President of the GCC Association of Plastic Surgeons, which was formed during the first International Conference of Plastic and Reconstructive Surgery held in Muscat, Oman in 1992.
"The workshop will be attended by practising doctors and is held mainly to update knowledge in plastic surgery and allied specialities," he said.
Besides plastic surgeons from the GCC, specialists from Britain, United States, Italy, France, Egypt, India and Turkey will also participate in the workshop.
https://drprem.com/wp-content/uploads/2013/02/160049493.jpg
399
600
Dr Prem Jagyasi and Team
https://drprem.com/wp-content/uploads/2020/05/Dr-Prem-Main-Logo-White-Blue-Background-LR.jpg
Dr Prem Jagyasi and Team
2013-02-18 04:22:53
2017-05-17 10:49:56
Cosmetic Surgery in the Gulf Countries (GCC) - Team Research with References