Top places to do in Kenya Balloon Safari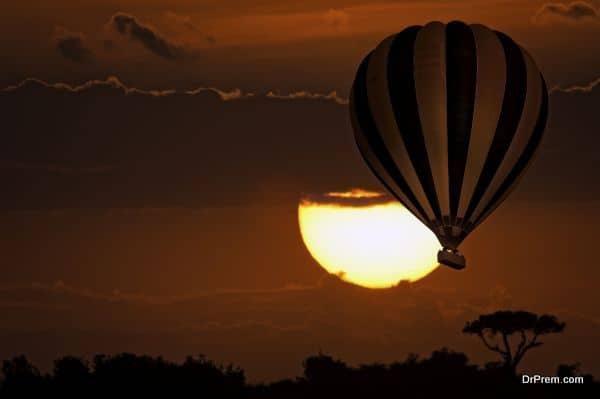 Kenya is the dream country, the monarch of safari lands offering fantastic hot air ballooning and the consequent aerial photographic opportunities. Vast savanna grasslands with migrating herds of zebras, gnus and antelopes would be simply amazing as tourist spotting, a panorama that would create a lasting impression in your mind. Equally enchanting would be the mid air feel. Here, you drift across the sky with clouds sailing past as the flame is periodically triggered to feed the balloon with buoyant heat so that it remains borne aloft and sails through thin air to your delight.
Some of the famous places in Kenya where hot air ballooning opportunities exist are briefed here under:
1)Amboseli balloon safari:
Of all the hot air balloon safaris that operates in various exquisite and exotic Kenyan locations Amboseli ballooning break stays at the helm. As you soar up into air riding on the hot air balloon you get a direct view of Mt Kilimanjaro, the summit, making a level straight line with the line of your vision. Just before sunrise when the sky is painted in a pink hue, the rise commences with the tourist filled balloon climbing to an increasing altitude through the Amboseli sky with the view of majestic Mt Kilimanjaro in the picturesque backdrop. The balloon then tenderly glides across countless pink, orange and purple shades that illuminate the Amboseli blue. The imposing vision of Mt Kilimanjaro standing regal with graceful herds of elephants crossing the vast plains at the foothills would be a heavenly spectacle.
2) Serengeti Balloon safari:
Hot air balloon ride over Serengeti wild life could be a very exciting adventure. It is an elite departure from the regular routine chores and a wonderful break over incomparably amazing landscape beneath an azure sky. As typical of Africa, the trademark scenes waiting below could be as thrilling as you ride up in the air. A pair of cheetah may be stalking a herd of grazing antelopes or a lion busy crushing a zebra bone would be the most common scenes. How would be the sight of an elephant calf trying frantically to catch up with the adult herd members? Mesmerizing! It would simply be mesmerizing! Ballooning over Serengeti national park is a very trendy expedition for those adventure seekers ready to pay some extra bucks to achieve that extra shot of excitement that is more than what money can buy you. A night stay at Serengeti safari lodges is the added bonus before you get the wake-up call for the early morning ballooning flight. Two balloons fly each morning as per plans where you are about to get an exposure to one of the most thrilling ventures you can possibly conceive.
3)Masaimara balloon safari:
At a price of $ 450 per tourist balloon ride fee, Masaimara offers an awesome hot air ballooning opportunity over a panoramic landscape below with myriad wild life practically crawling with a regular drama of grazing, group migration, predator- prey- hunt chases and many other thrilling spectacles that will keep you engrossed with nail biting anticipation. Masaimara balloon ride offers a wide range of photo opportunities as you rise up into the air through an altitude of almost one thousand feet above the ground level. The experience is worth its trip cost, and it is guaranteed you will achieve the ecstasy for every dime you spend! While you glide through the sky, you feel the kick when the pilot puts in more heat into the system to trigger its flight, and you hear the whistle of the burner. Before the early morning flight, you are put up in a lodge or a camp and wake up in the morning to a treat of Kenyan tea and coffee. After completion of the flight, you are treated with the best champagne. You also receive a ballooning certificate after the flight along with a hearty English breakfast.