Specific Khajuraho Temples with their essential features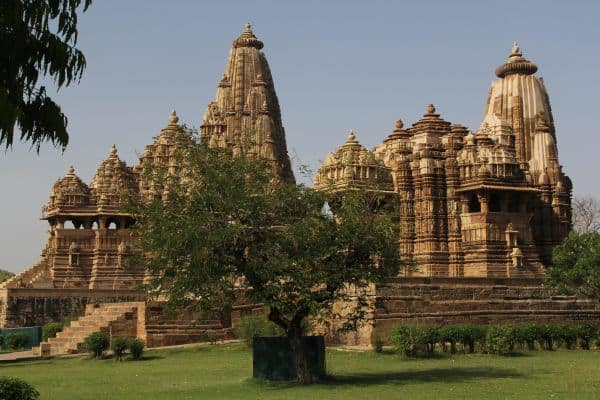 A cluster of temples forms the backbone of Khajuraho's ancient architectural marvel. Influence of tantric cult is a marked feature that could be traced back while making a critical exploration of these awe inspiring monuments. Some of the main temples are enlisted here with their typical designs:
Lakshmana temple:
This splendid creation out of rock is built in devotion to Lord Vishnu. It is a Hindu temple located in the Western cluster. The structure rests on a podium and essentially features the necessary components typical of Hindu temple blueprint. The spire or the shikara is a collective fusion of the secondary tower with the main tower. The temple has an imposing gateway, mandapa and garbhagriha. A number of windows are cut out through the wall laid with intricate designs and an elaborately designed banister. The sacred doorway is made up of seven perpendicular flats; the innermost is designed with diverse personification of lord Vishnu. There is a double row of wonderfully designed figures and characters from heaven. The joist illustrates goddess Lakhsmi, the symbol of wealth and prosperity with Lords Brahma and Vishnu on either sides.
Duladeo temple:
This belongs to the southern group of temples and built in dedication to lord Shiva where the form of the lord is abstract in the shape of Linga or phallus. The temple walls exhibit dancing apsaras or dancers of paradise with soft and yet seductive features. The word Duladeo means holy bridegroom. This belongs to the southern group and stands on the banks of the river Khodar. The temple consists of the entrance, the reception area, the main hall and a chamber without an ambulatory. The temple is put under the group Nirandhra.
Kandariya Mahadev temple:
This is the largest and famous Khajuraho temple also well known for its complicated motif. The principle spire of the temple represents Mt Kailasha, the Himalayan abode of lord Shiva and mounts to a height of around 31 meters. 84 subspires encircle the main spire. These are known as Urushringas. There exists a marble linga(the male phallus) right inside the chamber. This linga is the symbolic representation of lord Shiva. Here, the erotic statues burn with excitement. Halls with galleries indicate high architectural skill besides entrance portico and inner chamber are other facets.
Devi Jagadamika temple:
It belongs to the northern cluster. Exhibiting a plethora of erotic sculptures this temple is gorgeously designed. A huge statue of Jagadamba sits in the central chamber.
Khajuraho: International Love and Art History
Erotic art in Khajuraho – What it reflects?
Khajuraho- A critical evaluation from socio cultural angle
Why should you visit Khajuraho?
Role of nature and environment on Khajuraho art
Life of people in ancient Khajuraho
Combining Wildlife, Cultural, and ecotourism in Khajuraho
Khajuraho Wild life safari – Special attraction
Khajuraho Dance Festival – The special event
Eroticism in Khajuraho – The Philosophy behind