If you think that fairytale places with magical beauties only exist in fantasy books and in Disney movies, the following list will certainly change your opinion. So, spending your vacation in one of these places will offer you an unforgettable magical experience:
1.    Plitvice Lakes National Park (Croatia)
One of the most beautiful landmarks of Easter Europe, Plitvice Lakes National Park is truly a nature's wonder. The sight of the amazing combination of lofty waterfalls and beautiful lakes with clear turquoise waters and covered by lush greenery will make you wonder if this place was stolen from heaven. Every inch of this park is covered with beautiful scenery exuding pure beauty and ultimate serenity. But unfortunately, the breathtakingly beautiful Plitvice Lake National Park is still a region of war and conflict that has dominated Croatia for many decades. However, despite being a place of conflict, the captivating natural beauty of this park still attracts many people from around the world.
2.    Portofino (Italy)
A small glimpse of this little fishing village in Italy, and you will start to believe in fairytales. Standing on the beautiful Italian Riviera, Portofino was originally a small fishing village with a beautiful harbor and gorgeous villas and pretty homes being carved into the mountain rocks. A combination of natural and architectural beauty, Portofino has become a very popular tourist destination attracting hundreds of thousands of people from all around the world every year. Besides the common tourists, Portofino is also a very famous vacationing place for many world famous celebrities as well. This little place has now become a hub for many up-market resorts, excellent restaurants, boutiques and famous art galleries.
3.    Neuschwanstein Castle (Germany)
As a kid you might have read about fairytale castles overlooking a small town on top of a hill surrounded by clouds and tree tops and if so, then it's time to see it for real because Neuschwanstein castle in Germany is a true replica of a fairytale castle. Although you will not find any princess waiting for her Prince Charming in this 19th century castle but you will certainly find magic in this captivating castle, which is also a strong example of 19th century architectural masterpiece. The magical beauty of the castle combined with the modern day lavish interiors attracts people from all corners of the world all the time to enchant them with its spellbound beauty.
4.    Hoi-An (Vietnam)
Located in Vietnam on the coastal lines of South-China sea, Hoi-An is a charming little exotic town with magical landscapes and myriad colors. Originally used as a major trading center and port of the East, Hoi-An exudes typical oriental beauty infused with rich culture and grand history. The historical architecture of the numerous small homes covering this port city is truly a spectacular sight for the travelers from across the globe. As the town is still not invaded by the modern concrete jungles, therefore, it retains the erstwhile beauty of the bygone days.
5.    Cappadocia (Turkey)
If you ever imagined a magical land of clay, then Cappadocia will perfectly fit into your imagination and might even be more enchanting than your imaginary place. Located in central Turkey, Cappadocia is covered by unique formation of rocks, which resembles the shape of unusually big cones and columns. Besides its intriguing natural rock beauties, this place is also famous for all the ancient houses and churches that were carved beautifully into these natural structures of rock. Surrounded by staggering landscape, Cappadocia successfully entraps travelers with its natural beauty and rich history.
6.    Lucerne (Switzerland)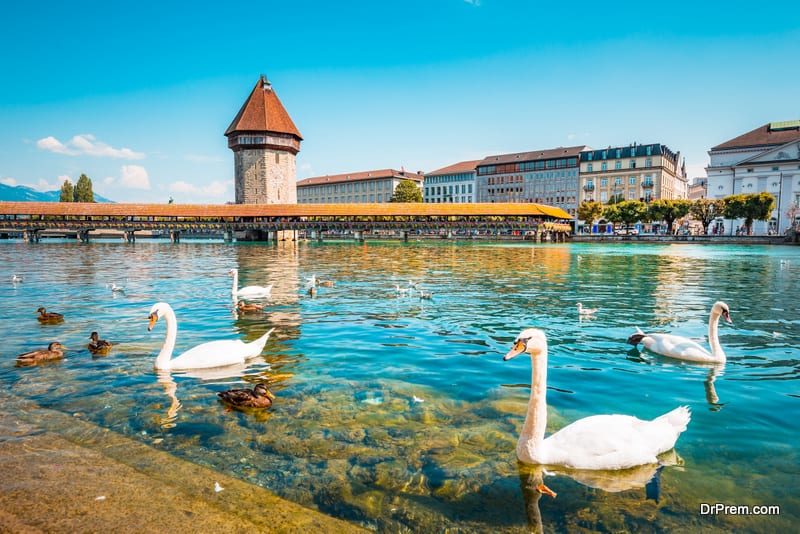 It is no big secret that Switzerland is a world famous tourist destination for its scenic beauty and picturesque landscapes; however, the sight of Lucerne in Switzerland surpasses the complimentary phrases like scenic beauty and picturesque landscapes. Located in the north central region of Switzerland, Lucerne looks like it came out straight from the fairytale books. The diverse landscapes each woven in unique natural beauty will almost convince you that this place involves magic. Moreover, the beauty of this place reaches another level when the sun rises and when it sets. The change of light totally alters the view and keeps you spellbound for the rest of your life. However, besides the magical beauty, Lucerne is also a famous centre point for art, culture, traditional festivals and many other leisure activities.
7.    Tiu Kelep, Northern Lombok (Indonesia)
Situated in the Senaru village of Indonesia, Tiu Kelep is an amazing waterfall exuding magical beauties. Surrounded on all sides by tropical forest, Tiu Kelep is in itself a marvelous wonder of nature's beauty. In fact, the local Indonesian legend says that, if you manage to swim behind the Tiu Kelep waterfall, you become younger by a year. So, it's no wonder that the fountain of youth looks so spectacular and breathtaking and attracts millions of people from different parts of the world.