Red Dress Run in Louisiana, USA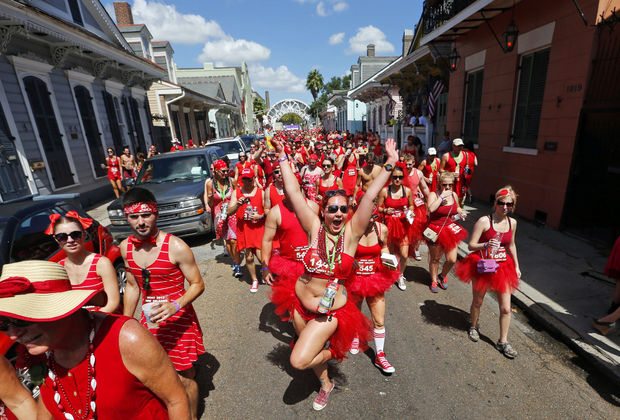 When: 22nd August 2013 Where: Louisiana, USA
Get ready to get red, with one of the most awaiting festival bestowed by unlimited fun, weird activities and blissful gathering. This festival is aimed to bring warmth along with a relaxed soul. It is one festival organized every year in Louisiana, USA with several cherishing moments being knit by people waiting for the next year. The festival is sponsored by Hash House Harrier, a self proclaimed "drinking club with a running problem". All with one common goal to raise the funds, by covering every nook of the streets with unlimited fun events so that the quotient of desires remain elevated.
The festival carry a prime objective to help the needy by the funds collected from the festival. It is of high interest among both men and women, and celebrated with the same zeal and vigor. Since it is one charitable event, the registration fee of the event may vary between $60 to $75 after August 1st.
The red dress is mandate to wear on the day of the event to abide the customs and rules of the festival. The distance which should be covered by the aspiring participants is declared between 3 to 4 miles. The race is thereby filled with a competence in order to challenge the high spirits and so engage folks from all the regions.
Before the race starts at 9 am in the morning, the candidates must enroll themselves followed by filling their bellies with unlimited drinks and set the standards by unleashing their talents in the race.
After the race get over, the joy ride will initiate by a music festival and bands performing. The beats of the music possess a power to rejoice the hearts and soul from within. This exulting affair is one of its kind with a good cause.
There are certain guidelines which are strictly followed, one most important being the age of the participants which should be above 21 years. The brilliant sense of humor is an added advantage to make the best of this festival. The month of August is therefore apt for the amazing event to take place, and atmosphere is heated up with ultimate share of beer, drinks and delicious snacks.
A day to cherish and prepare stories for your friends and on top of that, go beyond boundaries in experiencing a cause for welfare, make friends and giveaway ill thoughts. This summer, it is a place to be. An unusual scenario with bright redness and charismatic crowd, all at one place.
Be a part of this charitable event coming this August on 22nd with a motto of unleash best of yourself and raise the funds. The venue is all set at French Quarter and down town New Orleans, USA. The noble cause behind the event is to utilize the funds raised in the breast cancer research and donate to the needies and charities. A great way to help the society and achieve a peaceful soul.
---