Why extreme tourism matters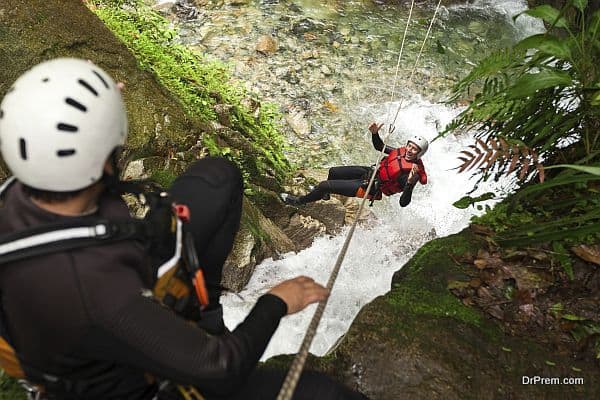 Extreme tourism is an imperative module of the tourism industry. It is actually a significant source of life blood that sustains the tourism industry. It brings about several billions of tourist dollars boosting a country's annual gross national product.
Mountaineering is a burning example of extreme tourism. It requires grit, guts and endurance. It certainly generates employment as well. In a country like Nepal down with the stigma of acute poverty and illiteracy, locals are fruitfully engaged in work related to mountaineering. They are much in demand in jobs of guides and porters for the toughest of rock climbs. Their knowledge of the mountain is incredible; they know it like the back of their hands. The climbers and hikers from outside find these local guides and Sherpas extremely helpful. They unhesitatingly pay them generously in cash and sometimes in kind. Clearly the local economy is enhanced through extreme tourism. Extreme tourism helps amplify growth in local business built around the theme of daring adventure.
Safety gears and equipments are in great demand as their use is inevitable in daring sports. Extreme tourism helps expand daring sports equipment industry and consequently generates employment. If the risk factor of extreme voyages is kept well under control, the pleasure and thrill involved would be a much sought after fodder for a daring exploration keen mental mind. A recent study has revealed extreme tourism has a beneficial impact on physical and mental health of tourists.
Extreme tourism exposes tourists to challenging depths of oceans, difficult mountainous terrain, dense jungles and extreme climatic conditions. These craggy encounters turn the nerves into a bundle of steel wires, tough and seasoned ready to take on future hardships with a relative ease. The mental and physical resistance multiplies and your endurance level reaches its optimum.
Actually, once you take on extreme tourism you get to know the real mettle. Your mental grit and physical strength is elastic. They will expand when put to the toughest of tests. The latent potential in you will remain buried unless tried and exploited.
What you need to have is a crucible to carry out these risky experiments and put your luck to some acid test. Extreme tourism exactly provides you with this crucible. Don't you think this is a good enough reason to opine extreme tourism really has some conceptual substance into it?
It is a widely accepted fact that strenuous exercise like mountaineering and long stressful walk through rough terrain improves your cardio health. Your leg and back muscles get the power and endurance. A relaxing massage post extreme tour would tone up your flesh and spirit. You do a stressful stroll and a ravenous appetite and sound sleep are guaranteed.
Extreme tourism often invites dangerous uncertainties. You may need to take vital decisions in a jiffy, which may make a difference between survival and death! This certainly enhances your mental ability in face of the harshest situation. The harrowing experience makes you a battle hardened veteran. The intense ordeal makes you mature, tough and seasoned. It is not a myth but has been proved through research that extreme tourism increases the size of your brain. Your mental capacity rises. Uncertainties and risky moments in extreme tourism increase forbearance, and its helps in taking fast analytical thinking and momentous verdict.
Extreme tourism is a big departure from the routine bland schedule that we everyday pull through. No one wants to be a 'mamas pet' and in some point of life craves for an exciting sojourn full of risks and packed with life threatening peril. Extreme tourism is a break from the ordinary ones. We reflect back into the past and ride high on some daring flashbacks. This gives us a huge mental relaxation.
Extreme tourism goes viral. As you describe your friends the kicks of excitement you received from a daring adventure you feel they devour your experience with rapt attention. Next thing they would probably do would ask you how to reach this extreme destination. Unknowingly, you have built a platform that promotes extreme tourism. The industry gets the benefit and the stakeholders are left happy.
Extreme tourism is certainly a capacity builder. The tourist enjoys a new height of an all round performance once he has been through the hardships of extreme tourism. At least once in lifetime we should dare to embark on extreme tourism. There is a big chance we enjoy the high voltage thrill that no other form of tourism can possibly offer. Bigger the danger, greater is the risk and more is the thrill bringing complete gratification.
Currently, extreme tourism has proved its potential worldwide. It has been a big source of money. The host countries have upgraded the infrastructural facilities and the tourists feel the experience wonderful and feats achievable. You could well be one of these tourists and see for yourself that extreme tourism really matters!
Key drivers of extreme tourism
Do's and don'ts of extreme tourism
Best practices in extreme tourism
Essential components of extreme tourism
Travel arrangements in extreme tourism
Things to do post extreme tourism
Preparations for extreme tourism
Importance of planning in extreme tourism
How to get more information on extreme tourism
Countries promoting extreme tourism
Top ten extreme tourism destinations