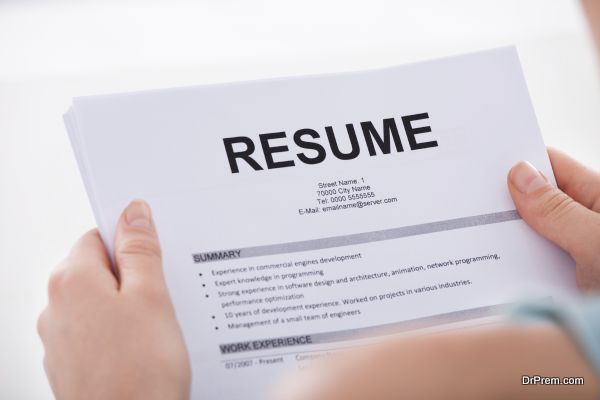 The more up-to-date the information, the more valuable it is. Hence, you must keep your resume updated. An outdated resume can prove to be a great hindrance to your success. The reason is, when you post it on online job portals, you are shortlisted according to your resume. If you fail to update your qualifications, it would be near impossible for prospective employers to reach you. Another great mistake you can do is not updating your email id or your contact number. The companies will not be able to contact you, if the contact details are not listed and updated.
On the other hand, in offline situation, if you take an outdated resume, you add many negative points on your side. Thus, updating your resume is equally important as building a strong one. You can consider concentrating upon the following points while updating your resume.
Make it compact
A life where count of even a second matters, you can never expect anyone to patiently read a resume that is three to four pages long. Hence, make it as compact as you can. Various job portals provide you with your resume score. This is score determines ratings for your resume and provide you with tips to improve your resume, so that it can be better and allow you to be highlighted in this competitive world. The more compact it is, the easier it is to read it. Emphasize on major points like your projects, and academic performances. Never include trivial things such as including that you had participated in a dance competition at school level. These things simply tend to lengthen your resume, and irritate the HR manager.
Update your recent skills
You may have completed your C and C++ courses of programming languages and they are a part of your skill set. If you have recently completed your course for Java programming and think that you are skilled at it, then you must update your skill set with the same. This will add a value to your job profile.
Add your accomplishments
The certificates of your accomplishments are some of the best documents that you want to preserve. Appreciation for your accomplishments is the thing that you truly deserve. You deserve to be differentiated from others based on your accomplishments. You must add relevant accomplishments to your resume as they help you to get a good resume score.
Let your resume be crystal clear
You must clearly state all the points, rather than adding everything in a single passage. You can Google some of the resume formats and design your resume accordingly. There are various appealing patterns for a fresher as well as an experienced. Always focus on your objective in your resume, as it is one of the most important fields. Be specific on choosing the font type, size, and formatting options.
An attractive cover is a must
It is well said by Mr. Bill Gates, "If it is not good, then make it look good." This simply means that the first sight of your resume will tend to increase or decrease the interest of the reader. A gift wrapped in appealing cover tempts us more and hence, addition of an attractive cover to your resume is extremely important. You can Google various cover patterns and designs.
An up-to-date person is always appreciated and so is an updated resume. As you have read the above article, you can now switch to another window, and start updating your resume and post a newer one on online job portals.
Work on your resume, so that the recruiter will be able to consider your resume with an ease.