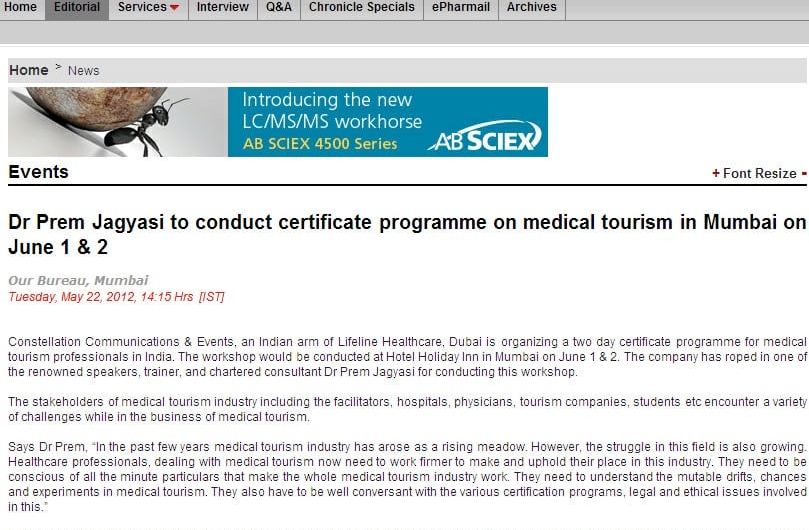 Dr Prem Jagyasi to conduct certificate programme on medical tourism in Mumbai on June 1 & 2
Our Bureau, Mumbai
Tuesday, May 22, 2012, 14:15 Hrs [IST]
Constellation Communications & Events, an Indian arm of Lifeline Healthcare, Dubai is organizing a two day certificate programme for medical tourism professionals in India. The workshop would be conducted at Hotel Holiday Inn in Mumbai on June 1 & 2. The company has roped in one of the renowned speakers, trainer, and chartered consultant Dr Prem Jagyasi for conducting this workshop.
The stakeholders of medical tourism industry including the facilitators, hospitals, physicians, tourism companies, students etc encounter a variety of challenges while in the business of medical tourism.
Says Dr Prem, "In the past few years medical tourism industry has arose as a rising meadow. However, the struggle in this field is also growing. Healthcare professionals, dealing with medical tourism now need to work firmer to make and uphold their place in this industry. They need to be conscious of all the minute particulars that make the whole medical tourism industry work. They need to understand the mutable drifts, chances and experiments in medical tourism. They also have to be well conversant with the various certification programs, legal and ethical issues involved in this."
Dr Prem has analyzed the entire scenario within the medical tourism sector in India & globally, and has conceptualized this training programme in a way where he can provide customized solutions to the issues faced by various stakeholders of the medical tourism industry. This workshop aims to address challenges and help participants to understand & develop an effective strategy to not only survive but succeed in medical tourism industry.
Medical tourism companies/facilitators, hospitals interested in providing service to international patients, top doctors interested in catering to international patients, star rated hotels, state tourism boards & tour operators, health insurance companies, ayurvedic centres & spas, yoga centres, TPAs, students etc can take benefit of this programme. The participants would also get a copy of Medical Tourism Guidebook signed by the author himself.
Dr Prem is a world renowned trainer who offers a variety of distinguished globally recognized healthcare management training services. His training programs are well received & appreciated across all the sectors within the healthcare industry including the government healthcare authorities, private healthcare & medical tourism organizations, pharmaceutical companies, amongst others.
Dr Prem has expertise on various topics including leadership, public speaking, business management and global healthcare. He has delivered more than hundred keynote speeches, presentations and focused training workshops in more than 25 countries. He has travelled across 30 countries to share his experience in the field of global healthcare, healthcare marketing & management, CSR in healthcare, medical tourism, etc. He is also the author of guide book series including Medical Tourism Guide Book.
For more details regarding the programme, visit www.constellationce.com or send an e-mail on [email protected]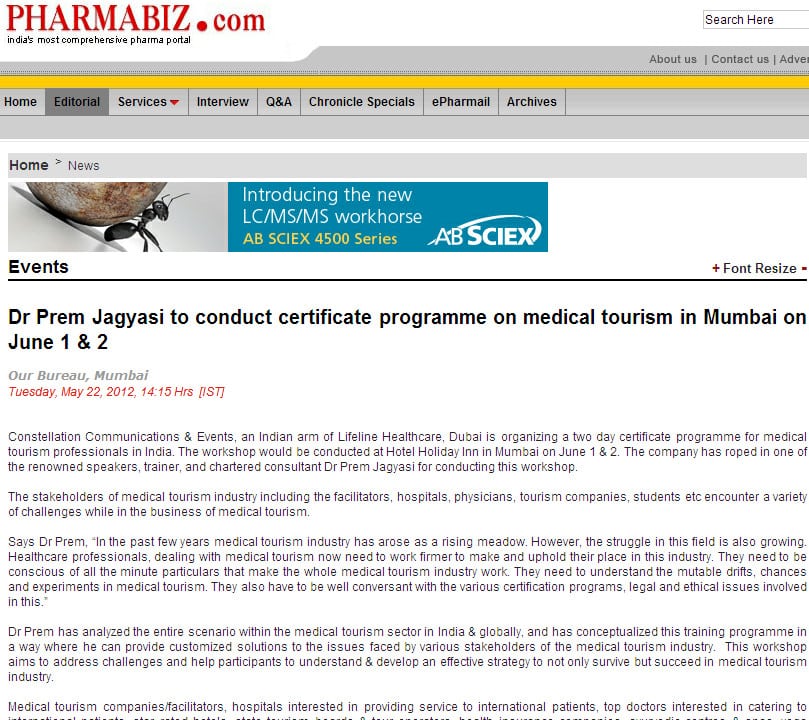 https://drprem.com/wp-content/uploads/2012/05/Pharmabiz-Dr-Prem.jpg
720
809
Dr Prem Jagyasi and Team
https://drprem.com/wp-content/uploads/2020/05/Dr-Prem-Main-Logo-White-Blue-Background-LR.jpg
Dr Prem Jagyasi and Team
2012-05-22 15:52:54
2017-05-11 09:46:43
Pharmabiz - Dr Prem News Coverage about Medical Toursim