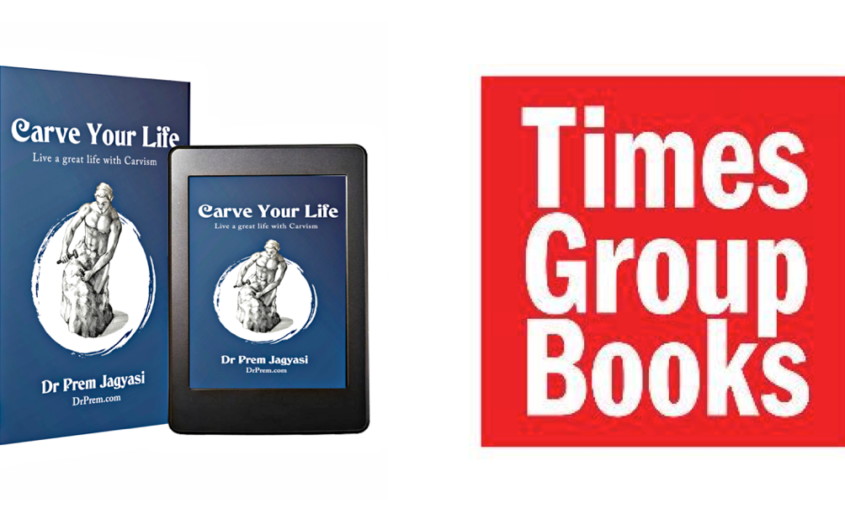 The bestseller Carve Your Life: Live a Great Life with Carvism is a self-empowerment book for those seeking to find their true self, find meaning in their life and lead a fruitful and successful life. It was published in India by Times Book Group, a division of the world's largest English newspaper, The Times of India. The book sold exceptionally well, and featured among India's top bestselling books on amazon.in in the Personal Development and Self-Help category.
Talking about the book at the book launch ceremony, famed Bollywood actress Bhagyashree said
"I think the book has something we all should follow in our lives. It uses simple language and simple words, but it shows a deep insight into our daily living. It shows how we can de-clutter our lives and make use of whatever we have with a sense of gratitude to help the society and the people all around us. I think most importantly it tells you not only to follow the passion in your heart with dedication but to do it with a sense of compassion towards everyone around you. Dr.Prem's book really is a sense of inspiration for everyone."
Carve Your Life narrates Dr Prem's signature Carvism principles, his detailed description of 'Self-Carving Qualities', ways to 'Shape Your Mind', and the process to 'Find Your Passion'. According to the author, our lives are nowadays choked by unnecessary accumulations, because of which we are unable to 'uncover' the true purpose of our life; once we do this, we will enjoy a quality life to the fullest. Hence, carving out a lean life is the only way forward.
The author, Dr Prem Jagyasi, an award-winning global leader and acclaimed life coach, has delivered keynote speeches and conducted focused workshops in several countries. He is renowned for delivering succinct and customized Carve Your Life training programmes. In his book, he has answered readers' queries about minimalism, productivity and tactical transformation in one's self. Apart from Carve Your Life, Dr. Prem Jagyasi has also written books on medical tourism, wellness tourism. Currently, he is working on a book on wellness therapies, which he expects to publish very soon.
[youtube https://www.youtube.com/watch?v=WJMD4bU-knI]
Shedding light on what inspired him to write this book, Dr Prem Jagyasi says, 'The art of carving one's life through minimalism is empowering enough to bring about maximum transformation in one's real self. My upcoming book intends to be a saviour for all those who wish to find a purpose in their life, bring out their true self, and get most productivity out of their endeavours.'
The rising need for practical, no-nonsense books and media with relevant life-inspiring content has grown exponentially in recent decades. Carve Your Life attempts to bridge that gap and help people identify clutter in their lives, declutter their lives and then focus on the material and non-material aspects that hold and add value in their lives.
The book has been edited, published and marketed by  Times Group Books (TGB), a division of The Times of India Group. Madhuita Mohanty, Senior Editor, TGB, says about the upcoming release, 'We are delighted to publish Carve Your Life. We believe Dr Prem Jagyasi's indigenously developed philosophy of Carvism will immensely benefit readers as it provides practical insight into the art of being at one's productive best.'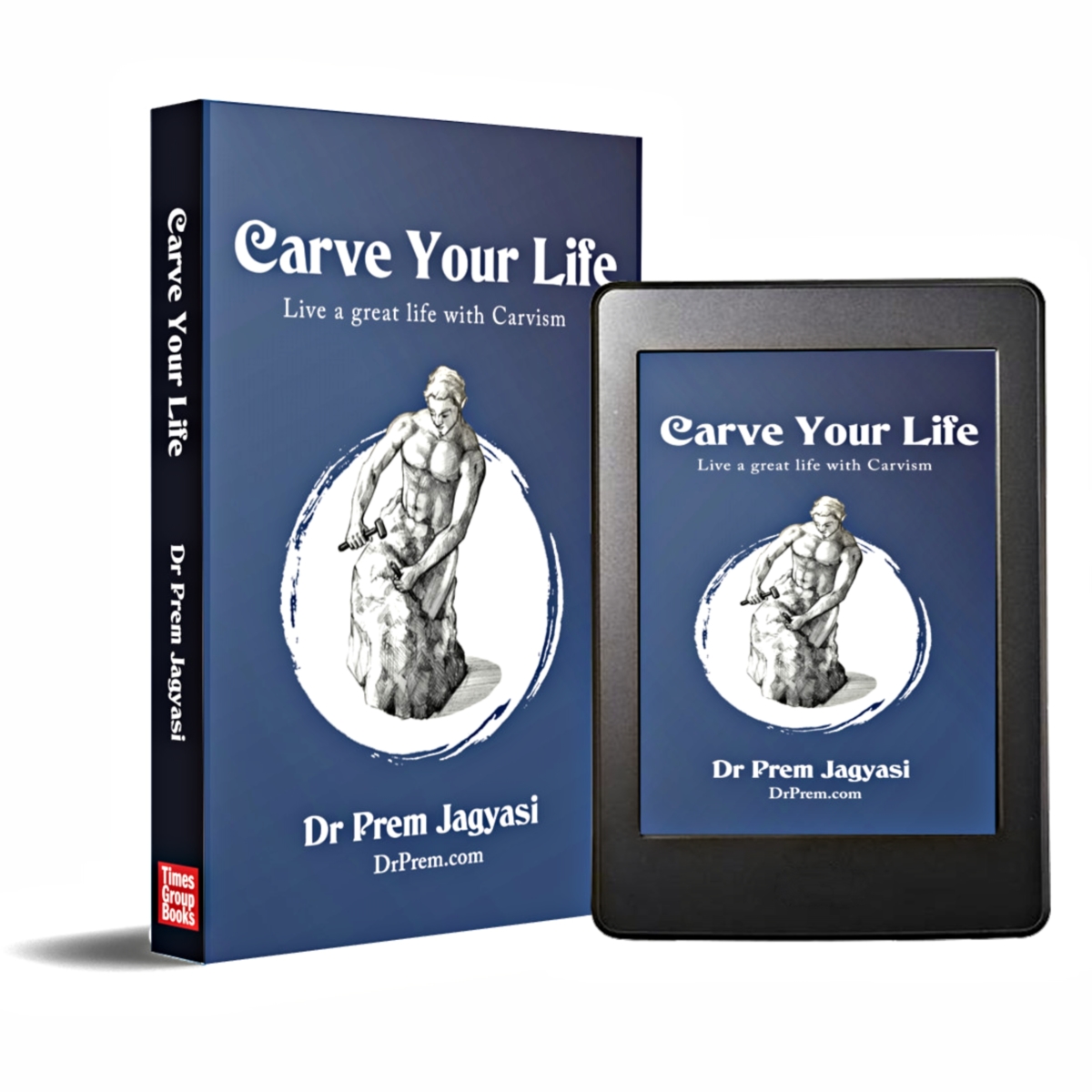 About  Carve Your Life Book
We have more things, but are we more of ourselves?
Carvism, the author's indigenously developed philosophy, is the art of carving away unnecessary things and keeping only that which is of true value. As we grow older, we begin accumulating many needless beliefs, opinions, habits, and tendencies. By the time we are adults, our true self is already hidden behind the rocks of superfluities. We are prisoners of the unnecessary, and the only way to free our beautiful true self is by chipping away the inessential from our lives. Just as a sculptor carves out the beauty hidden in a piece of stone, we too need to take a hammer and chisel to our selves.
The first section provides an insight into various principles of Carvism. This section is followed by self-carving qualities, which are the essential abilities you need to carve out the life you want. 'Shape your mind' is about using human psychology and the subconscious mind to your advantage. 'Find your passion' shows you the way to discover your inner calling. Subsequent chapters provide step-by-step instructions on inculcating the true essence of Carvism in one's professional and personal life and explain how the Carve Your Life philosophy can put them on the path to discovering their true selves.
About the Author 
Dr Prem Jagyasi, an award-winning global leader and acclaimed life coach, has been to 65 countries to deliver keynote speeches and conduct focused workshops.
Renowned for delivering succinct and customized Carve Your Life training programmes, Dr Prem utilizes his vast experience, cultural knowledge and signature Carvism Principles to establish lively communication with his audiences. Each of those principles aims to help enrich the individual's life and realize organizational success alike.
His untiring zest for traveling allowed him to glean incredible life experiences. Over the years, Dr Prem has spent time with people from different cultures, from the African tribes who wear nothing to consulting for global businesses and political figures who lead the world.
As an entrepreneur, he runs a boutique consulting and training firm, and manages a thriving web magazine network with several magnificent websites on life improvement topics with the patronage of millions of loyal readers from across the globe.
An authority in the field of Medical Tourism and Wellness Tourism, Dr Prem also takes great delight in travel photography.
Read more about Dr Prem Jagyasi at https://DrPrem.com.
Book chapters
Part I: Carvism Principles
Chapter 1:     Belong to yourself
Chapter 2:     Find a sense of purpose in your life
Chapter 3:     Declutter your life
Chapter 4:     Scrape it out
Chapter 5:     Enjoy more with less
Chapter 6:     The one idea to help carve your niche
Chapter 7:     Manifest your thoughts
Chapter 8:     Sculpt in mind first
Chapter 9:     Eliminate energy drainers
Chapter 10:  Contribution, not accumulation
Chapter 11:  Be compassionate and respectful
Chapter 12:  Communicate humanely
Chapter 13:  Become a person of value
Chapter 14:  Happiness is in the now
Chapter 15:  Sculpt your niche
Chapter 16:  Emotional hygiene
Chapter 17:  Awaken your awareness
Chapter 18:  Limit pushed information
Part II: Self-carving Qualities
Chapter 19:  Attain self-awareness
Chapter 20:  Accomplish through self-belief
Chapter 21:  Self-esteem – The light within
Chapter 22:  Begin with self-confidence
Chapter 23:  Self-Reliance – A journey within
Chapter 24:  Self-love
Chapter 25:  Mastering self-control
Chapter 26:  Effective and efficient self-management
Chapter 27:  Self-mentoring
Chapter 28:  Evaluate your performance
Chapter 29:  Self-determination to take you places
Part III: Shape your Mind
Chapter 30:  Curiosity: The first pre-requisite of an intelligent mind
Chapter 31:  Keep your creativity alive
Chapter 32:  Harness the power of sleep
Chapter 33:  Brainpower calls
Chapter 34:
Let your subconscious mind
support your life purpose
Chapter 35:  Bridle your emotions
Chapter 36:  Tame your anger
Chapter 37:  Don't let self-love become ego
Chapter 38:  Break free from addiction
Chapter 39:  Don't let sexual addiction cloud your mind
Part IV: Find your Passion
Chapter 40:  What is passion and how to define it
Chapter 41:  Let intuition be a guiding light
Chapter 42:  Fourth dimension of role models
Chapter 43:  Revisit selfishness
Part V: Sculpt With a Plan
Chapter 44:
Living for a purpose is better
than dying for a purpose
Chapter 46:  One bite at a time
Chapter 47:  Hurdles are milestones
Chapter 48:  Review your progress
Chapter 49:  Confront your weakness
Chapter 50:  Cherish your achievements
Chapter 51:  Celebrate milestones
Chapter 52:  Stay focused and positive
Part VI: Getting into Carvism Process
Chapter 53:  An uninterrupted environment
Chapter 54:  Is it necessary
Chapter 55:  Set your own pace
Chapter 56:  Finish faster
Chapter 57:  Say no to multitasking
Chapter 58:  Stable mindset
Chapter 59:  Envision purpose
Chapter 60:  Dehaze your vision
Chapter 61:  Make value out of time
Chapter 62:  Mantras to excel
Chapter 63:  Productivity hacks
Chapter 64:  Know how to say no
Part VII: Bringing out the Best in you
Chapter 65:  Burst your comfort bubble
Chapter 66:  Express yourself
Chapter 67:  Explore personal excellence
Chapter 68:  Mastering persuasion
Chapter 69:  Body language speaks
Chapter 70:  Eat problems for breakfast
Chapter 71:  Rise above shyness
Chapter 72:  Win by failing
Chapter 73:  Take motivation from positive past
Chapter 74:  Be productive first, perfectionist afterwards
https://drprem.com/wp-content/uploads/2019/01/Carve-Your-Life-Times-of-India.png
630
1358
Dr Prem Jagyasi and Team
https://drprem.com/wp-content/uploads/2021/06/Dr-Prem-White-Logo-Live-A-Great-Life-With-DrPrem.com_.png
Dr Prem Jagyasi and Team
2019-03-13 17:24:23
2020-04-23 01:13:42
Carve Your Life | Now a national bestseller book | Published by TGB (Times of India)