Top exciting things to do in Iceland this summer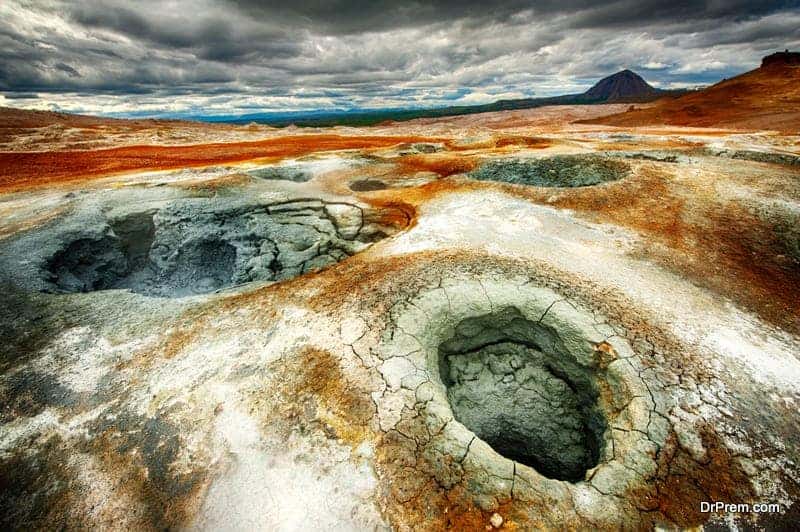 North Iceland is a world apart. An expedition through this territory almost touching the extreme end of the world is a mega exploration itinerary. Temperatures are bone-chillingly freezing yet the enterprise is well worth an endeavor. It is natural for a first-timer to get lost among the endless list of things to do in North Iceland.
The northern part of the country is way different from other parts as it is accessible from an array of routes. All of them would overwhelm you with panoramic aesthetics.  The primary attractions in North Iceland would be around Asbyrgi, Myvatn, Akureyri and Husavik.
We explore what all exciting things can be done here, which no other place in the world could offer:
Exploring beautiful nature reserves:
Activities in North Iceland know no bounds. In Asbyrgi, you can spend the day surveying a wonderful nature reserve, which is now a part of Vatnajokull national park. The experience is an excellent mix of fun and adventure.
You may choose to get into a lush valley cut out in the shape of a horseshoe. It is believed to have been made by mammoth eight-legged horse Sleipnir, a mythical creature. Move ahead to Hljodaklettar sound cliffs and the basalt rock deposits, a geophysical wonder, surround you. The rocks echo off a wave resonance that is truly amazing.
Explore the Laufas Turf homes:
If you love history, Laufas Turf homes should be in your bucket list. Experience how life had been in the up extreme north when the planet was more hostile to human habitation. It certainly merits a place as one of the most exciting things to do in North Iceland.
Turf homes in Akureyri, Iceland's second largest city dates back to 1865. Laufas had received a complete makeover employing construction appliances from the early 20th century. Hiring travel guides to Akureyri is highly recommended as they will be able to explain all finer details that your eyes are likely to miss. A walk around this ancient settlement would make you feel you had been transported to ancient Iceland in a time machine.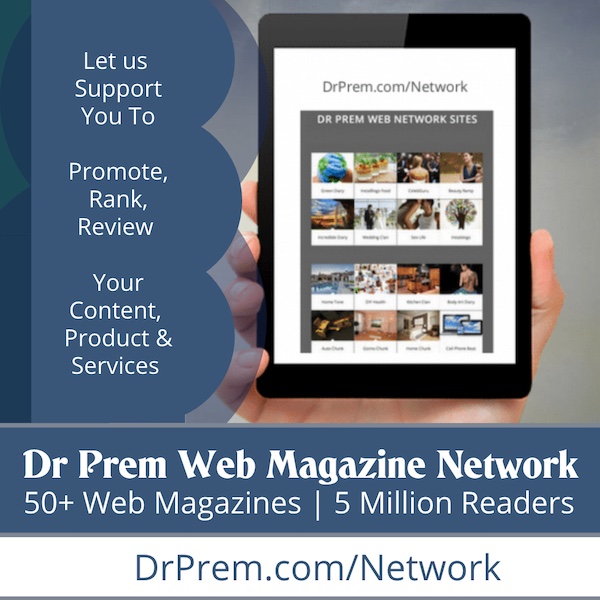 Immersing in nature baths –one of the prime things to do in North Iceland: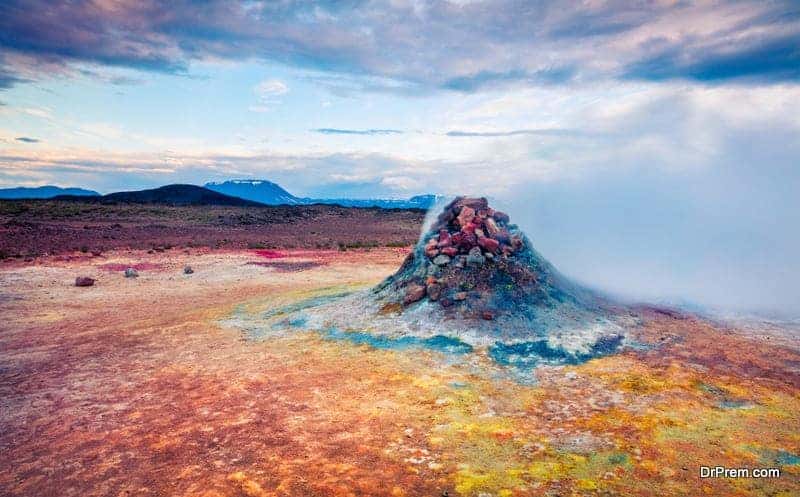 Close by Mount Namafjall, stands Hverarond, an area dotted with hot springs. The place wears a look of marshland emanating steam. The ground is a combination of orange and brown clay and looks like a fabled Arcady.
Myvatn nature baths up in the mountains offer excellent bathing opportunities. Water rich in silica and other minerals is highly beneficial for your skin. Getting immersed in the healing waters guarantee a memorable experience.
Whale watching:
Things to do in North Iceland should include whale watching in all probability. Fjord Eyjafjordur is in the vicinity of Akureyri, a picturesque spot of terrific tourist potential. You get it all here, magnificent mountains and blue sea.  A travel guide to Akureyri is a must to give an outlet to your intense whale watching desire.
Leviathan monsters abound in the waters in plenty. Hump back whales are the most common. Minke whales, dolphins, harbor porpoises and seals can also be spotted. If luck stays on your side, you can see frolicking killer whales as well. You get several times your money's worth of gratification.
Take a walk around in the proverbial city of Elves: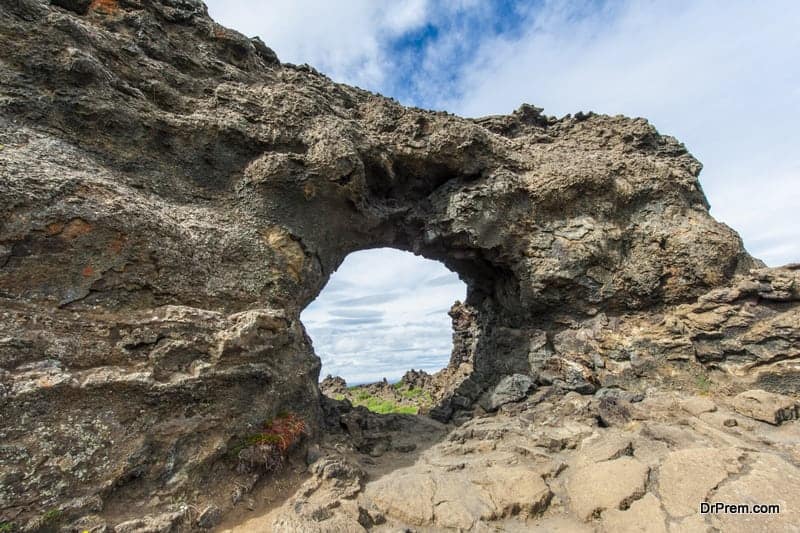 Drive straight to Dimmuborgir and you will see uncanny rock formations looming around. It has a typical look of a deserted city where once elves and goblins dwelled. A long stroll around this spectacular setting would give you a different kind of experience filled with thrill and delight. The mythical city of Elves is one of the prime North Iceland attractions.
No one dares mount the rocks as the attempt may make Elves furious, according to local lore. Moreover, scaling would disrupt the ecology. Not very far stands the jaw-dropping Lofthellir Lava caves. It is a piece of geological amaze balls. Ice formation inside the cave drives in a strong tourist appeal. It is advised to get a licensed guide from Myvatn to get to the caves. Dare all alone, especially if you are inexperienced, is not approved.
Go horseback riding:
Akureyri is blessed with natural beauty. Its panoramic view is simply splendid. Just a short drive from the Akureyri town will take you to a countryside where you can find stud farms. A chance for relishing one of the most dynamic things to do in North Iceland is right here.
Yes, horseback riding in these icy cold landscapes will give you a feel of high paced adventure. Home cooked two-course dinner with an emphasis on organic nutrition is included in the package. Post ride, you can have a refreshing stroll along the nearby beach. You may opt for a relaxing bath in a hot tub too.
Bathing and hiking in Askja: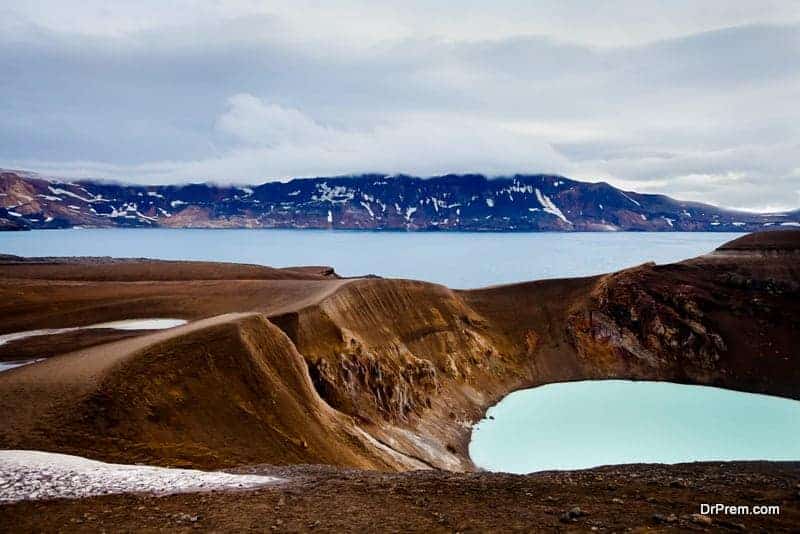 North Iceland attractions are too good to be true. The central highland region is a bed of stunning landscapes. This remote habitat houses the Askja caldera, surrounded by the magnificent Dyngjufjoll Mountains on all sides.
You can take bath in this caldera, which will deliver a feeling of heightened wellbeing. Not far will be Viti caldera where you can take a revitalizing bath too. The place is blessed with canyons and highlands ideally suited for hiking and bouldering.
Visiting the Herring Town of Siglufjordur:
Once popular for the abundance of Herring Fish, this quaint picturesque village forms another site of attraction in North Iceland. Such was the population of herrings that it made the river water silvery, which existed until 1968 from 1867.
Herrings are no longer available but the Herring museum carefully preserving the lost fishing culture and starred accommodations surrounded by lovely panoramic views of mountains and fjords offer a highly gratifying experience.
Geothermal fields of Hverir: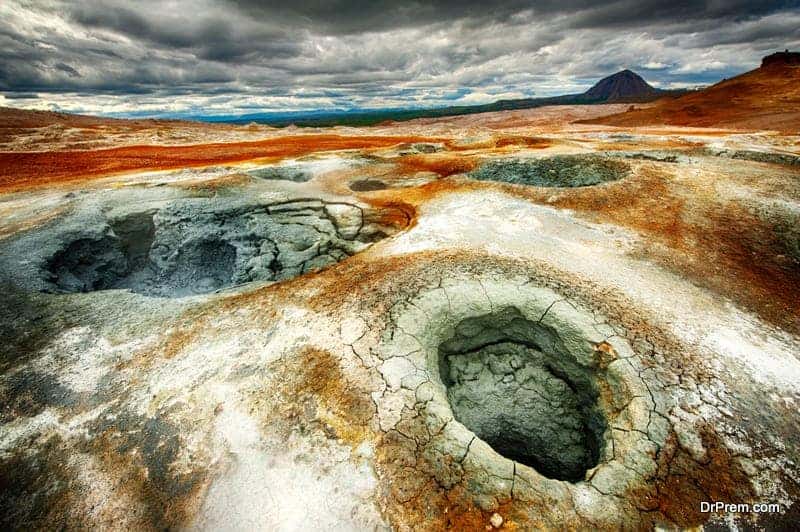 Here you can explore a plethora of geothermal reactions on mud that keeps boiling and spews fumes. Another unique thing to do in North Iceland is exploring geothermal activities giving off stench of sulfur. You can even feel the air thick with sulfur.
Explore the caves in Grojotagja:
It is quite interesting to note that most of the things to do in North Iceland revolve around geological marvels.  Exploring mind-boggling lava caves in Grojotagja, close by the fringes of Myvatn Lake can be considered as one of the most exciting activities in North Iceland.
This small yet irresistible natural wonder is a living example of the planet's whims to mold its shape along geological roadmaps many of which are still an enigma. A splendid thermal spring exists inside the cave where once people used to bath. However, recently, water temperature has shot up, a manifestation of another natural geological whim making it impossible for bathing now.