Preparations for extreme tourism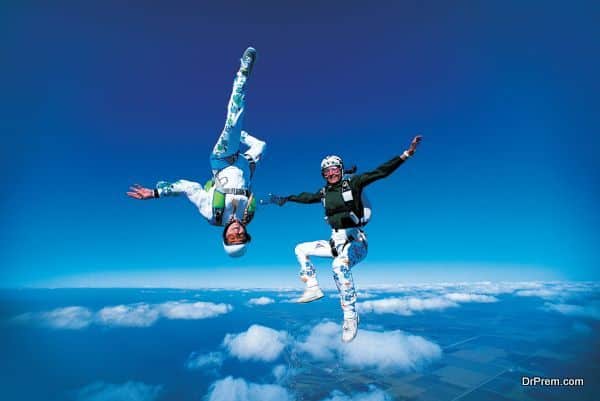 Before deciding on extreme tourism, preparatory actions are much in demand. Without adequate preparation, you may be in for a nasty surprise just midway through your journey.
The fundamental steps needed for preparing you for the extreme tour could be outlined as under:
1) Extreme tourism could be highly technical requiring a lot of training and mind setting prior to the trip. An extreme venture all by yourself could be a big folly. Be conversant with a travel agent specialized in this field. Check on his service record. If you are hundred percent satisfied, then only book an extreme venture through him.
2) Next preparatory step would be the selection of your destination. Here, of course, your travel agent would guide you. Usually, they have a select list of extreme tourism destination with a standard itinerary drawn out for you. Minor modifications could be allowed to suit the requirements of a situation and circumstance. Do not sit idle and wait until the agent takes you and drops you onto the destination. Be acquainted with the destination you are about to visit or the daring sport you are gonna play. Take out a map and consult the internet, books and magazines. Get the latest updates on the climatic conditions, the right time to visit, the exact things to be done on site to taste the thrill of extreme tourism.
3) Get general information about the quality of guides who would take you through the extreme travel. For that matter, the experience of the instructor who would guide you through an extreme sport is very important. Incidents of accidents, availability of medical and insurance support are very significant factors.
4) Prepare yourselves adequately with stocks of drinking water, fluids and fruit juices in case your extreme tourism means a long trek along open grassland with the sun overhead burning in its most relentless form. Take enough salt supplements as a guard against possible dehydration.
5) Take common medicines for cold and cough, fever, nausea, malarial infection and creams for severe sunburn. Knee high shoes would do you good in long treks through savanna.
6) In case you are carrying your gadgets and gears to be used in extreme tourism, see that they are in top condition. Motorcycles, helmets, hiking boots, ice breaking axes, mountaineering kits and climbing ropes must not fail you. Check on their workability and get them approved from some competent authority prior to use in a daring venture. There is no room for experiments in a dare. Unless you are hundred percent sure of your equipment, do not risk its use.
7) All your important documents, permits, passports, bookings, payment vouchers and bank cards must be securely handled. Keep photocopies along with originals and leave a copy back home with a trusted person.
8) One of the most important preparations in extreme tourism would be your financial preparation. Make sure of the source of funding, and you should get the supply in the right time and in right amount when you need it at the time of incurring expenditure.
9) Give extra weightage to the weather aspect. Weather has an enormous impact upon extreme sports like gliding and surfing. Ensure you hit your destination in fine weather or else these daring sports would remain a dream. In case your trip for a long treacherous ramble happens to be in a rainy season, carry waterproof jackets and headgear. Knee length rubber boots would be ideal for treading along the muddy terrain.
10) Extreme tourism imposes considerable stress upon body and mind. A weak body and mind would surrender before the inhuman hardship. So train your body and prepare your mind for the harsh ordeal ahead.
11) Extreme tourism would certainly see some high voltage actions from you which need to be captured. It would be a sheer blunder not to capture these priceless moments glorifying you in heroics. Take your photographic kit and see it functions in excellent condition. Your daring jumps and strenuous long rambles need to be preserved for ever.
12) Extreme tourism often demands traversing the wild. All you see around is the ubiquitous dense bushes, waist high grasslands and hostile greenery. Soon you realize these green patches are not exactly picnic spots and could offer real trying situation. It is imperative you carry mosquito nets and mosquito repellent creams. You may need to camp in the open wild at night. You need to keep the droning army with excruciatingly painful needles at bay.
13) In extreme tourism, there are instances of tourists trying to be too brave. It is extremely dangerous to try something beyond the instruction of the guide. Carrying a photograph of your family displaying their smiling faces would serve as a psychological shield against your urge to try something foolish and perilous. This photo will constantly remind you of someone waiting for you back home.