No time to loose in Costa Rica, how to spend your vacation here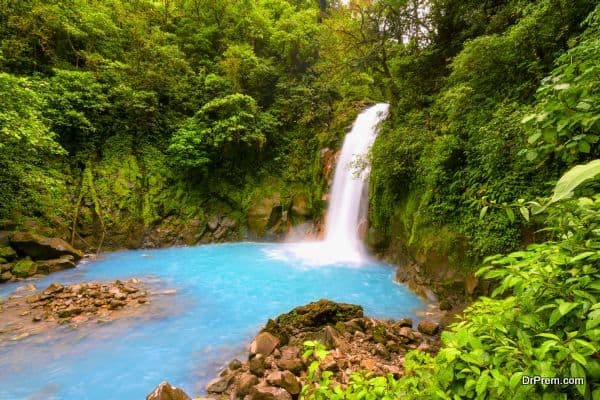 Located in Central America, Costa Rica has always been a popular tourist destination for avid travelers and vacationers. Every year this country attracts an estimated two million visitors. While some find solace in its lush green forests, others feed their fancies in trekking the volcanoes. If your next travel destination is Costa Rica, here is a list of things that you must jot down in your 'Things-to-do-while-in-Costa-Rica' list.
Hike a volcano
Costa Rica has several volcanoes that are either active or dormant, and these make the most adventurous hikes for tourists each year. With numerous volcanoes for hiking, the hiker in you cannot rest while in Costa Rica. Volcano Arenal is currently closed for safety purposes considering the fact that it is the most active volcano in the world, but Irazu – the 3432 meters high volcano – is currently open for hikers. For those visiting with family, the Arenal National Park is a perfect spot for a picnic with a fine view of the volcano.
Partake a wildlife adventure in Corcovado National Park
Corcovado is located in a remote location and can only be reached by hiking on foot, by a boat or by a plane. Anyone visiting Corcovado is advised to get a tour guide and get ready to experience a wildlife adventure like none other. Get your kids to see wild animals in their natural habitats and have fun at the beaches. In the national park enclosure, visitors can experience nature at its finest and enjoy the companies of various wild animals as they go by their daily life.
Zipline through Monteverde Cloud Forest Biological Reserve
Travelers must try zip-lining across 14 platforms at the height of 1400 ft and more and glide their way through the deep cloud forests in Monteverde. An adventure worth your time, the tour companies providing the zip-lining ensure safety and guarantee fun for the individual traveler or the whole group. Four of the rides in this zip lining path have a total distance of nearly half a mile that end with a Tarzan swing. You can choose to go really fast and add a bungee jump at the end if you like.
Hike in Monteverde
If you just want to experience the forest one tree at a time, your feet will guide you through a hiking experience of a lifetime. The trail is traditionally medium level and families can partake in this adventure together. In the Monteverde Cloud Forest Reserve, visitors see nature being exotic, calm and mystic. What adds more charm to this trail is the unpredictable weather in this cloud forest. Rumble through some beautiful waterfalls and stroll lazily through the forest where trees reach out to the sky and orchids and ferns decorate them throughout their way.
White Water-Rafting for the sea-crazed
So you have seen the biodiversity on land and your eyes need a little blue after all that green, now Costa Rica provides you with the best beaches to get sunbathed. For the ones looking to enjoy water-sports, the place offers white water rafting, where a group will navigate through a river at full flow on an inflatable raft. This activity is agile, thrilling and extreme where the navigators cross the river's rapids through its course. Costa Rica is full of rivers suitable for rafting like Sarapiqui, Reventazon, Pacuare, Savegre, Naranjo and many more.
Surf on the rivers of Costa Rica
Surf, dive, or kayak, Costa Rica has something for everybody. Whether you are surfing on the Caribbean coast or the Pacific Coast, if you are here in the right season, then the waves are waiting to be ridden at Puerto Viejo, Playa Naranjo, Playa Grande, Playa Escondida, Hermosa beach, Playa Dominical, Pavones, and Cabo Matapalo.
Summary
Costa Rica is not just biologically diverse, it also offers a fair mix of beauty and adventure, and does not permit the visitor a single moment to be bored.