My recent visit to Maldives has radically changed my notion of how good a beach front resort could be. I have been holidaying in resortsfor quite some time due to which I am quite acquainted with the best features that money can buy. A connoisseur of quality stay at luxury villas and châteaux, I can very well assess the quality service of a premium resort. But when I stepped in Kurumba resort, it surpassed my expectations springing up pleasant surprises now and then. From every angle, it had outsmarted all the resorts I have so far stayed at. It was a dream island vacation for my family savoring all the best things drop by drop that this resort offered.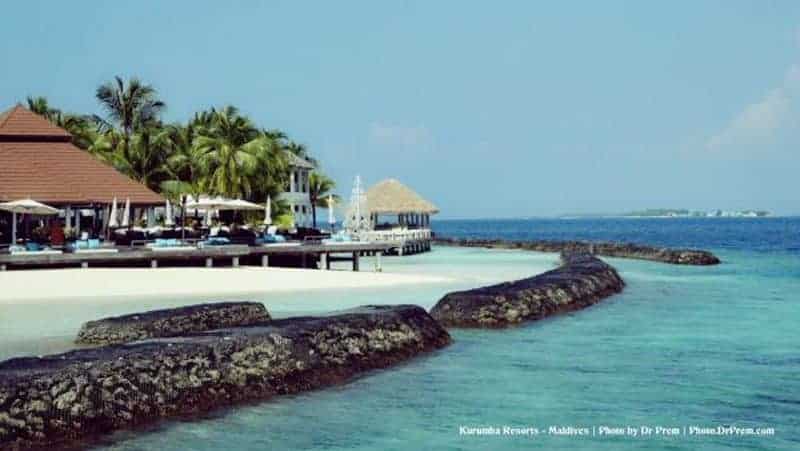 Image Source : photo.drprem.com
Besides an engrossing access to the sea, sun, sand, food, quality drinks and fun nights, this Maldivian resort located near the capital Male has much more to offer. The instant feature which appealed to me the most was the crystal blue lagoon. I was so fascinated that I waded into water and lay afloat on the surface. Face up, the blue sheet of eternal sky hung overhead with cottony clouds drifting across aimlessly. I felt rejuvenated.
From the time I landed at the airport, a series of pleasant surprises awaited me. I was made to board on a speed boat that took me through a 10-minute exhilarating ride and we reached an open sea beach. A welcome cocktail was served that tasted wonderful. It just set the tune for a fantastic family vacation.
The luxury bath at Veli spa was no less revitalizing for that matter. It breathed a new and refreshing life into me, and I felt awesomely pampered.
The marine underworld was ideal for scuba diving. I had a professional guide provided by the resort who took me along a wonderful journey. We glided past rays, schools of multicolored fish, army of squids, beautiful mollusks and exquisite marine flora. It was like an enchanting dream world painted by a nature artist.
If you are looking for good food, Kurumba resort brings you ocean of kitchen delicacies you can possibly conceive of. I found the food awesome. Especially, the grille and seafood were a cut above the average samples that you normally get at sea side retreats. Teppanyaki at Hemakaze is a must try. It is a Japanese culinary wonder.There is a room for every palate. Vegetarians, non vegetarians and flexitarians will find the restaurants equally good.
There are a number of signature restaurants you must give a try. They include:
1. Vihamanaa
2. Thila
3. Hamakaze
4. Al Qasr.
5. Mahal.
6. East.
7. Isola.
8. Kandu.
9. Athiri
10. Kalhu
The food can be described in one word that is  ' excellent '. There is a range of kitchen miracles from around the globe plus authentic Maldivian culinary delights that will fascinate you with its flavor, taste and table décor. The chefs are a team of talents, and they ensure every single dime you spend on food is well worth in terms of what you get on your plate. There are culinary classes and I felt great to attend one. It was a mix of fun and education and what you learn is something worthwhile to try out later in your domestic kitchen.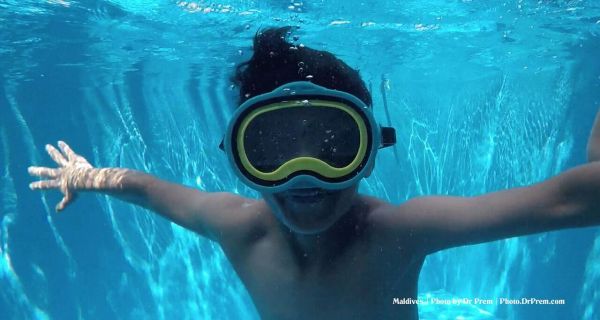 Image Source : photo.drprem.com
Kurumba resort answers the needs of tourists from different age groups. The Maaja recreation centre and the Maaja kids club are prime centers of interest that keep both the kids and adults in high spirits. There is a Kids club that keeps the children on high beam electric excitement. Walking past this club, I had glimpse of tender cherubic faces with a glint of mirth in eyes. My kids too joined the band and had a great ball.
Whether you visit the resort with a large group of friends or with your fiancé or even with your family members, Kurumba resort has something to turn you on with its plethora of entertainments and services. The attendants make sure that you receive full fledged attention and personalized care. They are dedicated and deliver the traditional Maldivian hospitality in its best form.
My special note of appreciation goes to the Kurumba resort team that has come up with innovative ideas to keep guests happy and enthusiastic. I found them to be very sincere in efforts and quality of services delivered. In fact, they did not give any scope of dissatisfaction over services and facilities I paid for.
The resort management informed me that I can opt for two value-for-money packages. Each of them featuresthe following:
Dine around all-inclusive package:
Includes a luxury accommodation with basic amenities delivered in style.
2. Vihamanaa buffet breakfast served in exclusive setting ranging from superior rooms to deluxe bungalows.
3. Thila premium breakfast served in beach facing deluxe bungalows and all categories villa.
Fine dining at dine-around at all inclusive dining experience from 8 exclusive restaurants. The menu selection is awesome. It will surely activate your salivary glands. Incidentally, I was flat with a wonderful exposure to the authentic Japanese culinary delicacies in Hamakaze restaurant.
Beverages include both alcoholic and non alcoholic categories, and I bet it had a range of products that could compete with any category 1 bar in a beach resort. There is opportunity for thrilling excursions every alternate night.
B) Full board all-inclusive package:
Cozy accommodation with great amenities.
2. Vihamanaa buffet breakfast set in superior rooms to deluxe bungalows.
3. Thila premium breakfast in beachfront deluxe bungalows and all categories villa.
4. Select alcoholic and non alcoholic beverages of choicest brands with exciting excursions every two nights.
5. A highly gratifying experience in lunch and dinner at Vihamanaa's newly renovated restaurant which can be a reason strong enough for a repeat visit.Free WIFI and free snorkeling outfits are available in the resort.
If the daytime was full of water activities and explorations, nights were vibrant with musical entertainment shows. The proximity of Kurumba resort to the capital city Male has made it possible to the get the best DJ's of the town. They are a sensation in organizing electrifying musical nights.Here I had an awesome experience of some of the greatest ever musical programs of my life.  It was a wonderful fusion of modern numbers and classical ones. Jazz, local dance and pulsating live bands kept me enthralled.
Round the week entertainment schedule: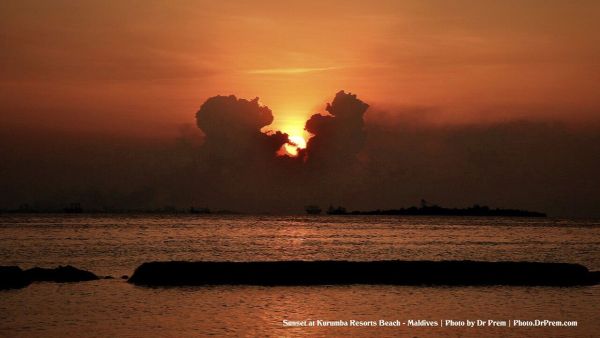 Image Source : photo.drprem.com
Exciting Mondays:
– Marine biology presentation:
Here you have a short training on safe snorkeling. You have the opportunity to explore under water marine magic with exotic flora and fauna around. They arranged a video program for us giving exciting and educative demonstration on local ecosystem. The recreational team and the diving centre managers organized the programs and were involved hundred percent.
– Blues nights:
The exciting musical programs by Mishy and Zara who perform every alternate week are big crowd pullers. Hours seemed to slip in minutes listening to their powerful delivery.
Boozy Tuesdays:
Boozing is exciting in Kurumba resort with great entertaining packages of drinks and cocktails.
– Sunset cocktail session:
It was a lovely feeling to join the sunset cocktail party between 5 pm- 6 pm in the evening. With the glorious run gradually sinking below the horizon with the sky painted red and crimson took me to a different realm of beauty.
– BoduBeru dance and drums:
Maldivian culture came up in front of my eyes through this unique musical program.
– A night of Jazz:
Relaxing under a starlit light enjoying the pulsating jazz performances is a different experience altogether rarely found elsewhere.
Enchanting Wednesday:
– Detune:
The crowd simply loved this immensely gifted Maldivian band. Their musical performances delivered with elegance enchanted me throughout the program.
RockingThursday:
– Choicest DJ evening:
I came to know about the sensational DJ Paiday, and it was an evening well spent listening to his songs, a collection of modern and old charming numbers. The continuous pleasant sea breeze heightened the charm.
FridaySunset Jazz:
Athiri Bar offers an exciting combo of jazz and guitar tune. The star performances of the evening cast a magical spell on the viewers.
-Friday movie night:
The weekend approaches and Kurumba has more surprises for you.  Friday movie night is a big hit here.
SaturdayDJ evening with chill out session:
The sensational DJ Paidayis again there gifting you a lovely evening with his superb performance.
Sunday- Wine tasting in the lagoon:
Sundays are great in Kurumba for its special wine tasting session at Athiri bar. I found it quite unique to make new acquaintances over a drink.
– Def note live band:
The five-piece cover band considered one of the best in Maldives will lift your spirit with their awesome presentation of modern and classical numbers.
Medical Assistance:
It adds to your comfort if you notice that you will be well taken care of if you fall sick all on a sudden. Kurumba has in-house doctors accessible round the year.
Creating Environment awareness:
Kurumba Resort team is doing a praiseworthy job in creating environment awareness among tourists. The highly valued coral reefs are vulnerable to destruction due to global warming and other environment-polluting activities. The recycling plant impressed me a lot where most of the items are being recycled. This prevents unnecessary littering. It is lesson to be learnt by all that Mother Nature needs to be taken care of if we wish to enjoy life on her cozy lap.