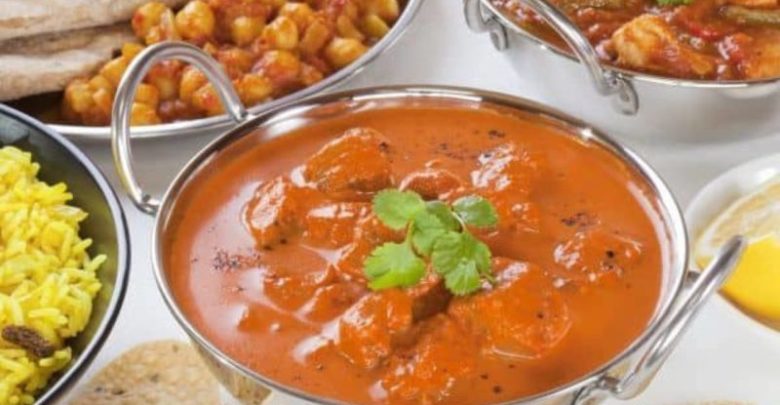 Indian cuisine is a perfect reflection of its cultural diversity greatly influenced by the traditions prevalent in different regions. Apart from authentic dishes, Mughlai cuisine occupies a significant position in Indian delicacies much appreciated by tourists. One can experience Portuguese and British influence in some regional dishes. Since past few decades, Chinese and Thai preparations have been prominently felt in the Indian kitchen.
A variety of spices dominate the Indian cuisine as Indians are fond of hot and spicy dishes with a generous use of chilies and turmeric that add a lovely color and a strong pungent taste to the dish watering your mouth and eyes simultaneously. Sweet and sour chutneys (a type of sauce with thin consistency) or pickles are mandatory inclusions in the Indian meal.
Let us explore the top dishes region wise that will satisfy your gourmet sojourn in India.
1) North India:
You get to taste the exotic non-veg dishes like mutton and chicken biriyani prepared from long grained flavored rice and choicest meat cooked in ghee (clarified butter) adding lots of aromatic spices.
Special preparations made from green leafy vegetables like spinach, mustard and fenugreek known as Saag are among popular vegetarian choices that go well with flat wheat flour bread or tandoori roti (flat bread made in a special tandoor oven). Rumali roti (as thin as a handkerchief), Naan and paratha (thick white flour bread lightly fried in ghee or butter) are savored with spicy curries. Adding freshly chopped herbs in flat bread is common in North Indian cuisine.
Spicy lentil preparations and tandoori chicken will keep you asking for more. You should not miss Makki ki Roti, sarson ka saag (mustard leaf curry), palak paneer (spicy curry from spinach and Asian curd cheese), Dal tadka (spicy green lentil curry) and Dahi Vada (lentil chops dipped in spiced yoghurt).
2) East India:
Rice is the staple food in this region accompanied by fresh water fish cooked in a number of ways. Variations are created adding spices and chilies. Bengalis, Assamese and Oriya belonging to east India cannot do without fish and rice. Macher kalia(heavily spiced fish curry), bhapa Ilish (Steamed salmon in mustard paste), Golda Chingri (giant lobster preparation) are top choices of the global tourists.
Mutton and chicken preparations are no less tasty in this part of the country. Rice pudding prepared from a type of short grained flavored rice is an awesome winter delicacy.
Kolkata, the hot spot of East India is globally famous for its wide variation of sweets like Rosogolla (curdled milk balls immersed in sugar syrup), Sandesh (dried sweet from curdled milk) and obviously the Mishti Doi (sweet curd).
3) West India:
Food in west India is a mixture of North and South Indian cuisine, but in the coastal region of Goa and Karnataka bordering Arabian Sea you will come across some exotic cuisine heavily influenced by the Portuguese and Konkani (the locals of Goa and North Karnataka).
Grated coconut, coconut oil and coconut milk are widely used in most of Konkani dishes. Due to wide availability of sea fish in Mumbai coast, delicious fish curries rule the western capital Mumbai.
Pav Bhaji (buttered bread served with vegetable curry), dhokla (steamed chickpea batter seasoned with mustard seeds) and bhelpuri rule the snack dish in Western India. Pork vindaloo is super hit in Goa. The influence of Portuguese cuisine is felt in Goan delicacies like fish recheado, prawn balchao and spicy Goan sausages.
4) South India:
Idly, dosa, sambar and rasam rule the South Indian kitchen giving off a mouth watering flavor that will enhance the appetite even of the fussiest eater. Rice and sambar (spicy lentil preparation adding selected vegetables and tamarind juice) constitute the main course of South Indian meal with mandatory inclusion of bright red colored hot and spicy pickles prepared from a wide variety of vegetables.
Fermented lentil and rice batter is either steamed to prepare idlis or fried to prepare vadas (chops) and dosa. Preparing crispy dosa rolled up with uniquely prepared vegetable stuffing demands special skills. These are taken with Chutneys (Indian sauces) made from coconut paste and Bengal gram and sambar.