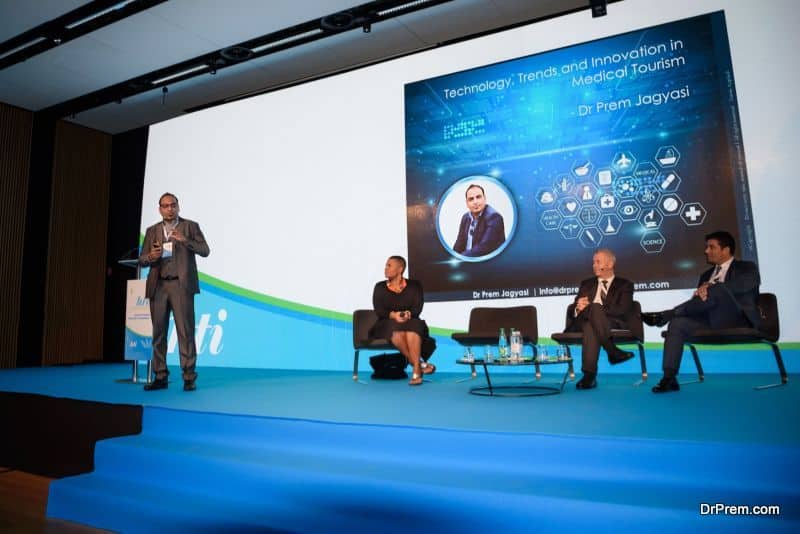 Dr Prem Jagyasi recently delivered a presentation about Global healthcare and Medical Tourism future, technology, trends and innovation – at HTI conference Croatia, here are excerpts of the speech and some videos for your review.
Technological breakthroughs have always been a great driver in shaping the global healthcare sector but the recent trend of digitalization is about to bring a sea change in medical product and service sector. The current global healthcare scenario is focused on managing the burgeoning ailing population where medical care resources are limited but treatment expenses are shooting up.
Consequently, technological innovations are providing more utilitarian benefits to the healthcare seekers enabling them to avail a quicker hassle-free healthcare service. The future global healthcare trend is treading quite a different route where digitalization is stealing the show.
Enhanced connectivity providing real-time data would dominate the future healthcare scenario. Remote healthcare monitoring and enhanced knowledge and skill transfer platforms through digitalization would be able to bring more number of global patients under a standard healthcare support.
Through the smart usage of social media platforms, smartphones, apps and wearables, the customers would have better access to the latest medical support. They would be able to make their choice of treatments.
Emphasis would be more on preventive healthcare that would see a huge saving in medical treatment cost. Travelling beyond the borders for better and affordable healthcare is the norm of the day and such futuristic innovations are going to take the driver's seat.
Let us discuss some amazing digital innovations which are going to contribute heavily in benefiting the global healthcare seekers.
MHealth:
Practicing medicine through mobile devices like mobile phones, ipads, tablets and computers is picking up at a fast pace where real-time treatment guidelines can be provided in remote locations lacking sufficient medical support. Particularly, in the developing and underdeveloped nations where there is a wide usage of mobile phones, healthcare monitoring can be done effectively through them.
Apart from disease surveillance, Mhealth is extensively used in combating epidemic outbreaks. This is also finding extensive use as an educative tool in creating awareness about preventive healthcare. As a result, home healthcare monitoring system with MHealth applications is predicted to touch $59.15 billion by 2020.
Wearables:
These health-alert sensing tools are going to occupy a significant share in the future global healthcare market. Wearable shipment that stood 2.5 million in 2016 is estimated to touch 97.6 million units annually by 2021. You get a constant update of your vital health parameters through a wearable device like Fitbit, Apple watch etc.
Round-the-clock monitoring of health parameters is mandatory for chronic patients. This becomes easier through wearables when the doctors can have access to the real-time data of the patient. It is possible to provide quick treatment that can often save the patient from a disaster. Most importantly, these devices are soft on the wallet and can reduce the treatment cost by 60%.
Usage of google glass, another example of medical wearable, is gaining huge popularity benefiting both the physicians and patients where proper treatment guidance can be given on real-time basis through remote connectivity. Surgeries can be performed efficiently through google glass involving other remotely located specialists whose real-time suggestions can be immensely valuable.
Virtual Reality:
The world is virtually connected today. Virtual reality is an amazing innovation in medical technology enabling better service delivery to the patients. It enables better interaction through a computer simulated environment.
It allows direct participation of many users from different locations. For example, in critical surgeries, more surgeons can be connected through VR even if they are not present physically in the operation theater. Virtual Reality applications will also be used more in aiding patient recovery through entertainment helping in enhancing his/her communication skills.
Augmented Reality:
The advanced version of Virtual Reality, Augmented Reality provides a 360-degree view of the medical treatment on real-time basis. With an immense prospect of better healthcare delivery, Augmented Reality along with Virtual Reality has been producing sensational results.
One can see a 3D view of the organ, its functioning and the treatments administered through mobile devices. Augmented Reality is being applied in pharmacy management, medical imaging and fitness management.
The sensational application of AR was conducted by Dr Safi Ahmed, the reputed cancer surgeon of Royal London Hospital in a critical operation that was streamed on real-time basis. It enabled active participation of specialists from different locations to carry out the surgery successfully.
Internet of things:
A new era of interoperability of different devices and gadgets through enhanced connectivity has set in the global healthcare management scenario. This would see further remarkable manifestations in the near future when you would find all the devices are communicating with you guiding in proper healthcare management.
The integrated connectivity of mobile devices and gadgets through internet is a great innovation which is being largely adopted by clinics and hospitals. The objective is the same –better remote healthcare monitoring. The doctors and medical staff maintain a constant interaction with the patients through real-time data sharing.
They get constant updates about the health condition of the patient which enables timely medical suggestion. It helps in minimizing treatment errors and also suggests proactive actions to check further aggravation of the condition. By 2020, about 4 million global patients would go for remote healthcare monitoring through Internet of Things (IOT).
Telemedicine:
Telemedicine has become a permanent feature in providing long distance clinical support. Considering the booming of aging population, it is about to make further enhancements in providing better service to aged chronic patients with restricted mobility. Through virtual communication, it is doing a great job often saving lives of critical patients.
The medical practitioners too have found an efficient tool to leverage their practice that is significantly enhancing their reliability and trustworthiness. This is also helping them to survive in a tough competitive atmosphere. It is estimated that the telemedicine market would touch $36.3 billion in 2020.
In the booming medical tourism sector, telemedicine is providing long distance assistance to medical travelers especially in pre and post treatment issues. Lack of proper post treatment follow ups is a serious lacuna in medical tourism that often leaves the medical tourists in a hapless situation after the trip.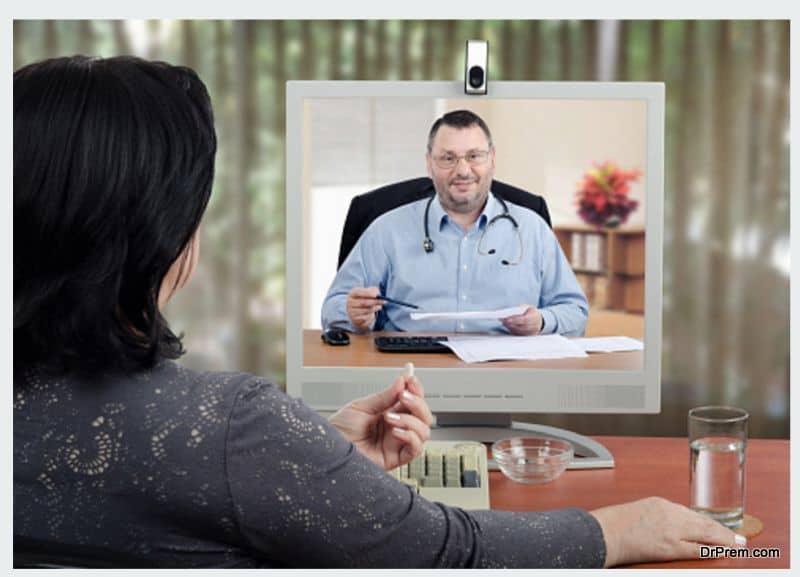 Artificial intelligence:
With the wide applicability of IOT and Telemedicine, the necessity of Artificial Intelligence in analyzing big data automatically sets in. Manual scanning of voluminous patient data and suggesting treatments is time consuming that would ultimately not justify the objective of IOT and telemedicine.
With Artificial Intelligence, it is possible to scan millions of documents in seconds and suggest best treatments. This would be highly time-saving and help in better disease management. Suitable capacity of storing this big data is being created which can be retrieved as per requirement. Artificial Intelligence also helps the patients in locating physicians and the existing medical facilities.