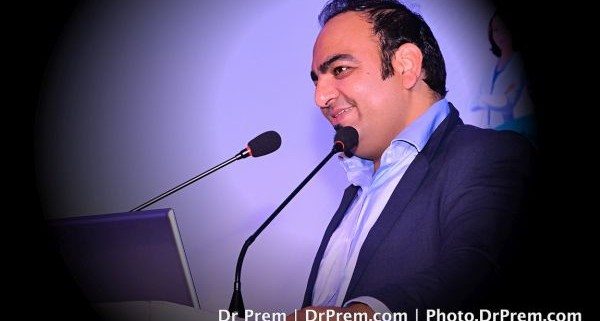 Dr Prem's guides and magazines provide comprehensive information and in-depth analysis on various subjects such as Global Healthcare, Healthcare Leadership, Medical Tourism, Health Insurance, Healthcare Branding & Marketing, Wellness Tourism, Eco Tourism. Amongst many other industry and business guides, he also launched personal development guide on How to Live a Great Life which has got huge attention across the globe.
(PRWEB)June 26, 2012
Dr Prem, a well renowned speaker, consultant, trainer and author has given to the world the treasure of knowledge in form of his several guidebooks and magazines on multiple topics. His guide books are the outcome of his vast knowledge & experience gained through several years of analysis of various industries and travelling to more than 30 countries. After visiting innumerable places, gaining insight on several cultures, speaking in hundreds of conferences & workshops, consulting various governments on state & national level, sharing his knowledge with a number of private & public companies and delivering lectures on various platforms, Dr Prem has compiled his experience in his guidebooks on different topics ranging from global healthcare, medical tourism, marketing & branding, leadership and ultimately improving value of life.
Dr Prem's Guidebooks provide comprehensive information and in-depth analysis on various subjects, amongst many other business and industry guides, he also launched guide to Live a Great Life which is focus on personal development, the guide has got huge attention across the globe. How to live a great life is created with a stunning user-face to provide quick access to various topics.
Dr Prem's guidebooks are developed keeping in mind the requirement of the global audience. They are written in simple English with lots of examples, suggestions and practical tips for the readers. These books aim to provide a fundamental idea about the subject and are mostly crafted for new learners. However, they can also be beneficial for industry professionals who would like to gain knowledge in new areas of business. The guide books are available at no cost at Dr Prem's stunning website, crafted with comfy design, easy reading and optimum user interface.
Dr Prem has also upgraded Health First Magazine, an online magazine featuring articles, reports, news and latest happenings pertaining to health and wellbeing. Several business developments related to health industry have been covered by the magazine in order to scrutinize the most up-to-date opinion about precautionary and therapeutic medicines. Loaded with immense healthcare and medical information, the Health First online magazine is inclusive of various titles linked with lifestyle, fitness and nutrition. Three of magazine issues – Women's Health & Sexual Health; Health, Wellness & Inspiration and Global Healthcare have got international recognition.
About Dr Prem
Author of various guidebooks, Dr Prem is world renowned chartered consultant, writer and speaker. He has traveled to more than 30 countries, and has consulted more than hundred healthcare organizations, including governments & large private companies and healthcare event organizations.
Currently, Dr Prem is providing independent consultancy services training to various governments and large healthcare organizations and investors. To read more about Dr Prem his work and his contribution, visit at http://drprem.com
About Health First Magazine
Featuring news, articles and special features relating to health and wellness, the Health First Magazine assesses industry developments and analyses the latest thinking around preventative and curative medicine. Packed with essential healthcare information, the title also includes must-read items on nutrition, fitness and lifestyle management.
About Dr Prem's Guide Books:
Dr Prem has great knowledge and experience regarding various topics, utilizing his vast global experience diverse knowledge and research outcomes Dr Prem Jagyasi has developed a series of guidebooks for the consumers and professionals from healthcare and business industry. Some Topics Include:
Dr Prem's Guide to Live a Great Life – Guide & Magazine
Dr Prem's Medical Tourism Guide Book
Dr Prem's Global Healthcare Guide Book
Dr Prem's Wellness Tourism Guide Book
Dr Prem's Healthcare Marketing Guide Book
Dr Prem's EcoTourism Guide Book
Dr Prem's Healthcare Brand Guide
Dr Prem's Social Media Marketing in Health Guide
Dr Prem's Guide on Corporate Culture
Dr Prem's Diabetes Guide Book
Dr Prem's Guide – How to be a better patient?
Doing Business as a Medical Tourism Facilitator
Dr Prem's Health Insurance Guide
About Dr Prem's Guide to Live A Great Life
Life strikes endless references and numerous imageries in mind; some from past, some from present and many for future; finally gives no clear picture of what exactly it is? Life is an identity for one who works differently, life is a gift for one who keeps both enjoyment and suffers, life is an experiment for one who takes challenges, and life is a journey for one who wants to grow or jump in every consecutive period. Dr Prem's Guide on How to live a great life provides tips, suggestion and essential do's and dont's on important subject in life.
https://drprem.com/wp-content/uploads/2015/12/Dr-Prem-Jagyasi-a-renowned-speaker.jpg
362
600
Dr Prem Jagyasi and Team (C)
https://drprem.com/wp-content/uploads/2021/06/Dr-Prem-White-Logo-Live-A-Great-Life-With-DrPrem.com_.png
Dr Prem Jagyasi and Team (C)
2016-03-03 08:25:45
2020-04-23 01:12:02
Dr Prem - World Renowned Author, Speaker & Trainer Launches New Guide Books and Magazines