World's most amazing zip lines for adrenaline seekers: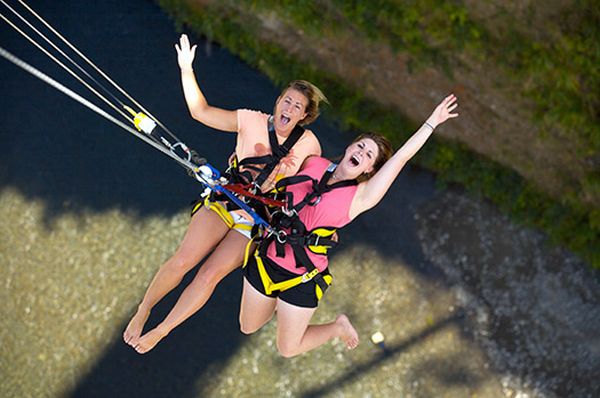 People can go to extreme extents for a flush of adrenaline that gets them high. This hormone helps us feel happy and exhilarated. The different adventure sports depend on adrenaline and the frenzy it is capable of creating. If you too are interested in getting adrenaline coursing through your blood then you should try one of the highest and best zip lines. Zip lines will give you the experience similar to flying. Many people are scared of Para gliding and Bungee Jumping but Zip liners are not so hard. They are safer than other flying sports. Zip lines are the best way  to cross a very long distance at a very short time and often used by the military for rescue work of different types. You can fly over rivers and mountains through zip lines and even cross a volcano if you have the guts. In the following you will find the best zip lines of the world listed for your benefit.
Hollbank Tree Tops Adventure:
Covering a dense forest on foot is both risky and rigorous. You will also need a guide for it. The zip line tour of Hollbank forest in Tasmania is both fun and full of excitement. To be exact this is not just a zip line tour as there are several different zip lines fixed from one tree to another. The complete tour will take some two to three hours. You can also enjoy the Hollbank Treetop Adventure at nights. The river will flow 30 meters below you and there will be lights at the banks for assurance. We all know that night time is the best for catching wild animals in action. All in all this is a great way of traveling safely through the forest.
Gravity Canyon, New Zealand:
An adventure weekend trip to Taihape in New Zealand can change the way you view the world. The Gravity Canyon zip line at this spot is bound to make you feel like a super hero. Unlike in the case of other zip liners this one helps you fly horizontally. It is a short zip line of 3600 feet but you will be moving 600 feet above the Rangitikei River bed at a speed of 100 mph. It is not a one way journey and you get to look around for quite some time.
Arenal Volcano Park, Costa Rica:
If dangers make you happy then the Arenal Volcano Park zip line trip is definitely the best one for you. The Arenal Volcano is still active and alive. The last eruption from this volcano occurred in 1984. The zip ride is thrilling and exciting but it is not unsafe. The volcano is continuously monitored by expert forest rangers so that the lives of the tourists are not in any kind of danger. The Sky Trek program lets you enjoy walks on high bridges and an open air gondola ride along with zip lining.
The Zip, Adrenaline Quarry, Liskeard, Cornwall:
One of the longest zip liners of Great Britain is The Zip in Adrenaline Quarry. You have to travel to Cornwall for enjoying this adrenaline driven joy ride through the air. The adventurous zip line lovers not only move to and fro on this zip line but also take a plunge from the zip to the quarry below. This zip line is about 490 meters long but it will cost you around 12.5 Euros and if you want to take a second round on it then you will have to pay 7 Euros per round.
Ziptrek Ecotours, Queenstown, New Zealand:
Queenstown has been often referred to as the 'Adrenaline Capital'. They specialize in all sorts of difficult adventure sports and that is the reason why thrill seekers flock to this town. Go to Bob's Peak in Queenstown for enjoying the amazing Ziptrek Eco tours. You have two options to reach there, by foot or on Gondola. Walking takes around an hour so Gondola is more convenient. You will be flying past the canopied forests that can cover ten big rugby fields.
Labadee, Haiti:
If you travel to Labadee in Haiti then you can enjoy the longest zip line over water that has been made till date. The Royal Caribbean Cruise passengers get the opportunity to take this zip line. You get a stunning view of the cove from the zip line that runs 2,600 feet above the ground. Your traveling speed through this 500 feet long zip liner is going to be approximate 40-50 mph.
Whistler, British Columbia:
You can zip down the mind blowing Whistler zip line any time of the year. In the winters you get to view the beautiful snow covered grounds below. The summers are totally different and you get a wonderful view of the creeks and lush green forests below.