For the avid traveler, a nice RV is a dream come true. It gives you the flexibility to travel anywhere you want without the cost of a hotel. It's like bringing your home with you wherever you go.
But this version of your home will be much more cramped. The tiny space certainly beats a tent, but there's not unlimited space to bring anything you want. Narrowing your packing list to a few essentials makes any RV trip better. Consider these fundamentals:
Extra Cargo Space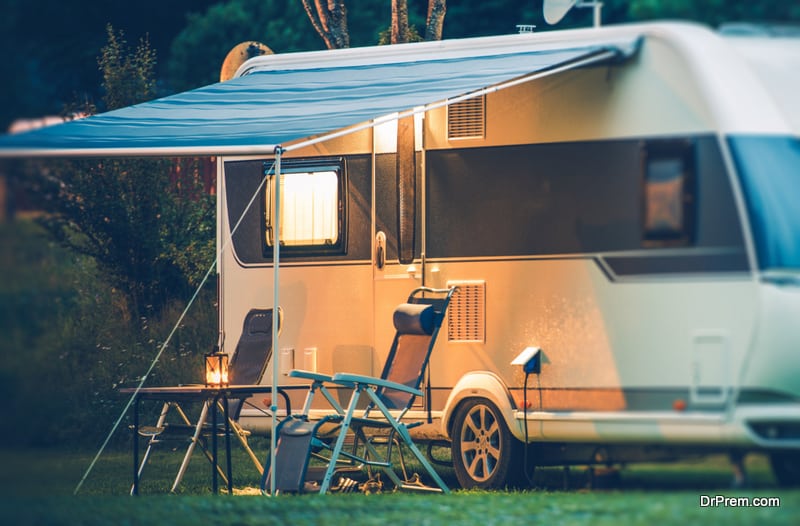 You're not limited to the space inside your RV, thanks to add-ons like a hitch cargo carrier. This storage box attaches to your rear hitch to provide a few more square feet of packing.
Choose a hitch attachment that pulls out and swings to the left or the right, so that you can access the back of your RV without removing the cargo carrier.
Emergency Essentials
Just in case an emergency strikes, pack roadside essentials like a first-aid kit with an instruction manual, jumper cables, spare tire, emergency blanket, shovel, tire jack, flashlights, and more.
A fire extinguisher is also essential, since you'll be cooking and possibly using kerosene lanterns inside your RV.
Planned Menu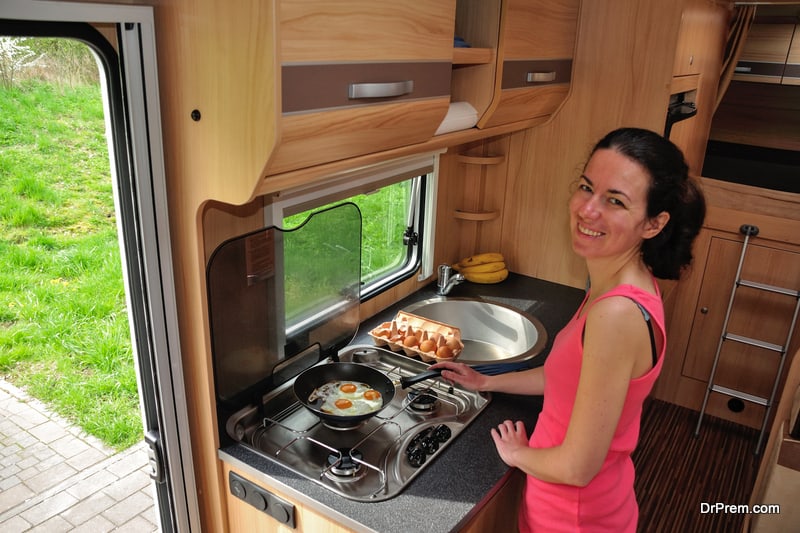 While you won't exactly be a gourmet chef in your cramped RV kitchen, you can still eat well as long as you plan a detailed menu ahead of time. Choose simple, easy-to-pack meals like pancakes, hot dogs or burgers, grilled meat, sandwiches, and eggs.
Avoid foods that can contaminate other foods in the cooler if there's a malfunction, such as chicken. If a bag of chicken leaks, it can ruin your entire food supply.
Storage Totes
Plastic storage totes, both large and small, work wonders on long trips for keeping your items organized. They stack well and can be labeled, so you're not digging aimlessly through boxes to find what you need. They also protect your things from accidental spills along the way.
Bathing Supplies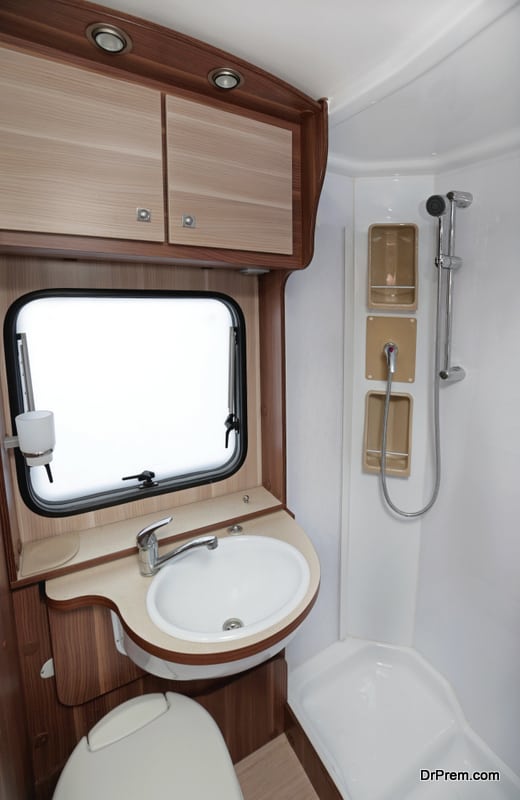 Thankfully, you have the luxury of bathing when on an RV trip, even if the water supply is limited. Don't forget your bathing essentials! Stock up on travel-size soaps, shampoos, razors, etc. The large bottles you use at home will take up too much space in your tiny RV shower.
Towels and washcloths are also essential. If your RV doesn't have one, bring a drying wire that attaches to your shower wall with suction cups. You can hang your towels to dry and reuse them several times to limit the number you have to pack.
Leveling Supplies
Parking on a flat, level surface is very important for a comfortable overnight experience. However, the land isn't always flat. If you land in a crowded RV park or a random campground for the night, you might not have your choice of the best land.
Leveling supplies produce a level surface to park on, which is safer and more comfortable for rest periods. You can use a car jack and a couple of planks of wood, but an RV leveling system, including jacks and blocks, make things a lot easier and safer. They're certainly worth the investment.
Rope and Duct Tape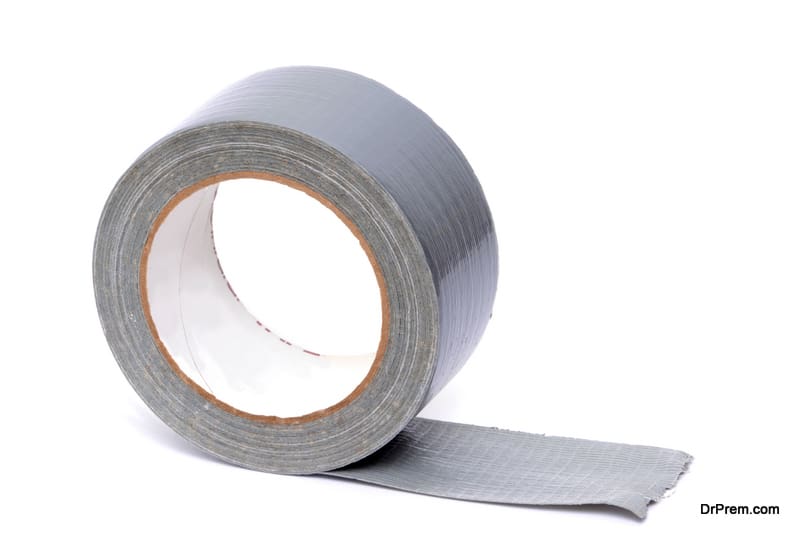 These two items are incredibly handy when you're traveling. You never know when you'll need a rope to secure something or duct tape for temporary maintenance. You can't always make long-term repairs while you're on the road, so rope and duct tape will see you through until you get home.
Propane and Kerosene
In the event that you can't find a campground with RV hookups or you're planning on parking in an undesignated spot, you can keep your RV running with propane and kerosene.
Kerosene provides light and propane powers your stove and can even operate your heat or air conditioning if you have the right hookups. These are also good to have in an emergency, such as if the power goes out in the RV park.
Surge Protectors and Extension Cords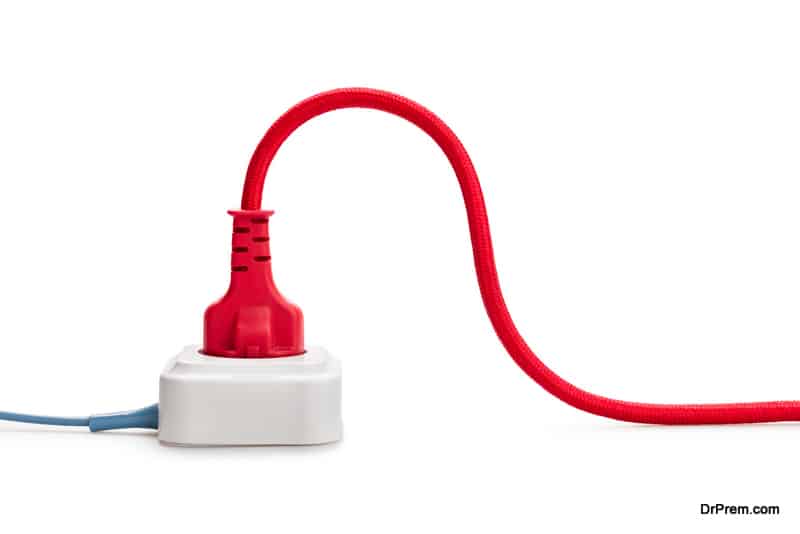 To ensure you have the reach and protection you need with all your electronics, bring along surge protectors and heavy-duty extension cords. Many RV users only plug things into a surge protector, just in case there's a power surge from other RVs in the park. This protects your electronic items and prevents fires.
With this detailed list and anything else you typically bring, you'll be set for a fun and comfortable RV trip.
Article Submitted By Community Writer