Top 6 Luxurious cruises and places to take you on a journey of love and romance (Romantic Tourism)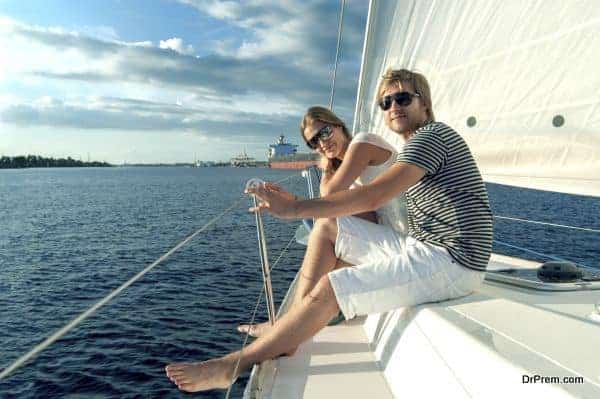 It is nothing like an extravagant cruise done with your sweetheart. As the deluxe vessel bob around in the blue sea both of you feel your body chemistry trigger and the hearts respond to each other's presence with a newfound heightened romantic feeling. Inside the cruise vessel, it is a different story altogether. Both of you are pampered with a deluxe cabin complete with classy furniture including an exquisite booze cabinet. A great bed is arranged for you. The food is sumptuous. The service of the room attendant is hospitable and the environment is designed to give both of you the eventual gratification with a touch of romance.
Here we come up with a few memorable romantic and luxury cruises and the wonderful places they take you to:
1) French Polynesia:
French Polynesian Islands including Tahiti, Bora Bora, Moorea, Huahine, Raiatea and those exotic Society islands would just be a mesmerizing experience for lovers putting them on the edge of romantic ecstasy. The islands are too beautiful to be true. You can cruise in between and weigh anchor as you reach the heavenly isles. You have the service of Paul Gauguin cruises throughout the year trips spanning for a week or two. Other luxurious romantic cruise services are offered by Windstar and Princes cruises. The sail will make both of your spirits soar with ecstasy.
2) The Caribbean:
The Caribbean islands are wonderful and they dot around on the sea and are about 12 in number. All of them are more or less romantic. There is no particular island of special significance. The romantic cruises are offered by jumbo yachts Seadream 1 & 2. The crowd is small limited to just 56 couples and so the crew knows you by heart. You can hire open deck beds and spend the night under a star lit sky. There is a platform on deck from which you can swim, go kayaking, snorkeling or launch a jet ski.
3) The Seychelles:
The island of Seychelles in the Indian Ocean is a lovers' bliss. The amazing white sand beaches washed by waves and the huge beach rocks would charm both of you as would the huge tortoises found on the beach. If you are looking for luxury cruise, go for Variety cruises on a weeklong cruise on board a double hulled vessel called Pegasus accommodating 44 pairs. The vessel is small and still it has a wonderful restaurant, swimming platform, library and health spa. The cruise hits islands of St Pierre, La Digue, Moyenne, Aride, Mahe and Curieuse. It is a perfect romantic cruise that would leave a permanent impression on mind.
4) Bermuda:
Bermuda is as romantic as its stunning pink sands washed on the shore line. This romantic island is literally bubbling with a vast scope of activities like shopping, tennis, golfing, kayaking, fishing, surfing and visiting health spas. The wonderful coral reefs and limestone cliffs would take your breath away. The romantic cruises comprise of Royal Caribbean explorer and the Sea Grandeur. Both are awesome!
5) Hawaiian Islands:
Hawaiian cruise is romantic as well as enchanting. If the amazing shoreline fascinates you more surprise is on the pipeline. You will be struck by the modernity of Hawaiian cities of Honolulu and Kahului. The beaches are exquisite with facilities for a horse ride and numerous romantic activities like snorkeling, diving and zip lining. Norwegian cruise line with its vessel Pride of America and a smaller Uncruise adventures with its luxury yacht Safari explorer are the only two cruises operating between islands.
6) Mediterranean Cruise:
Mediterranean cruise is the last word in romanticism. The ambiance is highly romantic and with the sunny Mediterranean blue sheet overhead, the lovers feel their love juices flowing. The Disney cruise line operates a seven night journey hitting Spain, France and Italy through its voyage. To sustain your intellectual and physical appetite great Mediterranean art, painting and sculpture and needless to mention one of the world's best gastronomic wanders and wine cellars are right there to entertain you.