Switzerland Amusement Parks – Top 10 Parks & Amusement Centers in Switzerland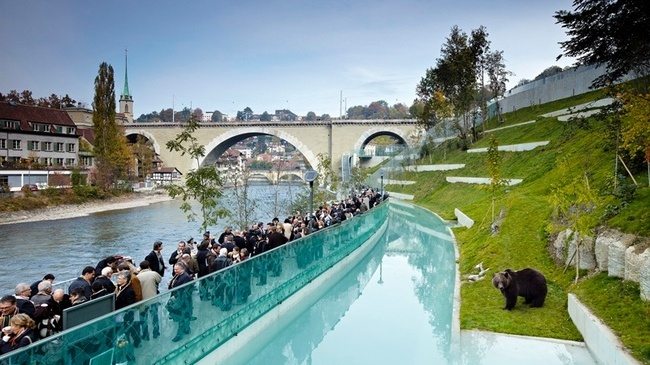 Placed among the beautiful Alps Mountains, Switzerland is a major tourist destination of Europe. With amazing landscapes, picturesque scenery and many skiing and mountaineering opportunities, Switzerland is a must visit for people who are visiting Europe and love nature. Mostly covered with snow, Switzerland has many snow parks, national parks, adventure parks, zoo and theme parks. The nature lovers, bird watchers, leisure travellers and kids have the best time in the Swiss parks. However, they are open to all ages as the greenery and beauty is something hard to resist in Switzerland. Here are the list of best 10 parks and amusement centre of this country.
Adventure Park Ropetech: This fixed rope park is among the Bernese Dahlholzli Forest near Thunplatz. You can get to see the forest from above a height of 4-18 metres. It is a perfect combination of thrill and adventure. Being the largest fixed rope park in Bern, they have children parcours as well.
Adventure Park Reharti: If you have always dreamt of flying among the trees like Tarzan, this is the place for you. Located in Adelboden, this park is best offers you adventure, spine chilling rides, excitement and many more.
Seilpark Rigi: Situated on the foot of Mt. Rigi, the place itself offers beautiful scenery of the Lake Lucerne. If you are an outdoor and sports loving person, this park offers various level of parcours. There is a restaurant and a children's playground at the starting point Alpenhof.
Jura Adventure Park: This park offers something for the entire family. There is a small bus that takes you to the departure point at the Raimeux Mountain with a guide in a scooter. There are thrilling rope rides for you if you are an adventure loving person. If you are not, you just can have a relaxing time in this lush green park or enjoy a steak in the restaurant.
Suspension Rope Park: Being the first suspension rope park, this is a popular tourist attraction. Located in Champoussin, this place has 31 passages which are fixed, moving or suspended and 34 platforms.
Conny-Land: This is perfect theme park for everyone. They have many thrilling rides like the rollercoaster, pirate ship and many others. There is a water park, a space centre for kids, dolphin shows, an ice-park and a zoo where you can cuddle the animals and fall in love with them. A perfect place to spend an entire day. There also is a delicious restaurant.
Labyrinth Adventure: Located in the town of Valaisian, Evionnaz, this is the world's largest natural labyrinth. With over 18,000 Thuja trees, you can go for treasure hunting in this maze among various obstacles, challenges and mysterious games. There are many rides, a trampoline, mini golf etc. There are many picnic spots and a restaurant where you can refuel your energy after crossing all barriers and reaching the end of the maze.
Maxi-Fun Sports & Nature Park: This place has many rides like various kinds of trampolines, air cannons, soft-ball shooters, roller coasters, spider mountains and many more is a hot favourite among kids.
Pilatus Rope Park: Another rope park situated in Kriens, with 10 trails and each have about 6-11 stations. Perfect for all ages as they have one trail suitable for the young visitors.
Adventure World: Located is Saas-fee, this is tree-top trekking having suspension bridges and cable cars. This is open for all and there are cable pulleys which make this park a must-visit.
Enjoy the fullest in the above mentioned parks of Switzerland during your stay in the lovely country.