Switzerland Best Restaurants – Top 10 restaurants in Switzerland for the best cuisine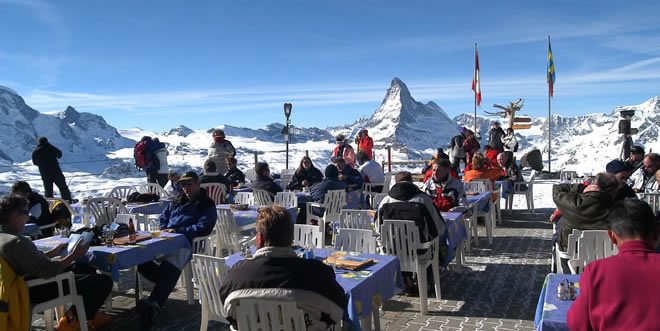 The restaurants in Switzerland always concentrate on the wants of tourists and hence, are known to be the best tourist destinations as well. The cuisines are of varied origin; especially they deal with the local cuisine; however some of the restaurants also offer delicacies from global culinary ways like Chinese, Italian, Mediterranean, Thai and so on. The restaurants in Switzerland always make sure to serve various mouth-watering dishes to its customers and hence, are known to be the best tourist attractions. Below mentioned are the top 10 restaurants in Switzerland that you should visit.
Domaine de Chateauvieux – This restaurant is situated in Peney-Dessus and is known for the best chef of this place, Philippe Chevrier, who helps you to taste lip-smacking cuisines. The exclusive products of gastronomic tradition are greatly highlighted here. The dishes served are extremely creative.
Ermitage Bernard Ravet – This has got the credit of being one of the luxurious restaurants of the place and a variety of food served here are known to be extremely delicious with a variety of wines and champagnes that are truly amazing.
Restaurant Philippe Rochat – The ambience of this place is stunning and you can enjoy the delectable cuisine served here. Philippe Rochat is the prime chef of this place, who is well known for applying creativity in various dishes. The calm environment of this place is something that will surely be loved by you.
Pont de Brent – This restaurant is well-known for the greatest hospitality and the wines that are served here are truly great. The amazing food and the gigantic cellar is something that you will love here. The appetizers, chocolate with cafe and many more things of this restaurant are known to be the best.
Restaurant Pierroz – Roland Pierroz is known to be a wonderful chef, who heads the kitchen of this restaurant. The dishes here are known to be perfectly seasoned by applying good creativity. This is known to be the best restaurant for a wonderful meal in Switzerland.
Didier de Courten – This restaurant is known to have a seating capacity of about 60 to 80. The brilliant food and the lovely local wines of this place are known to be the best. This restaurant is known to be greatly visited by various celebrities, which is a special thing about it.
Kunststuben – This renowned is known to be close to Zurich, which is a wonderful place to dine. The chefs here provide with lip-smacking dishes, which would be your instant favourite and very soon, it will surely be your favourite eating spot.
Die Fischerzunft – You can experience the brilliant culinary journey in this restaurant. You can enjoy cuisines from different parts of t world in this place like Korea, Thailand, France, China and a lot more. The ingredients and various spices that are used in various dishes are known to be fantastic and out of the world.
Blindekuh – This is a dark place, where you can eat and drink and have a lovely time with your friends. Reserving your seat here is very essential as this place will usually be crowded. This clearly indicates the type of amazing food that is served here.
Hiltl – The meat munching culture of this restaurant is known to be the best. You can enjoy the delicious vegetarian dishes and dine in place that has the perfect ambience to have lovely and delicious food anytime.
The above mentioned restaurants offer the best of dishes at a very affordable rate and the ambience is friendly and informal.