Guide to Shota Rustaveli, a boutique hotel in Tbilisi, Georgia and interesting facts of this beautiful country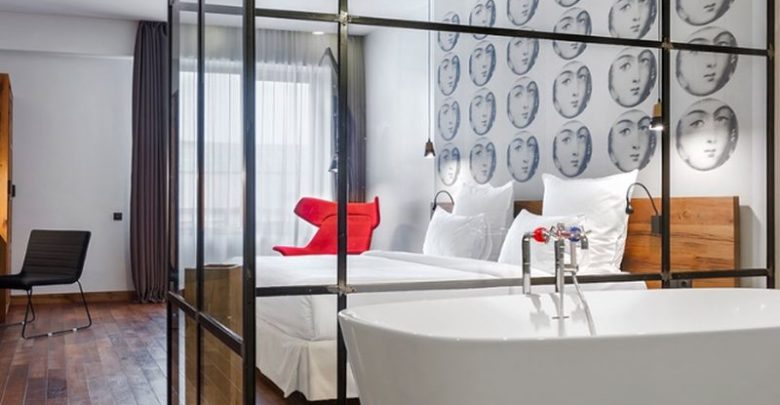 Visiting the mystic country Georgia is like a dream come true, it's a beautiful country with very interesting and rich history and culture. I decided to make Shota Rustaveli my abode during my stay at Tbilisi. If it wasn't for my close friends I would have never discovered this gem of a hotel hidden away in the heart of the city Tbilisi.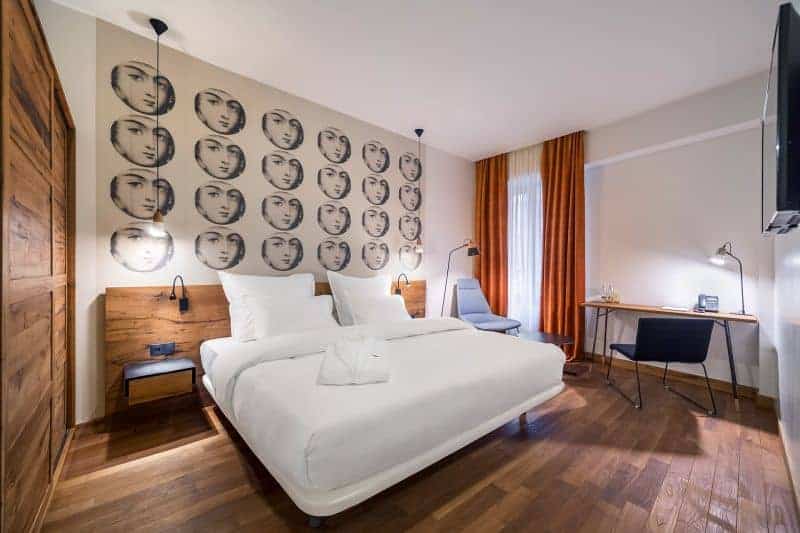 Image Source : shotahotels.com
I was taken by a feeling of pleasant surprise the minute I put my foot inside the hotel. It's a boutique hotel that treats you with the best of both worlds. The wood dominated decor and use of subtle pastel and warm colors gives it a rustic old-world charm but the cutting edge modern and stylish designs gives you the chance to experience the modern-day luxury. The rooms were extravagant and satisfying my OCD clean. Sleeping on their bed was nothing short of a delight, I am very particular about my hotel beds (I think they are my most favorite part about living in hotels, second comes the room service option) and to my utter contentment the bed was very comfortable and soft. I had the pleasure of unwinding after a very hectic day in the bathtub filled with warm water enjoying the view and good music.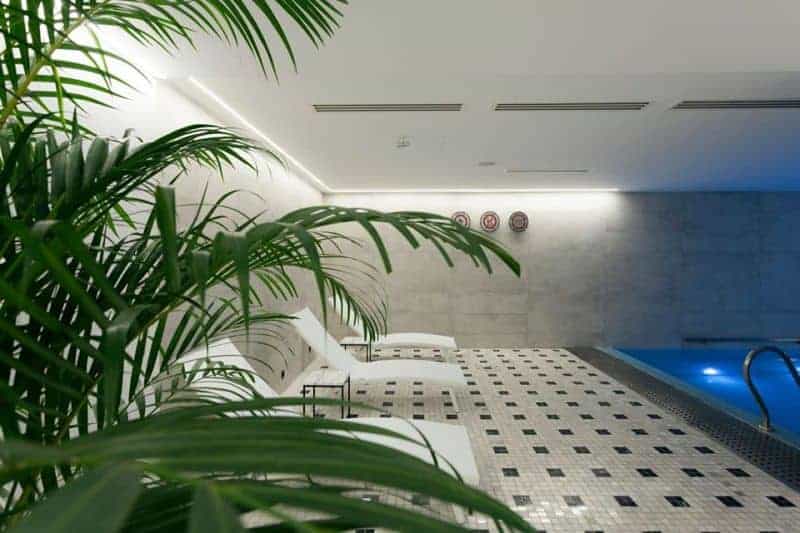 Image Source : scontent.fslv1-1.fna.fbcdn.net
They also have a very relaxing indoor pool and sauna. Although I was dead tired I couldn't help but steal some time from the schedule to pamper myself with some amazing sauna. Also thanks to their fully loaded gym and indoor swimming pool I could manage my daily workout while having a lot of fun.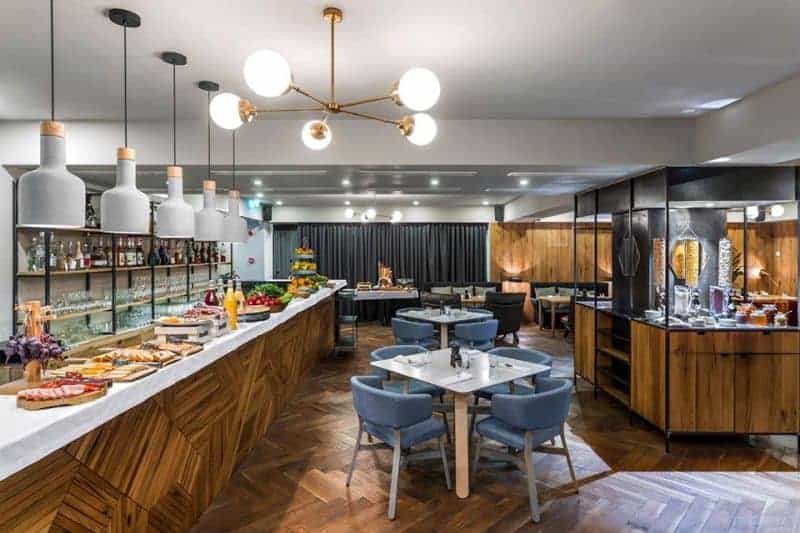 Image Source : scontent.fslv1-2.fna.fbcdn.net
The cold and chilling weather in Tbilisi made me hungry to my bones (my natural curiosity of trying different cuisines didn't help) , luckily their restaurant with all their lip smacking delicacies came to my rescue. Their in house restaurant (restaurant Melograno) serves one of the most delicious delicacies I have ever experienced. The range of food options they have to offer will spoil you for choices.They serve taste bud tickling authentic Georgian cuisine. Their pizzas and pastas are to die for.I was pleasantly surprised to witness their wide range of vegetarian and vegan options (also equally tasty, don't miss out on their pear salad). The bar served very unique and scrumptious cocktails, and you cannot say no to a glass (or 5, *wink wink*) when they look that appealing.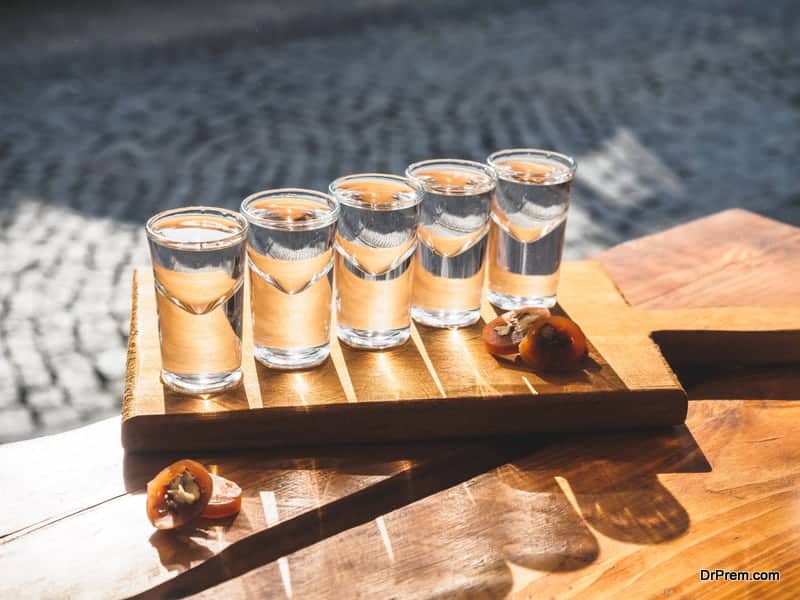 Also don't miss out on their Georgian chacha, it is also called grape vodka or wine vodka, it is made out of grape residue left after making wine (knowledge courtesy: bar chef). My favourite part about their restaurant (aside from all the food and delicious drinks that I indulged myself in) was their terrace balcony. Sitting over there enjoying the beautiful and mesmerising view of the city while sipping on my cocktail felt therapeutic.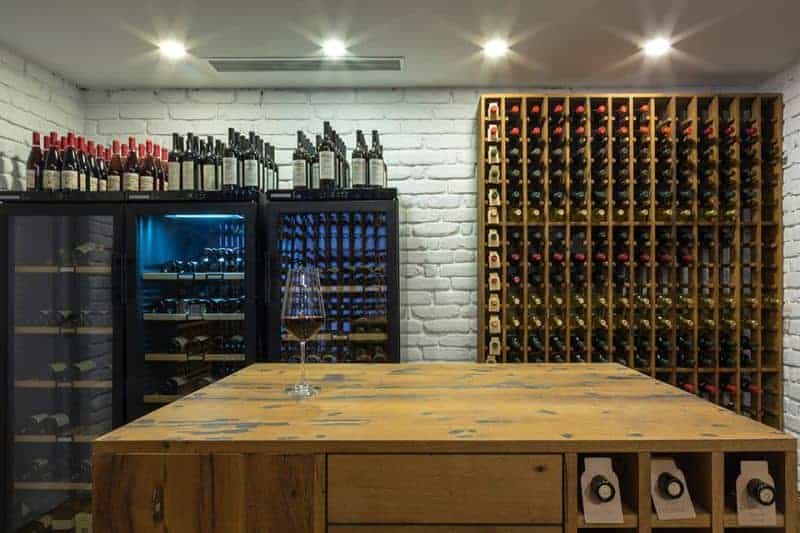 Image Source : shotahotels.com
Did I mention they have their own wine shop? Well firstly how can you visit Georgia and not talk about wine? To continue they have a wide range of different labels of wine and also offer natural home made wine brought to you directly from the producer's cellar. They have on an approximation 100 types of different wine ( I think I'll visit again just to taste the ones I couldn't try in my small visit) sourced from different parts of Georgia. If you visit Tbilisi, to the least pay their wine shop and restaurant a visit, I promise you, you will thank me later.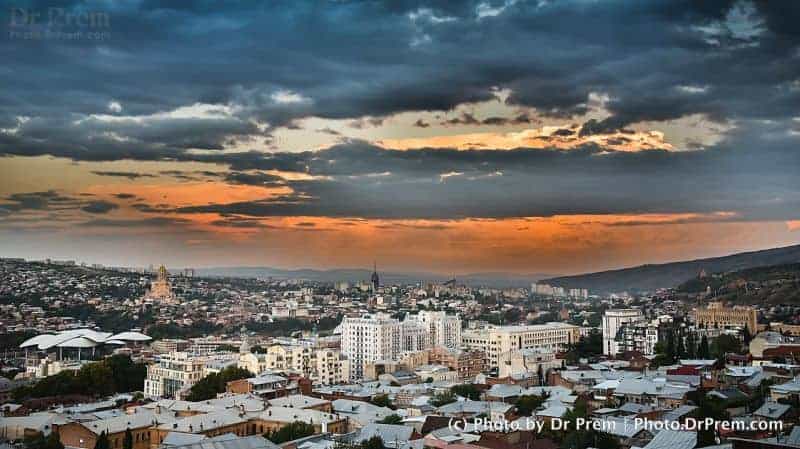 Image Source : https://photo.drprem.com
My stay over here was plain wonderful, I felt overwhelmed by the warm welcome they gave me, the staff here (true to Georgia's reputation) are polite and courteous and very helpful. They also guided me with the list of places I could visit in Tbilisi and the places that I would enjoy. The best part was the hotel itself is very close to all the local attractions and must visit places in Tbilisi (I sincerely think this hotel should be on the must visit list of places). The place is within walking distance from the shopping area and an old cathedral church. The hotel is next to the parliament building.
My visit to Georgia and this hotel was filled with happy and friendly experiences. The weather was spellbinding and gave me all kinds of goosebumps. I truly enjoyed my stay at this hotel and relished all the food and wine i could manage to eat in my short stay. This hotel keeps up with the charm of the magical city.
14 Interesting Facts About The Beautiful Country of Georgia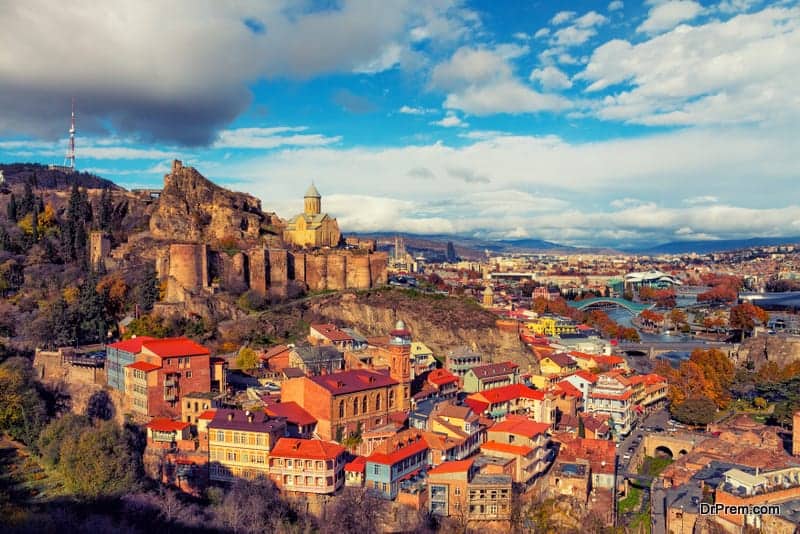 Georgia is truly an underrated destination given the beauty of the land. It is situated midway between Europe and Asia. this beautiful region is packed with ancient cities, world heritage sites, snowy mountains, lush green landscape and to top it all delicious wine. Somewhere between the black sea and Caucasus mountains is this gem of a country that will take your breath away. This country has an abundance of monasteries, cathedrals, and churches. The country is, however, gaining popularity for its mesmerizing beauty and rich history.  It will take you on a journey through a fusion of European and Asian elements.
14 fun facts about Georgia
1) It has the world's deepest cave.
The Krubera cave is 7200 ft deep. It takes up to 27 days to reach to the bottom of this (hidden amongst the mountain and almost vertical) cave. It is located in the Arabika Massif of the western Caucasus' Gagra range.
2) It is home to the very first of the Europeans.
During the archeological expedition in Dmanisi, the Caucasus mountains yielded the oldest human skulls. Research done on 1.8 million-year-old skulls suggested that the early man traveled from Africa to Europe through Georgia. Georgia is believed to be the cradle of European civilization.
3) It is said to be the birthplace of winemaking.
If you enjoy the occasional glass or 10 of wine once in a while (or every day, we are not judging), you have Georgia to thank. The production of wine in Georgia is traced back to 8000 years making it the birthplace of winemaking. Legend has it, the first-ever wine made was, in fact, an accident.
4) Georgia speaks Georgian, only Georgia speaks Georgian.
Georgian is amongst the few world languages that has its own alphabet.  It is said to be inspired by greek and Iranian languages.
5) Georgia is not the actual name of the country.
At least not for the residents of Georgia. The residents of the country call their country Sakartvelo. It is believed that the name Georgia was given by the Christian reformers in the middle ages, in honor of Georgia's patron saint  St. George.
6) A Georgian folk song is floating around in space.
"Chakrulo" a Georgian folk song was recorded and sent to space on the spacecraft Voyager. It was done as a part of the golden record.
7) One of the most promising destinations for heliskiing.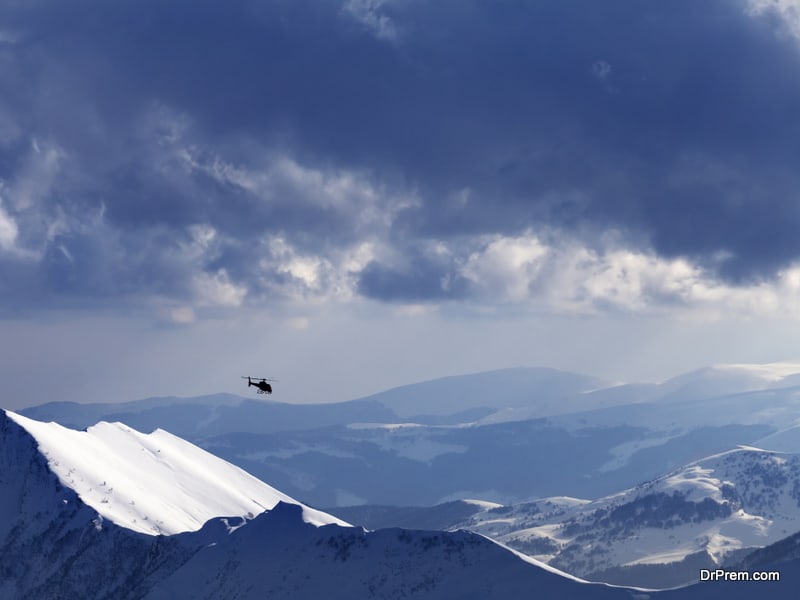 The snow-covered, wide-open, slopes and magnificent view makes Georgia a loved destination for heliskiing.
8) The capital of Georgia, Tbilisi comes from the Georgian word of warm.
The name of the capital city of Tbilisi is linked to natural hot springs found by king Vakhtang during a hunt in the 5th century. The world tbili in Georgian language means warm.
9) Two ancient European cities are located in Georgia.
Want to dive into the pool of ancient culture and history, Georgia is the place for you. It has to ancient cities, Mtskheta and Kutaisi are amongst the 16 European oldest cities. Kutaisi was the capital of the kingdom of Colchis. People lived in this city as early as the second millennium BC.
10) You can find the highest human settlement in all of Europe.
The villages of Ushguil Bochama are the highest permanent settlement in Europe. 210 0, and 2345 meters respectively above sea level.
11) You will find a wide range of ecological diversity.
With 12 different climate zones, Georgia is one of the most ecologically diverse countries on Earth.
12) It is home to one of the oldest Jewish communities in the world.
Georgian Jews in the Caucasus are said to be one of the oldest communities in the world. Georgian jews have a history of 2,600 years.
13) It is famous for its hospitality.
Georgians take hospitability to another level. They are said to be some of the most friendly and helpful people. Many tourists and visitors are always keen on highlighting the fact that they felt welcomed by everyone in the country.
14) Many UNESCO world heritage sites.
Georgia is home to three of the UNESCO's world heritage sites.  Gelati monastery is considered to be the hub of the culture and intellect during the middle ages. This church complex is considered to be the masterpiece of the "golden age" of Georgia. The Jvari Monastery and the Svetitskhoveli cathedral located in Mtskheta are considered to be a heritage area.
The country of Georgia offers so much as a travel destination. From adventure activities of trekking, skiing, rock climbing to cultural activities of dancing, winemaking, etc. it has a rich history that is enveloped by breathtaking landscapes. Georgia has something to delight every tourist. The ancient cave cities to snow-covered mountains to beautiful beaches, it has it all. Being on the land will fill magical, it should be a must-visit place on your bucket list.