Rio Azul Celeste in tenorio volcano national park of Costa Rica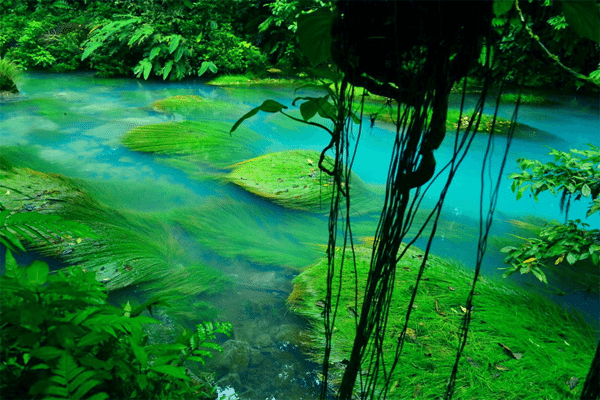 Celeste River in Tenorio Volcano National Park of Costa Rica is one of the new interests of people for a 1 or 2 day picnic. This has not been in much of the tourist's attraction places as there was no proper transportation facility available and the infrastructure of the park was also poor. But now as there is more accessibility to the park and due to the development of the park there are many tourists coming in. there are many companies all over the world that offer tour packages to this amazing place.
Rio Celeste is one of the most beautiful secrets of Costa Rica which is located in the northwestern part of the country. This river is particularly famous for the blue colored water. The river has a lot of greenery and it is surrounded by rainforest. This complete area is situated in the Tenorio Volcano National Park. The beautiful river is a abode to a stunning waterfall which has cascading water into a picturesque color of blue. Due to the chemical reaction of sulfur that is emitted by the volcanic action and combines with calcium carbonate it produces a stunning hue of the color blue.
The river has lot of hot springs which are calming as the water it quite cold. The trek to this particular Celeste River in Tenorio Volcano National Park of Costa Rica is definite amazing and exciting but it is also somewhat challenging. The time taken from the park is an hour to reach the waterfall of Celeste River. There are trails that will lead you to the place where the water changes its color to astonishing blue. People love to spend time here though there is some risk involved and people also swim here as well. The scenic view of this place is commendable and you will surely want to visit this place. To have a complete view of the spectacular river you should spare around 4 to 5 hours. There are many ways to tour the place you can hire guides or you can talk to the package dealer of the company top show the place around but you need to shell out money for that. And for people who are much interested in trekking, backpacking you can have an adventurous trip without any guide.
If you are driving or you have rented a car it takes 1 hour and 15 minutes from La Fortuna. During the rainy season as there is lot of slippery round it is suggested that you take a 4 wheel drive as there are some steep inclines which you wouldn't want to barge in. But if you are comfortable you can go on 2 wheeler but make sure you are not having any problem with the inclines and sitting behind the wheel. There are many options available due to the accessibility so you can choose your own option that suits you the best. If you want to spend less money on the travelling there are many options available. There are taxis available so you can gather people who are travelling to the place and hire the taxi. This way you can negotiate the price. You can even approach the pirate taxis which are there at the main street in front of the park. It may not be politically correct but as long as you get a fair deal and you can take a risk you can approach the taxis.
You can choose from many tour and activities that are offered like adventure tours like Rafting, Zip Lines, Horseback, Kayaking, and Rappelling & more, nature tours like Hiking, Suspension Bridges, Night Tour & more, leisure tours like Hot Springs, Aerial Tram, Catamaran & more.,  cultural tours like Coffee Tour, Museum, Volunteer & More etc.