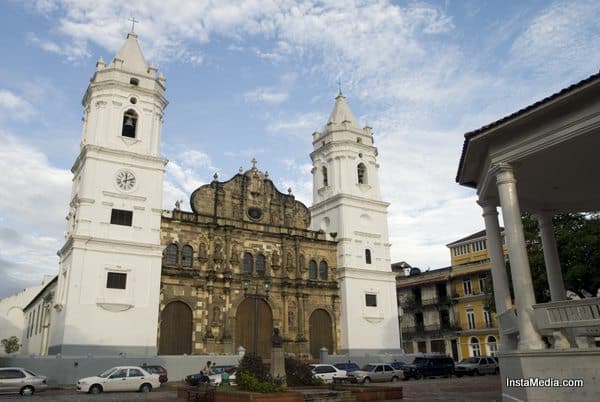 Panama is the smallest part of land in America and is believed to be emerged from the oceans approximately 3 to 10 million years ago. The region hosts an incredible rang of biodiversity attracting individuals from around the world. One can find near about 10,000 varieties of plants and more than 1,000 species of birds. Panama City is the only major city in Latin America with a rainforest nearby.
Location
Panama is in Central America located between Costa Rica at the north and Colombia at the south. It forms the land bridge between North and South America and is located at the Southern end of the Central American isthmus, which is a narrow piece of land that connects two larger land areas.
People
Cultures, customs and language of people in Panama are generally derived from the Caribbean Spanish. The majority of the people in the total population is dominated by Indignous, Chinese, West Indian and ethnically mestizo or better known as mixed Spanish. The official language is Spanish and followed closely by English, which is spoken by West Indians and by most of the business people and professionals.
Events
Panama welcomes its visitors with a rich and fabulous array of events and festivals all-round the year by showing its unique cultural identity and history.
Weather
Panama is blessed with wonderful and pleasant tropical climate all round the year. The average temperature ranges from 27 degrees centigrade. The county has two main seasons: rainy and dry. The rainy seasons range from May to December and despite of heavy rainfall it is rare to find a day without the Sun failing to show up. Summers are usually very dry and are supported by trade winds that keep on blowing constantly.
General
Language
Spanish, English
Time Zone
UTC-5
Dialing Code
+507
Electricity
110V, 60Hz
Major Cities
Province of Chiriquí, Province of Colon, Province of Bocas del Toro
Currency
Balboa, U.S. dollar
Clothing
Depends on the region and time you will be visiting. But generally lightweight cottons and linens are worn, with rainwear advisable. Warmer clothes are needed in the highlands.
 

Health Related

Mortality Rate
4.62 deaths/ 1000 population
Life Expectancy
75 yrs
Patient: Physician Ratio
700: 1
Hospitals JCI accredited
0
Recommended Vaccinations
Hepatitis A, Typhoid, Hepatitis B, Rabies, Diphtheria-tetanus, Poliomyelitis, Varicella, Yellow fever, Measles
Other Infections
Chagas disease, Amebiasis, Rocky Mountain spotted fever, Tick-borne relapsing fever, Mayaro virus disease, HIV
 

Tourism Related

Population
3,322,576
Global Competitiveness
4.33
Tourism Competitiveness
4.2/7
GDP/Capita
7,133
Health and Hygiene
4.1/7
Safety and Security
5.1/7
Air Transport Infrastructure
4.2/7
Tourism Infrastructure
3.7/7
Cultural Infrastructure
1.6/7
Visa Requirements
29/133
Reliability of Police Services
99/133
Physician Density
67/133
Hospital Beds
87/133
Quality of Air Transport Infrastructure
30/133
International Air Transport Network
24/133
Quality of Roads
57/133
Hotel Rooms
55/133
Tourism Openness
38/133
Attitude of Population Towards Foreign Visitors
104/133