MissTravel: Online dating website comes with the advantage of seeing the world for free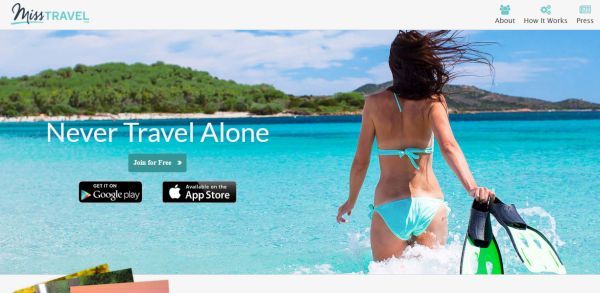 As much as we would love to travel the world, most of us are bound by several constraints related to costs and travel companions. Some of us don't have the money for the travel while others don't prefer traveling alone to a destination. Some of us yearn for the company of likeminded travelers, while some of us hope to meet a local at the destination to show us around town. And then, some of us yearn to meet with someone we can share our lives with. Expecting all these to happen while on holiday can prove to be too much to ask for. With Miss Travel, it won't though.
MissTravel Online Dating Website
MissTravel is an online dating website that allows travelers to meet strangers while on vacation. The website offers individuals the chance to see the world with a complete stranger by allowing them to plan, organize and book holidays. The main purpose of MissTravel remains to give an individual the experience of exploring new places and meeting new people while on holiday. Women have free access to the website while men have to pay a small membership fee for access.
Features of the website
MissTravel hopes to unite the budget constrained traveler with the generous one in need of a traveling companion. The website features two different sections dedicated to these individuals. One group caters to individuals who cannot afford to travel, while the other group encompasses individuals who have the money to travel and are looking for a travel mate.
The site offers three unique ways in which these individuals can meet and plan their trips.
Image Source : MissTravel.Com
Travel with Me: This section features generous individuals who are on the lookout for attractive male/female companions who can travel with them. The generous individuals will fund the entire trip for both parties.
Come to Me: This section features generous hosts who want an attractive male/female traveling companion to hang out with at the destination.
Show me your Town: This section allows people to connect with generous individuals in their hometown. The cost for the trip would be borne by the visitor.
What makes MissTravel different?
There are so many online dating websites and apps out there. MissTravel stands above its competitors by adding a personal touch to holidays and holiday planning. The website also does a thorough background verification check on every member so that patrons of the site can be confident.
How it Works:
An individual interested in finding a travel companion would need to create a trip request on the website under the desired category. The individual needs to specify whether he/she would pay for the trip, expect the companion to pay, or split the costs 50:50.
He/she would then need to specify the dates of travel and fill out other fields like the type of trip planned. The website would then recommend the best possible matches in lieu with the individual's requirements. Following this, the individual can get in touch with a person of his/her choice and plan out a holiday together.
Privacy Policy
MissTravel advices its users to be cautious when choosing potential travel partners. It also urges users to be aware of their surroundings in unfamiliar destinations. The website's privacy policy also claims to keep user information strictly confidential and use it only for intended purpose. MissTravel ensures that it follows strict privacy guidelines to ensure that its users experience a safe and secure browsing experience.
New MissTravel App
Image Source : MissTravel.Com
MissTravel has also launched its own dating app which is being called the 'Tinder for Travelers' owing to its unique way of uniting travel buddies, i.e. complete strangers from around the world.
The website's tagline reads 'Date Abroad: Attractive Girls Travel Free' perfectly sums up what MissTravel aims to achieve. By creating a platform where generous travelers can meet with those who love to travel but can't finance their journey, MissTravel has found a way to allow individuals to explore the world and its myriad people.