Bust the myth: Traveling while pregnant is not a bad idea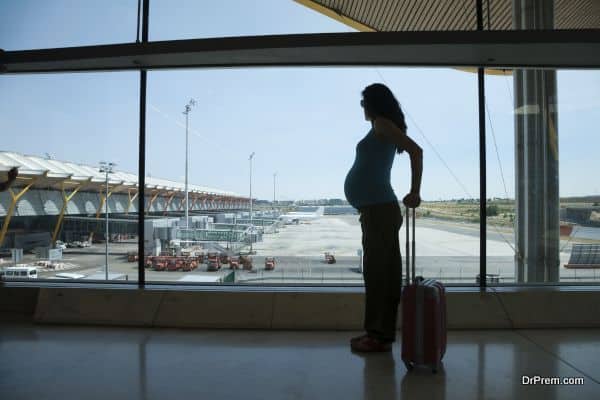 Pregnancy is a very difficult time for both the woman and her spouse. A whole list of does and don'ts is cast before them, hampering the living of a normal life. In this much inflated list of advises for the pregnant woman caution against travelling tops the list. A pregnant woman finds herself in a very vulnerable state during this time of her life.
Therefore, a pregnant woman is best advised against travelling at all! However, today with medical services available in far off places too, and the modes of transport and communication improving, a little of disciplined lifestyle changes and many cautions can enable her to travel safely. Here is a list of some advisories to keep a pregnant woman travelling-
Right destination and travelling choice
If you are going out to holiday, it is important to choose a healthy and suitable destination. A comfortable place with easygoing pace and salubrious climate but plush with medical and first aid facilities and adequate mode of transport should be your ideal choice. Do not go to offbeat destinations and places that you know little about.
In addition, one must avoid visiting places where unsanitary conditions prevail or are heavily crowded. In similar vein, one must avoid the events and celebrations where crowds are likely to build up. One must also chose for the shortest and the most comfortable mode of transport to be there.
Consult your doctor
Whatever be the nature of your trip – whether it is travel to a nearby town or a long distance calling, you must foremost consult your doctor with regard to it. The doctor will advise you on your state of health, and make you aware of certain peculiarities and/or compilations related to your pregnancy. He will all give you certain tips on your travelling depending on the nature and the time of your travelling. For a healthy woman there are no reasons that she should not travel.
Chart a proper travel plan
Do not rest your ores once the doctor has given his clearing for your pregnancy. Meticulous packing of your pills, choice of suitable dressing material and other paraphernalia is necessary. Shortest route to destination may not always be ideal. A bumpy ride on a rough road will be damaging for both the mother and the fetus. One most also chart out a comfortable and easy travel plan that breaks down the journey so that you can have sufficient time to rest and ease out from the stress.
Keeping together telephone numbers and addresses of clinics and hospitals in the area where you will stay is necessary if an undesirable situation does arise. Drinking safe water and a strict regimentation on your eating habits and diet is also necessary. Drink lots of fluid, balm your skin with an anti- UV cream (even underneath your clothes) when going out in the sun and avoid street food and eating raw fruits and vegetables.
Immediately report any complication
It often happens that not to rupture travelling plan completely or in order not to ruin the holidaying of others travelling with you; you might not report an illness or complication to them. This can prove to be a serious mistake on your part. Informing your spouse or your travelling partner about the state of your health well in time can save you and those travelling with you a lot many trouble and even avoid catastrophic results.
If you feel nauseated, short of breath, a slight turmoil in womb or a certain queasiness building up, it is important for the others to know so that immediate remedial actions can be initiated even if it means returning home just half way through or cancelling the travelling program altogether.
Buy travel insurance
Buying a good health insurance can help mitigate expenses arising out of these pregnancy complications, should you ever face any health problem during the course of your travelling. In addition, it is necessary to inform the insurance company about any other health related problem you might have to get full and unhindered benefits of your policy. Buying a health insurance certainly is a prick in your pocket but this little investment on your health might save you insurmountable expenses later on.
With this set of guide on travelling during pregnancy, you can make your way to travelling with ease and make it a more wholesome cherished experience. Happy travelling!