Khajuraho- A critical evaluation from socio cultural angle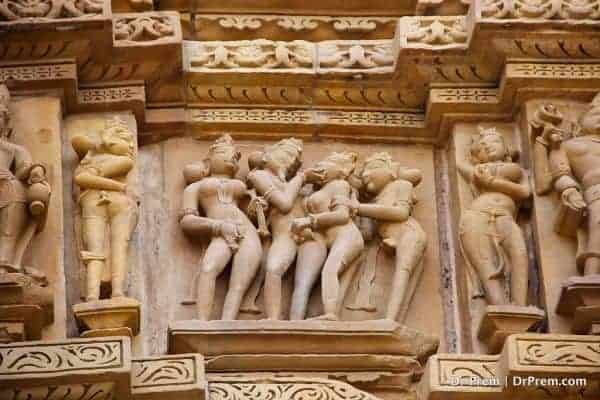 Bundelkhand under the reign of Chandela Rajputs evolved into a prosperous civilization attaining a high degree of cultural refinement. Kings encouraged art and architecture that saw new dimensions with a vision and thought process built on progressive lines. The society was balanced and constructed on a strong foundation of affluence both pertaining to intellectual sphere and material wealth as well. In general, it was more or less a liberal society, which put emphasis on acquiring knowledge in all fields including sex, which commanded a pivotal role in lives of men and women.
Master sculptors honed their skills and the tools in their grips turned into instruments that tuned in rich music finding an eternal abode in temple designs and construction of legendary monuments. Their dreams were realized, and their skills and workmanship rewarded with recognition and material benefits. Open sex wasn't a taboo or no guilt was associated with open acts of sex and multiple sex for that matter. It was an expression of subtle art encouraged in a tension free society where issues of poverty generally did not exist. However, it was predominantly a Hindu kingdom, and people expressed their awe and reverence to different deities like Lord Surya and Lord Shiva and erected temples in their honor.
The sculptors of Khajuraho fashioned pure magic with a great wisdom in visual art. The erotic representations in stone were considered good omen. A lot of attention was focused in detailing the carved statues. The spectacular finish of these stone images would leave you captivated. The female statues were sensual and the artists were successful in making them pulsate with life. However, the erotic art of Khajuraho has no connection with Vatsayana's Kamasutra who was considered ancient India's sex guru.
Carnal knowledge and quest for physical pleasure were inherent in the society. It was a cultural icon, which was highly revered and practiced with sincerity and intense gusto. The society believed in divine powers. There was always an endeavor to set up a channel of communication with the gods and deities like Lord Shiva and Lord Surya. The medium of communication was the intricately decorated temples adorned with erotic sculptures to elevate the sublime tone of these immortal creations of art. Beneath the external stratum of erotic art the style and philosophy embedded into temple architecture goes deeper touching the aspects of higher truths of life and death. The amazing backdrop of the Vindhya mountain range offers an ideal scenery to these immortal creations and helps amplify its impact on the mesmerized onlooker.
Khajuraho: International Love and Art History
Erotic art in Khajuraho – What it reflects?
Why should you visit Khajuraho?
Role of nature and environment on Khajuraho art
Life of people in ancient Khajuraho
Combining Wildlife, Cultural, and ecotourism in Khajuraho
Specific Khajuraho Temples with their essential features
Khajuraho Wild life safari – Special attraction
Khajuraho Dance Festival – The special event
Eroticism in Khajuraho – The Philosophy behind