What is the hottest travel trend this year? It is the multigenerational travel or traveling with members of three generations. (You would be lucky if you can include the 4th generation!).It may be mother-daughter-grandmother or father-son-grandfather or a combination of mother-father-grandfather-son and the like. Multigenerational travel trends is growing fast in tourism.
In an estimation of multigenerational travel statistics, Roger Brooks International states that there would be about 90 million active grandparents in the US and Canada by 2020 eager to spend time with their grandkids.
They would be gladly going for long vacations, excursions, short weekend getaways or day-long trips with their children and grandkids. Mind you, the entire tourism world is watching this trend! Therefore, multigenerational travel destinations are emerging and so are multigenerational travel ideas to create unique experiences that travelers always look forward to.
What is fuelling multigenerational travel trends?
The desire to foster closer family ties and everlasting memories among different generations in a relaxing and entertaining environment away from home. Gone are those days when people used to book an all-inclusive trip to be away from the extended family.
Disconnecting to reconnect:
Since last five years, the multigenerational travel trend is picking up and will be there for more than two decades. People are now looking to disconnect (from the digital world) to reconnect. They are keen to develop bonding with senior members of the familyand spend quality time with them. Perhaps this is another new way to unwind from regular stress.
Shared joy lasts forever:
Virtuoso's managing director of global public relations is of the view that people are having the mindset of experiencing everything possible with those they love. They are no more interested in accumulating luxuriousgoods, but are keen to taste new experiences which can be best achieved amidst a multigenerational travel group.
Popular family vacationing options shaping multigenerational travel trends:
According to Virtuoso, leading family vacationing options this summer are as follows:
Staying in beach resorts
Going for adventure trips and activities
Traveling for celebration
Mother-daughter or Father-son trips
Ocean and river cruises
Cultural exploration
Excursions and educational trips
Travelling by private jet or yacht or putting up in an exclusive private villa
Hot multigenerational travel destinations: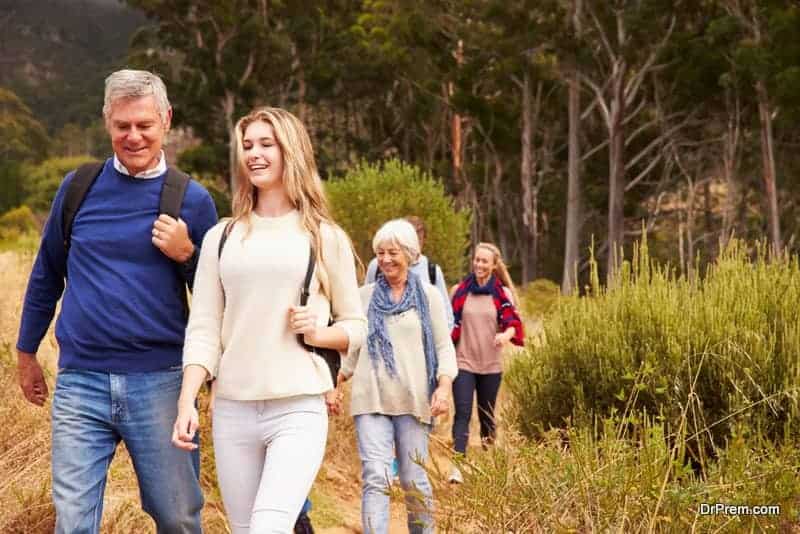 Multigenerational travel trends reveal Italy, Mexico, Hawaii, Orlando, and England to be the most favored and tried spots for this kind of travel. This is not all. Multigenerational travel groups are also bent on visiting far-flung destinations like Antarctica, Iceland, United Arab Emirates, Croatia, and Mongolia – reports Virtuoso.
The FTA (Family Travel Association) study reveals that Caribbean and Mexico have been the most preferred destinations for multigenerational travelers in 2017. The prime attraction lies on the never-ending list of things to do in these destinations that can be enjoyed to the fullest with members of different generations in a family.
The destination appeal varies too, depending on the number of activities available. Too many activities often leave travelers overwhelmed. Therefore, the ideal mix would scenic beauty and sufficient activities according to varied energy levels of the different age groups. But there should be enough for everybody!
The same old place? Or try something new?
An obvious dilemma in multigenerational travel! Some people may attach great value to a particular familiar destination and long for revisiting. Even families would prefer visiting the same destination at the same time of the year with the same group and put up in the same place.  Maybe the comfort level plays a bigger part. Else people may opt for different destinations, but stick to the same activities.
Top Multigenerational travel ideas:
Multigenerational travelers do not want to sit idle, but they are eager to experience a destination. Wherever they go and whatever they do must be interesting and enjoyable for everyone. A tailor-made package of cultural exploration, trekking, hiking, swimming, sailing, angling, walking, attending cooking classes or language classes can create experiences of a lifetime.
Apart from usual vacations, you can select special moments of celebration for multigenerational travel. For example, celebrating your kid's birthday in a special locale or enjoying the golden jubilee anniversary of your parents. Multigenerational travel is quite prevalent in wedding celebrations, but it is making fast inroads in honeymoon travels as well.
Planning for multigenerational travel: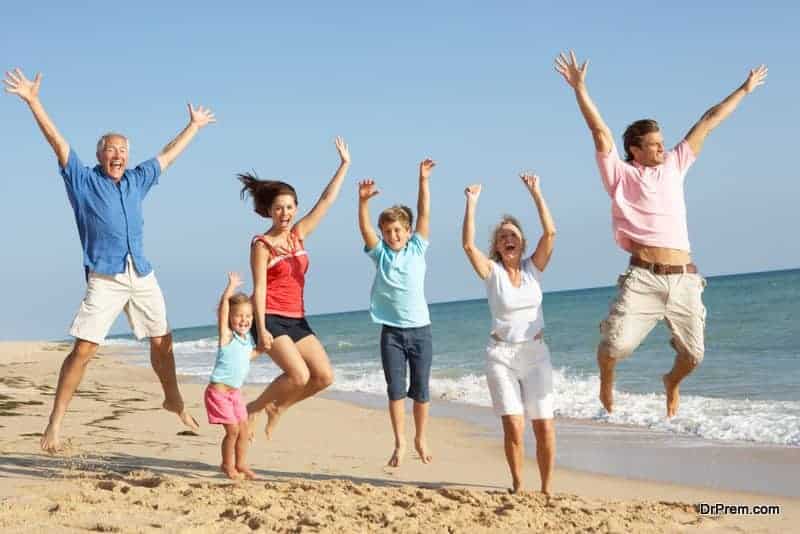 It is quite different from regular tour plans. Your group is a mix of generations including kids, teens, young people, and senior members – where everyone has a say. It is important to know the likes and preferences of each member of your group and devise best plans satisfying for everybody.
Who is going to foot the bill?
This is very significant in group travel. Talk straight regarding who is going to pay the bill without assuming anything which may later spring up unpleasant surprises. You can keep out the retired generation from this. The pre-retiring group is likely to take up this responsibility. If it is a shared expense, you have more options; but in case it is a singular responsibility, you may need to chalk out activities carefully.
Fixing the budget and adhering to it:
Once the payer(s) is fixed, the next step is the budget allocation in different aspects. Fix a realistic budget and adhere to it strictly leaving no room for regrets during and after the travel.
Making long-term travel plans:
To go with multigenerational travel trends, the best idea is to make a long-term travel planning based on your budget. With parents and grandparents around, it is likely you would be looking for more such trips.
Therefore, a long-term plan helps not only in arranging finances, but also in planning timely breaks from work. If you are unable to fix one, seek help from a professional advisor who would creategreat travel experiences for you to cherish throughout the life.
What would be the best destination for multigenerational travelers?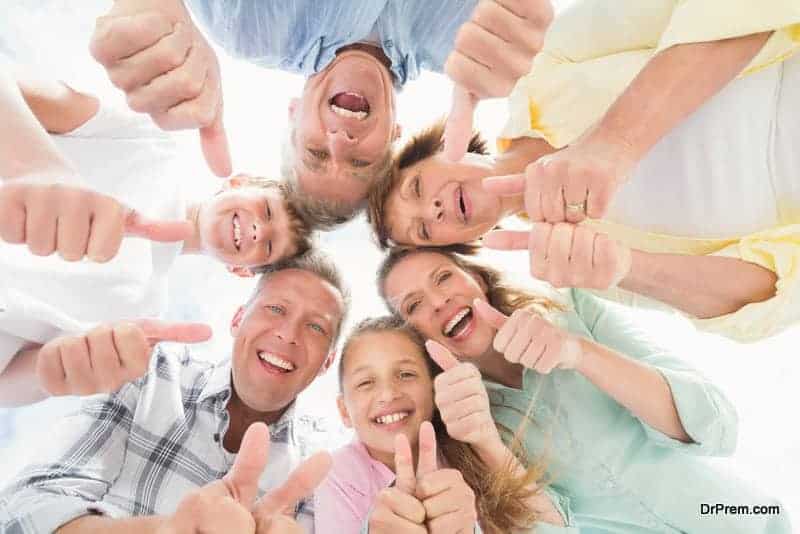 One of the multigenerational travel trends is high spending. No other family travelers spend as much as them. Multigenerational travel statistics reveal that they occupy more accommodations, stay longer, and spread their words of mouth faster in the social media. In the way, they also introduce the destination to a new generation who are likely to tread the same path of family vacation.
To attract this unique traveler segment, a destination should be equipped with the following:
Ensure the experiences are kid-friendly
Create different kid's activities according to age groups
Create opportunities to learn something new
Devise simple all-inclusive, personalized, multi-night itineraries and travel packages
Offer unique recreational activities like river cruises, rafting, ballooning, fishing, safaris, walking tours and the like to be enjoyed with family.
Provide varied lodging options from simple B&B accommodations to upscale hotels and resorts housing bikes, rafts, fishing kits, and other accessories. Pet-friendly accommodations are preferred nowadays.
Create a web portal highlighting all the packages and customizing options with relevant links to accommodations and restaurants. Websites having live chat options are bound to draw more travelers.
So check with your daughter and mom and plan for an unforgettable trip next season. Your pet can be included in the group too!