Highways to Hell: Hazardous roads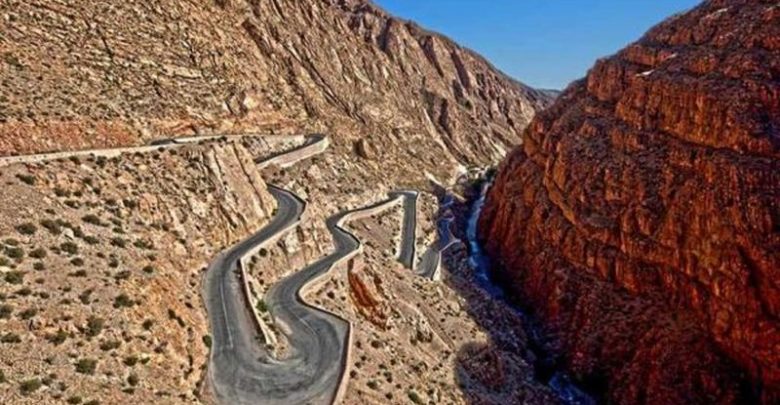 Australian band AC/DC probably had these roads in mind when composing the song 'Highway to Hell'. These are five of the most dangerous roads in the world because of their hairpin bends, perilous cliffs, and zigzags through mountain passes. These roads can be deadly when they cause collisions or if your breaks fail on the long, winding highway to hell.
Atlas Mountains Road, Morocco
What started out as a basic path for travelers crossing the Atlas Mountains, became a road more suitable for various forms of transport when French colonials in the 1920s transformed it. Today it is one of the most dangerous roads to use because jagged edges on the cliff-side and the threat of rock falls on the mountainside. The exposed rock faces reveal a wealth of precious stones and fossils, much better viewed at from a distance and preferably not while driving! Pay close attention to the way the natural landscape changes from rolling hills to blankets of snow.
Fairy Meadows Road, Pakistan
Fairy Meadows Road has a very deceiving name; it sounds like sunshine and daisies, but is really one of the most dangerous roads in the world! Sure, its picturesque views are breath-takingly beautiful, but it does not make up for the fear generated by the thought of venturing on a dirt road along a crumbling cliff edge. Fairy Meadows is a popular tourist destination so it is advised for all wanting to visit that they hire a 4×4 of sorts to tackle the rocky road. It will be worth it in the end, just to see the Switzerland-like mountain views.
Trollstigen Road, Norway
Trollstigen Road in Norway has a more fitting name that better describes this treacherous stretch of road. Trollstigen, translated to mean 'Troll's Path', is features 11 hairpin bends along a steep incline up the mountain. If you are brave enough to stop every now and then on this narrow road, there are viewing balconies where you can take in the beautiful scenery. Many tourists frequent this road specifically to experience the dangers it entails, but the road is closed during the colder months when it snows; for obvious reasons.
Guoliang Tunnel Road, China
There is a village in China encompassed by high-rise mountains. The only way in and out is through these mountains. Yes, through. Initially, residents of the village would have to trek along a path carved into the side of the mountain, but in 1972, construction began on a tunnel that passed through the mountains and allowed for easy access from the outside world. At first glance, the road is not visible, but upon taking a closer look, it is difficult to imagine that a road is in fact there. The rock face seems suspended in two parts above and below the road; a frightful journey not for the fainthearted! It is fitting then that it has been named "the long corridor in cliffs."
Yungas Road, Bolivia
Imagine driving along a road on the very edge of a cliff on one side and a rock-solid wall on the other. The plants and water that coat the rocks make the road slippery and difficult to tame. As you slide along you see crosses and flowers dotted next to the road. This would make any driver uneasy knowing that many have lost their lives on that exact road in that exact spot. The Yungas Road in Bolivia is this road. Do not let the road's descent into a luscious rain forest fool you into thinking it is any less harmless than what it really is. It was voted the most dangerous road in the world and rightfully so.
Summary:
Slaughter Alley, Massacre Mountain, and Killer Highway; call it what you want, they all mean one thing: dangerous and deadly roads. Are you brave enough to drive on these five dangerous roads?