Circleville Pumpkin Show 2013, Circleville, OH, United States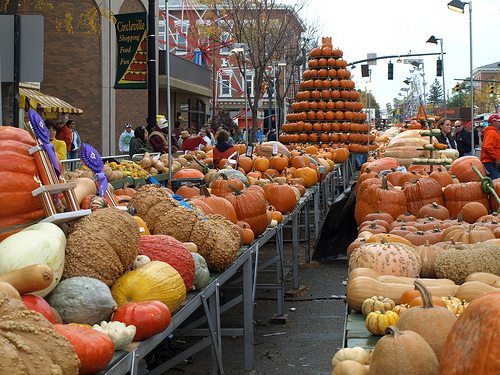 If you are looking to jump into the pool of utmost weirdness and extreme joy, you have found one for you. The Circleville Pumpkin Show is one of its kind spreading deep share of eye catchy activities. It is therefore known as the " greatest free show on earth". In terms of the visitors count, it is one of the highly visited fest of United States of America. The history speaks for this festival from 1903, and since then this carnival is prior on the visitors list. High in popularity is all because of a wide share of people's interest in bringing out the best of this carnival.
This year the extravagant feast and carnival going to commence on 16th of October and lasts till 19th of October to provide you unlimited aspects of this fest. The roots lies from several decades and dedicated to this miraculous event taking place in USA.
The origin is specifically  credited to Late Mayor, George Haswell who have urged the farmers to display their farm fresh  fruits on the streets of Circleville. His efforts worked and since then the event has turned out to be a grand fest. The fest has unfolded number of years and since then has got better than before each time.
After the second world war the show was terminated for about three years, but due to the high revenue generations and business it makes for the Citizens it was hyped to touch the peak levels. It gained huge momentum and is simply the best to drive you high on spirits. An estimation of around 40,0000 visitors to be a part of this small community every year.
The four days of interesting activities with one to the other events is great to engage you throughout. You can treasure your mouthwatering feast to sheer sense of craftsmanship. From shopping to eye catchy activities and parades are enough to keep you loaded.  The show is engaged with fun-filled activities lined up, and you just need to make your pick. With high sensations of well driven events, you might get a chance to show your talent also. So, try to be prepared on your talent quotient.
That's not all, apart from the intermingling crowds and Activities, the main attraction of the event being the Miss Pumpkin Show Parade and the Baby show Parade. A show filled with a huge crowd and aspiring participants counts for your must watch here. The cute little babies performing way away from their efforts is highly astonishing.
It is not another Cinderella story, but the world of pumpkin is actually waiting for you. To transform you into ultimate joy and extremities of fun- filled activities, you need  to dive here. To get closely associated with the rich culture and history, you must land up to this festival. Vast and grand, do not knit your fantasies sitting  at home, just cherish beyond your boundaries by becoming a part of this fest and carnival to be held this October.
---