California State Parks – 10 best parks to visit in California, USA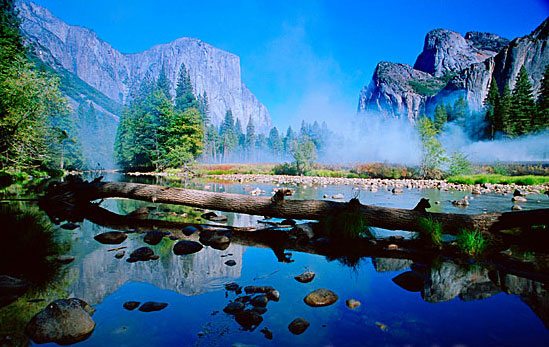 California is one of the most gorgeous states where it seems God has Himself taken some time out to beautify nature. If you are in love with nature, this is the place for you because there are countless places to visit. Though there are many parks, we have made a list of the top five national parks and top five amusement parks in California.
Yosemite National Park: This is located four hours from East of San Francisco and gives you the freedom to explore beautiful rivers, waterfalls and mountain ranges. One can ski and raft here. Then there are driving destinations. It is a world heritage site and more than three million people visit this place every year. It has more than 7000 plant species and many varieties of animals like the deer and marmot. This national park is famous for its spectacular granite cliffs like El Capitan, clear streams, and Giant Sequoia trees.

Pinnacles National Park: This national park is just an hour and half from San Jose. This is basically the eroded left over of an extinct volcano. This place has so much to offer that any indoor person will surely fall in love with nature. The volcanic eruptions have created numerous rocks and caves. The caves are a home to many species of bat. It is best to visit this national park during spring or fall as it is unbearably hot in the summers. The rocks provide pinnacles for rock climbers. Prairie falcons, coyote, bobcats, wild turkeys live here. The California Condors are also bred here.

Muir Woods National Monument: This is just 19km from San Francisco. This is a protected area of 554 acres. This is popular for its majestic redwood trees which grow as tall as 380 feet and live for 500-800 years. Other species like the Bigleaf Maple, Tanoak also grow here. This is a home to a variety of endangered species of fish like the silver salmon, steelhead trout and the coastal cutthroat. Among birds the Northern Spotted Owls and the Pileated Woodpeckers are occasionally seen. Otters, chipmunks, squirrels and many other varieties of animals are seen here.

Channels Island National Park: It comprises of five islands of the Pacific Oceans and has to be visited either in a boat or plane. About 2000 species of flora and fauna are found here with the deer mouse, spotted skunk, Channel Islands fox and island fence lizard being native to this area. The surrounding sea provides the opportunity of whale watching, kayaking, tide pooling and surfing.

Joshua Tree National Park: Located in the south east part of California, this comprises parts of two deserts viz. Mojave Desert and lower Colorado Desert. This park is famous for Joshua tree from where it got its name. Mora than 250 species are found here and animals like snakes, coyotes, kangaroo rats inhabit here. The Golden Eagle and Roadrunner is a common sight. There are also provisions for rock-climbing, hiking and driving.
We looked into few of the national parks of California which are a must visit. Now we move into amusement parks. Some of the parks that are worth mentioning are:
Six Flags Discovery Kingdoms:  Be it thrilling roller coaster rides, animal and marine life, this park has all.

Raging Waters: Situated in Southern California, this is the largest water park with a lazy river, and rides like rafting slides, body slides and many others.

Disneyland: Guess this place does not require any kind of description. This comprises of two amusement parks with baby centres to look after your babies. You get the chance of spending your days with different Disney characters.

Universal Studios Hollywood: This Park has shows for all ages but is best suited for teens and adults for their 4-dimension effects.

Six Flags Magic Mountain: This has the highest roller coaster in the world which is about 200 feet high.
So, the next time you visit California, make sure of experiencing all of these.
---