If coffee means energy and delightful taste buds for you, would you not want to know where you can get the best of your favorite drink. If you are passionate about the brew and various blends of this caffeinated drink, check out these places where you can get the better of the best as far as this favorite drink of the civilized world is concerned.
Istanbul, Turkey
This place serves the richest black coffee that also leaves an inspiration for other cities where coffee is a preferred drink. Turkish coffee is considered a great flavorful drink. Coffee baristas in Turkey have am expertise in creating a fine meal of roasted and ground beans. They boil the aromatic beans that is sometimes done with sugar in a pot. These boiled beans are poured in the cup later without sieving, and the prepared cup of coffee is served to the customer after the grounds settle down.
Seattle, Washington
The king of coffee, Starbucks, took birth in this city that is considered to be one of the best in the world when it comes to its coffee culture. The trend of some great coffee started in 1971 with its top coffee brand that still continues at this place. The uniqueness in Seattle's coffee culture comes from its widespread coffeehouses that are owned by locals. Surveys show that the ratio of coffeehouses to residents is highest in Seattle than at any other place within the country.
Tel Aviv, Israel
The cafe culture of Tel Aviv can be best observed along the coastline where people will be asking for both 'ice-cafe' and 'botz' as per the season. While beachside cafes serve 'ice-cafe' or iced coffee during the summer, these offer 'botz' or hot coffee during the winter. Israeli hot coffee would seem more like the Turkish coffee to you as it is rich, dark and intense in taste. So, take care while ordering if you want a milkier brew, because in that case, you will have to order an espresso 'hafukh.' But, you will love the flavorful coffee of this place for sure as the cafes provide a mellow vibe for you to sip it to your full enjoyment.
Melbourne, Australia
If you had to term a coffee capital for a country, you may call Melbourne the coffee capital of the country of Australia. Tourists from all across the world love to sip the Australian brew as much as the country's citizens do. Some world-famous flavors are served at the city's coffee shops. There is even a publication called the Melbourne Coffee Review, which is fully devoted to the city's coffee culture at its shops. Melbourne's coffee shops also vary as per the varied tastes of its customers. You may find coffee shops ranging from a converted warehouse serving cold-dripped coffee to an Italian-style location serving a cup of coffee with tiramisu.
Havana, Cuba
Cuba offers a great taste of 'cafe cubano' that is a cup of espresso with infused demerara sugar. For people wanting a shot of caffeinated coffee, a sweet coffee pack is given a caffeine punch. But if you do not like a strong cup, go for the gentle espresso that is milk-topped. For discerning coffee lovers, it is important to know that the ground beans at coffeehouses are originally collected from the Escambray and Sierra Maestra mountains in Cuba. You can enjoy your cup of aromatic coffee at any open-air cafe within Havana.
Paris, France
There are people who are crazy about coffee and do not love the way it is prepared in Paris. But, they always leave a room for exceptions of places like La Caféothèque. Such alluring cafes offer open-air comfortable seating, hot espresso shots and a conversational atmosphere within their establishments. Isn't it magical if that is more than sufficient to attract a large number of coffee lovers to Paris? But, the cup of brew would also surely have something to its credit!
Santa Maria de Dota, Costa Rica
The golden bean of Costa Rica has greatly contributed to its economy. This mountain town has been famous for its high-quality Arabica coffee beans cultivated here since the 18th century. If you are on a visit to Costa Rica, you should surely go and check out the real coffee plantations there. Sipping on this town's local black coffee called cafécito can only be a real good experience when you are surrounded by its leafy coffee fields, and that can only happen when you are in Santa Maria de Dota.
Rome, Italy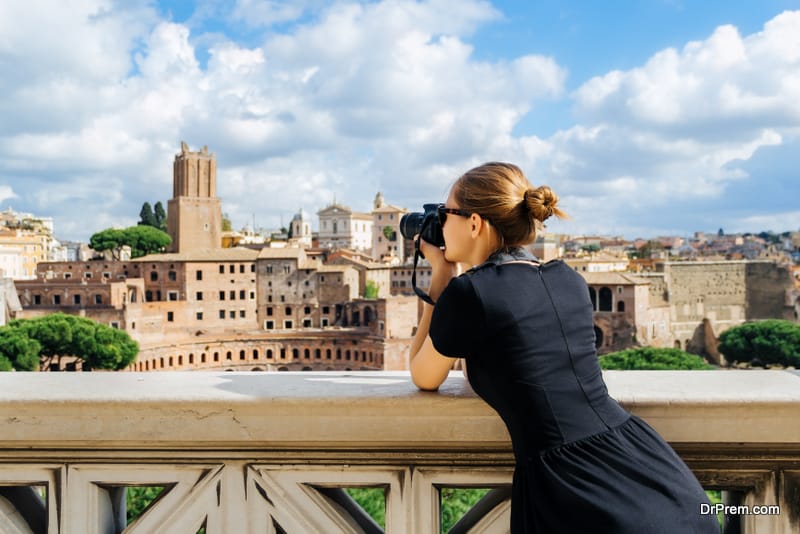 Coffee in Italy is an art that comes out in various forms like cappuccino, espresso, macchiato, etc. Finding a great cafe in Rome in not a difficult task as every cafe would serve you something special when it comes to your favorite drink. A famous place is Caffè Sant'Eustachio that serves organic, as well as sugary blends of coffee. Specially chosen beans are ground in selected machines and the drink is served in an aesthetic manner as far as Roman cafes are concerned.