Most of us prefer to remain connected with friends and loved ones no matter where we are! And in sharp contrast to the world we grew up in which hardly had any path breaking technological innovations apart from the PC, laptop and the WWW, the world today is literally brimming with state of the art technology that enables us to connect and communicate with our loved ones while traveling without necessarily having to hunt for a phone booth or a postcard. So, without further ado, we present to you a list of the most popular online tools that would let you stay connected with your loved ones no matter where you are on the planet!
Skype
All you need is a Skype account on your laptop or iPhone (you can sign up for free) and you can constantly remain in touch with everyone back home without shelling out big bucks for expensive international phone calls.
Once installed, the Skype software would enable you to enjoy free video calls/chats with anyone on the planet who has a Skype account and has it installed in his/her computer. You can also use Skype credits for regular phone calls while traveling. Another highlight of Skype is its unique online number service which enables you to receive voicemails to a dedicated number (usable only by you).
WhatsApp
If you have a smartphone, then just download WhatsApp onto it and start messaging just about anyone on the planet who has a WhatsApp account. The application uses your phone number during the initial setup, and can easily synchronize with your mail accounts to get the WhatsAppprofiles of your contacts.
This literally means you open your WhatsApp profile to see a complete list of the WhatsApp profiles of your friends stored there automatically. Beats feeding in every entry to the phone in order to stay connected! And considering the fact that you can contact your friends for free (and vice versa) using the application, we say it is worth carrying along in your iPhone when you travel.
Face Time
Designed and promoted by Apple, FaceTime is similar to Skype in its operation, and allows users to video call or chat with friends and family members no matter where they are. The application needs a user account to connect you with your loved ones, and lets you enjoy video calling over the internet. And considering the fact that it is an Apple product, you can easily use it with iPhones without worrying about installation or embedding issues.
The only downsides to FaceTime are its cross platform functionality which at the moment, is restricted only to Apple products, and its requirement for a strong Wi-Fi connection in order for the video calls/chats to be clear.
Dragon Dictation
Finding it to be too time consuming to type and send messages and emails? Then just download the Dragon Dictation application onto your laptop or android phone, and start mouthing your texts instead of typing them!
Free to download and use, the Dragon Dictation tool is pretty simple to use. All you need to do is say out what you want to send as a message or email, and the application will convert your speech into words. Of course, it would take some getting used to in order to master the app. But trust us when we say that it cuts down your emailing and texting time by nearly half.
Dropbox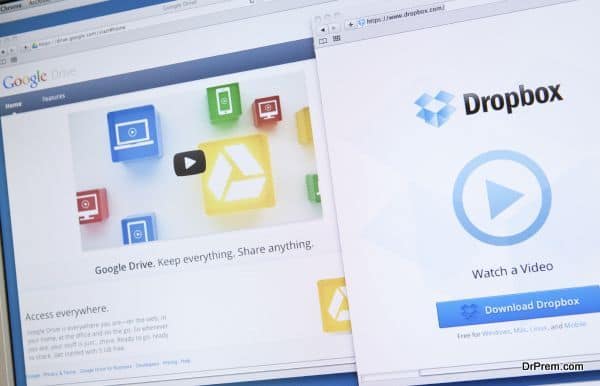 Really simple and easy to use, the Dropbox application enables you to remain connected with your PCs at home and office. All you need to do is create a profile, download the application and set it up on the computers you want to connect to. Now when you put a file in the Dropbox folder in a particular computer (say, your home PC), it would instantly be available on all the other computers you downloaded the application in (say your android phone or work PC). This way, you can easily share entire files, photos and videos with friends and family members without having to send them through emails that would definitely be very time and space consuming.
Facebook
Of course every other person out there would know about Facebook that boasts of having more than a billion users, with the list expanding every day. The site allows you to post status messages, pictures, videos and links to your personal profile which can then be viewed by everyone in your friends list. You can also send personalized messages to certain profiles, and can opt to voice chat for free with anyone in the world.
Emails
And of course, there is always the email for the quintessential traditional guy who prefers to do it in a timely and proper manner. A standard email address (and internet connectivity) is all you need to send and receive mails from anywhere in the world. Of course, there is always the risk of your email being sent to the spam folder of the destination email address by mistake. However, the longer you use the same email id, the less chances of mails with your email id being rejected at the destination.