Bangkok is synonymous with its floating markets. Bangkok developed around its waterways, when the first dwellers honed their tradition and trade via the waterways. By the late 19th century, these waterways gave way to railroads and roadways. But a lot of floating markets still dominate the cultural map of the attractive destination. No one can deny – there is an irresistible charm in softly cruising through the waters and choosing the best groceries and sea food for next week's meals. For the uninitiated and curious tourists, here are 6 amazing floating markets in Bangkok which cannot be missed out on.
Khlong Lat Mayom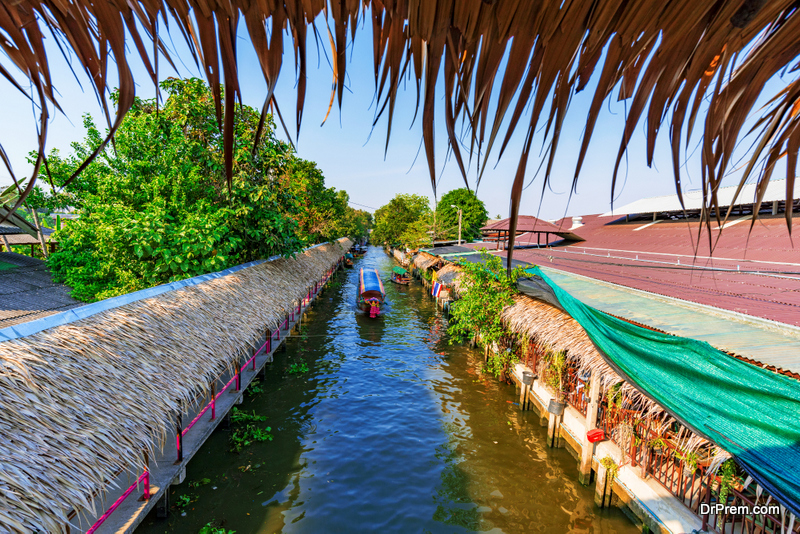 This one lies just 20 kilometers away from Bangkok. Khlong Lat Mayom is a small floating market. But that is why it is one of the best out there. It is authentic, natural and downright appealing to tourists from all walks of life.
The shrimp and the snakehead fish is this floating market's culinary USP. You can browse through other delicacies from 7 in the morning to 5 in the evening.
To reach Khlong Lat Mayom, you have to travel in a BTS Skytrain to reach Bang Wa. Once there, take a taxi to reach the floating market. Under 200 Baht, you will cover one way of the trip.
Bang Nam Pheung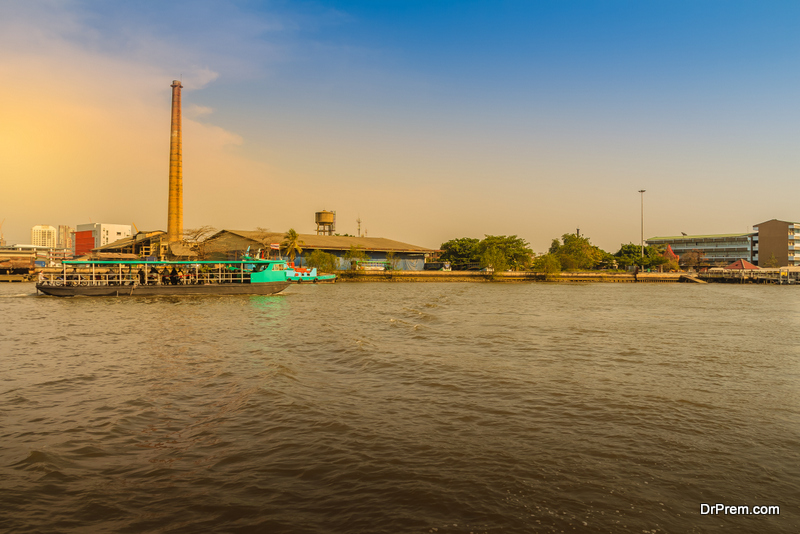 This is one of the most authentic floating markets in Bangkok, even though it is located a bit on the outskirts. But if you are foodie who loves to try the local dishes everywhere, Bang Nam Pheung offers a spectrum of local flavors to try from.
If you find yourself spoilt for choice when it comes to Thai food in this floating market, try the Mahk and the Gac fruit. You will never forget the taste.
To reach Bang Nam Pheung under 150-200 Baht, hop into a taxi, If you are looking to travel there within a lower budget, a ferry ride from Sukhumvit will prevent a dent in your wallet.
This one opens a little late – at 8:30 in the morning – and remains open till 5 in the evening. So, plan your trip accordingly.
Taling Chan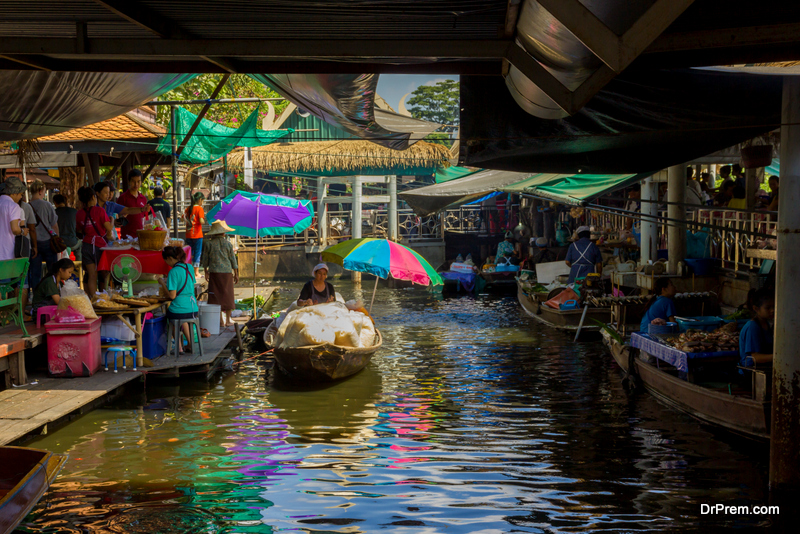 Taling Chan is one of the most beautiful floating markets in Bangkok. Not only will you get to try some of the most authentic Thai flavors from the market, but you can also experience a blissful massage, shop for souvenirs, and live a day in Bangkok like a Thai individual.
Take your time, roam around the market at your own leisure and discover ethereal nursery plants. Indulge in Thai delicacies and relax your muscles with a nice massage.
You can reach Taling Chan via efficient public transport. Once you reach the S6 station, get into a Chao Phraya Express Boat, which will lead you to Phra Pinklao Bridge Pier. From there, Bus number 79 will directly take you to the floating market.
If you love to capture colorful, beautiful memories of your trip to Bangkok – do not forget to carry your camera with you. There are ample opportunities for you to take a priceless snapshot of natural beauty, nestled in the cradle of the world.
On a sidenote, remember to visit this one only on weekdays, since this floating market does not operate on the weekend.
Damnoen Saduak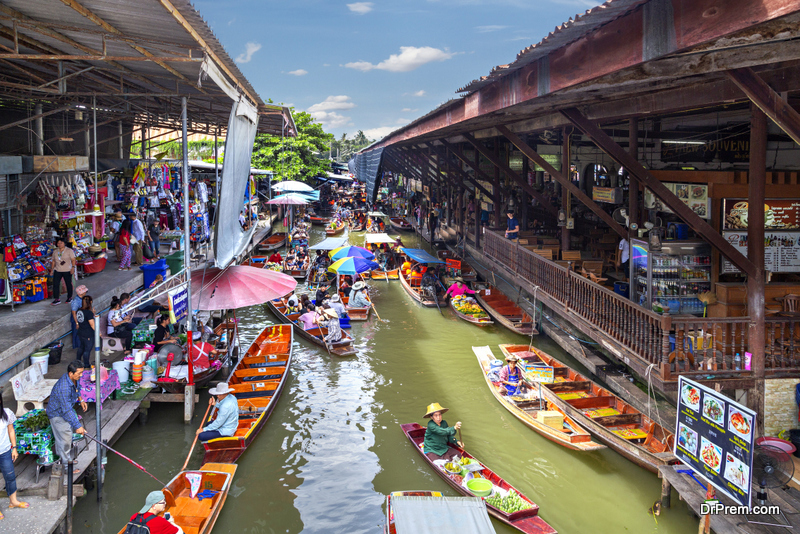 Whenever someone talks about floating markets in Bangkok, Damnoen Saduak is the first name to emerge. Bustling full of life, one look at this market is enough to understand why Damnoen Saduak is so popular among tourists and locals alike.
One of the main reasons why people flock to this floating market is because, unlike other floating markets in Bangkok, this one doesn't charge an entry fee. Perhaps, this is why the market can get too crowded.
If you are looking to pass along the waterways at a leisurely pace, opt for the smaller floating markets like the ones mentioned above.
But if you decide to enter this floating market nonetheless, you can enjoy some delicious small coconut pancakes, and uniquely made boat noodles. Moreover, you can also purchase exotic orchids and bring them home as a momento of your trip.
Join a local group tour and easily find your way to this amazing floating market in Bangkok.
Amphawa Floating Market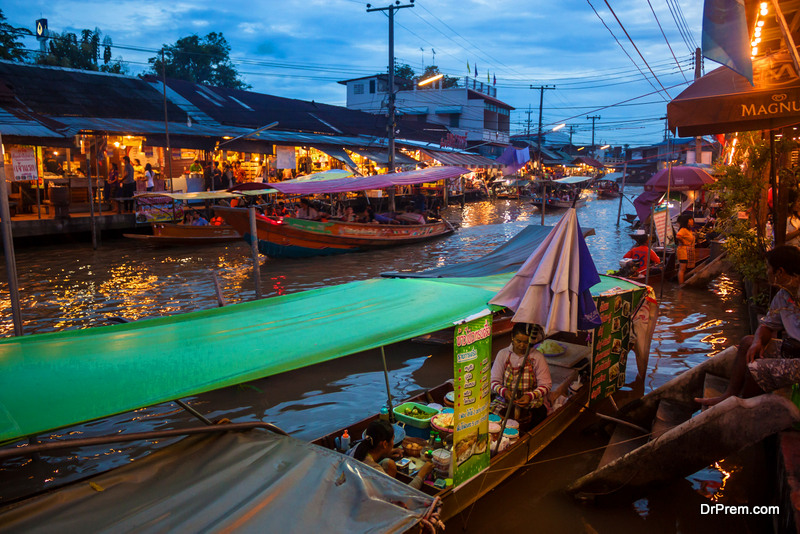 Just 10 minutes away from Maeklong, which has a direct connectivity from Bangkok, Amphawa floating market is one of the most famous floating markets in Bangkok, second only to Damnoen Saduak.
Not only do you get to try the local flavors of Bangkok at this floating market, but also shop and get a private boating tour of the entire place, that too on a longtail boat.
If you are traveling to Bangkok on a budget, then you can opt for a group tour of the market, at just 50 Baht. The local seafood at this floating market is worth a trial.
Keep in mind that this market opens up quite late – at 2 in the afternoon and is open till late in the evening – till 8 P.M.
Bangkhla Floating Market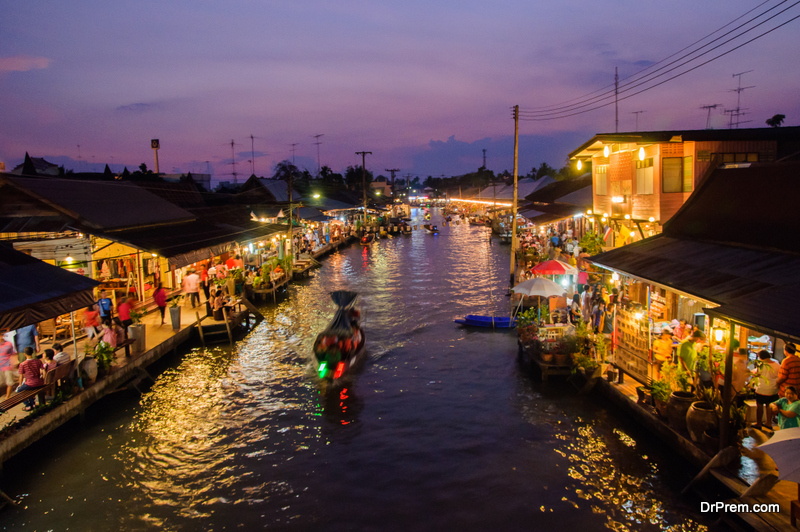 This one is quite far from Bangkok as compared to the other floating markets in Bangkok – it is more than 100 kilometers away from the capital city.
While this might put you off, keep in mind that this floating market is one of the most authentic markets in and around Bangkok. The country-esque vibe of the market, coupled with the local seafood and the easygoing charm of the place will surely entrance you.
You can easily reach this floating market in an air-conditioned bus or train from Bangkok. And a surprise delicacy of this floating market is a wide range of sweet, juicy mangoes. You will love them. So, do not miss out on this one.
Bangkok is notorious for its nightlife. But the city's floating markets are an undiscovered treasure. Enter the more laidback, calm side of Bangkok when you step inside these floating markets. The experience of sitting casually in a longtail boat and witnessing some of the most enchanting sights around you is a splendid experience. Be sure to catch on with it. You will not regret this.