New York Luxury Hotels – 10 Superlative Luxury Hotels in New York, USA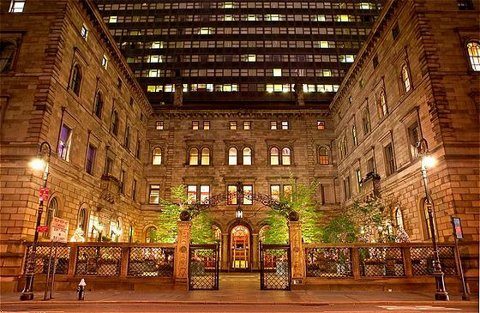 New York is one of the very adventurous places, where you can come across the best enjoyments in life. During the time of your stay here, staying in any of the luxurious hotels can be like an icing on the cake. Below mentioned 10 Best Luxury Hotels in New York will give you an idea about the facilities that are provided by each and very luxurious hotel of this place.
Mandarin Oriental – This is one of the best luxurious hotels that is situated in Columbus circle. When you stay in this amazing restaurant, you would get a pleasant view of Central park and Hudson river. You can also enjoy various other comforts in this place like the spa, Yoga room, tea lounge, private steam and, VIP spa suite and sauna facilities. You can also enjoy the pool that is located in the 36th floor that provides you with remarkable view from this place.

The Pierre from Taj – This is located in Fifth Avenue and the stay in this luxurious hotel will surely prove to be heavenly experience for you. The staff of this hotel caters to all your needs on time and the amenities provided are really great.

New York Palace – This is a prime luxurious hotel, which has beautiful guestrooms, suits, penthouse suites etc. This place is the best to be stayed by business professionals. Guests who stay here can enjoy various amenities like spa, fitness center and a lot more.

Four seasons hotel – This hotel is of 5 star category that provides very beautiful options for you to stay. The benefits provided by the staff is extremely brilliant as they arrange for your tours and also help in taking care of small kids at no extra charge at all. The various other facilities provided to the guests include dining rooms, complimentary breakfast etc.

Ritz – Carlton New York – This is a very popular hotel of New York that has been very famous for the amazing service and the range of different facilities provided by them. Every room of this hotel is extremely pleasing. The bathroom is featured with the very special Frederic Fekkai facilities. The in-house restaurant of this hotel named BLT market hotel serves the best American and French cuisine.

The Plaza hotel – This is located at southeast corner of Central Park. Each and every guestroom and suite of this hotel has the best ambience. The staff makes sure to make your stay extremely pleasant

The St. Regis New York – This hotel offers many facilities to the guests like childcare services, butler service and a lot more. The bath menu of this place is indeed a special attraction as you can choose from the various options like chocolate, caviar, champagne etc.

The Peninsula New York – If you are visiting New York for a business trip, this hotel will be the best for you. They make sure to provide you with all the facilities that is required for an ideal business stay.

Jumeirah Essex House – This is a 4 and a half star luxurious hotel that has the best architecture. During the tenure of your stay here you will experience a lot of amenities like medical assistance, fitness facility, various business services and a lot more.

The Carlyle – This luxurious hotel is located in Upper East Side of New York City. The guestrooms and suits of this place are designed extremely elegantly and you can get benefited with various facilities like Vera Wang boutique, antique shop, art gallery and a lot more.