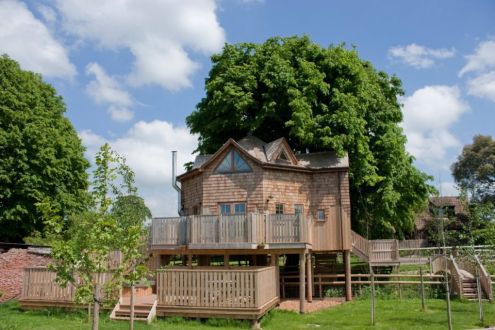 The Treehouse is located on the countryside of Somerset, United Kingdom. It is a unique place where you can enjoy your vacations in the natural environment. Visitors can enjoy their living at the houses on the treetops.
They can experience the wildlife and natural beauty of the region from top. They can reach the place after a short drive from Taunton. It is vital for visitors to book their visit in advance. It is advised to not carry your kids and pets with you, as the place is not suitable for them. You can reach the rooms and huts by stairs across the walkway over the laurel. You can find a double bed, a kitchen, and a living area with a wood-burner. You can enjoy the luxury camping in the region and can learn different traditional methods to cook food. If you do not want to cook food yourself then you can also order food and the staff offer best regional food for you.
You can spot various birds and animals from the treetops and can enjoy the sight from there. Restaurant located 300 yards away from the place offer best food and wine to their guests. People can discover other things that can make their tour best ever.
Image Source: LavenderAndLaceWeddings