Traveling and enjoying your time in the Lord Howe Island, Australia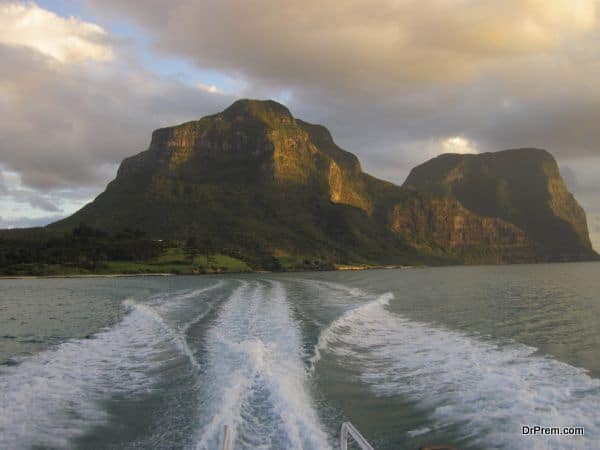 Have you ever been to a destination that simply has it all and impresses you to the extent that you never want to leave it any time soon? That's Lord Howe Island for you. A UNESCO World Heritage listed paradise, Lord Howe Island is located on NSW's north coast and can be reached by flights from Sydney, Brisbane or Port Macquarie. Curving around a stunning aquamarine lagoon, the island offers you the chance to experience a relaxing, unhurried holiday with only 400 other visitors to keep you company.
The perfect time to go
There really isn't a perfect time to visit Lord Howe Island as it has a pleasant climate throughout the year. The summers are not too hot courtesy the sea breezes that blow inland while the warm seas surrounding the island guarantee bearable winters.
Sights to see
There is never too less to do in Lord Howe Island, with your days being filled with plenty of activities and sightseeing tours. Here is a sneak peek into what awaits you on the island from the moment you set foot on it.
Neds Beach
Located to the north-east of the island is Neds Beach where you can hand feed a wide range of wrasse, mullet, silver-drummers, garfish, King Fish and spangled emperor to name a few. Children can also have the time of their life snorkeling in the shallow waters of the beach as they hunt around for colorful corals and fishes.
Mt Gower
This 875 meter high mountain is the island's highest and offers hikers one of the best day hikes in the world. The eight-hour return trek would take you through plenty of natural forest as well as stunning views as you experience dizzying drops and rope assisted climbs all on one day.
Blinky beach
Considered a surfer haven, the Blinky Beach is located on the eastern end of Lord Howe Island and offers surfers the chance to ride on some of the least crowded waves in the entire country. Also called as Champagne Surf, the beach sits right in front of a cliff face and is the ideal place for relaxing picnics or swims.
Things to do
Bird watching
Lord Howe Island is home to over 130 permanent as well as migratory bird species, and has over 14 sea bird species that breed on the island, thus earning it the title of 'Australia's best bird watching destination.' A series of guided walking tracks allow you to catch very close glimpses of these birds in addition to enjoying the sights over 64 various species of flowering plants.
Fishing
Lord Howe Island is located quite close to the Marine Park that houses a diverse range of terrain and fish species ideal for fishing trips and games. Some of the more common species of fishes you can find here include the Wahoo, Yellowfin Tuna and the Lord Howe Kingfish.
Snorkeling and Diving
The calm waters of the island are perfect for snorkeling trips for children and adults alike. The more adventurous can venture deeper for diving trips that would take them to some of the best diving spots in the world. The waters around Lord Howe Island house the most diverse mix of temperate, tropical and sub-tropical marine life species, with over 500 species of fishes and 90 species of corals waiting to stun you as descend to explore the mesmerizing underwater caves and trenches dotting the region.
Walking trails
There are innumerable well marked walking trails in Lord Howe Island to keep you busy throughout the trip. These include Mt Gower, Malabar Hill, Transit Hill, Clear Palace, Stevens Reserve, North Bay, Old Gulch, Mt Eliza, Kims Lookout, Goat House Cave, Rocky Run, Intermediate Hill, Boat Harbor and Little Island.
Some of the other areas of interest in and around Lord Howe Island include the North Bay which is home to secluded sandy beaches, migratory birds and a variety of marine animals, Ball's Pyramid which has plenty of underwater caves waiting to be explored, Valley of Shadow, Old Settlement and Admiralty Islands to name a few.
Sporting activities
In addition to all these attractions and activities, Lord Howe Island offers you a horde of adventurous activities you can take part in while on the island. These include bike riding, surfing, kite boarding, lawn bowls, golf, wind surfing, tennis, kayaking, sailing, body surfing and stand up paddle boarding, etc.
Summary
If you are thinking of visiting a destination that offers something for the entire family, visit Lord Howe Island in Australia. The island would leave you spell bind with its endless natural attractions, and not let you waste a moment with its list of activities. A holiday you will definitely enjoy for sure.